| | |
| --- | --- |
| Published January 17, 2021. Open access. | Gallery ❯ |
Common Mussurana (Clelia clelia)
Reptiles of Ecuador | Serpentes | Colubridae | Clelia | Clelia clelia
English common names: Common Mussurana, Black Mussurana, Black Cribo
Spanish common names: Ratonera común, chonta, lisa (Ecuador); cazadora negra (Colombia); zopilota, víbora de sangre (Juvenile), tiznada (Costa Rica); ratonera (Venezuela).
Recognition: ♂♂ 180 cmMaximum distance from the snout to the tip of the tail. ♀♀ 260 cmMaximum distance from the snout to the tip of the tail..1 The Common Mussurana (Clelia clelia) is a large, robust snake with a cylindrical body and comparatively small eyes. Snakes of this species change in coloration throughout the organism's lifespan: the adults have a uniform glossy black or gray dorsum whereas young individuals measuring less than 60 cm in total length have a bright red dorsum with black scale tips, black head, and a cream or yellow nuchal collar followed by a black band.2,3 Individuals 60–90 cm in length are dull reddish brown to brownish black with a faint nape band.2 The belly is always white but the dorsal coloration impinges the margins of the ventral scales.4 Clelia clelia is the only snake in Ecuador having this coloration and 19 rows of smooth scales at mid-body. The most similar species that may be found alongside C. clelia in Ecuador are Drepanoides anomalus and Pseudoboa coronata, which have 15 and 17 dorsal scale rows at mid-body, respectively.5–7 Clelia equatoriana is similar in external appearance to C. clelia, but it occurs in the cloud forests of the Pacific slopes of the Andes above the elevation range of the Common Mussurana.8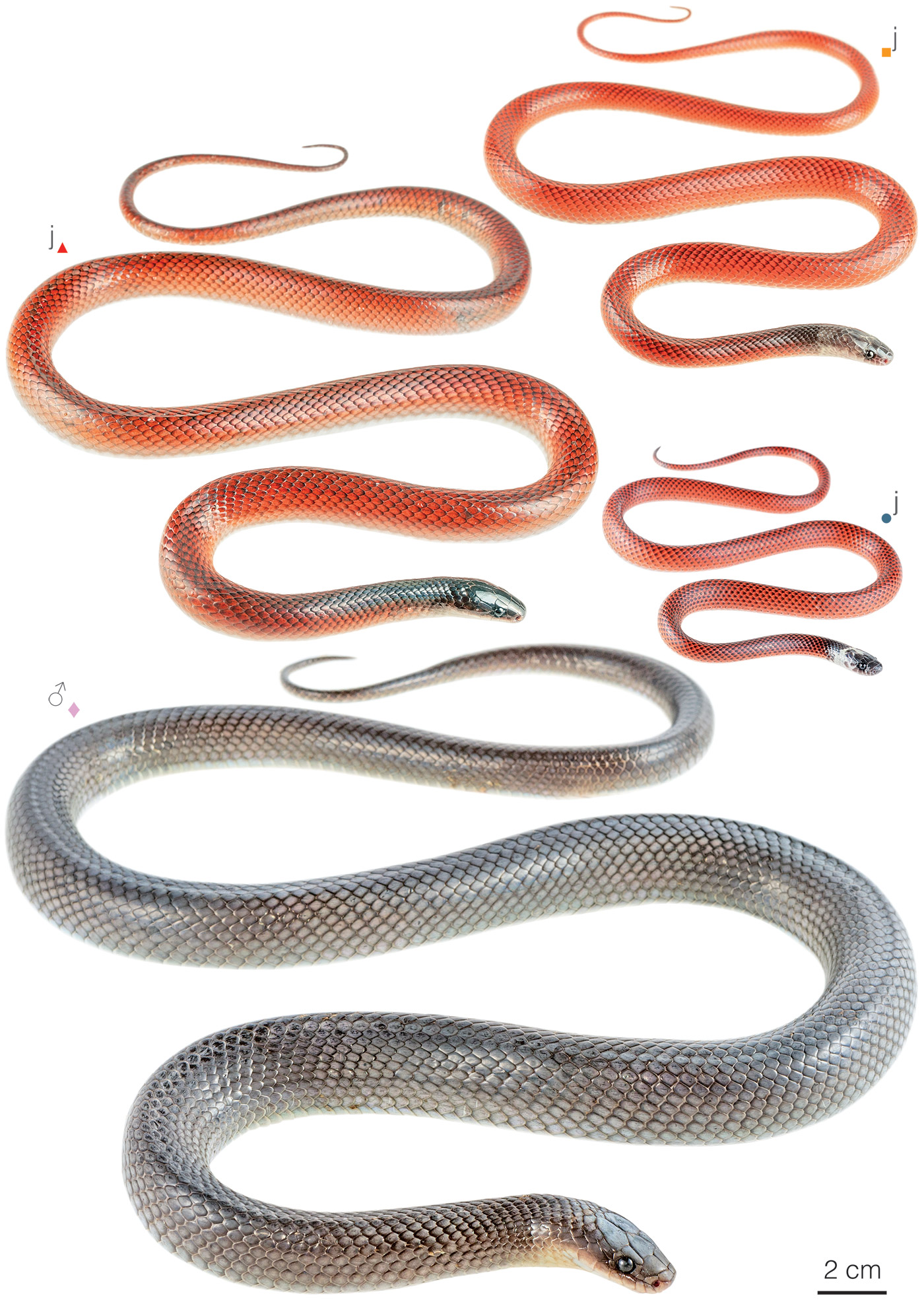 Figure 1: Individuals of Clelia clelia from Buenaventura Reserve, El Oro province (); Zumba–Pucubamba road, Zamora Chinchipe province (); La Selva Lodge, Sucumbíos province (), Ecuador. ad=adult, j=juvenile.
Natural history: FrequentRecorded weekly in densities below five individuals per locality throughout much of its range,1 but uncommonUnlikely to be seen more than once every few months in Ecuador.9 Clelia clelia is a terrestrial and nocturnal snake that inhabits a variety of ecosystems ranging from savannas and deciduous (dry) forests to evergreen lowlands rainforests and even cloudforests.10,11 Common Mussuranas occur in old-growth forest, especially along bodies of water,7,9 as well as in heavily disturbed areas such as pastures, cultivated fields,12 yards, rural houses,13 and along roadsides.9,14 Most individuals are seen active at night on the soil, leaf-litter, grass, swamps, creeks, or on rocky stream beds,2,15 but in some cases, they have been spotted on tree branches up to 170 cm above the ground.5,16 During the daytime, most individuals are hidden, but others are active, crossing roads and trails.5,9
Clelia clelia is an ophiophagous species; that is, it feeds on other snakes, occasionally larger than itself.17 Preyed species include harmless snakes (Chironius fuscus, C. exoletus,18 Dipsas palmeri,19 Drymarchon corais,20 Erythrolamprus reginae,2 Helicops angulatus,21 Ninia hudsoni,22 Tantilla melanocephala, Xenodon rabdocephalus, X. severus,23 as well as members of its own species), boas (Boa constrictor),13,24 vipers (Bothriechis schlegelii,25 Bothrops asper,26 Lachesis muta, and Porthidium nasutum27),28 and coralsnakes (Micrurus obscurus)23. Despite being primarily ophiophagous, Common Mussuranas also include in their diet: lizards (such as Ameiva ameiva,2 Enyalioides heterolepis,9 and species of the genus Tupinambis), snake eggs, opossums,29 rodents,5 birds, small mammals, and snails.1,30 Individuals of C. clelia are active foragers, tracking prey by quickly flicking their tongues to detect their scent trail.9 The species is much appreciated by villagers because of its snake-eating habits.1
Although Clelia clelia has grooved rear fangs and venom glands, this species also constricts its prey.1,31 After striking it, the Mussurana subsequently launches the third of its body to surround the prey and then tightens it with body coils until the prey stops resisting.14 After that, it ingest the prey (dead or alive) head-first. This species has natural immunity to the venom of vipers.32,33 Individuals are mostly calm. When grabbed, they constrict their bodies and do not usually strike, but instead hide their head under body coils and deploy a cloacal discharge.7 In humans, the venom of C. clelia can produce localized swelling, hemorrhage, and even necrosis (death of tissues and cells).34
"The bright red juveniles of the two Costa Rican mussuranas are considered to be víboras de sangre (blood snakes) whose bite results in bleeding over the entire body surface and death. This in an unfounded belief lacking any element of fact."
Jay M Savage, American herpetologist, 2002.
Females of Clelia clelia reach sexual maturity at 97.3 cm of snout-vent-length; males at 65 cm. During courtship, the female may respond aggressively at first and on occasion, can kill and eat the male.31 After a gestation period of 47 days,1 females lay 9–25 eggs1,14 that take 117–120 days to hatch.35 In natural conditions, these are laid during periods of high rainfall. Hatchlings measure 31–49 cm in total length at birth.1
Conservation: Least Concern Believed to be safe from extinction given current circumstances..36 Clelia clelia is listed in this category mainly on the basis of the species' wide distribution, occurrence in protected areas, presumed stable populations, and adaptability to human-modified environments.36 However, the decline in the abundance of prey, coupled with the destruction and fragmentation of forested environments throughout Central and South America can be a threat for the long-term of survival of the species.37 In a rainforest locality in Panama, the occurrence rates of C. clelia have diminished in the period from 1997 to 2012,38 probably as a result of the diminished snake abundance caused by a corresponding loss of amphibians.38 Additionally, individuals of C. clelia are commonly found dead on the roads due vehicular traffic.39
Distribution: Clelia clelia is widely-distributed in Central and South America, from southern Mexico (Yucatán) to northern Argentina.11,36 The species has an estimated total range size of 2,078,373 km2 that encompasses much of Mesoamerica, the Chocó, Magdalena valley, the Llanos plains, the Amazon rainforest, and El Chaco.11 In Ecuador, this species occurs at elevations between 0 and 1990 m (Fig. 2).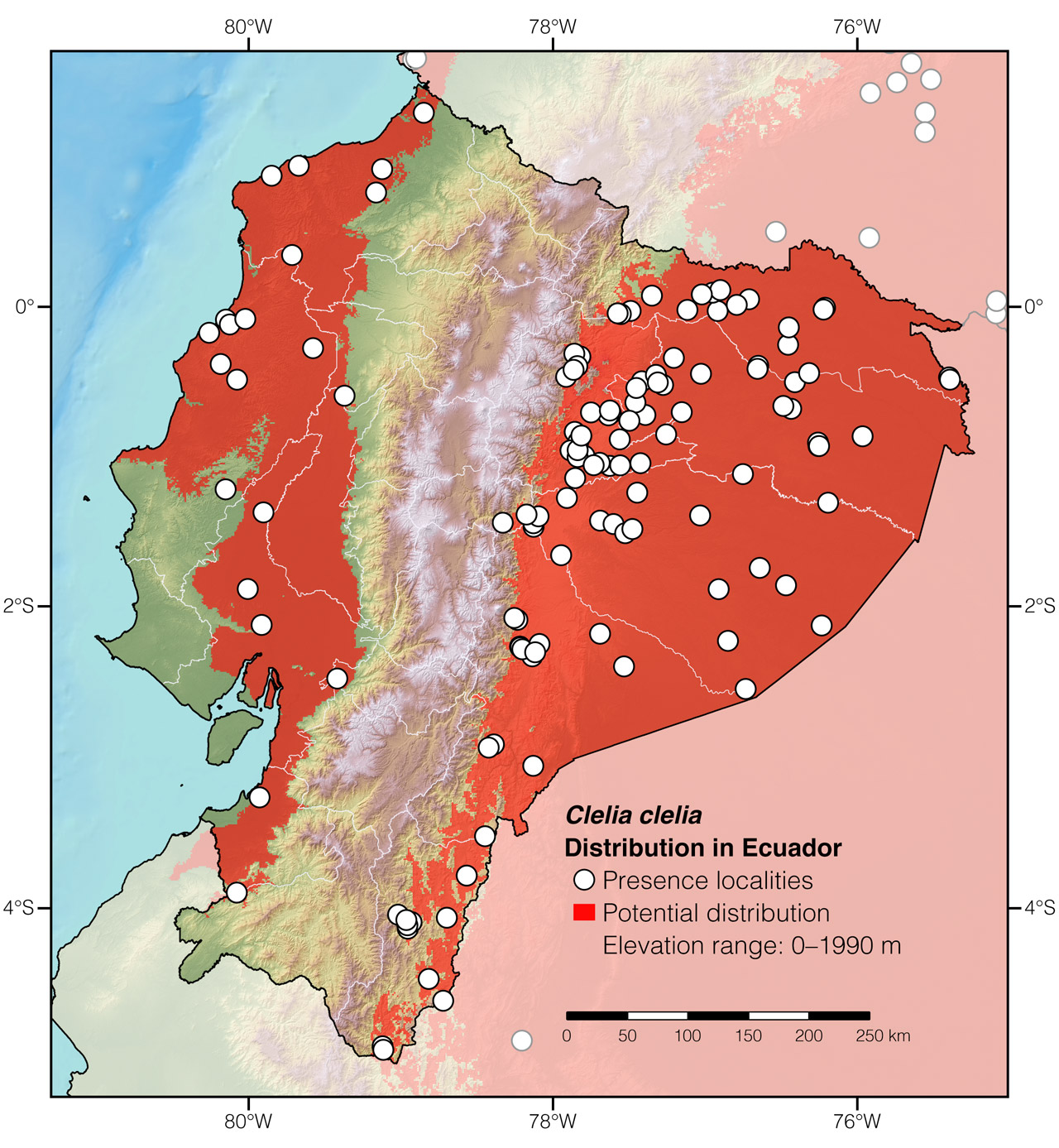 Figure 2: Distribution of Clelia clelia in Ecuador. See Appendix 1 for a complete list of the presence localities included in the map.
Etymology: The word clelia is derived from the Latin Cloelia, a girl's name meaning "illustrious" or "famous." According to Roman legend, Cloelia was a heroine who was held hostage by an Etruscan invader. However, she managed to escape by swimming across the river Tiber.40
See it in the wild: Individuals of Clelia clelia can be seen with ~1–3% certainty in forested areas throughout the species' area of distribution in Ecuador. Some of the best localities to find Common Mussuranas in the wild in Ecuador are: Yasuní Scientific Station, Jatun Sacha Biological Reserve, and Jama Coaque Reserve. The snakes are more easily located by walking along forested rivers and streams at night. Common Mussuranas are often seen crossing roads, so care must be taken to run over them.
Acknowledgments: Special thanks to Darwin Núñez and Diego Piñán for providing locality data for Clelia clelia.
Authors: Juan C. Díaz-RicaurteaAffiliation: Universidade de São Paulo, São Paulo, Brazil. and Alejandro ArteagabAffiliation: Tropical Herping (TH), Quito, Ecuador.
Photographers: Jose VieirabAffiliation: Tropical Herping (TH), Quito, Ecuador.,cAffiliation: ExSitu, Quito, Ecuador. and Sebastián Di DoménicodAffiliation: Keeping Nature, Bogotá, Colombia.
How to cite? Díaz-Ricaurte JC, Arteaga A (2021) Common Mussurana (Clelia clelia). In: Arteaga A, Bustamante L, Vieira J, Guayasamin JM (Eds) Reptiles of Ecuador: Life in the middle of the world. Available from: www.reptilesofecuador.com. DOI: 10.47051/YKSW1188
Literature cited:
Appendix 1: Locality data used to create the distribution map of Clelia clelia in Ecuador (Fig. 2). Go to the section on symbols and abbreviations for a list of acronyms used.
| | | | |
| --- | --- | --- | --- |
| Country | Province | Locality | Source |
| Colombia | Caquetá | Belén de Andaquíes | Díaz-Ricaurte et al. 2018 |
| Colombia | Caquetá | Caserío La Rastra | Díaz-Ricaurte et al. 2018 |
| Colombia | Caquetá | Florencia | Díaz-Ricaurte et al. 2018 |
| Colombia | Caquetá | Santuarios | UAM 0405 |
| Colombia | Caquetá | Vereda Fátima | MLS 680 |
| Colombia | Caquetá | Via antigua Caquetá–Huila | Díaz-Ricaurte et al. 2018 |
| Colombia | Nariño | Boca del Río Mira | UPTC 018 |
| Colombia | Nariño | Reserva Natural El Pangán | Online multimedia |
| Colombia | Putumayo | Piñuña, 22 km NE of | PUJ 56 |
| Colombia | Putumayo | Puerto Asís | Díaz-Ricaurte et al. 2018 |
| Colombia | Putumayo | Puerto Leguizamo, 25 km N of | Parques Nacionales de Colombia |
| Ecuador | Bolívar | Balzapamba | KU 132502 |
| Ecuador | Cañar | Terminal La Troncal | Ortega Torres 2015 |
| Ecuador | El Oro | Casa de investigadores | This work |
| Ecuador | El Oro | Machala | Nogueira et al. 2019 |
| Ecuador | El Oro | Reserva Biológica Buenaventura | This work |
| Ecuador | Esmeraldas | Alto Tambo | MECN 3307 |
| Ecuador | Esmeraldas | Bilsa Biological Reserve | This work |
| Ecuador | Esmeraldas | Esmeraldas | Nogueira et al. 2019 |
| Ecuador | Esmeraldas | Hotel El Pedregal | MECN 5669 |
| Ecuador | Esmeraldas | Pajonal | Morales 2004 |
| Ecuador | Esmeraldas | Palmicultora La Tolita | Online multimedia |
| Ecuador | Esmeraldas | Quinindé, 35 km NE of | MHNG 2086.088 |
| Ecuador | Esmeraldas | Río Negro | MECN 3307 |
| Ecuador | Esmeraldas | San Lorenzo | Nogueira et al. 2019 |
| Ecuador | Guayas | Balzar | Nogueira et al. 2019 |
| Ecuador | Guayas | Guayaquil | Nogueira et al. 2019 |
| Ecuador | Guayas | Río Daule | MCZ 3570 |
| Ecuador | Guayas | Santo Domingo | Nogueira et al. 2019 |
| Ecuador | Imbabura | Manduriacu Reserve | iNaturalist |
| Ecuador | Loja | Bosque Petrificado de Puyango | INABIO 2019 |
| Ecuador | Loja | Loja | Nogueira et al. 2019 |
| Ecuador | Loja | Yangana | Arteaga et al. 2013 |
| Ecuador | Los Ríos | Centro Científico Río Palenque | GBIF |
| Ecuador | Manabí | Jama Coaque Reserve | This work |
| Ecuador | Manabí | La Unión de Santa Ana | MHNG 2531.061 |
| Ecuador | Manabí | Maicito | MHNG 1357.014 |
| Ecuador | Manabí | Río Jama | Photo by David Salazar |
| Ecuador | Manabí | San Isidro | Cisneros-Heredia et al. 2007 |
| Ecuador | Morona Santiago | Bosque Protector Abanico | Cumba Endara 2008 |
| Ecuador | Morona Santiago | Macas | AMNH 8861 |
| Ecuador | Morona Santiago | Macas, 14 km W of | Nogueira et al. 2019 |
| Ecuador | Morona Santiago | Macuma | Nogueira et al. 2019 |
| Ecuador | Morona Santiago | Méndez–El Pescado road | Valencia et al. 2016 |
| Ecuador | Morona Santiago | Normandía | AMNH 35919 |
| Ecuador | Morona Santiago | Quebrada Napinaza | Nogueira et al. 2019 |
| Ecuador | Morona Santiago | Reserva Ecológica El Paraíso | Photo by Alex Achig |
| Ecuador | Morona Santiago | Río Santiago | Nogueira et al. 2019 |
| Ecuador | Morona Santiago | Río Upano | iNaturalist |
| Ecuador | Morona Santiago | Santa Ana, 1 km NE of | This work |
| Ecuador | Morona Santiago | Sardinayacu | Nogueira et al. 2019 |
| Ecuador | Morona Santiago | Taisha | Valencia et al. 2016 |
| Ecuador | Morona Santiago | Vall del Río Quimi | Betancourt et al. 2018 |
| Ecuador | Napo | Archidona | Nogueira et al. 2019 |
| Ecuador | Napo | Archidona, 1.5 km N of | iNaturalist |
| Ecuador | Napo | Baeza | Nogueira et al. 2019 |
| Ecuador | Napo | Coca Codo Sinclair | MECN 2013 |
| Ecuador | Napo | El Chaco | Nogueira et al. 2019 |
| Ecuador | Napo | El Chaco, 1 km NE of | USNM 210849 |
| Ecuador | Napo | Finca Fischer | TCWC 65016 |
| Ecuador | Napo | Gareno Lodge | Photo by Margy Green |
| Ecuador | Napo | Guagua Sumaco | iNaturalist |
| Ecuador | Napo | Guamaní | Nogueira et al. 2019 |
| Ecuador | Napo | Ikiam | This work |
| Ecuador | Napo | Jatun Sacha Biological Station | MCZ 173840 |
| Ecuador | Napo | Limoncocha | UIMNH 54662 |
| Ecuador | Napo | Misahuallí | This work |
| Ecuador | Napo | Napo Galeras | MECN 3024 |
| Ecuador | Napo | Rio Hollín | Nogueira et al. 2019 |
| Ecuador | Napo | Río Huataraco | Nogueira et al. 2019 |
| Ecuador | Napo | Río Oyacachi | AMNH 110582 |
| Ecuador | Napo | Río Suno | USNM 210850 |
| Ecuador | Napo | Runa Huasi | Nogueira et al. 2019 |
| Ecuador | Napo | San Francisco de Borja | USNM 210855 |
| Ecuador | Napo | Tena | iNaturalist |
| Ecuador | Napo | Tena, 4 km N of | iNaturalist |
| Ecuador | Napo | Wildsumaco Wildlife Sanctuary | Knowles et al. (in press) |
| Ecuador | Napo | Yachana Reserve | Whitworth & Beirne 2011 |
| Ecuador | Napo | Zatzayacu, 4.5 km NNE | KU 146735 |
| Ecuador | Napo | Zoo el Arca | Photo by Diego Piñán |
| Ecuador | Orellana | Ávila Viejo | Nogueira et al. 2019 |
| Ecuador | Orellana | Campo Apaika | Nogueira et al. 2019 |
| Ecuador | Orellana | Cordillera Galeras | Nogueira et al. 2019 |
| Ecuador | Orellana | Dicaro, 1.8 km NW of | Photo by Morley Read |
| Ecuador | Orellana | El Coca | Nogueira et al. 2019 |
| Ecuador | Orellana | Estación Científica Yasuní | Nogueira et al. 2019 |
| Ecuador | Orellana | Loreto | This work |
| Ecuador | Orellana | NPF, 5 km N of | Nogueira et al. 2019 |
| Ecuador | Orellana | Payamino, 6 km SW of | iNaturalist |
| Ecuador | Orellana | Reserva Biológica Río Bigal | Photo by Thierry García |
| Ecuador | Orellana | Río Payamino | iNaturalist |
| Ecuador | Orellana | San José de Payamino | iNaturalist |
| Ecuador | Orellana | Shiripuno Lodge | Online multimedia |
| Ecuador | Orellana | SPF, 12 km N of | Nogueira et al. 2019 |
| Ecuador | Orellana | Vía Maxus, km 98 | Nogueira et al. 2019 |
| Ecuador | Pastaza | Alto Curaray | USNM 210852 |
| Ecuador | Pastaza | Balsaura | Ortega-Andrade 2010 |
| Ecuador | Pastaza | Conambo | Ortega-Andrade 2010 |
| Ecuador | Pastaza | Juyuintza | Ortega-Andrade 2010 |
| Ecuador | Pastaza | Kapawi Ecolodge | This work |
| Ecuador | Pastaza | Lago Gawope | Nogueira et al. 2019 |
| Ecuador | Pastaza | Mera | Nogueira et al. 2019 |
| Ecuador | Pastaza | Mera, 3 km N of | iNaturalist |
| Ecuador | Pastaza | Pindoyacu | Ortega-Andrade 2010 |
| Ecuador | Pastaza | Río Anzu Reserve | MECN 2013 |
| Ecuador | Pastaza | Río Bufeo | Ortega-Andrade 2010 |
| Ecuador | Pastaza | Río Lliquino | USNM 210853 |
| Ecuador | Pastaza | Río Punino | Nogueira et al. 2019 |
| Ecuador | Pastaza | Río Villano | Nogueira et al. 2019 |
| Ecuador | Pastaza | San José de Curaray | iNaturalist |
| Ecuador | Pastaza | Santa Ana | Nogueira et al. 2019 |
| Ecuador | Pastaza | Santa Clara | GBIF |
| Ecuador | Pastaza | Villano | This work |
| Ecuador | Pichincha | Estación Puerto Quito OCP | Valencia & Garzón 2013 |
| Ecuador | Pichincha | Rainforest Monterreal | Photo by Jorge Ambuludi |
| Ecuador | Santo Domingo de los Tsáchilas | Santo Domingo | AMNH 27145 |
| Ecuador | Santo Domingo de los Tsáchilas | Santo Domingo, 3 km E of | MCZ 156882 |
| Ecuador | Sucumbíos | Dureno | Yáñez & Chimbo 2007 |
| Ecuador | Sucumbíos | El Eno, 4.7 km N of | Nogueira et al. 2019 |
| Ecuador | Sucumbíos | El Reventador | MHNG 2445.005 |
| Ecuador | Sucumbíos | Estación Amazonas OCP | Valencia & Garzón 2011 |
| Ecuador | Sucumbíos | Estación Cayagama | Valencia & Garzón 2011 |
| Ecuador | Sucumbíos | Estación PUCE en Cuyabeno | Nogueira et al. 2019 |
| Ecuador | Sucumbíos | Garzacocha | iNaturalist |
| Ecuador | Sucumbíos | La Selva Lodge | This work |
| Ecuador | Sucumbíos | Lagartococha | iNaturalist |
| Ecuador | Sucumbíos | Laguna Grande | Nogueira et al. 2019 |
| Ecuador | Sucumbíos | Limoncocha | LACM 73327 |
| Ecuador | Sucumbíos | Mushullacta | MECN 3024 |
| Ecuador | Sucumbíos | Pisorié | Yánez-Muñoz & Chimbo 2007 |
| Ecuador | Sucumbíos | Río Malo | Nogueira et al. 2019 |
| Ecuador | Sucumbíos | San Pablo de Kantesiya | Nogueira et al. 2019 |
| Ecuador | Sucumbíos | Sani Lodge | This work |
| Ecuador | Sucumbíos | Santa Cecilia | Nogueira et al. 2019 |
| Ecuador | Sucumbíos | Tarapoa | Nogueira et al. 2019 |
| Ecuador | Tungurahua | Cerro Candelaria Reserve | This work |
| Ecuador | Tungurahua | Reserva Río Zuñac | MECN 2013 |
| Ecuador | Zamora | Zumba-Pucubamba | This work |
| Ecuador | Zamora Chinchipe | Alto Machinaza | Nogueira et al. 2019 |
| Ecuador | Zamora Chinchipe | Cerro Plateado | Darwin Núñez, pers. comm. |
| Ecuador | Zamora Chinchipe | Ciudad Perdida | Online multimedia |
| Ecuador | Zamora Chinchipe | El Chorro, 1.4 km S of | This work |
| Ecuador | Zamora Chinchipe | Jamboé | Darwin Núñez, pers. comm. |
| Ecuador | Zamora Chinchipe | Jambué Bajo | Nogueira et al. 2019 |
| Ecuador | Zamora Chinchipe | Reserva Biológica Cerro Plateado | Nogueira et al. 2019 |
| Ecuador | Zamora Chinchipe | Via Romerillos | Darwin Núñez, pers. comm. |
| Ecuador | Zamora Chinchipe | Zamora | Cisneros-Heredia et al. 2007 |
| Peru | Amazonas | Chiriaco, 43 km NE of | LSUMZ 39325 |
| Peru | Loreto | Parinari | Nogueira et al. 2019 |