Green Whipsnake (Chironius exoletus)
Reptiles of Ecuador | Serpentes | Colubridae | Chironius | Chironius exoletus
English common names: Green Whipsnake, Linnaeus' Sipo, Green Sipo, Green Keelback.
Spanish common name: Serpiente látigo verde, juetiadora, lora.
Recognition: ♂♂ 153.1 cmMaximum distance from the snout to the tip of the tail. Snout–vent length=97.3 cm. ♀♀ 154.5 cmMaximum distance from the snout to the tip of the tail. Snout–vent length=100 cm..1 In its area of distribution, the Green Whipsnake (Chironius exoletus) can be differentiated from most other snakes by presenting a combination of 12 rows of dorsal scales at mid-body and a uniform bright green to olive dorsal coloration.1,2 Juveniles of C. exoletus differ from those of C. flavopictus by having a yellowish cream coloration on the lower flanks, instead of bright orange or yellow. The highland species C. monticola also has a bright green dorsum but it has contrasting black stripes on the tail.1 In the Amazon basin, C. exoletus is often confused with C. multiventris, but this other snake is darker, has more ventral scales (161–196 versus 123–162),1 and a proportionally longer tail.3 Due to its coloration, the Green Whipsnake can also be confused with snakes of the genera Erythrolamprus, Dendrophidion, Drymoluber, and Leptophis, from which C. exoletus differs by having a lower number of dorsal scales rows.4,5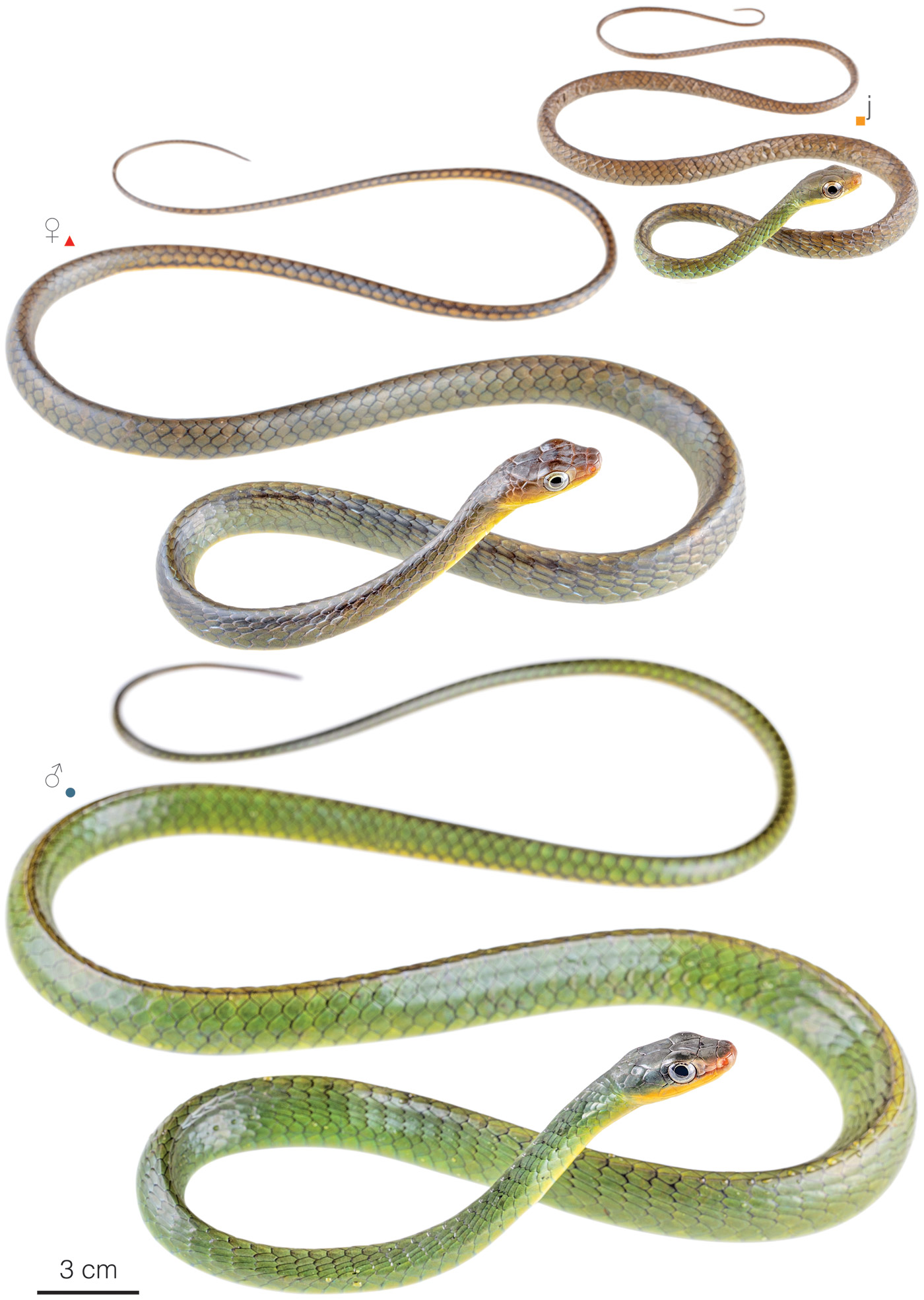 Figure 1: Individuals of Chironius exoletus from Maycu Reserve, Zamora Chinchipe province (), and Mindo, Pichincha province (), Ecuador. ad=adult, j=juvenile.
Natural history: FrequentRecorded weekly in densities below five individuals per locality.. Chironius exoletus is a diurnal, semi-arboreal snake most active during sunny weather. The species inhabits evergreen lowland and foothill forests as well as pastures with scattered trees, crops, and houses6 adjacent to these forests.5 In Brazil, the species also occurs in flooded plains and dry forest.7,8 At night, individuals sleep coiled on branches of bushes and trees 0.3–8 m above the ground, usually along bodies of water or at the edge of open areas such as roads and pastures.1,3,5 On sunny days, Green Whipsnakes forage actively on the ground or on low vegetation.1 Their diet is composed primarily of frogs (including Boana appendiculata,9 B. calcarata,10 B. lanciformis,1 B. punctata,1 Dendropsophus bifurcus,1 D. marmoratus,1 Osteocephalus taurinus,11 Phyllomedusa tomopterna,12 Scinax garbei,1 S. ruber,1 Smilisca phaeota,13 Lithobates palmipes)1 but also includes salamanders (Bolitoglossa altamazonica),1 tadpoles,8 lizards (such as Hemidactylus mabouia, Thecadactylus rapicauda, and anoles),12 and birds.1 In Brazil, a specimen was seen feeding on a toxic frog of the genus Trachycephalus.14 There are records of snakes (Clelia equatoriana) preying upon individuals of C. exoletus.5 The main defense mechanism of Green Whipsnakes is to flee quickly, although they can also inflate the neck and open the mouth aggressively to appear bigger and intimidating; if this does not work, they can also strike.1,5 However, this snake has no venom glands and is harmless to humans.5 Courtship and mating in C. exoletus consists of tactile alignment, meddling, and copulation that can last 27 minutes.15 Females lay clutches of 4–12 eggs.2
Conservation: Least Concern Believed to be safe from extinction given current circumstances..16–18 Chironius exoletus is included in this category because the species is widely distributed, occurs in over a hundred protected areas, and persists in human-modified habitats.16,19 Although there is no current information on the population trend of C. exoletus, the decline in the number of anuran prey due to pollution and emerging diseases could have a negative localized impact on the species.20 Minor, but ongoing threats to C. exoletus include mortality from vehicular traffic and illegal trafficking.
Distribution: Chironius exoletus is widely distributed throughout the lowlands and adjacent mountain foothills of Central America and South America, from western Costa Rica to northeastern Argentina. The species has an estimated total range size of 2,983,076 km2 that encompasses eastern Mesoamerica, the Chocó rainforest, Magdalena valley, the entire Amazon basin, the Cerrado, and the Atlantic Forest. In Ecuador, this species occurs at elevations between 29 and 1732 m (Fig. 2).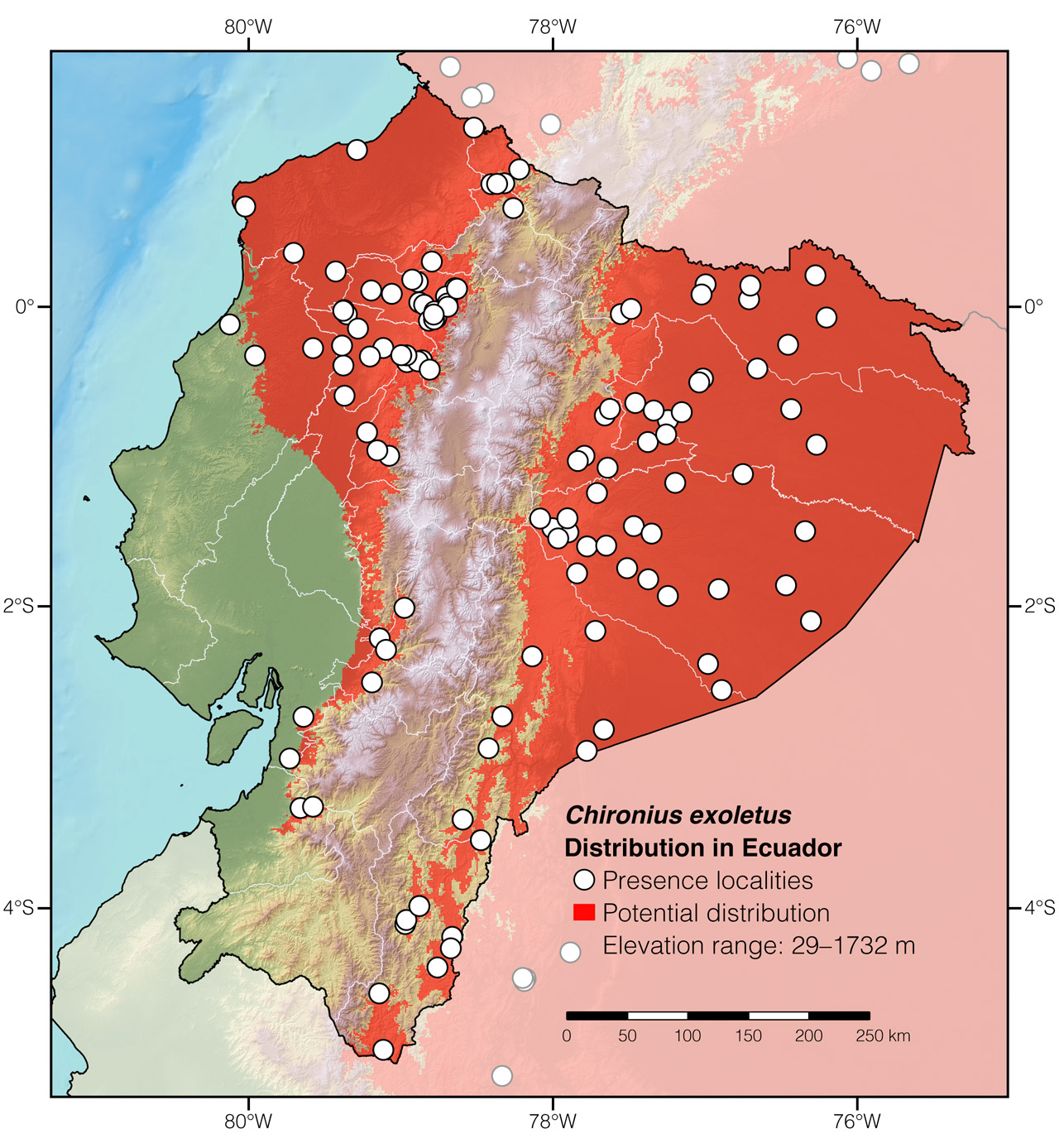 Figure 2: Distribution of Chironius exoletus in Ecuador. See Appendix 1 for a complete list of the presence localities included in the map.
Etymology: The generic name Chironius was coined by Leopold Fitzinger in 1826, but likely originated in 1790 with Blasius Merrem, who used the common name "Chiron's Natter" for Linnaeus' Coluber carinatus.21 In Greek mythology, Chiron was a centaur reputed for his healing abilities. Likewise, in ancient Greek civilization, sick people hoping for a cure flocked to temples where sacred snakes were carefully tended and presented to the sufferers. Therefore, the word Chironius was likely used as a reference to the healing power of snakes, a belief that lies at the foundation of medicine and crosses many cultures worldwide. The specific epithet exoletus is a Latin word meaning "fully grown" or "mature."22 It probably refers to the holotype, a large adult specimen.1
See it in the wild: Green Whipsnakes can be seen with ~5–10% certainty in forested areas throughout their area of distribution in Ecuador. The area having the greatest number of observations is Mindo, a valley and town in Pichincha province. The snakes can be spotted sleeping on vegetation along rivers at night, or moving on pastures during sunny days.
Acknowledgments: Special thanks to Eric Osterman for finding two of the specimens of Chironius exoletus pictured in this account.
Special thanks to Jenny Seymour for symbolically adopting the Green Whipsnake and helping bring the Reptiles of Ecuador book project to life.
Click here to adopt a species.
Authors: Jose VieiraaAffiliation: Tropical Herping (TH), Quito, Ecuador.,bAffiliation: ExSitu, Quito, Ecuador. and Alejandro ArteagaaAffiliation: Khamai Foundation, Quito, Ecuador.
Photographers: Jose VieiraaAffiliation: Tropical Herping (TH), Quito, Ecuador.,bAffiliation: ExSitu, Quito, Ecuador. and Frank PichardoaAffiliation: Tropical Herping (TH), Quito, Ecuador.
How to cite? Vieira J, Quezada A, Arteaga A (2021) Green Whipsnake (Chironius exoletus). In: Arteaga A, Bustamante L, Vieira J, Guayasamin JM (Eds) Reptiles of Ecuador: Life in the middle of the world. Available from: www.reptilesofecuador.com. DOI: 10.47051/IJPD8457
Literature cited:
Appendix 1: Locality data used to create the distribution map of Chironius exoletus in Ecuador (Fig. 2). Go to the section on symbols and abbreviations for a list of acronyms used.
| | | | |
| --- | --- | --- | --- |
| Country | Province | Locality | Source |
| Colombia | Caquetá | Caserío Los Ángeles | SINCHI 936 |
| Colombia | Caquetá | Florencia | Dixon et al. 1993 |
| Colombia | Nariño | La Guayacana | Dixon et al. 1993 |
| Colombia | Nariño | Llorente | Dixon et al. 1993 |
| Colombia | Nariño | Ricaurte | Dixon et al. 1993 |
| Ecuador | Azuay | Azuay–El Oro limit | Juan Carlos Sánchez, pers. comm. |
| Ecuador | Azuay | Chilcaplaya | MZUA.RE.0060 |
| Ecuador | Cañar | Hidroeléctrica Ocaña | Juan Carlos Sanchez |
| Ecuador | Carchi | Chical–Imbabura | Arteaga et al. 2013 |
| Ecuador | Carchi | Chinambí | Photo by Andreas Kay |
| Ecuador | Carchi | Tobar Donoso | Samec & Samec 1988 |
| Ecuador | Chimborazo | Bucay | Dixon et al. 1993 |
| Ecuador | Chimborazo | Pallatanga | Arteaga et al. 2013 |
| Ecuador | Chimborazo | Valle del Chanchán | Dixon et al. 1993 |
| Ecuador | Cotopaxi | El Jardín de los Sueños | Photo by Christophe Pellet |
| Ecuador | Cotopaxi | La Unión del Toachi, 7 km S of | iNaturalist |
| Ecuador | Cotopaxi | Macuchi | iNaturalist |
| Ecuador | Cotopaxi | Reserva Yakusinchi | Photo by Jane Sloan |
| Ecuador | Esmeraldas | Bilsa Biological Reserve | Ortega-Andrade et al. 2010 |
| Ecuador | Esmeraldas | Centro de Fauna Silvestre James Brown | Photo by Salvador Palacios |
| Ecuador | Esmeraldas | Cerro Ceibo | Photo by Paul Hamilton |
| Ecuador | Esmeraldas | Hacienda Equinox | Arteaga et al. 2013 |
| Ecuador | Esmeraldas | La Mayronga | Torres-Carvajal et al. 2019 |
| Ecuador | Esmeraldas | Santo Domingo, 30 km NNW of | Dixon et al. 1993 |
| Ecuador | Imbabura | Café Finca Las Cascadas | iNaturalist |
| Ecuador | Imbabura | Lita | Arteaga et al. 2013 |
| Ecuador | Imbabura | Paramba | Dixon et al. 1993 |
| Ecuador | Imbabura | Reserva Los Cedros | Photo by Eduardo Obando |
| Ecuador | Los Ríos | Centro Científico Río Palenque | USNM 285476 |
| Ecuador | Manabí | Jama Coaque Reserve | iNaturalist |
| Ecuador | Manabí | Maicito | Dixon et al. 1993 |
| Ecuador | Manabí | Trinidad | Arteaga et al. 2013 |
| Ecuador | Morona Santiago | Cusuime | Dixon et al. 1993 |
| Ecuador | Morona Santiago | Gualaquiza | Dixon et al. 1993 |
| Ecuador | Morona Santiago | Macas | Arteaga et al. 2013 |
| Ecuador | Morona Santiago | Macuma | Nogueira et al. 2019 |
| Ecuador | Morona Santiago | Méndez | Dixon et al. 1993 |
| Ecuador | Morona Santiago | Quebrada Río Napinaza | Torres-Carvajal et al. 2019 |
| Ecuador | Morona Santiago | Road Shaime–Puerto Morona | Torres-Carvajal et al. 2019 |
| Ecuador | Napo | Chontapunta | iNaturalist |
| Ecuador | Napo | Finca Fischer | TCWC 65514 |
| Ecuador | Napo | Guagua Sumaco, 10 km west of | Torres-Carvajal et al. 2019 |
| Ecuador | Napo | Río Cotopino | Dixon et al. 1993 |
| Ecuador | Napo | Río Suno | USNM 287926 |
| Ecuador | Napo | Tena | iNaturalist |
| Ecuador | Napo | Wild Sumaco Lodge | Torres-Carvajal et al. 2019 |
| Ecuador | Napo | Yachana Reserve | Photo by Scott Waters |
| Ecuador | Orellana | Ávila Viejo | Nogueira et al. 2019 |
| Ecuador | Orellana | Coca | iNaturalist |
| Ecuador | Orellana | Coca, 9 km south of | Torres-Carvajal et al. 2019 |
| Ecuador | Orellana | Loreto | Dixon et al. 1993 |
| Ecuador | Orellana | Road AMO 1–Río Yasuní | Torres-Carvajal et al. 2019 |
| Ecuador | Orellana | Shiripuno Lodge | Photo by Rudy Gelis |
| Ecuador | Orellana | Yasuní Scientific Station | Torres-Carvajal et al. 2019 |
| Ecuador | Pastaza | Arajuno | Dixon et al. 1993 |
| Ecuador | Pastaza | Balsaura | Ortega-Andrade 2010 |
| Ecuador | Pastaza | Bloque 10-Agip Oil | Torres-Carvajal et al. 2019 |
| Ecuador | Pastaza | Bobonaza | Dixon et al. 1993 |
| Ecuador | Pastaza | Canelos | Dixon et al. 1993 |
| Ecuador | Pastaza | Conambo | Ortega-Andrade 2010 |
| Ecuador | Pastaza | Curaray Medio | Dixon et al. 1993 |
| Ecuador | Pastaza | Montalvo | Ortega-Andrade 2010 |
| Ecuador | Pastaza | Palta | Torres-Carvajal et al. 2019 |
| Ecuador | Pastaza | Puyo | Dixon et al. 1993 |
| Ecuador | Pastaza | Río Arajuno, headwaters of | Dixon et al. 1993 |
| Ecuador | Pastaza | Río Capahuari | Dixon et al. 1993 |
| Ecuador | Pastaza | Río Chambira | Dixon et al. 1993 |
| Ecuador | Pastaza | Río Huiyoyacu | Dixon et al. 1993 |
| Ecuador | Pastaza | Río Pindo | Dixon et al. 1993 |
| Ecuador | Pastaza | Río Villano | Dixon et al. 1993 |
| Ecuador | Pastaza | Sarayacu | Dixon et al. 1993 |
| Ecuador | Pastaza | Sumak Kawsay In Situ | Photo by Danilo Medina |
| Ecuador | Pastaza | Tambo Unión | Dixon et al. 1993 |
| Ecuador | Pichincha | Hostería Selva Virgen | This work |
| Ecuador | Pichincha | La Hesperia | Brouwer 2018 |
| Ecuador | Pichincha | La Unión del Toachi, 14 km SE of | iNaturalist |
| Ecuador | Pichincha | Maquipucuna Reserve | iNaturalist |
| Ecuador | Pichincha | Mashpi Lodge | Arteaga et al. 2013 |
| Ecuador | Pichincha | Mashpi Shungo | This work |
| Ecuador | Pichincha | Milpe Bird Sanctuary | This work |
| Ecuador | Pichincha | Mindo Garden Lodge | Arteaga et al. 2013 |
| Ecuador | Pichincha | Mindo–Cunuco road | Arteaga et al. 2013 |
| Ecuador | Pichincha | Mindo–Los Bancos | Arteaga et al. 2013 |
| Ecuador | Pichincha | Nanegalito, 1 km NW of | This work |
| Ecuador | Pichincha | Otongachi Reserve | Dixon et al. 1993 |
| Ecuador | Pichincha | Río Alambi | Arteaga et al. 2013 |
| Ecuador | Pichincha | Río Cinto | Photo by Lisa Brunetti |
| Ecuador | Pichincha | Río Silanche | Dixon et al. 1993 |
| Ecuador | Pichincha | Santa Lucía Cloud Forest Reserve | This work |
| Ecuador | Pichincha | Séptimo Paraíso Lodge | Arteaga et al. 2013 |
| Ecuador | Pichincha | Tandapi | Arteaga et al. 2013 |
| Ecuador | Pichincha | Tandayapa | iNaturalist |
| Ecuador | Pichincha | Vía a Cascada de Mindo | This work |
| Ecuador | Pichincha | Yellow House Lodge | Arteaga et al. 2013 |
| Ecuador | Santo Domingo de los Tsáchilas | Finca la Esperanza | Dixon et al. 1993 |
| Ecuador | Santo Domingo de los Tsáchilas | La Florida | MHNG 2309.071 |
| Ecuador | Santo Domingo de los Tsáchilas | Puerto Limón | Torres-Carvajal et al. 2019 |
| Ecuador | Santo Domingo de los Tsáchilas | Reserva Forestal La Perla | Photo by Plácido Palacios |
| Ecuador | Santo Domingo de los Tsáchilas | Río Baba | Torres-Carvajal et al. 2019 |
| Ecuador | Santo Domingo de los Tsáchilas | Santo Domingo, 23 km W of | Dixon et al. 1993 |
| Ecuador | Sucumbíos | Comunidad Singue | Torres-Carvajal et al. 2019 |
| Ecuador | Sucumbíos | Dureno | Dixon et al. 1993 |
| Ecuador | Sucumbíos | El Porvenir | Nogueira et al. 2019 |
| Ecuador | Sucumbíos | El Reventador | MHNG 2248.035 |
| Ecuador | Sucumbíos | Limoncocha | Dixon et al. 1993 |
| Ecuador | Sucumbíos | Nicky Amazon Lodge | iNaturalist |
| Ecuador | Sucumbíos | Road El Reventador–Lumbaqui | Torres-Carvajal et al. 2019 |
| Ecuador | Sucumbíos | San Pablo de Kantesiya | MHNG 2309.072 |
| Ecuador | Sucumbíos | Santa Cecilia | Dixon et al. 1993 |
| Ecuador | Zamora Chinchipe | Copalinga | Reeves et al. (unpublished) |
| Ecuador | Zamora Chinchipe | Cumbaratza, 2 km N of | Arteaga et al. 2013 |
| Ecuador | Zamora Chinchipe | Las Orquídeas, 7 km N of | iNaturalist |
| Ecuador | Zamora Chinchipe | Maycu Reserve | This work |
| Ecuador | Zamora Chinchipe | Valladolid | MHNG 2248.034 |
| Ecuador | Zamora Chinchipe | Valle del Quimi | Betancourt et al. 2018 |
| Ecuador | Zamora Chinchipe | Zamora | Arteaga et al. 2013 |
| Ecuador | Zamora Chinchipe | Zamora, 10 km north of | Torres-Carvajal et al. 2019 |
| Ecuador | Zamora Chinchipe | Zumba–Pucubamba road | This work |
| Peru | Amazonas | Aguaruna Village | MVZ 175311 |
| Peru | Amazonas | Chiriaco, 31 km SW of | Dixon et al. 1993 |
| Peru | Amazonas | Huambisa Village | MVZ 175307 |
| Peru | Amazonas | Huampami | USNM 316580 |
| Peru | Amazonas | Imasa | MVZ 163248 |
| Peru | Amazonas | Kagka | USNM 316582 |
| Peru | Amazonas | Kayamas | USNM 316581 |
| Peru | Amazonas | La Poza | USNM 566553 |
| Peru | Amazonas | Puerto Galilea | USNM 566552 |
| Peru | Amazonas | Río Caterpiza | USNM 566711 |
| Peru | Amazonas | Tujushik Entse | USNM 316579 |