| | |
| --- | --- |
| Published December 28, 2020. Open access. | Gallery ❯ |
Brown-banded Watersnake (Helicops angulatus)
Reptiles of Ecuador | Serpentes | Colubridae | Helicops | Helicops angulatus
English common names: Brown-banded Watersnake, Broad-banded Water Snake, Mountain Keelback, South American Water Snake, Amazonian Water Snake, Water Mapepire.
Spanish common name: Culebra acuática angulada, culebra de agua angulada (Ecuador); cuatro nariz de agua, falsa cuatro narices, mapaná de agua (Colombia); falsa mapanare de agua, sapa, cascabel de agua (Venezuela); jergón de agua, serpiente de agua, yacu jergón (Perú).
Recognition: ♂♂ 68.6 cmMaximum distance from the snout to the tip of the tail. ♀♀ 73.5 cmMaximum distance from the snout to the tip of the tail..1,2 The Brown-banded Watersnake (Helicops angulatus) can be distinguished from most Amazonian snakes by having the eyes and nostrils on top of the head.3,4 The pupil is round to semi-elliptical,4,5 and the dorsum is grayish brown to olive brown with 21 to 25 dark transverse bands with black edges.1,5,6 The first dorsal band extends anteriorly in the middle into a tent-shaped mark.5,7 Some individuals may present metachrosis (color change), becoming lighter at night.8 In Ecuador, H. angulatus can be distinguished from H. pastazae and H. hagmanni by having transverse dorsal crossbands.4,9 Hydrops martii and Hydrops triangularis differ from H. angulatus by having a greater number of black bands (39–76) on the body.1,7 In addition, Hydrops triangularis may have red spots dorsally.1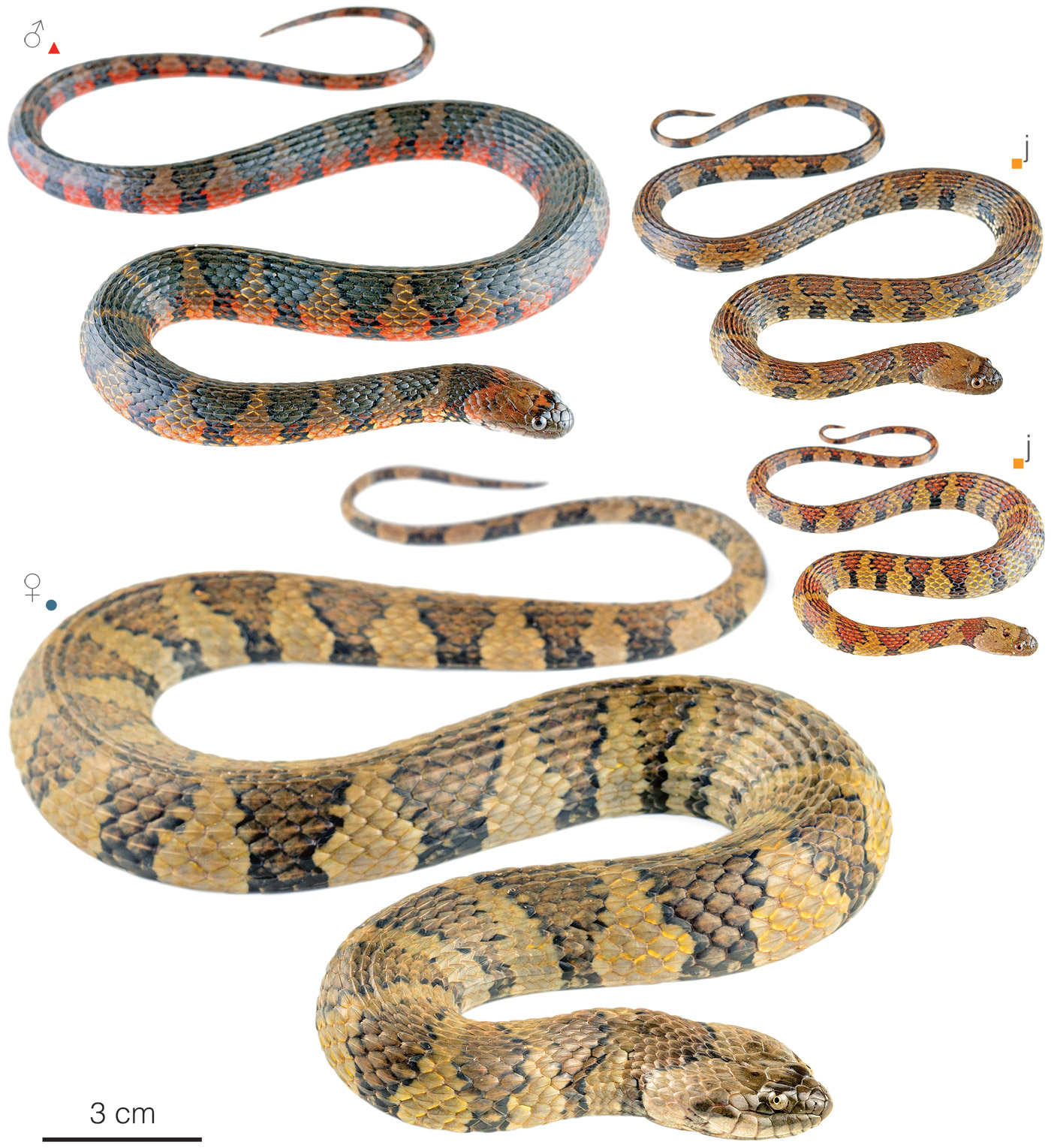 Figure 1: Individuals of Helicops angulatus from Cabeceras del Bobonaza, Pastaza province (); Jatun Sacha Biological Reserve, Napo province, Ecuador (); and Yasuní Scientific Station, Orellana province, Ecuador (). ad=adult, j=juvenile.
Natural history: FrequentRecorded weekly in densities below five individuals per locality..10 Helicops angulatus is a semi-aquatic snake that inhabits lentic bodies of water with abundant aquatic vegetation.1 It can also be found in streams, rivers, lakes, lagoons, fish ponds, and temporary ponds in open as well as forested areas with various degrees of human intervention.1,5,11,12 Mountain Keelbacks are nocturnal and most active between 6:00 and 10:00 pm,13 but can occasionally be active during the daytime.5 They are aquatic and can be found at different depths. When in shallow waters, individuals usually have the body submerged and part of the head above the surface.5 Mountain Keelbacks move short distances per day (an average of ~3.6 m/day),14 not only in water but also on mud and soil close to water bodies.10
Brown-banded Watersnakes are sit-and-wait foragers.15 Their diet includes mostly fish, but also amphibians in adult stage as well as on their eggs and tadpoles.5,11,16–18 Amphibian prey include Boana boans,17 B. geographica, Osteocephalus taurinus,5 Scinax ruber,17 Adenomera hylaedactyla,19 Allobates femoralis,20 Rhinella margaritifera,21 and R. marina.17,22 Helicops angulatus also feeds on lizards (such as Alopoglossus spp., and Potamites ecpleopus),1,18 carrion,23 and invertebrates (including giant earthworms of the family Glossoscolecidae),24 although some of the latter may be consumed by secondary ingestion.21 Also, there are records of plastic being ingested by members of this species.25 Brown-banded Watersnakes are preyed upon by snakes (including Eunectes murinus,26 Drepanoides anomalus,27 Clelia clelia,28 and Drymarchon corais29), herons (Tigrisoma lineatum),30 and aquatic larvae of the lion ant (Corydalidae).31
The behavior of Helicops angulatus varies among individuals, so it is possible to find docile or defensive snakes.5 Faced with a potential threat, Brown-banded Watersnakes make an S-coil, flatten the body and head dorsoventrally, open the mouth, and strike.4,5,13 When manipulated, individuals rotate the body, bite, and produce cloacal discharges.5,13,16 They may also poke with the tip of the tail.13 Helicops angulatus is an opisthoglyphous snake, meaning it has enlarged teeth towards the rear of the maxilla, and is considered mildly venomous (LD50The median lethal dose (LD50) is a measure of venom strength. It is the minium dosage of venom that will lead to the deaths of 50% of the tested population. 5.3 mg/kg in mice).32 The venom of this species has proteolytic (causing protein breakdown) and neurotoxic (acting on the nervous system) components. Humans who have been bitten present local pain as well as changes in coagulation time.32,33 Accidents involving the Brown-banded Watersnakes are frequent in children and adults in some rural areas.33,34
Helicops angulatus can lay eggs as well as give birth to live young.35 However, there are no records of the occurrence of both reproductive modes in the same population.35,36 Clutch/litter sizes range between 1–24 with incubation times of ~18 to 45 days.5,8,35,37 Under human care, one female lived for seven years.8
Conservation: Least Concern Believed to be safe from extinction given current circumstances..38 Helicops angulatus is listed in this category given its wide distribution, high abundance, and tolerance to human-modified environments.38 However, the species' presence near urbanized areas makes individuals especially susceptible to being killed by people out of concern or because it can be confused with the venomous snake Bothrops atrox.3,5,16 Other causes of mortality include death from vehicular traffic and ingestion of plastic.15,25
Distribution: Helicops angulatus is widely distributed throughout the Amazon basin in Bolivia, Brazil, Colombia, Ecuador, French Guiana, Guyana, Peru, Suriname and Venezuela. It also occurs in Trinidad Island, as well as in the Cerrado, Caatinga, and Atlantic Forest biomes in Brazil. Its entire range of distribution is estimated to be ~36,677 km2.39 In Ecuador, this species occurs at elevations between 185 and 995 m (Fig. 2).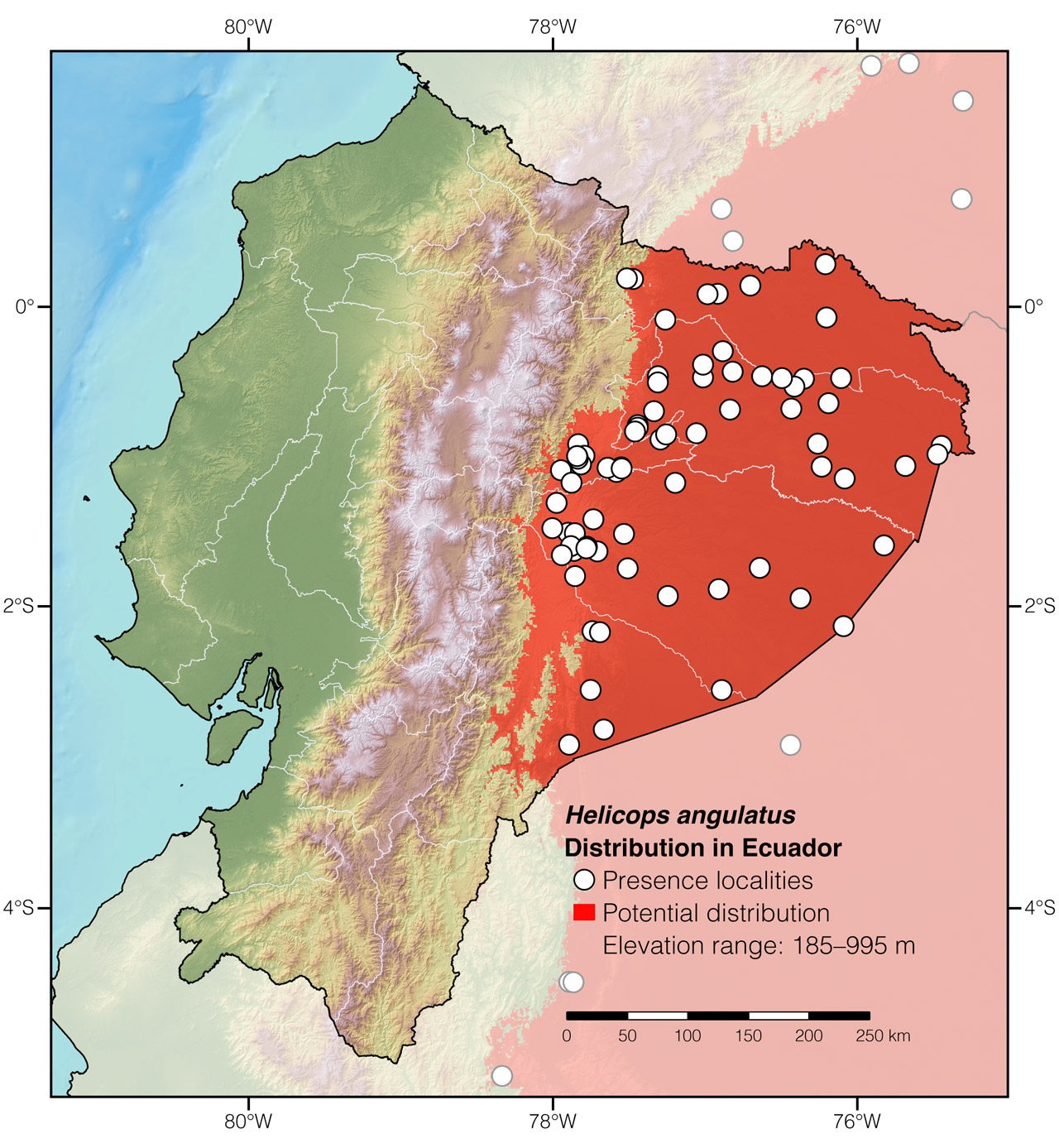 Figure 2: Distribution of Helicops angulatus in Ecuador. See Appendix 1 for a complete list of the presence localities included in the map.
Etymology: The generic name Helicops, which comes from the Greek words helix (meaning "turned") and ops (meaning "eye"),40 refers to the direction of the eyes in this group of snakes, oriented not directly outwards, but obliquely upwards.41,42 The specific epithet angulatus, which comes from the Latin angulus (meaning "angle") and the prefix -atus (meaning "provided with"),40 refers to the presence of prominent keels on the dorsal scales that give the appearance of many angles.42
See it in the wild: Brown-banded Watersnakes can be located with ~5–15% certainty in forested areas throughout the species' area of distribution in Ecuador, especially along slow-moving whitewater rivers. Some of the best locations to find Helicops angulatus in the wild in Ecuador are Yasuní National Park, Yarina Lodge, and Jatun Sacha Biological Station.
Authors: Juan Acosta-Ortiz,aAffiliation: Universidad de los Llanos. Villavicencio, Colombia. Andrés F. Aponte-Gutiérrez,bAffiliation: Grupo de Biodiversidad y Recursos Genéticos, Instituto de Genética, Universidad Nacional de Colombia, Bogotá, Colombia.,cAffiliation: Fundación Biodiversa Colombia, Bogotá, Colombia. and Leonardo Niño-CárdenasdAffiliation: Laboratorio de Anfibios, Instituto de Ciencias Naturales, Universidad Nacional de Colombia, Bogotá, Colombia.
Editor: Alejandro ArteagaeAffiliation: Tropical Herping (TH), Quito, Ecuador.
Photographers: Jose VieiraeAffiliation: Tropical Herping (TH), Quito, Ecuador.,fAffiliation: ExSitu, Quito, Ecuador. and and Sebastián Di DoménicogAffiliation: Keeping Nature, Bogotá, Colombia.
How to cite? Acosta-Ortiz J, Aponte-Gutiérrez A, Niño-Cárdenas L (2020) Brown-banded Watersnake (Helicops angulatus). In: Arteaga A, Bustamante L, Vieira J, Guayasamin JM (Eds) Reptiles of Ecuador: Life in the middle of the world. Available from: www.reptilesofecuador.com. DOI: 10.47051/ETXC3519
Literature cited:
Appendix 1: Locality data used to create the distribution map of Helicops angulatus in Ecuador (Fig. 2). Go to the section on symbols and abbreviations for a list of acronyms used.
| | | | |
| --- | --- | --- | --- |
| Country | Province | Locality | Source |
| Colombia | Caquetá | Belén de Los Andaquíes | SINCHI 942 |
| Colombia | Caquetá | Florencia | MLS 750 |
| Colombia | Caquetá | La Montañita | ICN 10737 |
| Colombia | Caquetá | Tres Esquinas | MLS 754 |
| Colombia | Putumayo | El Salado | PUJ 82 |
| Colombia | Putumayo | La Hormiga | PUJ 262 |
| Colombia | Putumayo | Orito | iNaturalist |
| Colombia | Putumayo | Puerto Leguizamo | Nogueira et al. 2019 |
| Colombia | Putumayo | Tres esquinas | Nogueira et al. 2019 |
| Ecuador | Morona Santiago | Comunidad Shuar Amaru | Online multimedia |
| Ecuador | Morona Santiago | Cusuime | Ortega-Andrade 2010 |
| Ecuador | Morona Santiago | Macuma | Cisneros-Heredia 2006 |
| Ecuador | Morona Santiago | Marantian Wildlife Refuge | Photo by Alex Achig |
| Ecuador | Morona Santiago | Río Cusuime | Nogueira et al. 2019 |
| Ecuador | Napo | Archidona | Nogueira et al. 2019 |
| Ecuador | Napo | Centro de Rescate AmaZOOnico | iNaturalist |
| Ecuador | Napo | Chontapunta | iNaturalist |
| Ecuador | Napo | Finca Fischer | TCWC 67312 |
| Ecuador | Napo | Grand Selva Lodge | Photo by William Freedberg |
| Ecuador | Napo | Jatun Sacha Reserve | This work |
| Ecuador | Napo | Liana Lodge | iNaturalist |
| Ecuador | Napo | Puerto Napo | Nogueira et al. 2019 |
| Ecuador | Napo | Río Pano | iNaturalist |
| Ecuador | Napo | Río Pucuno | USNM 204141 |
| Ecuador | Napo | Río Tena | iNaturalist |
| Ecuador | Napo | Sani Lodge dock | iNaturalist |
| Ecuador | Napo | Tangara Huasi | iNaturalist |
| Ecuador | Napo | Tena | iNaturalist |
| Ecuador | Napo | Tena, Isidro Ayora | iNaturalist |
| Ecuador | Napo | Yachana Reserve | This work |
| Ecuador | Napo | Zatzayacu | Photo by Ricardo Íñiguez |
| Ecuador | Orellana | Concepción | USNM 204145 |
| Ecuador | Orellana | Cononaco | This work |
| Ecuador | Orellana | El Coca | MCZ 163952 |
| Ecuador | Orellana | El Coca, 5 km N of | Nogueira et al. 2019 |
| Ecuador | Orellana | El Descanso | Nogueira et al. 2019 |
| Ecuador | Orellana | Joya de los Sachas | Nogueira et al. 2019 |
| Ecuador | Orellana | Loreto | USNM 204143 |
| Ecuador | Orellana | Nuevo Rocafuerte | Nogueira et al. 2019 |
| Ecuador | Orellana | NWC Parrot clay lick | iNaturalist |
| Ecuador | Orellana | Pindo | Photo by Ernesto Arbeláez |
| Ecuador | Orellana | Pozo Amo | Nogueira et al. 2019 |
| Ecuador | Orellana | Pozo Ishpingo | Nogueira et al. 2019 |
| Ecuador | Orellana | Pozo Nashiño | Nogueira et al. 2019 |
| Ecuador | Orellana | Río Coca | Nogueira et al. 2019 |
| Ecuador | Orellana | Río Cotapino | Nogueira et al. 2019 |
| Ecuador | Orellana | San José de Payamino | Maynard et al. 2016 |
| Ecuador | Orellana | Tambococha | Nogueira et al. 2019 |
| Ecuador | Orellana | Tiputini Biodiversity Station | iNaturalist |
| Ecuador | Orellana | Via Pompeya–Iro, km 10 | Nogueira et al. 2019 |
| Ecuador | Orellana | Vía Pompeya–Iro, km 72 | Nogueira et al. 2019 |
| Ecuador | Orellana | Yasuní Scientific Station | Nogueira et al. 2019 |
| Ecuador | Pastaza | Arutam | SMF 90947 |
| Ecuador | Pastaza | Balsaura | Ortega-Andrade 2010 |
| Ecuador | Pastaza | Bobonaza | Nogueira et al. 2019 |
| Ecuador | Pastaza | Bobonaza, 5.7 km SE of | Nogueira et al. 2019 |
| Ecuador | Pastaza | Cabeceras del Río Bobonaza | This work |
| Ecuador | Pastaza | Canelos | Nogueira et al. 2019 |
| Ecuador | Pastaza | Conambo | Ortega-Andrade 2010 |
| Ecuador | Pastaza | Curaray Medio | This work |
| Ecuador | Pastaza | Heimatlos Lodge | Photo by Ferhat Gundogdu |
| Ecuador | Pastaza | Indillana | iNaturalist |
| Ecuador | Pastaza | Kapawi Reserve | iNaturalist |
| Ecuador | Pastaza | Kurintza | Nogueira et al. 2019 |
| Ecuador | Pastaza | Madre Tierra | Nogueira et al. 2019 |
| Ecuador | Pastaza | Montalvo | Nogueira et al. 2019 |
| Ecuador | Pastaza | Pindoyacu | Ortega-Andrade 2010 |
| Ecuador | Pastaza | Puente Renacer Amazonico | iNaturalist |
| Ecuador | Pastaza | Puyo | Photo by Danilo Medina |
| Ecuador | Pastaza | Río Curaray | iNaturalist |
| Ecuador | Pastaza | Río Tigre | USNM 204139 |
| Ecuador | Pastaza | Sacha Yaku Reserve | This work |
| Ecuador | Pastaza | Sarayacu | USNM 204135 |
| Ecuador | Pastaza | Tamandúa Reserve | Photo by Jorge Flores |
| Ecuador | Sucumbíos | Gonzalo Pizarro | iNaturalist |
| Ecuador | Sucumbíos | Lago Agrio | Nogueira et al. 2019 |
| Ecuador | Sucumbíos | Nicky Amazon Lodge | iNaturalist |
| Ecuador | Sucumbíos | Pañacocha, 2.5 km S of | Nogueira et al. 2019 |
| Ecuador | Sucumbíos | Puerto Libre | Duellman, 1978 |
| Ecuador | Sucumbíos | Putumayo | iNaturalist |
| Ecuador | Sucumbíos | Sacha Lodge | Photo by Charlie Vogt |
| Ecuador | Sucumbíos | Santa Cecilia | Duellman, 1978 |
| Ecuador | Sucumbíos | Santa Elena | iNaturalist |
| Perú | Amazonas | Nazareth | MVZ 163275 |
| Perú | Amazonas | Puerto Galilea | USNM 566570 |
| Perú | Amazonas | Río Santiago | USNM 566574 |
| Perú | Loreto | Andoas | Nogueira et al. 2019 |