Spiny Dwarf-Iguana
Reptiles of Ecuador | Sauria | Hoplocercidae | Enyalioides heterolepis
Spanish common name: Iguana enana espinosa.
Recognition: ♂♂ 33.4 cm ♀♀ 31.1 cm. Enyalioides heterolepis is unique among dwarf iguanas (genus Enyalioides) in western Ecuador in having a dark triangle-shaped mark beneath the eye and a pale vertical line above the arm.
Picture: Adult male.
Picture: Adult male.
Picture: Adult female.
Picture: Subadult male.
Picture: Subadult male.
Picture: Juvenile.
Picture: Juvenile.
Picture: Juvenile.
Natural history: Common. Enyalioides heterolepis is a diurnal sunlight-loving mainly terrestrial lizard that sleeps at ground level inside holes, on leaf litter, on soil, or on stems, tree trunks or palm roots 20–170 cm above the ground during the night.1,2 It is a territorial species found in primary and secondary evergreen forests, and plantations.1 Enyalioides heterolepis feeds on ants, crickets, beetles and spiders.1,3 This species is preyed upon by the snake Clelia clelia and Rhynobothrium bovallii.2 Females of E. heterolepis containing two eggs have been found.1 This species avoids predators by running suddenly under logs or in holes in the ground.2 If captured, this aggressive lizard can inflict a painful prolongued bite.2
Conservation: Least Concern.4 Enyalioides heterolepis is listed in this category because this species is widely distributed and occurs in protected areas.4
Distribution: Chocoan lowlands and adjacent Andean foothills from Ecuador to eastern Panama.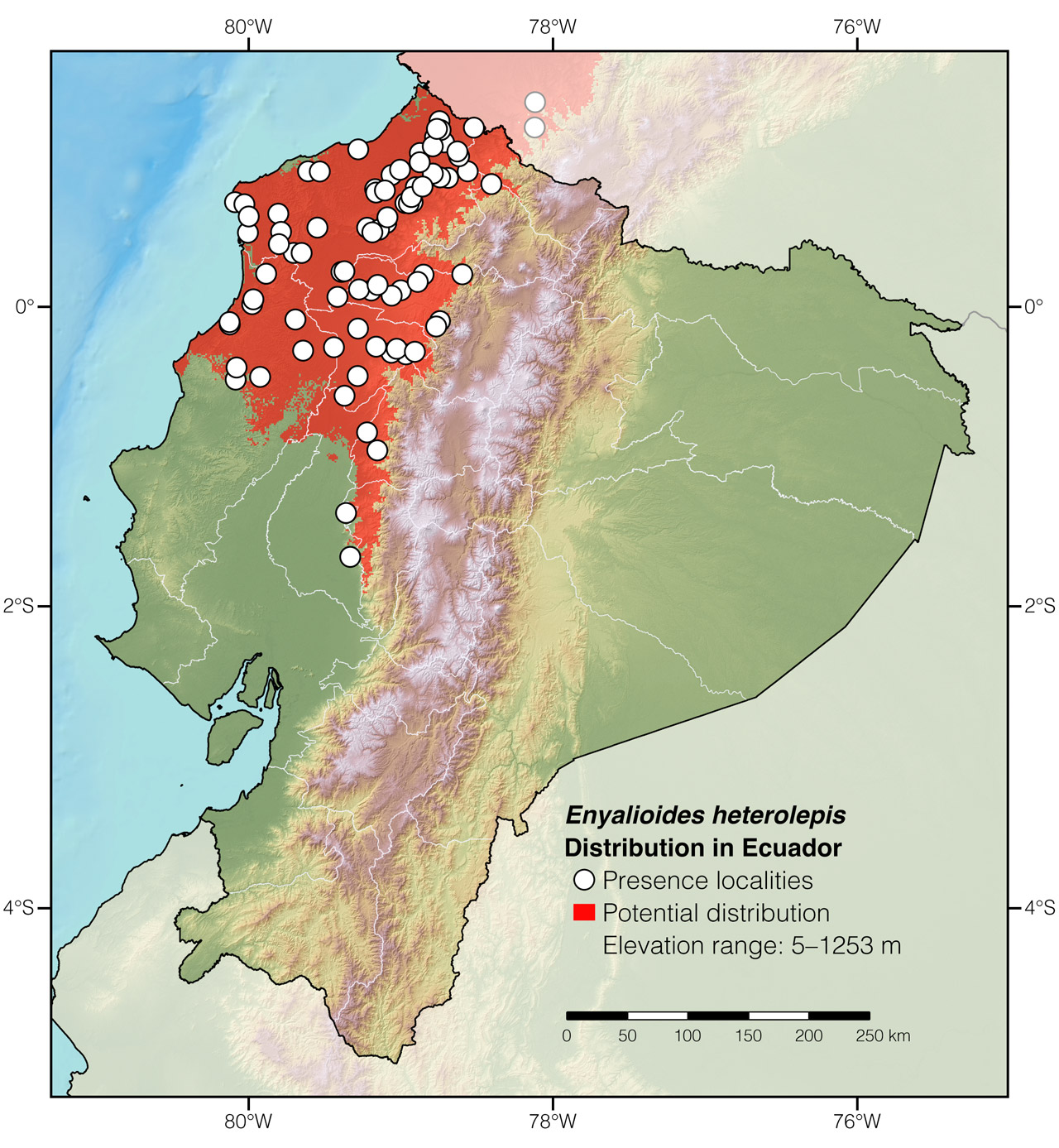 Etymology: The generic name Enyalioides, which comes from the Latin words Enyalius (a genus of neotropical lizards) and oides (meaning "similar to"), refers to the similarity between lizards of the two genera.5 The specific epithet heterolepis, which comes from the Greek words heteros (meaning "different") and lepis (meaning "scale"),6 refers to the mixture of small and conical scales on the dorsal aspect of this lizard.
Authors: Alejandro ArteagaaAffiliation: Khamai Foundation, Quito, Ecuador. and Gabriela Aguiar.
Literature cited: