| | |
| --- | --- |
| Published March 18, 2022. Open access. | Gallery ❯ |
Black-headed Centipede-Snake (Tantilla melanocephala)
Reptiles of Ecuador | Serpentes | Colubridae | Tantilla | Tantilla melanocephala
English common name: Black-headed Centipede-Snake.
Spanish common name: Culebra ciempiés cabecinegra.
Recognition: ♂♂ 43.5 cmMaximum distance from the snout to the tip of the tail. Snout–vent length=30.9 cm. ♀♀ 39.9 cmMaximum distance from the snout to the tip of the tail. Snout–vent length=31.7 cm..1–3 The Black-headed Centipede-Snake (Tantilla melanocephala) may be recognized from other snakes in its area of distribution by having the following combination of features: smooth scales arranged in 15 rows at mid-body, a round head similar in width to the neck, small eyes, no loreal scale, and a brownish dorsum with a black head cap and a pattern of thin black longitudinal lines.2–7 The presence of dorsal scales arranged in 15 rows at mid-body distinguishes T. melanocephala from other brownish co-occurring snakes such as Taniophallus brevirostris and Atractus gaigeae.8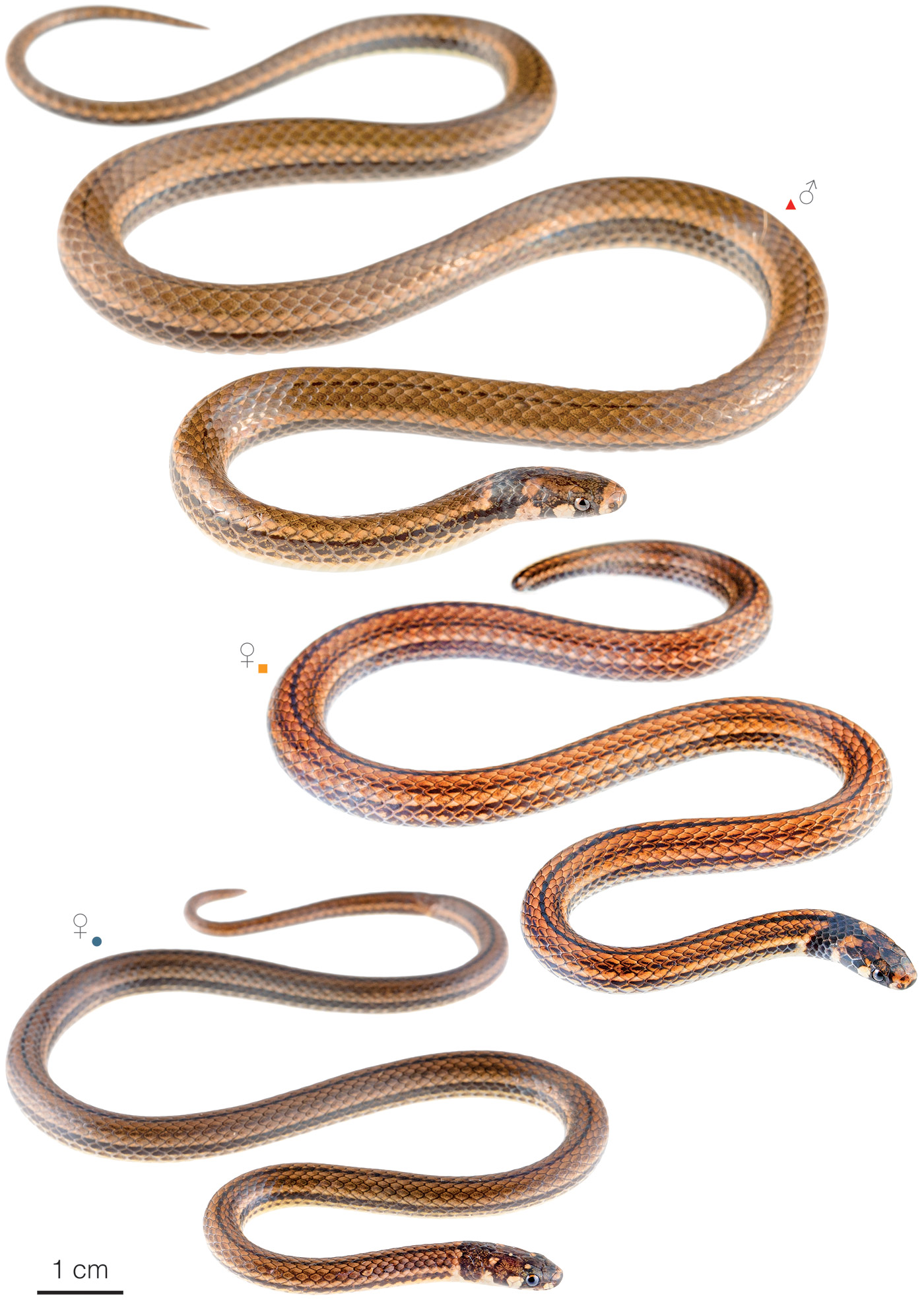 Figure 1: Individuals of Tantilla melanocephala from Santander department, Colombia (); Cotundo, Napo province, Ecuador (); and Morromico Reserve, Chocó department, Colombia ().
Natural history: UncommonUnlikely to be seen more than once every few months.9 to locally frequentRecorded weekly in densities below five individuals per locality.,10 especially in southeastern Brazil, where individuals are found evenly throughout the year.11 Tantilla melanocephala is a semi-fossorial (living underground and at ground level) snake that, in Ecuador, occurs in the evergreen forest ecosystem, but elsewhere in South America also occurs in savannas and seasonally dry forests.12 This species is present in pristine habitats7,9 as well as in disturbed areas such as pastures,13 cultivated fields,2,10 rural gardens,9,14 and houses.14 Black-headed Centipede-Snakes have been seen moving on soil and leaf-litter1 or crossing roads3 during the daytime,6,7,9,15 at dusk,16 or at night.11 When not active, they bury themselves under soft soil2,9,14 or hide under rocks,17 surface debris, in termite mounds, or beneath logs.11 The diet of T. melanocephala is primarily composed of centipedes,3,11,13,18 but insects such as roaches6 are occasionally consumed.3 Black-headed Centipede-Snakes are opistoglyphous (having enlarged teeth towards the rear of the maxilla) and mildly venomous, which means they are dangerous to small prey, but not to humans.11 The time between seizure of a centipede and the onset of pre-ingestion maneuvers is 2–7 minutes.11 Centipedes are always swallowed head first.11
Black-headed Centipede-Snakes rely on their secretive habits as a primary defense mechanism. When threatened, these calm but jittery snakes try to flee by digging into the soil or disappearing into the leaf-litter; if captured, they thrash the body vigorously3 and may shed portions of their tail.9,16 Individuals of Tantilla melanocephala are preyed upon by owls (Athene cunicularia),19 snakes (Bothrops atrox20 and Pseudoboa coronata7), and spiders.21,22 In seasonally dry areas, breeding in T. melanocephala coincides with the rainy season11; but in the Amazon rainforest and in the Atlantic Forest, reproduction seems to take place year-round.18,23 Gravid females containing 1–3 eggs have been found in the Amazon,2,3,7,24 and in the Cerrado and Atlantic Forest of Brazil.11 Clutch sizes of 2–3 eggs has been reported.16,25
Conservation: Least Concern Believed to be safe from extinction given current circumstances.. 26 Tantilla melanocephala is listed in this category mainly on the basis of the species' wide distribution, occurrence in protected areas, and presumed stable populations. Therefore, the species is considered to be facing no major immediate extinction threats.26 Black-headed Centipede-Snakes persist in the urban-rural landscape and are likely to keep thriving under current scenarios of global warming.27 It has been hypothesized that these snakes are introduced in several islands in the Caribbean, including Grenada and Mustique, probably from Trinidad or northeastern South America, and likely via boat traffic.14,28 Some snakes may have arrived in construction materials, such as sand.28 There is information29,30 that suggests that this snake species suffers from traffic mortality and predation by house cats.31
Distribution: Tantilla melanocephala is widely distributed throughout the lowlands and adjacent mountain foothills of Central America and South America, from Central Panama, Venezuela, and the Lesser Antilles, to northeastern Argentina. The species has an estimated total range size of 2,946,399 km2 that encompasses eastern Mesoamerica, the northern Chocó rainforest, Magdalena valley, the entire Amazon basin, the Cerrado, and the Atlantic Forest.12 In Ecuador, this species occurs at elevations between 118 and 1620 m (Fig. 2).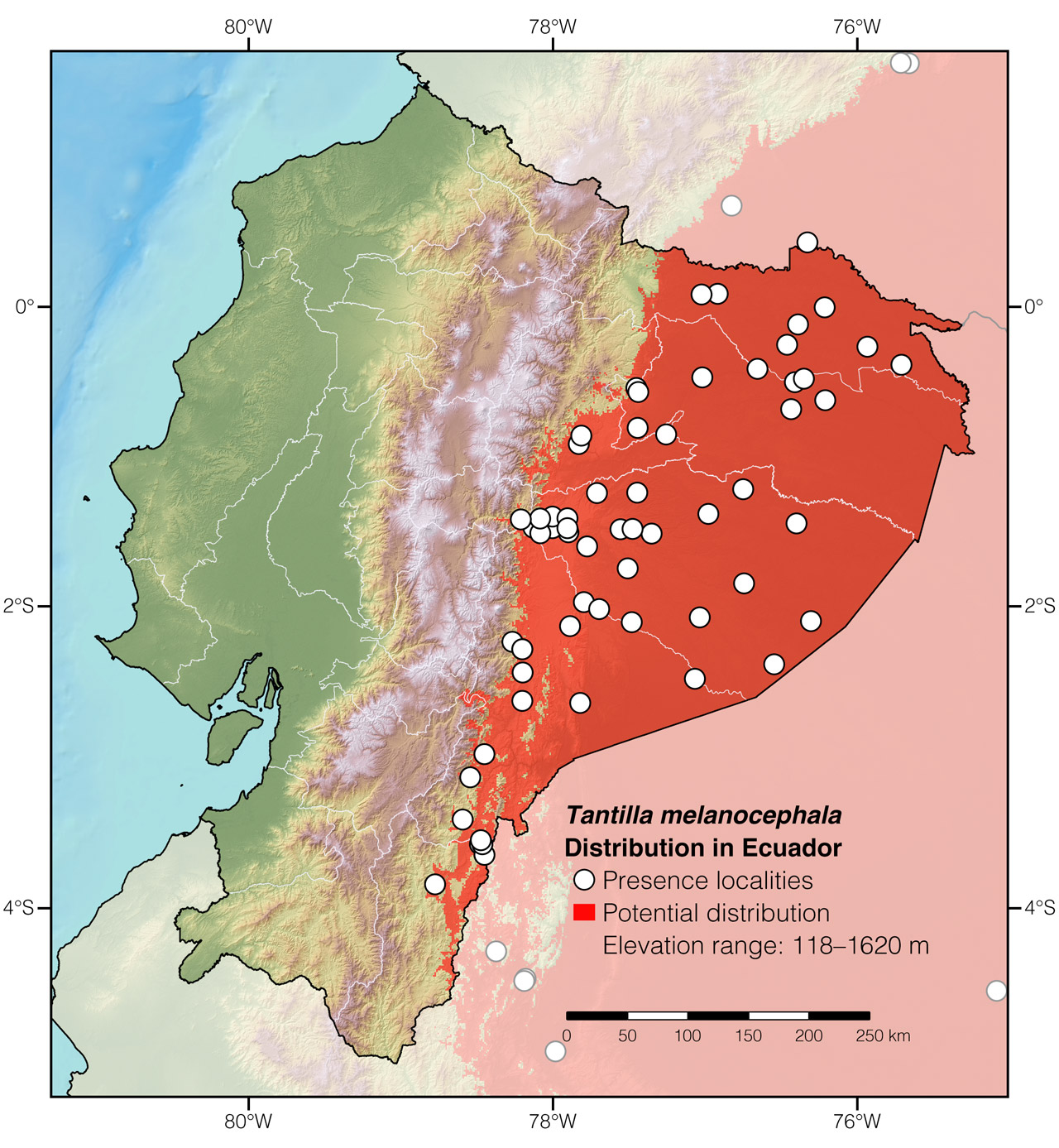 Figure 2: Distribution of Tantilla melanocephala in Ecuador. See Appendix 1 for a complete list of the presence localities included in the map.
Etymology: The generic name Tantilla, which is derived from the Latin word tantillus (meaning "so little"),32 is probably a reference to the small body size of snakes of this genus. The specific epithet melanocephala, which comes from the Greek words melas (meaning "black") and kephale (meaning "head"),32 refers to the black head cap characteristic to individuals of this species.
See it in the wild: In Ecuador, Black-headed Centipede-Snakes are usually found no more than once every few months at any given area and usually only by chance. Apparently, the only localities where the species is recorded consistently is around the towns Archidona and Santa Cecilia. The majority of individuals have been found by walking along forest trails during the daytime.
Notes: This account follows Wilson and Mena (1980)5 and Wilson (1999)33 in recognizing Tantilla melanocephala and T. equatoriana as distinct species, a view contrary to Greenbaum et al. (2004).34 Tantilla fraseri is also considered to be a valid taxon and not a synonym of T. melanocephala, following Peters (1960).35 An unpublished36 species delimitation analysis based on DNA sequences confirms these arrangements, a view that is shared here based also on the differences in head pattern between the species.
Author: Alejandro ArteagaaAffiliation: Khamai Foundation, Quito, Ecuador.
Photographers: Jose Vieira,bAffiliation: Tropical Herping (TH), Quito, Ecuador.,cAffiliation: ExSitu, Quito, Ecuador. Sebastián Di Doménico,dAffiliation: Keeping Nature, Bogotá, Colombia. and Alejandro ArteagaaAffiliation: Khamai Foundation, Quito, Ecuador.
How to cite? Arteaga A (2022) Black-headed Centipede-Snake (Tantilla melanocephala). In: Arteaga A, Bustamante L, Vieira J, Guayasamin JM (Eds) Reptiles of Ecuador: Life in the middle of the world. Available from: www.reptilesofecuador.com. DOI: 10.47051/ECIK7982
Literature cited:
Appendix 1: Locality data used to create the distribution map of Tantilla melanocephala in Ecuador (Fig. 2). Go to the section on symbols and abbreviations for a list of acronyms used.
| | | | |
| --- | --- | --- | --- |
| Country | Province | Locality | Source |
| Colombia | Caquetá | Florencia | MLS 1256 |
| Colombia | Caquetá | Reserva La Avispa | UAM-R-0397 |
| Colombia | Putumayo | Río Putumayo | Wilson & Mena 1980 |
| Colombia | Putumayo | Vereda La Paz | iNaturalist |
| Ecuador | Morona Santiago | 9 de Octubre | Tipantiza-Tuguminago et al. 2021 |
| Ecuador | Morona Santiago | Finca El Piura | iNaturalist |
| Ecuador | Morona Santiago | General Plaza | Arteaga et al. 2013 |
| Ecuador | Morona Santiago | Gualaquiza | Wilson & Mena 1980 |
| Ecuador | Morona Santiago | Kuchintsa | Nogueira et al. 2019 |
| Ecuador | Morona Santiago | Miazal | Wilson & Mena 1980 |
| Ecuador | Morona Santiago | Normandía | AMNH 35896 |
| Ecuador | Morona Santiago | Río Upano | AMNH 28813 |
| Ecuador | Morona Santiago | San Juan Bosco | Photo by Juan Carlos Sanchez |
| Ecuador | Morona Santiago | Shuin Mamus | iNaturalist |
| Ecuador | Napo | Archidona | MHNG 2441.014 |
| Ecuador | Napo | Yachana Reserve | Photo by Scott Waters |
| Ecuador | Napo | Zoo el Arca | This work |
| Ecuador | Orellana | Concepción | Wilson & Mena 1980 |
| Ecuador | Orellana | El Coca | MHNG 2412.058 |
| Ecuador | Orellana | Río Bigal Biological Reserve | Photo by Thierry García |
| Ecuador | Orellana | San José de Suno | iNaturalist |
| Ecuador | Orellana | Tiputini Biodiversity Station | Nogueira et al. 2019 |
| Ecuador | Orellana | Yasuní Scientific Station | Arteaga et al. 2013 |
| Ecuador | Pastaza | Alto Curaray | Wilson & Mena 1980 |
| Ecuador | Pastaza | Arajuno | Arteaga et al. 2013 |
| Ecuador | Pastaza | Bataburo Lodge | Online multimedia |
| Ecuador | Pastaza | Bioparque Yanacocha | iNaturalist |
| Ecuador | Pastaza | Bobonaza | Arteaga et al. 2013 |
| Ecuador | Pastaza | Campamento K10 | Nogueira et al. 2019 |
| Ecuador | Pastaza | Canelos | Wilson & Mena 1980 |
| Ecuador | Pastaza | Copataza (Achuar) | Peñafiel 2013 |
| Ecuador | Pastaza | Fátima | Nogueira et al. 2019 |
| Ecuador | Pastaza | Intersección Cueva de los Tayos | Peñafiel 2013 |
| Ecuador | Pastaza | Kawa | Peñafiel 2013 |
| Ecuador | Pastaza | Mera | Nogueira et al. 2019 |
| Ecuador | Pastaza | Montalvo | Arteaga et al. 2013 |
| Ecuador | Pastaza | Pozo Garza-1 | Nogueira et al. 2019 |
| Ecuador | Pastaza | Puyo | Wilson & Mena 1980 |
| Ecuador | Pastaza | Puyo, 10 km N of | Arteaga et al. 2013 |
| Ecuador | Pastaza | Río Arajuno, headwaters of | Wilson & Mena 1980 |
| Ecuador | Pastaza | Río Corrientes | Wilson & Mena 1980 |
| Ecuador | Pastaza | Río Curaray | Arteaga et al. 2013 |
| Ecuador | Pastaza | Río Huiyoyacu | Arteaga et al. 2013 |
| Ecuador | Pastaza | Río Pindo | Wilson & Mena 1980 |
| Ecuador | Pastaza | Río Talin | USMN 287933 |
| Ecuador | Pastaza | Río Villano | Wilson & Mena 1980 |
| Ecuador | Pastaza | Sarayacu | Wilson & Mena 1980 |
| Ecuador | Pastaza | Shell | MHNG 2309.097 |
| Ecuador | Pastaza | Sumak Kawsay In Situ | Bentley et al. 2021 |
| Ecuador | Pastaza | Villano | Nogueira et al. 2019 |
| Ecuador | Sucumbíos | Casa de Eduardo Payaguaje | Nogueira et al. 2019 |
| Ecuador | Sucumbíos | Estación PUCE en Cuyabeno | Nogueira et al. 2019 |
| Ecuador | Sucumbíos | La Selva Lodge | Nogueira et al. 2019 |
| Ecuador | Sucumbíos | Lago Agrio | Duellman 1978 |
| Ecuador | Sucumbíos | Limoncocha | Wilson & Mena 1980 |
| Ecuador | Sucumbíos | Playas del Cuyabeno | Nogueira et al. 2019 |
| Ecuador | Sucumbíos | San Pablo de Kantesiya | MHNG 2307.067 |
| Ecuador | Sucumbíos | Sani Lodge | This work |
| Ecuador | Sucumbíos | Santa Cecilia | Duellman 1978 |
| Ecuador | Sucumbíos | Tarapoa | Nogueira et al. 2019 |
| Ecuador | Tungurahua | Unspecified locality | UMMZ 84107 |
| Ecuador | Zamora Chinchipe | Proyecto Minero Mirador | Photo by Raquel Betancourt |
| Ecuador | Zamora Chinchipe | Tundayme, 10 km SE of | iNaturalist |
| Ecuador | Zamora Chinchipe | Tundayme, 5 km E of | Nogueira et al. 2019 |
| Ecuador | Zamora Chinchipe | Unspecified locality | UMMZ 82891 |
| Ecuador | Zamora Chinchipe | Valle del Quimi | Betancourt et al. 2018 |
| Peru | Amazonas | Aguaruna Village | MVZ 163428 |
| Peru | Amazonas | Caterpiza | USNM 566611 |
| Peru | Amazonas | Kayamas | MVZ 163314 |
| Peru | Amazonas | Shaim | USNM 316642 |
| Peru | Amazonas | Upper Río Nieva | Wilson & Mena 1980 |
| Peru | Amazonas | Zona Reservada Santiago-Comaina | Jowers et al. 2020 |
| Peru | Loreto | Nauta | Jowers et al. 2020 |
| Peru | Loreto | Sargento Lores | Jowers et al. 2020 |