| | |
| --- | --- |
| Published April 25, 2021. Open access. | Gallery ❯ |
Bridled Forest Gecko (Gonatodes humeralis)
Reptiles of Ecuador | Sauria | Sphaerodactylidae | Gonatodes humeralis
English common names: Bridled Forest Gecko, Rainbow Sun-Gecko, Trinidad Gecko, Orange-spotted Gecko, Spot-nosed Gecko, South American Clawed Gecko.
Spanish common names: Geco tornasol, salamanquesa de Trinidad.
Recognition: ♂♂ 9.7 cmMaximum distance from the snout to the tip of the tail. Snout–vent length=4.2 cm. ♀♀ 9.3 cmMaximum distance from the snout to the tip of the tail. Snout–vent length=4.1 cm..1 Geckos of the genus Gonatodes differ from other lizards in Ecuador based on their diurnal habits, lack of moveable eyelids, undilated digits having exposed claws, and lack of a scaly supraciliary flap (present in Lepidoblepharis).2,3 Bridled Forest Geckos differ from the two other Gonatodes occurring on the Ecuadorian Amazon by having a thin bright yellowish vertical bar just anterior to the arm. In G. concinnatus, the line is broad, white, black-bordered, and never anterior to the arm.4 Females of G. caudiscutatus lack the shoulder line and the males can be identified based on their distinctive head coloration: bright yellow to orange with contrasting dark brown to black reticulations.5 Males of G. humeralis differ markedly from females. They are brightly colored, ornamented with red, yellow, and bluish vermiculations (Fig. 1), but they can change to a dull gray color under circumstances such as stress or during social interactions.6 Females and juveniles are brownish overall.1 Individuals, when sleeping, have a whitish color.7,8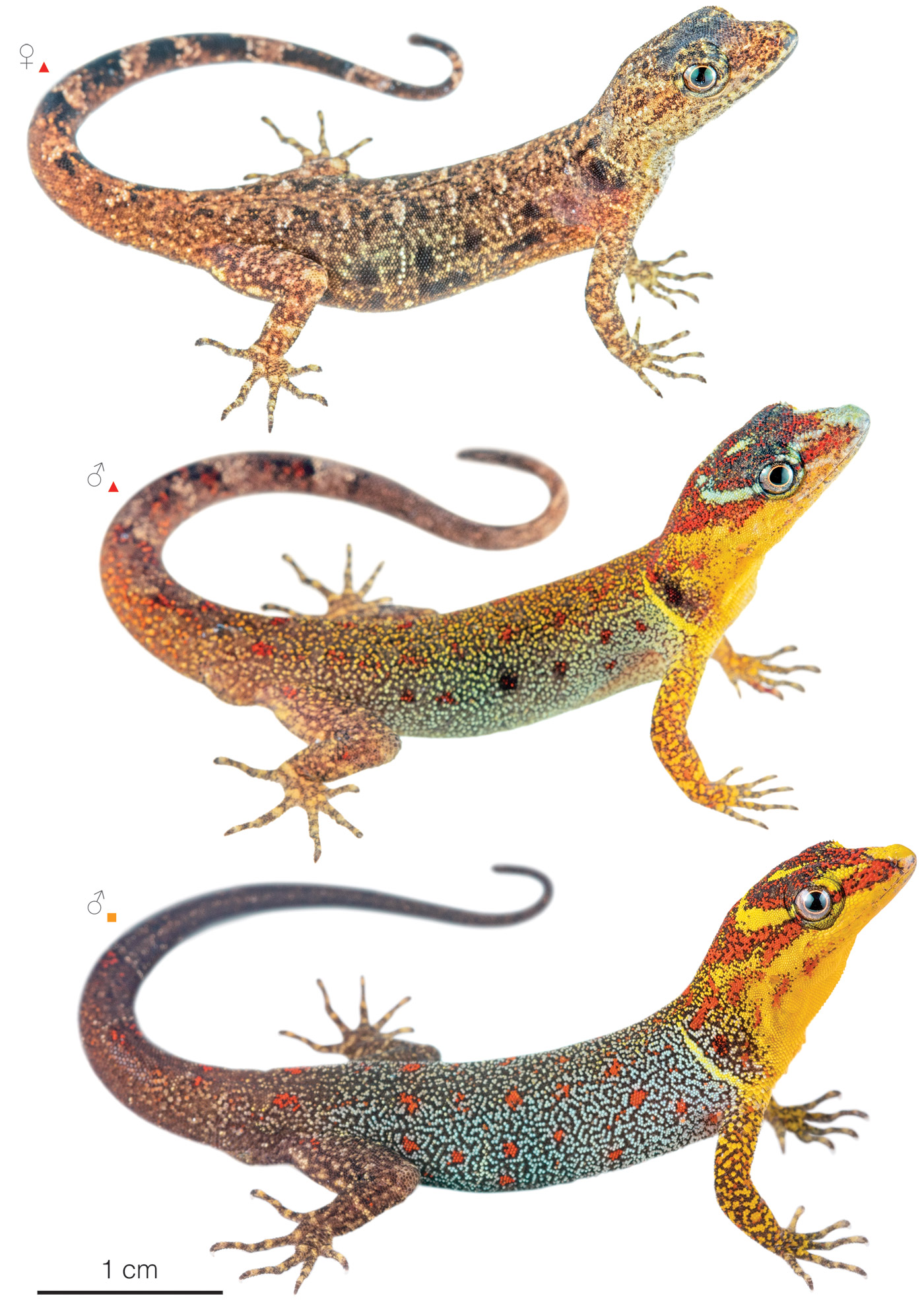 Figure 1: Bridled Forest Geckos (Gonatodes humeralis) from Yasuní National Park, Orellana province, Ecuador (); and Palmarí, Amazonas state, Brazil ().
Natural history: CommonRecorded weekly in densities above five individuals per locality.. Gonatodes humeralis is a diurnal lizard adapted to life on vertical surfaces. This species is a tree-trunk specialist, but can also be seen on logs, roots, lianas, palm fronds, and leaf-litter.3 Lizards spend most of their time at the base of trees (~71–213 cm off the ground)9,10 but they range from the ground level all the way up to the canopy at 40 m above the ground.10,11 The species occurs in old-growth to heavily disturbed evergreen forests, seasonally flooded as well as terra firme,1,11,12 but it has also been recorded in forest fragments within xeric shrubland regions in Brazil.13,14 In some instances, G. humeralis occurs in sympatry with G. concinnatus,1 but in Amazonian Ecuador, the latter occurs in more pristine, undisturbed habitats.6,10 Gonatodes humeralis appears to be more common in forest clearings, rural gardens,15 parks in cities,1 houses,16,17 and in plantations (including Eucalyptus, cocoa, and palm hearts).6,12,18
Although the preferred microhabitat of Gonatodes humeralis seems to be small to medium-sized (~9.5–30 cm in diameter) trees with crevices,10,19,20 the species also occupies walls,3,6 thatch ceilings, fences, wood posts,4 trash piles,21 and electrical tubes.11 Usually, no more than three individuals occupy the same tree,1 and males perch higher than females.22,23 Bridled Forest Geckos are active between 7:00 am and 5:00 pm.1,13 Most of their activity occurs on bright cloudy days when the ambient temperature is 24.2–29.4°C,6,22 basking where sunlight hits exposed surfaces. On sunny days, the geckos retreat during the hot mid-day hours,4,9 with most activity occurring in shaded rather than sunny spots.6 At night, individuals sleep on leaves adjacent to tree trunks 10–600 cm above the ground.11,16 However, these geckos can also be active at night if artificial lighting is available.21
Individuals of Gonatodes humeralis are ambush predators that attack mobile insects that pass nearby (within around 10 cm).3,24 The average duration per foraging movement is 13.2 seconds.25 They feed mostly on insects (including beetles, roaches, mantids, termites, grasshoppers, crickets, springtails, hemipterans, butterflies, moths, earwigs, flies, ants, and insect larvae and pupae)3 but also on spiders, acari, harvestmen, pseudoscorpions, centipedes, millipedes, isopods, mollusks, and earthworms.6,9,24 On occasion, the geckos also eat their own shed skin as well as eggs of their own species.24 Bridled Forest Geckos are extremely wary and and move quickly for short distances.4 When disturbed, they tend to move to the opposite side of the trunk, often running down to the leaf litter or retreating into crevices.4,22,26 Individuals also lift and curl up their tails either as a decoy or to mimic a scorpion.27 If captured, they can readily shed the tail as well as portions of their skin.4
There are records of snakes (Bothrops atrox, B. taeniatus,28 Drymoluber dichrous, Chironius fuscus, Rhinobothryum lentiginosum, Siphlophis compressus, Oxybelis aeneus,29,30 Xenodon severus,8 Xenoxybelis argenteus, and Taeniophallus brevirostris), lizards (Ameiva ameiva and Plica plica),3,28 birds,31,32 and monkeys11 preying upon adults of G. humeralis.9,21 The snake Drepanoides anomalus is reported as predator of the eggs.28 There is an instance of fly larvae (family Sarcophagidae) parasitizing a member of this species.33
The breeding season in Gonatodes humeralis appears to take place year-round,21 with a peak in the rainy months (March–July in Ecuador).23 Both males and females attain sexual maturity when they reach ~3.1 cm in snout-vent length.6 Males mate with several females.34 Females produce clutches of one9,21 egg and lay them in communal nesting sites such as under bark, inside ant mounts, hollow sticks,3 rotten logs and lianas, palm debris, termite nests, in crevices, among dead leaves, rocks, and within thatched roofs.1,4,6 Clutches can be laid at intervals of 13–56 days,8 and the incubation period is 94–110 days (~3–3.7 months).1 Nests can be composed of up to 18 eggs and are presumably used year after year.6,35 The eggs are usually found deposited along the eggs of other lizard species, such as Anolis trachyderma, Arthrosaura reticulata, and Thecadactylus solimoensis.6
Conservation: Least Concern Believed to be safe from extinction given current circumstances..36,37 Gonatodes humeralis is listed in this category given its wide distribution, presence in major protected areas, lack of widespread threats, and ability to thrive in human-modified environments.36 The species occurs over areas that retain the majority of their vegetation cover. In Brazil, 51% of the occurrence area of the species is inside protected areas, and about 85% of its distribution still holds continuous forest cover.38 Furthermore, the species appears to be increasing in abundance in deforested areas, with population densities being negatively related to forest regeneration stage.20 Some populations in Ecuador are believed to be the result of recent introduction by humans.6
Distribution: Gonatodes humeralis is the most widespread species of the genus in Amazonia.1 It occurs throughout the Amazon basin in Bolivia, Brazil, Colombia, Ecuador, French Guiana, Guyana, Peru, Suriname and Venezuela. It also occurs in Trinidad Island as well as marginally in the Caatinga biome in Brazil. Its entire range of distribution is estimated to be ~3,688,274 km2.38 In Ecuador, this species occurs at elevations between 124 and 657 m (Fig. 2).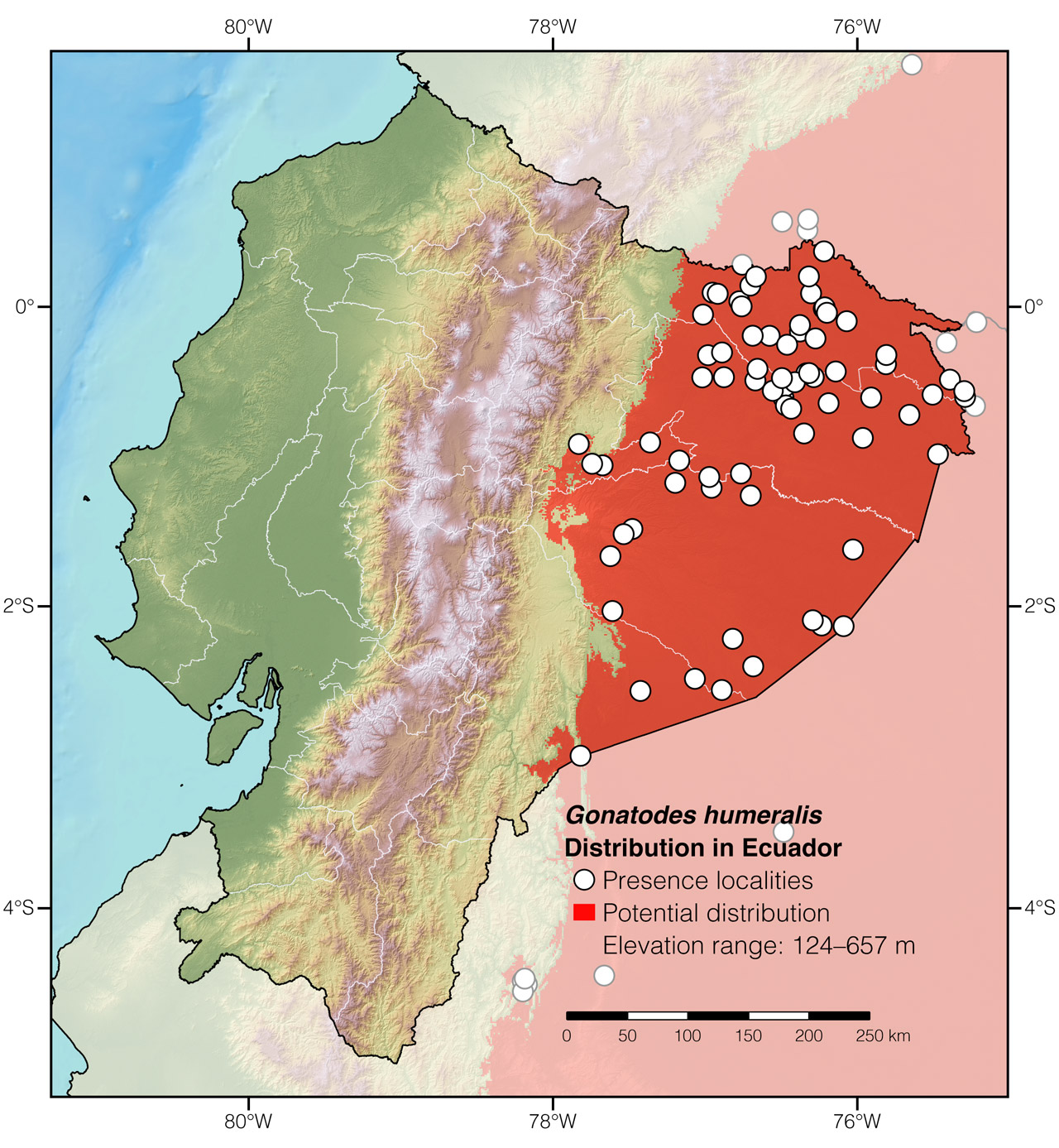 Figure 2: Distribution of Gonatodes humeralis in Ecuador. See Appendix 1 for a complete list of the presence localities included in the map.
Etymology: The generic name Gonatodes, which comes from the Greek words gonatos (meaning "node") and odes (meaning "resembling"),39 probably refers to the form of the digits which are slender but in which the joints are prominent as swellings.40 The specific epithet humeralis, which comes from the Latin words humerus (meaning "shoulder") and the suffix -alis (meaning "pertaining to"),39 refers to the bright vertical ante-humeral bar.
See it in the wild: Bridled Forest Geckos can be seen with almost complete certainty in areas having adequate tree density throughout their area of distribution in Ecuador. The species is particularly abundant in forest clearings in Yasuní National Park and Cuyabeno Reserve. Individuals are more easily located by scanning the base of trees during mornings cloudy or sunny mornings.
Acknowledgments: This account was published with the support of Secretaría Nacional de Educación Superior Ciencia y Tecnología (programa INEDITA; project: Respuestas a la crisis de biodiversidad: la descripción de especies como herramienta de conservación; No 00110378), Programa de las Naciones Unidas (PNUD), and Universidad San Francisco de Quito (USFQ).
Special thanks to Wybo Zijlstra for symbolically adopting the Bridled Forest Gecko and helping bring the Reptiles of Ecuador book project to life.
Click here to adopt a species.
Author: Alejandro ArteagaaAffiliation: Khamai Foundation, Quito, Ecuador.
Photographers: Jose VieiraaAffiliation: Tropical Herping (TH), Quito, Ecuador.,bAffiliation: ExSitu, Quito, Ecuador. and Sebastián Di DoménicocAffiliation: Keeping Nature, Bogotá, Colombia.
How to cite? Arteaga A (2021) Bridled Forest Gecko (Gonatodes humeralis). In: Arteaga A, Bustamante L, Vieira J, Guayasamin JM (Eds) Reptiles of Ecuador: Life in the middle of the world. Available from: www.reptilesofecuador.com. DOI: 10.47051/AUHA6604
Literature cited:
Appendix 1: Locality data used to create the distribution map of Gonatodes humeralis in Ecuador (Fig. 2). Go to the section on symbols and abbreviations for a list of acronyms used.
| | | | |
| --- | --- | --- | --- |
| Country | Province | Locality | Source |
| Colombia | Caquetá | Florencia | iNaturalist |
| Colombia | Putumayo | Quilili | iNaturalist |
| Colombia | Putumayo | Río Putumayo | ICN 3199 |
| Colombia | Putumayo | San Miguel | ICN 3174 |
| Colombia | Putumayo | Vereda Peneya | IAvH-R-9165 |
| Ecuador | Morona Santiago | Puerto Morona, 13 km W of | Online multimedia |
| Ecuador | Morona Santiago | Shuin Mamus | iNaturalist |
| Ecuador | Morona Santiago | Villa Ashuara | AMNH 113884 |
| Ecuador | Napo | 20 Km E Puerto Napo | CAS 198623 |
| Ecuador | Napo | Archidona | This work |
| Ecuador | Napo | Cotococha Lodge | iNaturalist |
| Ecuador | Napo | Huaorani Lodge | This work |
| Ecuador | Napo | Yachana Lodge | This work |
| Ecuador | Orellana | Apaika | iNaturalist |
| Ecuador | Orellana | Bosque Aluvial | Almendariz et al. 2011 |
| Ecuador | Orellana | Chiruisla | Online multimedia |
| Ecuador | Orellana | El Coca | Avila-Pires 1995 |
| Ecuador | Orellana | El Edén | iNaturalist |
| Ecuador | Orellana | Guiyero | Albuja 2011 |
| Ecuador | Orellana | Hacienda Primavera | MHNG 2590.072 |
| Ecuador | Orellana | Huamayacu | Torres-Carvajal & Salazar-Valenzuela 2012 |
| Ecuador | Orellana | Huiririma | Torres-Carvajal & Salazar-Valenzuela 2012 |
| Ecuador | Orellana | Joya de los Sachas | MECN 315 |
| Ecuador | Orellana | Napo Wildlife Center | This work |
| Ecuador | Orellana | Onkone Gare | Felipe Campos, pers. comm. |
| Ecuador | Orellana | Pompeya Sur–Iro | Photo by Morley Read |
| Ecuador | Orellana | Río Timatai | Photo by Morley Read |
| Ecuador | Orellana | Tambococha | Torres-Carvajal & Salazar-Valenzuela 2012 |
| Ecuador | Orellana | Tiputini Biodiversity Station | Cisneros-Heredia 2003 |
| Ecuador | Orellana | Yarina Lodge | This work |
| Ecuador | Orellana | Yasuni Scientific Station | This work |
| Ecuador | Orellana | Zancudococha | Ormaza & Bajaña |
| Ecuador | Pastaza | Bataburo Lodge | Ortega-Andrade 2010 |
| Ecuador | Pastaza | Campo Villano | Photo by Carla Rodríguez |
| Ecuador | Pastaza | Chichirota | Ribeiro-Júnior 2015 |
| Ecuador | Pastaza | Comunidad Killu Allpa | Freddy Velásquez, pers. comm. |
| Ecuador | Pastaza | Curaray Medio | This work |
| Ecuador | Pastaza | Juyuintza | Ortega-Andrade 2010 |
| Ecuador | Pastaza | Kapawi Lodge | This work |
| Ecuador | Pastaza | Kurintza | Ortega-Andrade 2010 |
| Ecuador | Pastaza | Lorocachi | This work |
| Ecuador | Pastaza | Plataforma Cachiyacu | Ribeiro-Júnior 2015 |
| Ecuador | Pastaza | Río Bobonaza | Ribeiro-Júnior 2015 |
| Ecuador | Pastaza | Río Conambo | Ribeiro-Júnior 2015 |
| Ecuador | Pastaza | Río Corrientes | Ribeiro-Júnior 2015 |
| Ecuador | Pastaza | Río Pastaza | Ortega Andrade et al. 2010 |
| Ecuador | Pastaza | Shiripuno Lodge | iNaturalist |
| Ecuador | Pastaza | Tigüino | Ribeiro-Júnior 2015 |
| Ecuador | Sucumbíos | Bloque 15 | Izquierdo et al. 2000 |
| Ecuador | Sucumbíos | Borboroé | MECN 4081 |
| Ecuador | Sucumbíos | Campo Platanillo | Envirotec 2015 |
| Ecuador | Sucumbíos | Complejo de humedales Cuyabeno | iNaturalist |
| Ecuador | Sucumbíos | Cuyabeno Lodge | iNaturalist |
| Ecuador | Sucumbíos | Dureno, 10 km N of | iNaturalist |
| Ecuador | Sucumbíos | Dureno, reserve nearby | iNaturalist |
| Ecuador | Sucumbíos | Estación Amazonas OCP | Valencia & Garzón 2011 |
| Ecuador | Sucumbíos | Estación PUCE en Cuyabeno | Vitt et al. 1997 |
| Ecuador | Sucumbíos | Garzacocha | Yánez-Muñóz & Venegas 2008 |
| Ecuador | Sucumbíos | La Balsareña | MECN 7497 |
| Ecuador | Sucumbíos | La Selva Lodge | This work |
| Ecuador | Sucumbíos | Lagartococha | Usma et al. 2016 |
| Ecuador | Sucumbíos | Lago Agrio | KU 297991 |
| Ecuador | Sucumbíos | Limoncocha | Ribeiro-Júnior 2015 |
| Ecuador | Sucumbíos | Pañacocha | iNaturalist |
| Ecuador | Sucumbíos | Plataforma Espejo 1 | Consultora Cinge 2012 |
| Ecuador | Sucumbíos | Puerto Bolívar | Photo by Martín Bustamante |
| Ecuador | Sucumbíos | Redondococha | Yánez-Muñóz & Venegas 2008 |
| Ecuador | Sucumbíos | Rey de los Andes | Field notes of Pablo Menéndez |
| Ecuador | Sucumbíos | Rio Sabalo campsite | This work |
| Ecuador | Sucumbíos | Río Singue | MECN 7959 |
| Ecuador | Sucumbíos | Sacha Lodge | This work |
| Ecuador | Sucumbíos | San Pablo de Kantesiya | MHNG 2460.099 |
| Ecuador | Sucumbíos | Sani Lodge | This work |
| Ecuador | Sucumbíos | Santa Cecilia | Da Silva et al 1995 |
| Ecuador | Sucumbíos | Santa Elena | MECN 7798 |
| Ecuador | Sucumbíos | Shushufindi | Salguero 2012 |
| Ecuador | Sucumbíos | Tapir lodge | This work |
| Ecuador | Sucumbíos | Tarapoa | MECN 7117 |
| Ecuador | Sucumbíos | Zábalo | Cevallos Bustos 2010 |
| Peru | Amazonas | Aintami | Ribeiro-Júnior 2015 |
| Peru | Amazonas | Caterpiza | Ribeiro-Júnior 2015 |
| Peru | Amazonas | Chigkan Entse | Ribeiro-Júnior 2015 |
| Peru | Amazonas | La Poza | Ribeiro-Júnior 2015 |
| Peru | Amazonas | Mouth of Río Santiago | Ribeiro-Júnior 2015 |
| Peru | Amazonas | Puerto Galilea | Ribeiro-Júnior 2015 |
| Peru | Amazonas | Río Lagartococha | Ribeiro-Júnior 2015 |
| Peru | Amazonas | San Antonio, Río Cenepa | Ribeiro-Júnior 2015 |
| Peru | Amazonas | Shiringa | Ribeiro-Júnior 2015 |
| Peru | Amazonas | Sua, Cenepa | Ribeiro-Júnior 2015 |
| Peru | Amazonas | Yusa Patagkamu | Ribeiro-Júnior 2015 |
| Peru | Loreto | Aguas Negras | Yánez-Muñóz & Venegas 2008 |
| Peru | Loreto | Laguna Anatico | Photo by Mark O'Shea |
| Peru | Loreto | Zona Reservada Güeppí | Yánez-Muñóz & Vanegas 2008 |