Reptiles of Ecuador | Sauria | Gekkonidae | Lepidodactylus lugubris
English common names: Mourning Gecko, Maritime Gecko, Sad Gecko.
Spanish common names: Geco lúgubre, geco enlutado, salamanquesa lúgubre.
Recognition: ♀♀ 11 cm. The Mourning Gecko (Lepidodactylus lugubris) is the only gecko in Ecuador having expanded digital disks, basal webbing between digits, and no enlarged scales on the body and tail. Juveniles of the Common House-Gecko (Hemidactylus frenatus) and the Tropical House-Gecko (H. mabouia) are similar, but have a series of pointed tubercles on the tail.
Picture: Adult female. Santa Cruz Island. Galápagos, Ecuador.
Picture: Adult female. Santa Cruz Island. Galápagos, Ecuador.
Picture: Adult female. Santa Cruz Island. Galápagos, Ecuador.
Natural history: Extremely common in human-modified areas. Lepidodactylus lugubris is a mostly nocturnal,1,2 occasionally diurnal3 gecko most commonly found on walls and ceilings4 close to electric lights,5 but also on light posts, palm trees, shrubs, bushes, and on the ground.4,6 Throughout its range, this gecko occurs in or around human-modified environments7 in a variety of lowland habitats, from deserts and rainforests, to plantations. During daytime, individuals of L. lugubris hide within crevices, among dead leaves, under bark, or behind almost any object hung from a vertical surface.5,8 Mourning Geckos are opportunistic predators. They feed mainly on insects that are attracted to artificial light sources,5,9 as well as on spiders, amphipods, pill bugs, nectar, ripe fruit, jam, sugar, sweetened drinks, milk, and even their own eggs.10–12
Mourning Geckos are gregarious.5 They communicate by using sounds13 and bobbing the head.14 Lepidodactylus lugubris is parthenogenetic,15–17 an all-female species that reproduces in the absence of males. However, there is female-female copulation,15 a behavior that stimulates both females to produce eggs. Females produce clutches of two18–19 seawater-resistant20 adhesive5 eggs throughout the year.21 These are deposited in communal nesting sites such as in crevices, holes, thatch of roofs, leaf axils, or under logs, lumber, bark, rocks, palm fronds, and leaves.5,22 Eggs hatch in 65–103 days.19 Females occasionally produce male offspring, but these males are infertile.14
When threatened, individuals of Lepidodactylus lugubris flee into crevices or under surface objects. If captured, they easily shed the tail. Across their geographic range, Mourning Geckos are preyed upon by birds, mongooses, American Bullfrogs (Lithobates catesbeianus), Santa Cruz Lava-Lizards (Microlophus indefatigabilis), Common House-Geckos (Hemidactylus frenatus), snakes, praying mantids, and spiders.5,23–25 They are also parasitized by a variety of worms.26
Conservation: Least Concern. We consider Lepidodactylus lugubris to be in this category following IUCN criteria27 because the species thrives in human-modified environments,7 is increasing in population size, and is invading new areas throughout the world with the aid of commercial ships and cargo.28
Distribution: Cosmopolitan. Mourning Geckos are native to Southeast Asia, but they have been introduced into the Americas, Australia, and a number of tropical islands across the globe. In Ecuador, the species has become naturalized across lowland areas, including the Galápagos Islands.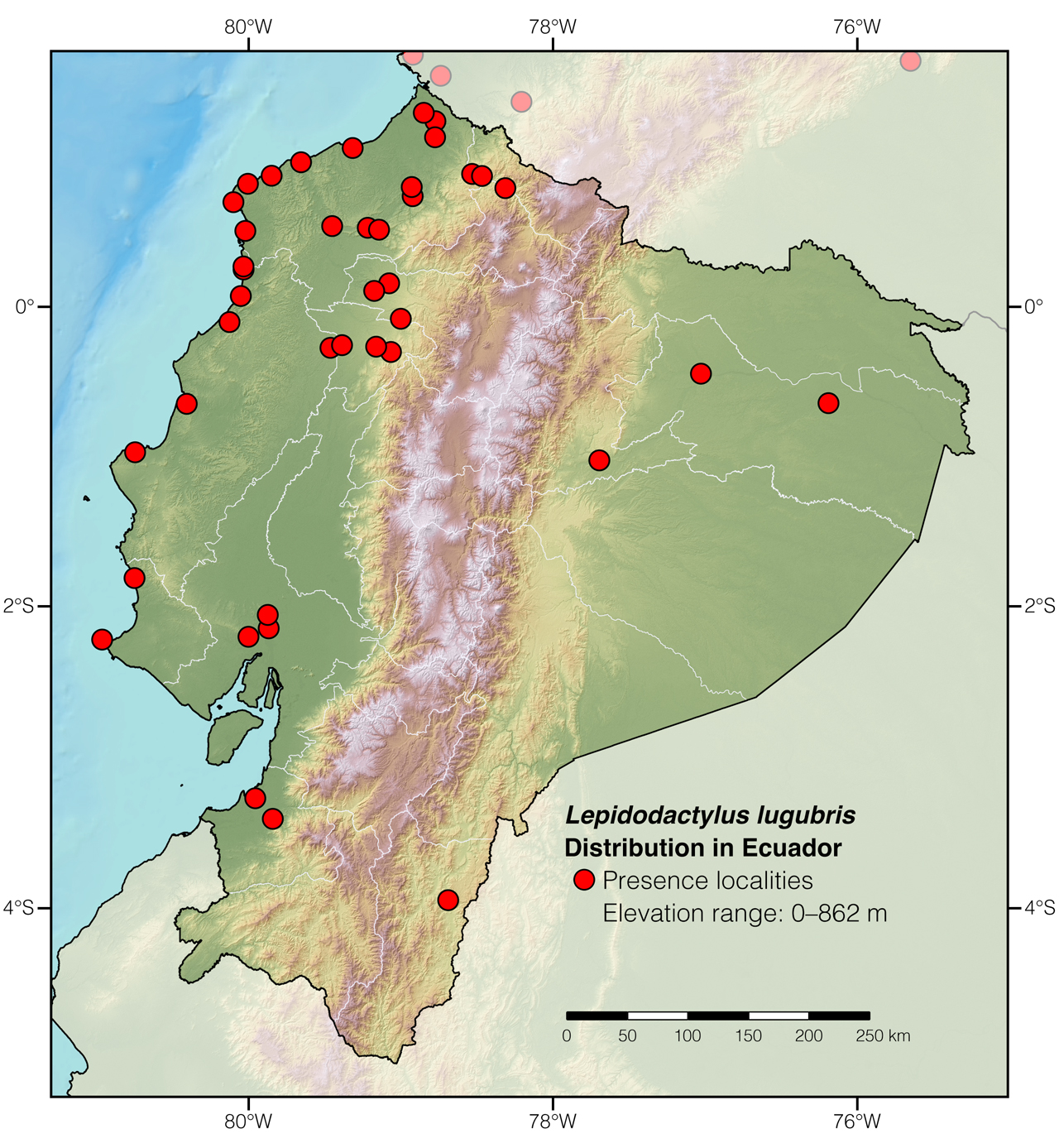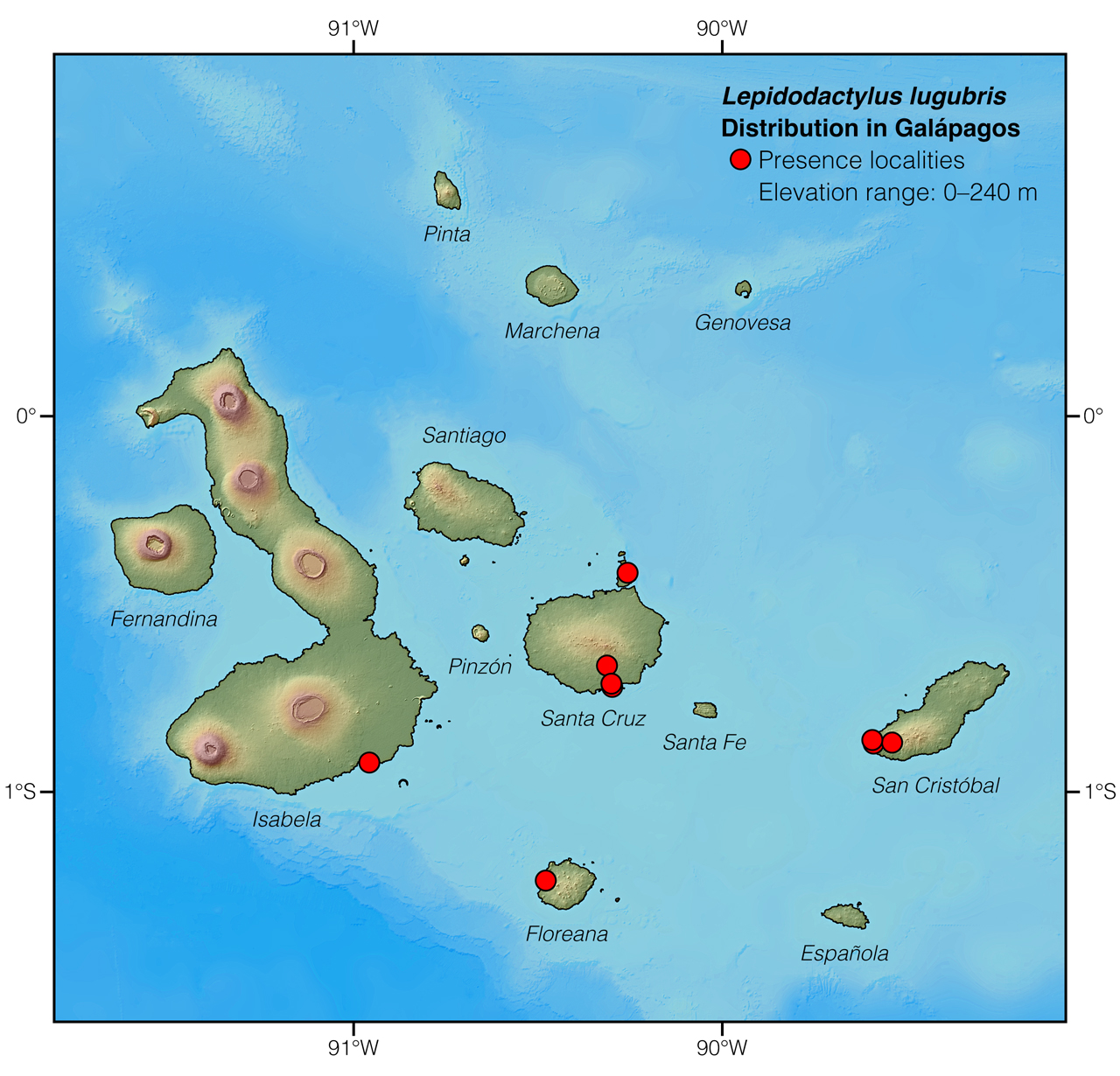 Etymology: The generic name Lepidodactylus, which comes from the Greek words lepis (meaning "scale")29 and daktylos (meaning "finger"),29 probably refers to the rows of scaly plates on the underside of the digits of this gecko. The specific epithet lugubris is a Latin word meaning "mournful"29 and probably refers to the unusual fact that only females were known at the time the species was described.30 Perhaps the authors naively assumed that females were mourning their "missing" males.
See it in the wild: Individuals of Lepidodactylus lugubris can be seen year-round with ~100% certainty on and around buildings throughout its area of distribution. The best time to look for this species is just after sunset.
Authors: Alejandro ArteagaaAffiliation: Biodiversity Field Lab, Khamai Foundation, Quito, Ecuador. and Juan M GuayasaminbAffiliation: Laboratorio de Biología Evolutiva, Universidad San Francisco de Quito (USFQ), Quito, Ecuador.,cAffiliation: Galapagos Science Center, Galápagos, Ecuador.,dAffiliation: Centro de Investigación de la Biodiversidad y Cambio Climático, Universidad Tecnológica Indoamérica, Quito, Ecuador.
Academic reviewers: Kenneth Petren.
Photographers: Alejandro ArteagaaAffiliation: Tropical Herping (TH), Quito, Ecuador.
How to cite? Arteaga A, Guayasamin JM (2020) Lepidodactylus lugubris. In: Arteaga A, Bustamante L, Vieira J, Guayasamin JM (Eds) Reptiles of Ecuador: Life in the middle of the world. Available from: www.reptilesofecuador.com
Literature cited: