Reptiles of Ecuador | Sauria | Gekkonidae | Hemidactylus frenatus
English common names: Common House-Gecko, Asian House-Gecko.
Spanish common names: Geco de casa, salamanquesa común.
Recognition: ♂♂ 13.5 cm ♀♀ 12.4 cm. The Common House-Gecko (Hemidactylus frenatus) is the gecko most frequently seen inside houses in lowland areas of Ecuador. It is also one of two geckos in the country having series of spine-like scales on the tail. The other one is the Tropical House-Gecko (H. mabouia), a species that, unlike H. frenatus, has tubercles on the side of the head.
Picture: Adult. Santa Cruz Island. Galápagos, Ecuador.
Picture: Adult. Santa Cruz Island. Galápagos, Ecuador.
Picture: Adult. Isabela Island. Galápagos, Ecuador.
Picture: Adult. Urabá. Antioquia, Colombia.
Picture: Adult. Reserva Ecológica Manglares Churute. Guayas, Ecuador.
Picture: Juvenile. Santa Cruz Island. Galápagos, Ecuador.
Picture: Juvenile. Reserva Ecológica Manglares Churute. Guayas, Ecuador.
Natural history: Extremely common. Hemidactylus frenatus is a nocturnal gecko most active at dusk and dawn,1–3 and during warmer months.2,4 It is usually found on walls and ceilings5,6 close to electric lights,1,7 but also on boulders and trees8 in or around human-modified environments9–11 in a variety of lowland habitats,12 from deserts and rainforests, to plantations.13,14 During daytime, individuals of H. frenatus hide and regulate their body temperature8 from within crevices or lamps or beneath rocks, rotten logs, or almost any object hung from a vertical surface.15 Common House-Geckos are opportunistic predators. They feed mostly on arthropods that are attracted to artificial light sources,5,10,16 as well as on mollusks17 and smaller geckos, including members of their own species.18–20 When threatened, individuals of H. frenatus flee into crevices or under surface objects. If captured, they easily shed their tail.2,21 Throughout their distribution, Common House-Geckos are preyed upon by cats, snakes, rats, dogs, spiders, birds,22 praying mantids, and larger lizards.23 They are parasitized by protozoans, mites,24,25 and a variety of worms.26,27
Males of Hemidactylus frenatus are social and aggressive.2 They call28 and wiggle their tails7 to attract females and to establish and maintain territories.29 Females are capable of storing sperm for months after fertilization.30 In tropical areas, they produce clutches of two15 water-resistant5 eggs throughout the year.31 They deposit the eggs in communal nesting sites such as in crevices, thatched roofs, or under ground debris.32 Eggs hatch in 45–90 days.28
Conservation: Least Concern.9 The Common House-Gecko is listed in this category because this species is widely-distributed, thrives in human-modified environments,33 and is not currently facing threats of extinction. Rather, it represents a threat to other species. As an invader, Hemidactylus frenatus competitively displaces native geckos5,34,35 and other previously introduced species18,36–38 to the point of extirpating them.6,23,39 Populations of the Common House-Gecko have exploded following expansion of urban areas,23 and they are likely to keep thriving under current scenarios of global warming.39 They also have spread with the aid of commercial ships and cargo,5,23,32 and have become naturalized on numerous islands.23,31 From a very human-centered perspective, a positive outcome of the increased population densities of H. frenatus is the reduction in the number of pest insects such as mosquitoes and cockroaches.40
Special thanks to Laetitia Buscaylet, our official protector of the Common House-Gecko, for symbolically adopting this species and helping bring the Reptiles of Galápagos project to life.
Distribution: Cosmopolitan. Hemidactylus frenatus is native to Southeast Asia,33 but has been introduced into the Americas, Africa, Australia,23 and a number of tropical islands across the globe.9,23 In Ecuador, Common House-Geckos have become naturalized on coastal areas,41 including the Galápagos Islands.42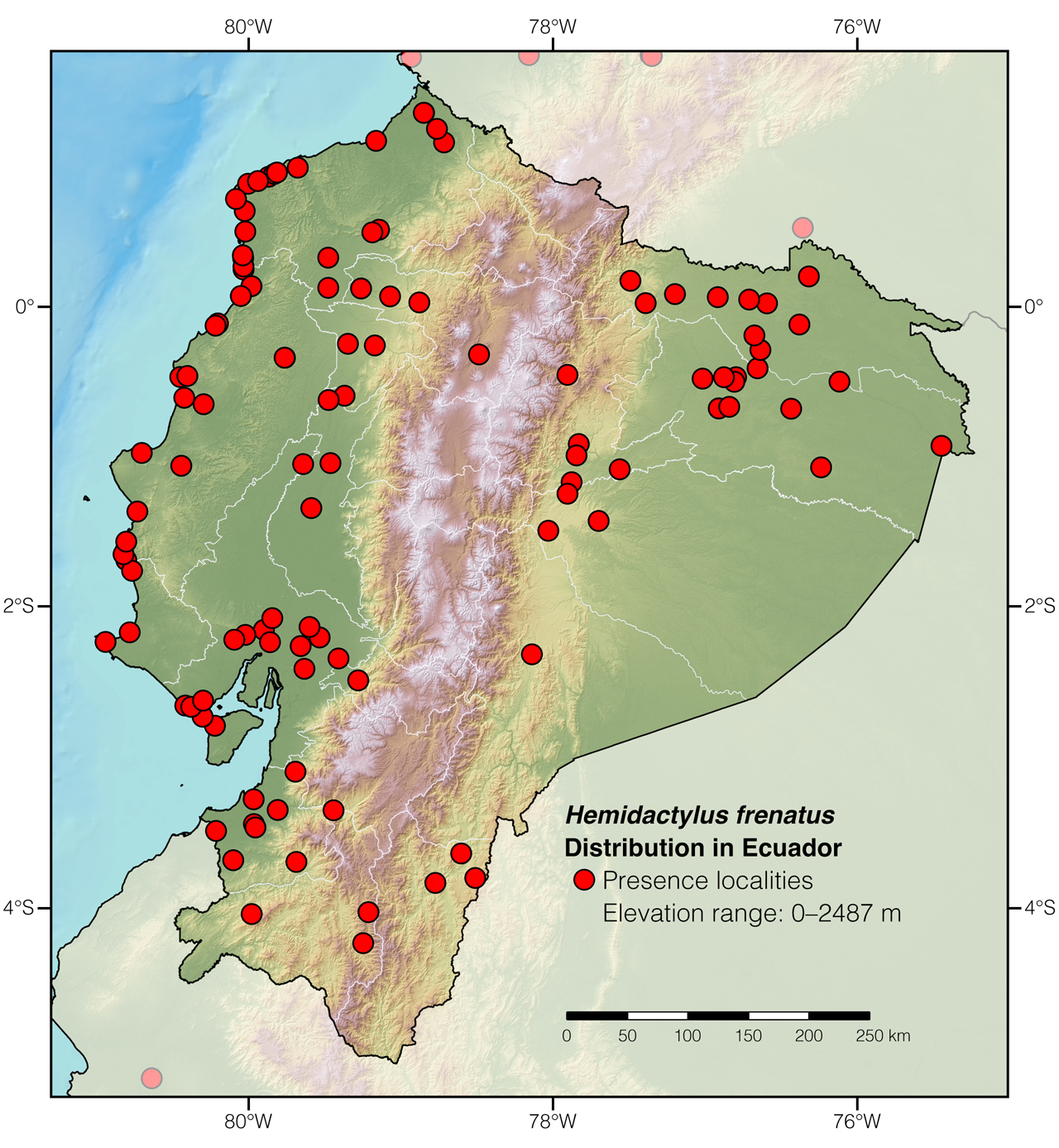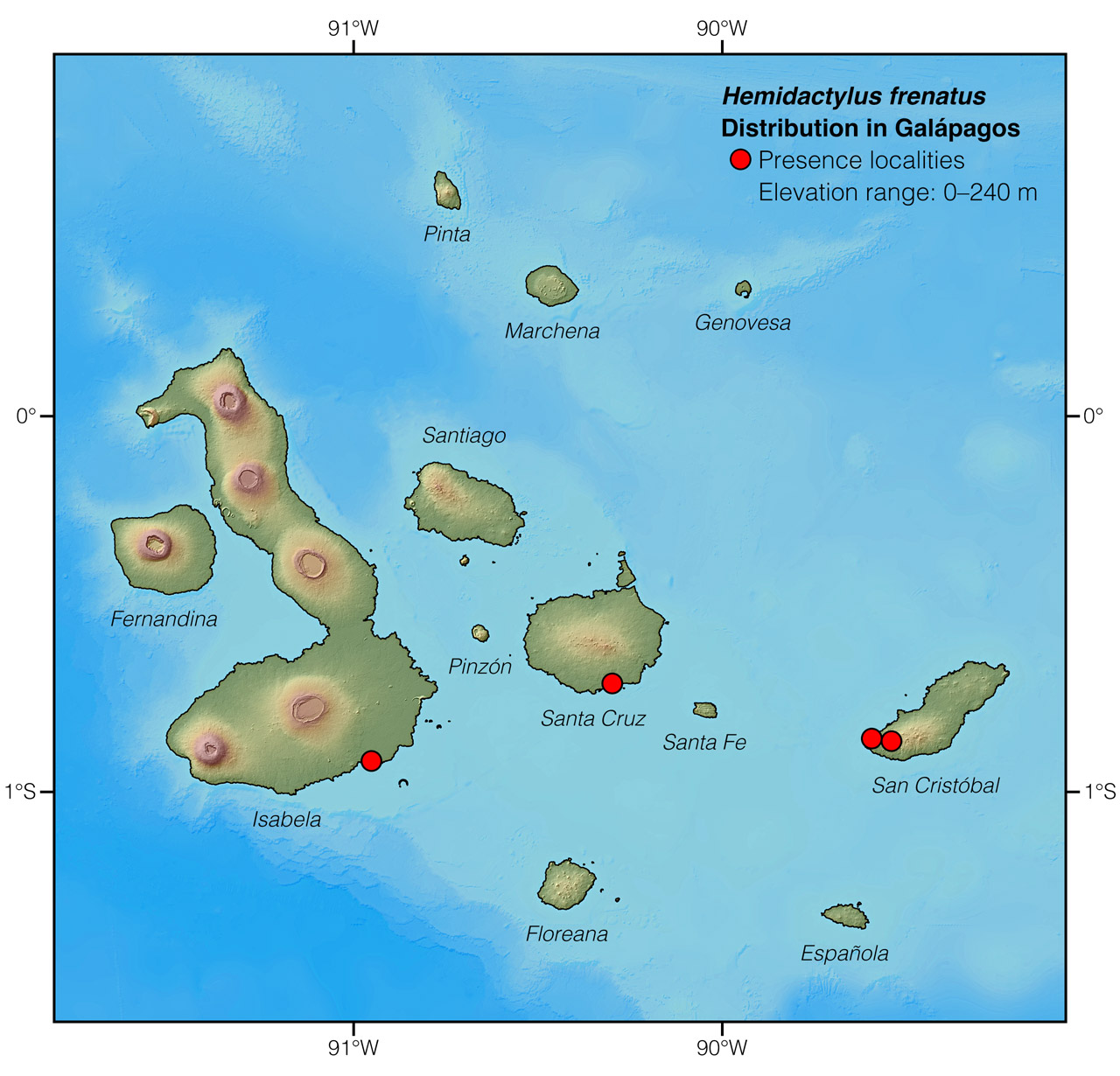 Etymology: The generic name Hemidactylus, which comes from the Greek words hemisys (meaning "half")43 and daktylos (meaning "finger"),43 probably refers to the rows of skin folds under these geckos' digits,15 which are grouped in two halves. The specific epithet frenatus, which comes from the Latin words frenum (meaning "bridle")43 and atus (meaning "provided with"),43 refers to the color pattern of the face.44
See it in the wild: Common House-Geckos can be seen year-round with ~100% certainty on and around buildings throughout its area of distribution. The best time to look for this species is just after sunset.
Authors: Alejandro ArteagaaAffiliation: Khamai Foundation, Quito, Ecuador. and Juan M GuayasaminbAffiliation: Laboratorio de Biología Evolutiva, Universidad San Francisco de Quito (USFQ), Quito, Ecuador.,cAffiliation: Galapagos Science Center, Galápagos, Ecuador.,dAffiliation: Centro de Investigación de la Biodiversidad y Cambio Climático, Universidad Tecnológica Indoamérica, Quito, Ecuador.
Academic reviewers: Kenneth Petren and Caty Frenkel.
Photographers: Alejandro Arteaga,aAffiliation: Tropical Herping (TH), Quito, Ecuador. Frank Pichardo,aAffiliation: Tropical Herping (TH), Quito, Ecuador. and Jose VieiraaAffiliation: Tropical Herping (TH), Quito, Ecuador.,eAffiliation: ExSitu, Quito, Ecuador.
How to cite? Arteaga A, Guayasamin JM (2020) Hemidactylus frenatus. In: Arteaga A, Bustamante L, Vieira J, Guayasamin JM (Eds) Reptiles of Ecuador: Life in the middle of the world. Available from: www.reptilesofecuador.com
Literature cited: