Southern Turniptail
Reptiles of Ecuador | Sauria | Phyllodactylidae | Thecadactylus solimoensis
Spanish common name: Colabarril del sur.
Recognition: ♂♂ 21.5 cm ♀♀ 21.7 cm. In Ecuador, Thecadactylus solimoensis is the largest gecko occurring east of the Andes. In this area, it is the only one having webbed digits. Hemidactylus frenatus and H. mabouia are smaller in body size and have unwebbed fingers.
Picture: Adult. Yasuní National Park. Orellana, Ecuador.
Picture: Adult. Sani Lodge. Sucumbíos, Ecuador.
Picture: Adult. Suchipakari Lodge. Napo, Ecuador.
Picture: Adult. Gareno Lodge. Napo, Ecuador.
Natural history: Common. Thecadactylus solimoensis is a nocturnal gecko inhabiting primary and secondary evergreen lowland forests, plantations1 and human settlements.2 At night, it is active on logs,3 banana plants4 or on tree trunks up to 36 m above the ground.5,6 In human settlements, the Southern Turniptail colonizes walls and rooftops7 usually close to electric lights. By day, it seeks refuge in crevices, arboreal bromeliads8 and under bark.5 Interactions between individuals of T. solimoensis include guttural sounds,9 tremulous waving of the tail and headlong fights.9 When disturbed, the Southern Turniptail moves to the opposite side of tree trunks and flees into crevices.5 Other defense mechanisms include parachuting6 and shedding off the tail. The shedding of the tail implies losing a source of energy storage.9 However, when regenerated, the new tail is thicker than the original tail. If captured, T. solimoensis can inflict a painful prolonged bite.2 Thecadactylus solimoensis is an ambush predator5 that feeds on a variety of invertebrates incluiding roaches, grasshoppers, crickets, moths, beetles, ants, spiders, scorpions and snails.3,5,10,11 The Southern Turniptail is preyed upon by bats, snakes (including Oxybelis fulgidus) and owls.2,7,12 Females of this gecko lay one egg at a time3,9 under the bark of trees.5
Conservation: Least Concern. We consider Thecadactylus solimoensis to be in this category following IUCN criteria13 because it is widely distributed, thrives in human-modified environments, and (presumably) is not undergoing population declines nor facing major immediate threats of extinction.
Distribution: Western Amazon basin in Bolivia, Brazil, Colombia, Ecuador and Peru.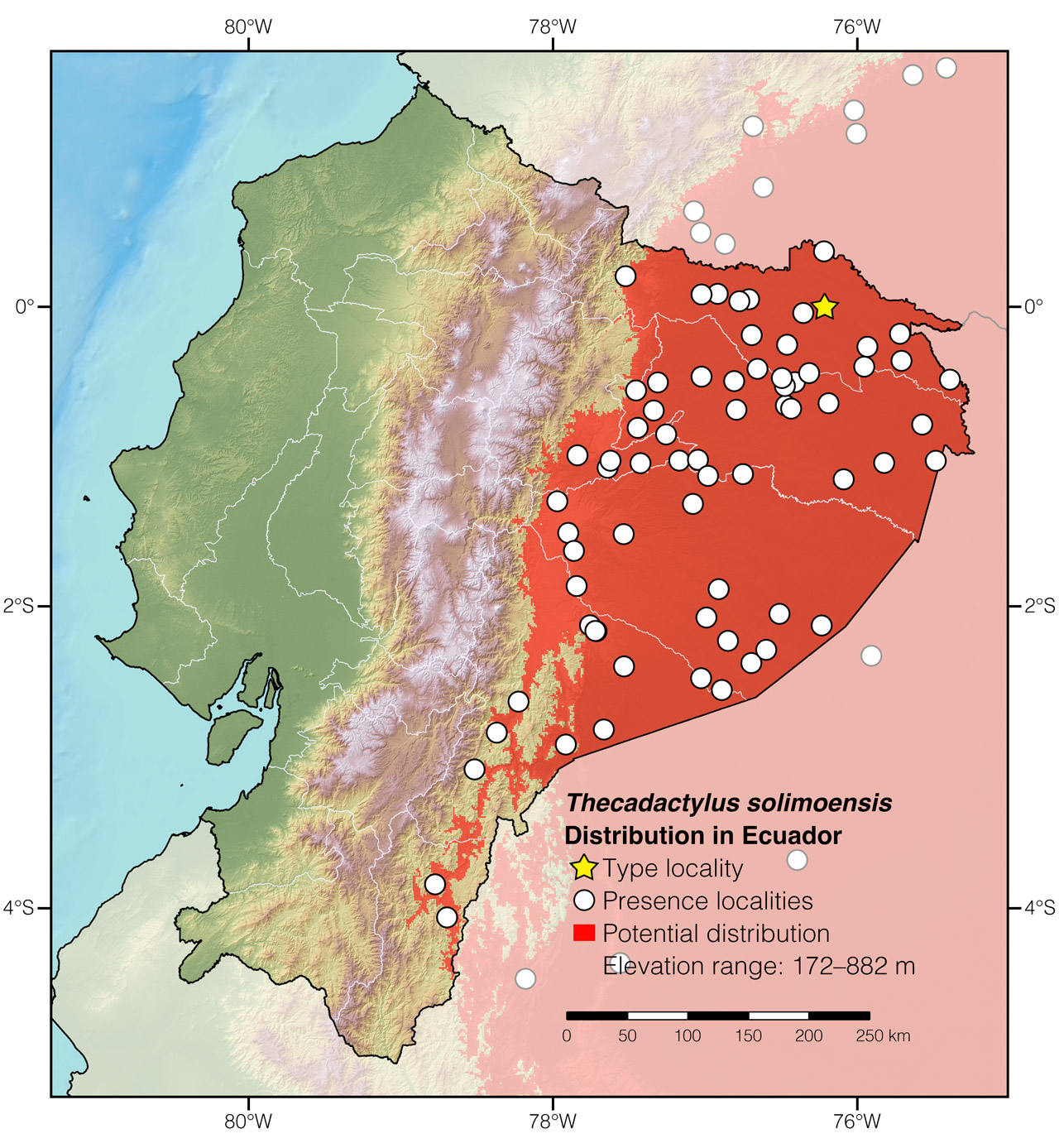 Etymology: The generic name Thecadactylus, which comes from the Greek words theke (meaning "envelope") and daktylos (meaning "finger"),14 refers to the skin-covered claws in this group of geckos. The specific epithet solimoensis, refers to the Solimões River, which the headwaters of the Amazon River, and drains much of the area in which T. solimoensis occurs.14
See it in the wild: In Ecuador, Thecadactylus solimoensis can be seen with ~40–70% certainty wherever it occurs. An easy place to see this gecko is Yasuní National Park, Orellana province.
Special thanks to Billy Sveen for symbolically adopting the Southern Turniptail and helping bring the Reptiles of Ecuador book project to life.
Click here to adopt a species.
Authors: Alejandro ArteagaaAffiliation: Khamai Foundation, Quito, Ecuador. and Gabriela Aguiar.
Photographers: Jose VieiraaAffiliation: Tropical Herping (TH), Quito, Ecuador.,bAffiliation: ExSitu, Quito, Ecuador. and Alejandro ArteagaaAffiliation: Tropical Herping (TH), Quito, Ecuador.
How to cite? Arteaga A, Aguiar G (2020) Thecadactylus solimoensis. In: Arteaga A, Bustamante L, Vieira J, Guayasamin JM (Eds) Reptiles of Ecuador: Life in the middle of the world. Available from: www.reptilesofecuador.com
Literature cited: