| | |
| --- | --- |
| Published February 17, 2022. Open access. | Gallery ❯ |
Chocoan Green Anole (Anolis parvauritus)
Reptiles of Ecuador | Sauria | Anolidae | Anolis parvauritus
English common name: Chocoan Green Anole.
Spanish common names: Anolis verde del Chocó (Ecuador), abaniquillo Verde (Colombia).
Recognition: ♂♂ 26.4 cmMaximum distance from the snout to the tip of the tail. Snout–vent length=8.8 cm. ♀♀ 30.9 cmMaximum distance from the snout to the tip of the tail. Snout–vent length=9.5 cm..1,2 Anoles are easily distinguishable from other lizards by their diurnal habits, extensible dewlap in males, expanded digital pads, and granular scales on the dorsum and belly.3 The Chocoan Green Anole (Anolis parvauritus) is the only green anole in western Ecuador having a tricolored dewlap: orange or yellow towards the external base, yellowish cream on the inner base, and red towards the outer edges, with rows of black scales.4 The dorsal coloration is intense green or (under stress) brown or blackish with olive green or bluish gray shades. The iris is yellowish brown and there are yellow scales forming a ring around the eye.4 A dewlap is also present in females but is smaller and light green. Anolis parvauritus can be confused with other anoles in the Chocó rainforest, including A. fraseri, A. fasciatus, A. princeps, and A. purpurescens. These other anoles are also green but usually have a transverse banding pattern absent in A. parvauritus. The dewlap in males is also proportionally much larger in these other species and is not tricolored.5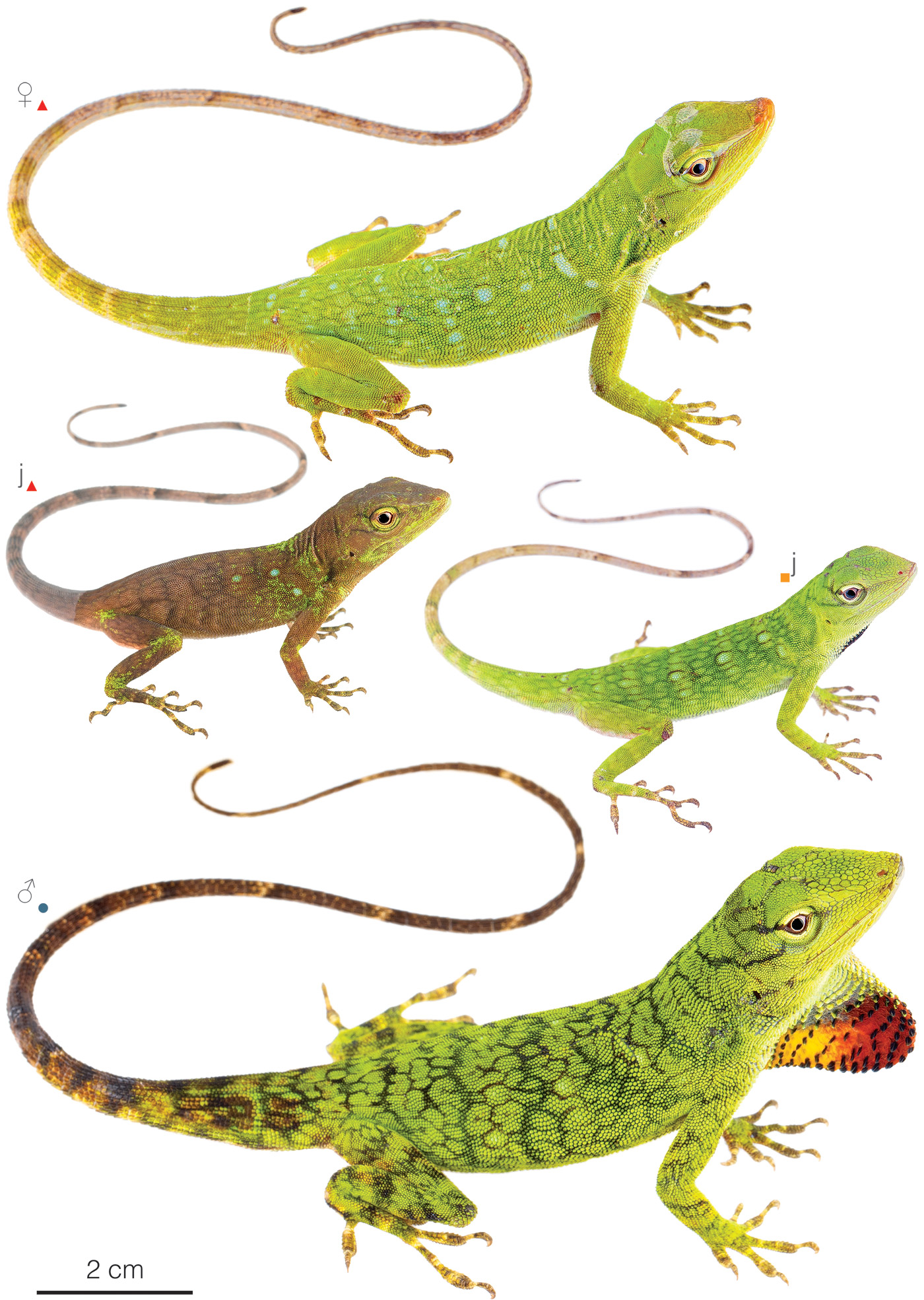 Figure 1: Individuals of Anolis parvauritus from Tundaloma Lodge (), Canandé Reserve (), and Itapoa Reserve (), Esmeraldas province, Ecuador. j=juvenile.
Natural history: FrequentRecorded weekly in densities below five individuals per locality., but often overlooked due the species' arboreal habits. Anolis parvauritus occurs in old-growth to heavily disturbed evergreen lowland forest, pastures with scattered trees, forest edge, and plantations.2,6 It is a diurnal species of mainly arboreal habits, although individuals may occasionally be found at ground level.7 Chocoan Green Anoles use the middle and upper strata of the forest. During sunny days, especially in the morning,7 these lizards bask, forage, and perform courtship rituals on tree trunks and vegetation 2–7 meters above the ground.2,4 At night, they sleep clinging to twigs, branches, stems, palm fronds, and leaves 1.4–6 m above the ground and with their head in an upward direction.1,2,8 Individuals are usually spotted sleeping on branches hanging over rivers and marshes.5 Chocoan Green Anoles can change their dorsal coloration when disturbed, going from green to dark brown.2 The cryptic coloration is their primary defense mechanism, as it allows the lizards to blend in with the environment. If captured, they can readily shed the tail as well as portions of their skin. Chocoan Green Anoles are ambush predators. Their diet includes dragonflies, small lizards, and caterpillars.2 Anolis parvauritus is an oviparous species. Females lay clutches of one egg at a time.9 In some areas of Ecuador, individuals are parasitized by blow fly larvae.8
Conservation: Least Concern Believed to be safe from extinction given current circumstances..10 Anolis parvauritus is listed in this category because the species is widely distributed throughout the Chocoan lowlands, especially in areas that have not been heavily affected by deforestation, like the Colombian Pacific coast. Thus, the species is considered to be facing no major immediate extinction threats. The main threat to the long-term survival of populations of A. parvauritus is the continuing decline in the extent and quality of its habitat, mostly due to encroaching human activities such as agriculture and cattle grazing. In Ecuador, an estimated ~62% of the habitat of the Chocoan Green Anole has been destroyed (Fig. 2).11 Therefore, the species may qualify for a threatened category in the near future if this threat is not addressed.
Distribution: Anolis parvauritus is distributed throughout the Chocoan lowlands and adjacent Andean foothills from western Colombia, including Gorgona Island, to Los Ríos province in Ecuador. In the latter country, the species has been recorded at elevations between 0 and 846 m (Fig. 2).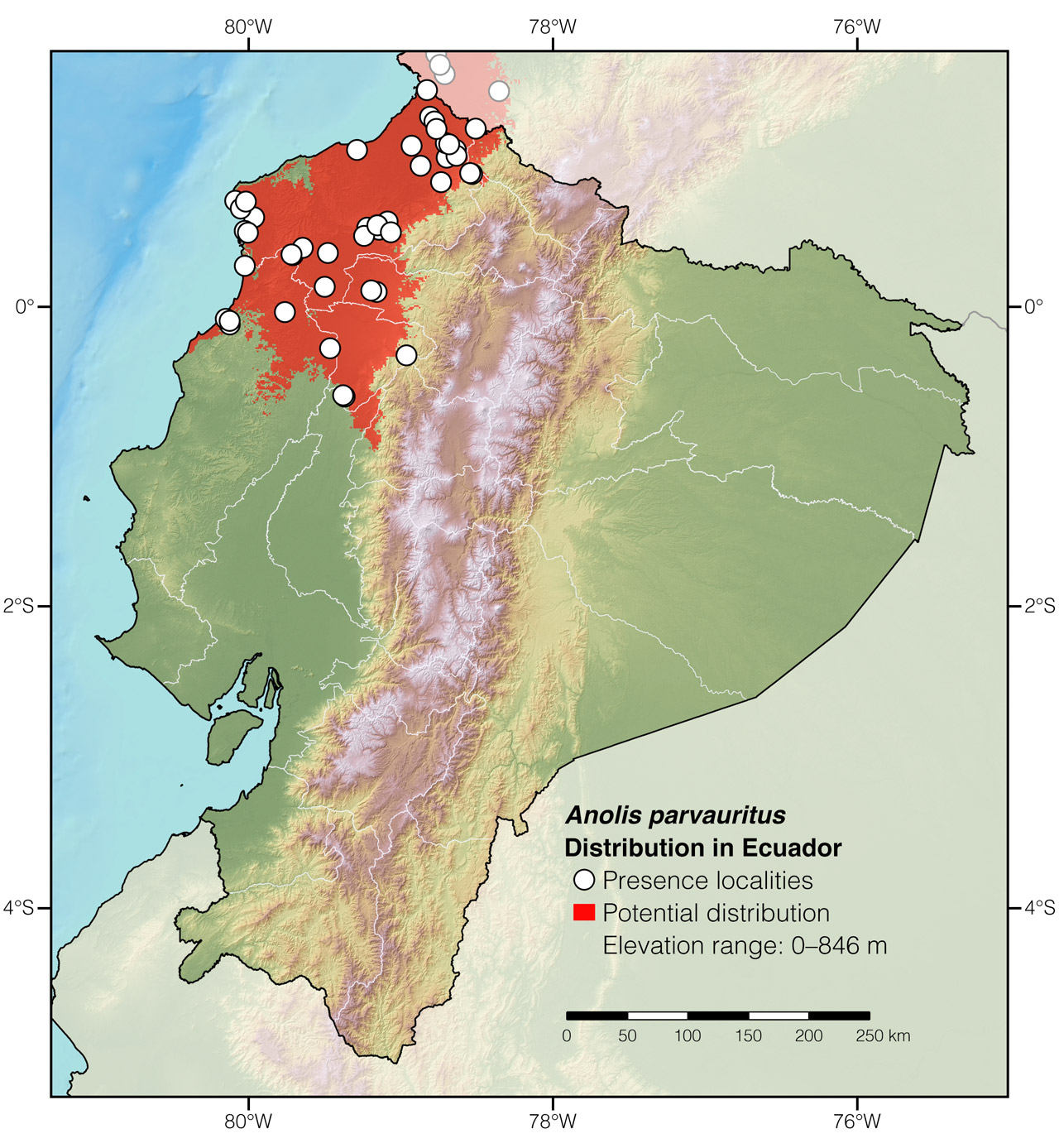 Figure 2: Distribution of Anolis parvauritus in Ecuador. See Appendix 1 for a complete list of the presence localities included in the map.
Etymology: The generic name Anolis is thought to have originated from Cariban languages, specifically from the word anoli, which is the name Arawak peoples may have used to refer to this group of lizards.12 The specific epithet parvauritus comes from the Latin words parvus (meaning "small") and auritus (meaning "tympanum").13 It refers to the fact that this lizard has a small eardrum.
See it in the wild: Due to their arboreal habits and green leaf-like coloration, Chocoan Green Anoles often go unnoticed by most visitors to the rainforest. Although individuals can be seen active on vegetation during the day, they are much easier to find and approach at night, when they are sleeping on twigs and leaves closer to the ground. The areas having the greatest number of recent observations are: Canandé Reserve, Itapoa Itapoa, and Kapari Lodge.
Special thanks to Roy and Laurie Averill-Murray for symbolically adopting the Chocoan Green Anole and helping bring the Reptiles of Ecuador book project to life.
Click here to adopt a species.
Author: Lizbeth CorreaaAffiliation: Departamento de Ciencias Biológicas, Pontificia Universidad Católica del Ecuador, Quito, Ecuador.
Editor: Alejandro ArteagabAffiliation: Khamai Foundation, Quito, Ecuador.
Photographers: Jose Vieira,cAffiliation: Tropical Herping (TH), Quito, Ecuador.,dAffiliation: ExSitu, Quito, Ecuador. Sebastián Di Doménico,eAffiliation: Keeping Nature, Bogotá, Colombia. and Alejandro ArteagabAffiliation: Khamai Foundation, Quito, Ecuador.
How to cite? Correa L (2022) Chocoan Green Anole (Anolis parvauritus). In: Arteaga A, Bustamante L, Vieira J, Guayasamin JM (Eds) Reptiles of Ecuador: Life in the middle of the world. Available from: www.reptilesofecuador.com. DOI: 10.47051/MIHY1297
Literature cited:
Appendix 1: Locality data used to create the distribution map of Anolis parvauritus in Ecuador (Fig. 2). Go to the section on symbols and abbreviations for a list of acronyms used.
| | | | |
| --- | --- | --- | --- |
| Country | Province | Locality | Source |
| Colombia | Cauca | Guapi | MCZ 160210 |
| Colombia | Cauca | Isla Gorgona | Armstead et al. 2017 |
| Colombia | Nariño | Bosque del Acueducto | Pinto-Erazo et al. 2020 |
| Colombia | Nariño | CORPOICA | Pinto-Erazo et al. 2020 |
| Colombia | Nariño | Desembocadura del Río Curay | MCZ 92657 |
| Colombia | Nariño | El Palmichal | Pinto-Erazo et al. 2020 |
| Colombia | Nariño | Estación Mar Agrícola | Pinto-Erazo et al. 2020 |
| Colombia | Nariño | La Guayacana, 11 km W of | iNaturalist |
| Colombia | Nariño | Rio Mataje | Armstead et al. 2017 |
| Colombia | Nariño | Universidad Nacional de Colombia, Sede Nariño | Pinto-Erazo et al. 2020 |
| Ecuador | Carchi | Destacamento Militar | MECN 6715 |
| Ecuador | Cotopaxi | Otongachi Reserve | This work |
| Ecuador | Esmeraldas | Barro | Armstead et al. 2017 |
| Ecuador | Esmeraldas | Cachabi | USNM 157105 |
| Ecuador | Esmeraldas | Caimito | Armstead et al. 2017 |
| Ecuador | Esmeraldas | Carretera Lita–San Lorenzo | MECN 5408 |
| Ecuador | Esmeraldas | Chucubi | iNaturalist |
| Ecuador | Esmeraldas | Durango | Armstead et al. 2017 |
| Ecuador | Esmeraldas | El Aguacate | MECN 2839 |
| Ecuador | Esmeraldas | Finca de Carlos Vásquez | Photo by Carlos Vásquez |
| Ecuador | Esmeraldas | Finca del señor Antonio | Armstead et al. 2017 |
| Ecuador | Esmeraldas | Gualpi | This work |
| Ecuador | Esmeraldas | Hoja Blanca, 6 km E of | iNaturalist |
| Ecuador | Esmeraldas | Itapoa Reserve | Photo by Rául Nieto |
| Ecuador | Esmeraldas | La Mayronga | Field notes of Giovanni Onore |
| Ecuador | Esmeraldas | La Yecita | This work |
| Ecuador | Esmeraldas | Laguna de Cube | Armstead et al. 2017 |
| Ecuador | Esmeraldas | Lita | Armstead et al. 2017 |
| Ecuador | Esmeraldas | Playa de Oro | USNM 20610 |
| Ecuador | Esmeraldas | Playón de San Francisco | Armstead et al. 2017 |
| Ecuador | Esmeraldas | Pulún | Torres-Carvajal et al. 2019 |
| Ecuador | Esmeraldas | Quinindé, 3 km N of | iNaturalist |
| Ecuador | Esmeraldas | Reserva Biológica Canandé | Armstead et al. 2017 |
| Ecuador | Esmeraldas | Río Achiote | This work |
| Ecuador | Esmeraldas | Río San Francisco | MECN 2839 |
| Ecuador | Esmeraldas | San Gregorio | iNaturalist |
| Ecuador | Esmeraldas | Tesoro Escondido | Photo by Simon Maddock |
| Ecuador | Esmeraldas | Tundaloma Lodge | This work |
| Ecuador | Esmeraldas | Verdecanande | This work |
| Ecuador | Los Ríos | Centro Científico Río Palenque | Armstead et al. 2017 |
| Ecuador | Los Ríos | Patricia Pilar | MCZ 147197 |
| Ecuador | Manabí | Bilsa Biological Reserve | This work |
| Ecuador | Manabí | Boca de Palmito | iNaturalist |
| Ecuador | Manabí | Cojimíes | This work |
| Ecuador | Manabí | El Carmen | Torres-Carvajal et al. 2019 |
| Ecuador | Manabí | Jama Coaque Reserve | Photo by Ryan Lynch |
| Ecuador | Manabí | Reserva Lalo Loor | iNaturalist |
| Ecuador | Manabí | Three Forests Trail | Photo by Ryan Lynch |
| Ecuador | Pichincha | Arashá Resort | iNaturalist |
| Ecuador | Pichincha | Hostería Selva Virgen | This work |
| Ecuador | Santo Domingo de los Tsáchilas | La Perla | Photo by Plácido Palacios |