Chocoan Banded Anole (Anolis fasciatus)
Reptiles of Ecuador | Sauria | Anolidae | Anolis fasciatus
English common name: Chocoan Banded Anole.
Spanish common names: Anolis bandeado del Chocó, anolis bandeado de la costa.
Recognition: ♂♂ 16.5 cmMaximum distance from the snout to the tip of the tail. Snout–vent length=7.2 cm. ♀♀ 16.1 cmMaximum distance from the snout to the tip of the tail. Snout–vent length=7.1 cm..1,2 Anoles are easily distinguishable from other lizards by their diurnal habits, extensible dewlap in males, expanded digital pads, and granular scales on the dorsum and belly.3 The Chocoan Banded Anole (Anolis fasciatus) can be differentiated from most other co-occurring anoles by having a blue iris, a greenish dorsum with dark bands enclosing a reticulation of light spots, and white dewlap in males (Fig. 1).4 The only other co-occurring anoles that resemble this description are A. peraccae and A. festae, both of which have comparatively longer snouts and lack the dark bands enclosing a reticulation of light spots.4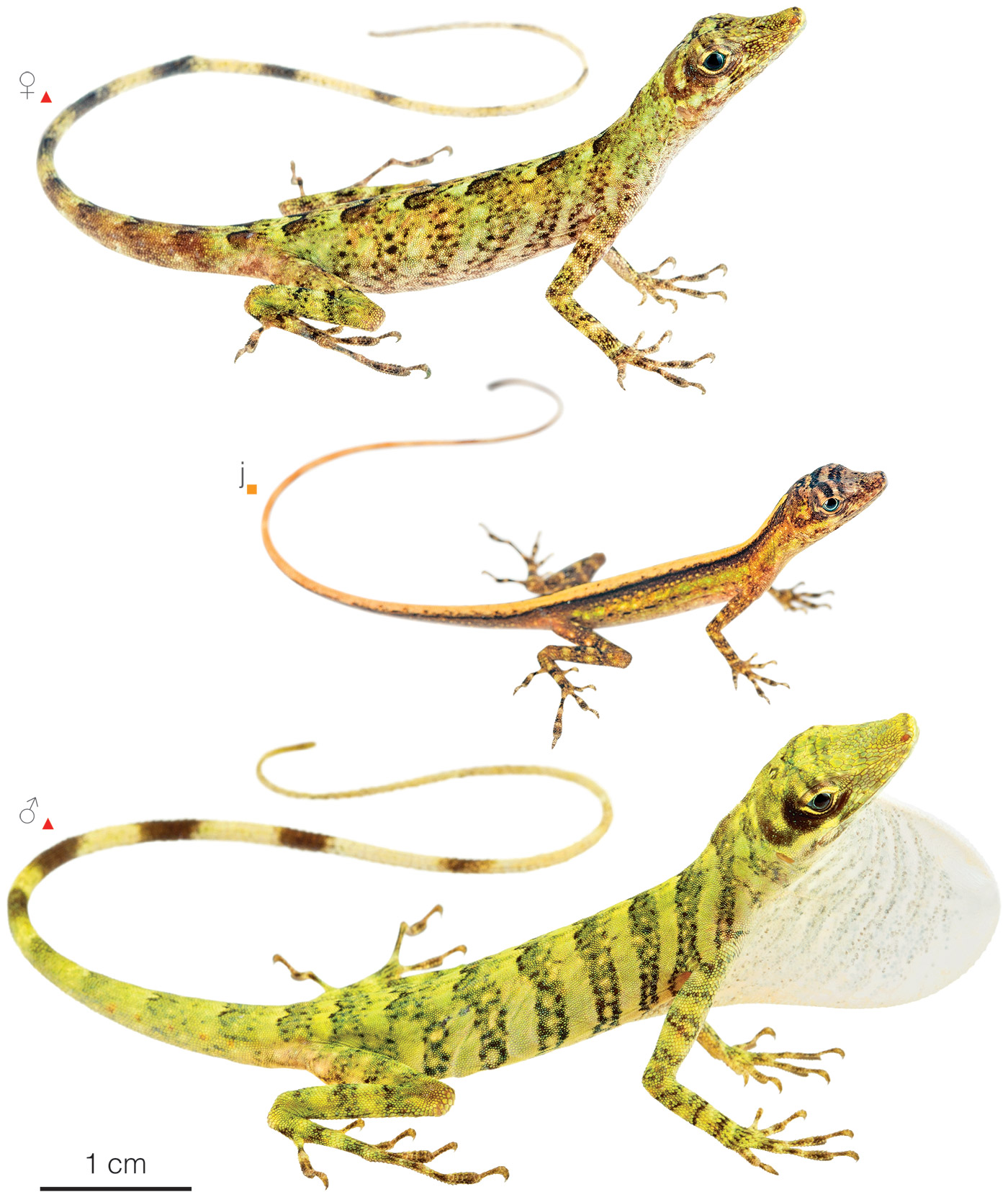 Figure 1: Individuals of Anolis fasciatus from Ecuador: Cerro de Hayas, Guayas province (); Buenaventura Reserve, El Oro province (). j=juvenile.
Natural history: Anolis fasciatus is a common diurnal lizard that inhabits old-growth to heavily disturbed evergreen lowland forests and seasonally dry forests.2,5 This species also occurs in semi-open human-modified habitats such as plantations, roadside vegetation, and border of pastures.2,5 During the day, Chocoan Banded Anoles dwell on leaf-litter or on low understory vegetation.2,5 At night, they roost on thin branches, leaves, grass blades, and twigs of bushes at 0.7–4 m above the ground.2,5 Anolis fasciatus is an insectivorous species,6 but the specific prey items consumed have not been reported. Chocoan Banded Anoles rely primarily on their disruptive camouflage to go unnoticed, but they can also jump to the ground and swiftly run away.2 When grabbed by a predator, they can shed the tail, which remains wiggling on the ground while the lizard escapes.2 This species is oviparous,7 but the clutch size and nesting sites are not known.
Conservation: Least Concern Believed to be safe from extinction given current circumstances..8 Anolis fasciatus is listed in this category given the species' wide distribution, presence in protected areas, and presumed population stability.8 Unfortunately, the area of distribution of A. fasciatus has lost more than 77% of its original vegetation cover.9 Although it could qualify for threatened category, the species appears well adapted to human-modified environments.
Distribution: Anolis fasciatus is endemic to an area of ~42,057 km2 area on the Chocoan–Tumbesian transition area as well as adjacent foothills of the Andes in western Ecuador. The species has been recorded at elevations between 4 and 1600 m (Fig. 2).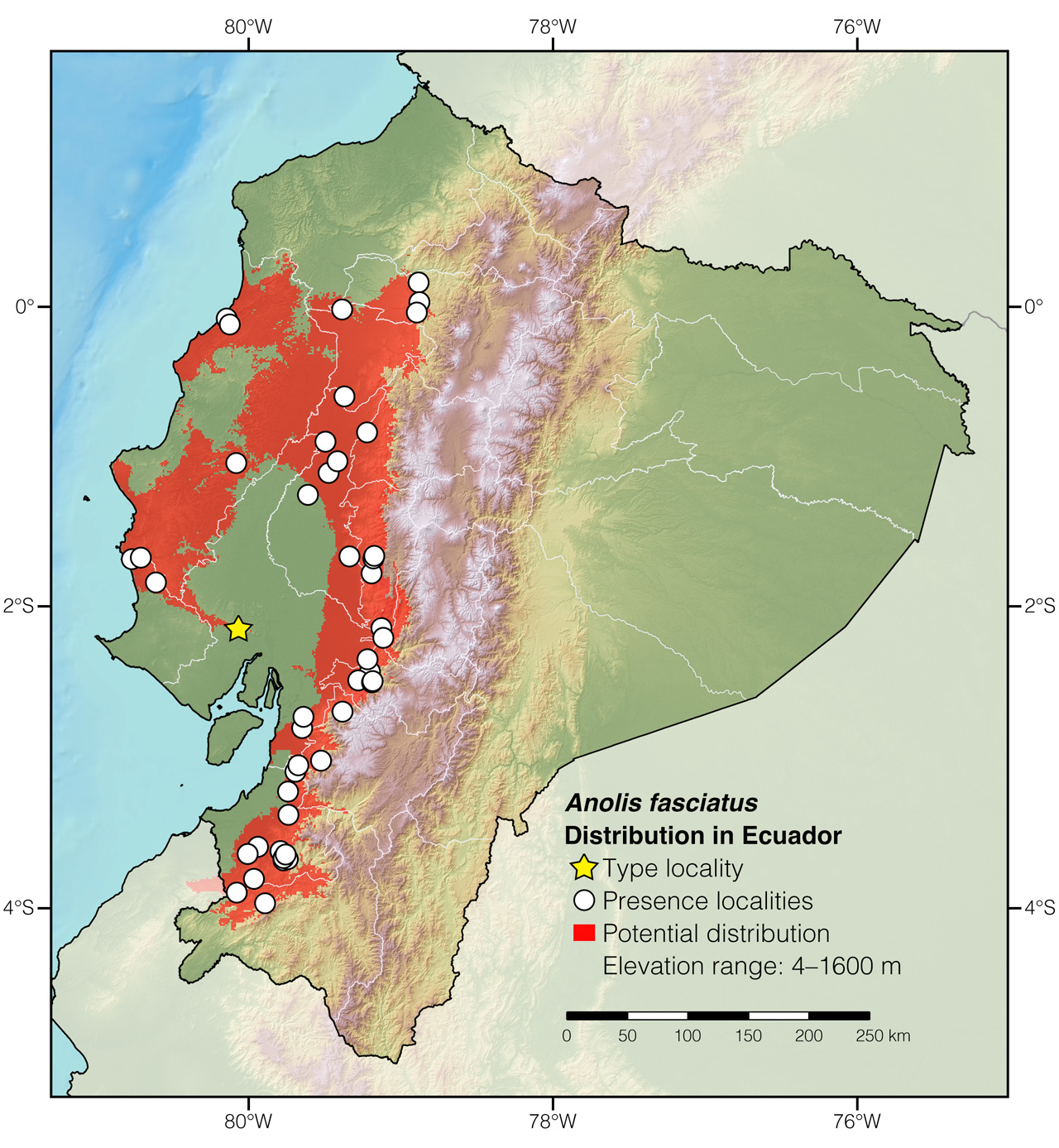 Figure 2: Distribution of Anolis fasciatus in Ecuador. The star corresponds to the type locality: Guayaquil, Guayas province. See Appendix 1 for a complete list of the presence localities included in the map.
Etymology: The generic name Anolis is thought to have originated from Cariban languages, specifically from the word anoli, which is the name Arawak peoples may have used to refer to this group of lizards.10 The specific epithet fasciatus comes from the Latin fascia (=band) and the suffix -atus (=provided with),11 and refers to the banded pattern.12
See it in the wild: Chocoan Banded Anoles are easily located in forested areas throughout the species' area of distribution. The best way to find these lizards is to search for them at night along forest borders or trails while they sleep on leaves and twigs. The species is particularly common in Buenaventura Reserve, Centro Científico Río Palenque, and Cerro de Hayas Protected Area.
Special thanks to Matthew Mirabello for symbolically adopting the Chocoan Banded Anole and helping bring the Reptiles of Ecuador book project to life.
Click here to adopt a species.
Author: Alejandro ArteagaaAffiliation: Khamai Foundation, Quito, Ecuador.
Photographers: Jose VieirabAffiliation: Tropical Herping (TH), Quito, Ecuador.,cAffiliation: ExSitu, Quito, Ecuador. and Matthijs HollandersdAffiliation: Southern Cross University, East Lismore, Australia.
How to cite? Arteaga A (2023) Chocoan Banded Anole (Anolis fasciatus). In: Arteaga A, Bustamante L, Vieira J, Guayasamin JM (Eds) Reptiles of Ecuador: Life in the middle of the world. Available from: www.reptilesofecuador.com. DOI: 10.47051/ESTC3015
Literature cited:
Appendix 1: Locality data used to create the distribution map of Anolis fasciatus in Ecuador (Fig. 2). Go to the section on symbols and abbreviations for a list of acronyms used. Asterisk (*) indicates type locality.
| | | | |
| --- | --- | --- | --- |
| Country | Province | Locality | Source |
| Ecuador | Azuay | Arquillo | Reptiles of Ecuador book database |
| Ecuador | Azuay | Bella Rica | iNaturalist; photo examined |
| Ecuador | Azuay | Mina Nueva Unión | iNaturalist; photo examined |
| Ecuador | Azuay | Paguancay | iNaturalist; photo examined |
| Ecuador | Bolívar | Balsapamba | KU 132483; VertNet |
| Ecuador | Bolívar | Recinto Esperanza Alta | iNaturalist; photo examined |
| Ecuador | Bolívar | Telimbela | Reptiles of Ecuador book database |
| Ecuador | Bolívar | Tres Cruces | Reyes-Puig & Ríos-Alvear 2017 |
| Ecuador | Cañar | Chontamarca | iNaturalist; photo examined |
| Ecuador | Cañar | El Chorro | Reptiles of Ecuador book database |
| Ecuador | Cañar | Hidroeléctrica Ocaña | MZUA.RE.166; examined |
| Ecuador | Cañar | Huatacón | Reptiles of Ecuador book database |
| Ecuador | Chimborazo | Chimbo | Boulenger 1898 |
| Ecuador | Cotopaxi | Bosque Privado El Jardín de los Sueños | Pellet 2017 |
| Ecuador | El Oro | California | Reptiles of Ecuador book database |
| Ecuador | El Oro | Cascadas de Manuel | Garzón-Santomaro et al. 2019 |
| Ecuador | El Oro | Limón Playa | Garzón-Santomaro et al. 2019 |
| Ecuador | El Oro | Lote Tituana | Reptiles of Ecuador book database |
| Ecuador | El Oro | Marcabelí | Garzón-Santomaro et al. 2019 |
| Ecuador | El Oro | Potrero Grande | iNaturalist; photo examined |
| Ecuador | El Oro | Quebrada Obscura | Reptiles of Ecuador book database |
| Ecuador | El Oro | Represa Tahuin | Garzón-Santomaro et al. 2019 |
| Ecuador | El Oro | Reserva Biológica Buenaventura | Ayala-Varela et al. 2021 |
| Ecuador | El Oro | Zambotambo | Reptiles of Ecuador book database |
| Ecuador | Esmeraldas | Bosque Protector La Perla | Photo by Plácido Palacios |
| Ecuador | Guayas | Balao Chico | QCAZ 16356; Ayala-Varela & Carvajal-Campos 2020 |
| Ecuador | Guayas | Cerro de Hayas | Reptiles of Ecuador book database |
| Ecuador | Guayas | Guayaquil* | Boulenger 1885 |
| Ecuador | Guayas | Rancho Alemán | QCAZ 18217; Ayala-Varela & Carvajal-Campos 2020 |
| Ecuador | Loja | Alamor, environs of | AMNH 22216; VertNet |
| Ecuador | Loja | Bosque Petrificado Puyango | Garzón-Santomaro et al. 2019 |
| Ecuador | Los Ríos | Bosque Protector Pedro Franco Dávila | Cruz & Sánchez 2016 |
| Ecuador | Los Ríos | Buena Fe | Poe et al. 2009 |
| Ecuador | Los Ríos | Centro Científico Río Palenque | Poe et al. 2009 |
| Ecuador | Los Ríos | Pichilinque | MCZ 147011; VertNet |
| Ecuador | Los Ríos | Quevedo, 3 km E of | MCZ 147189; VertNet |
| Ecuador | Los Ríos | Reserva Forestal Cerro Samama | Yánez-Muñoz et al. 2016 |
| Ecuador | Manabí | Cantalapiedra | Salvatierra et al. 2014 |
| Ecuador | Manabí | Parque Nacional Machalilla | Almendariz & Carr 2007 |
| Ecuador | Manabí | Porto Viejo, 50 km E of | MCZ 151646; VertNet |
| Ecuador | Manabí | Quebrada La Murcielaguera | QCAZ 16024; Ayala-Varela & Carvajal-Campos 2020 |
| Ecuador | Manabí | Reserva Jama Coaque | Reptiles of Ecuador book database |
| Ecuador | Manabí | Reseva Lalo Loor | Photo by Zach Cava |
| Ecuador | Pichincha | Mashpi Reserve | Medina 2021 |
| Ecuador | Pichincha | Milpe Bird Sanctuary | Reptiles of Ecuador book database |
| Ecuador | Pichincha | Recinto 23 de Junio | iNaturalist; photo examined |