Bottlenose Anole (Anolis festae)
Reptiles of Ecuador | Sauria | Anolidae | Anolis festae
English common names: Bottlenose Anole, Veronica's Anole, Festa's Anole.
Spanish common names: Anolis trompudo, anolis de Festa.
Recognition: ♂♂ 19.9 cmMaximum distance from the snout to the tip of the tail. Snout–vent length=6.4 cm. ♀♀ 16.7 cmMaximum distance from the snout to the tip of the tail. Snout–vent length=5.8 cm..1 Anoles are easily distinguishable from other lizards by their diurnal habits, extensible dewlap in males, expanded digital pads, and granular scales on the dorsum and belly.2,3 The Bottlenose Anole (Anolis festae) can be differentiated from other co-occurring anoles by having a long snout, blue iris, a uniformly greenish to grayish brown dorsum, and white dewlap with a black basal stripe in males (Fig. 1).4 The most similar co-occurring anole is A. peraccae, a species having a distinct blackish postocular blotch and an entirely whitish dewlap.4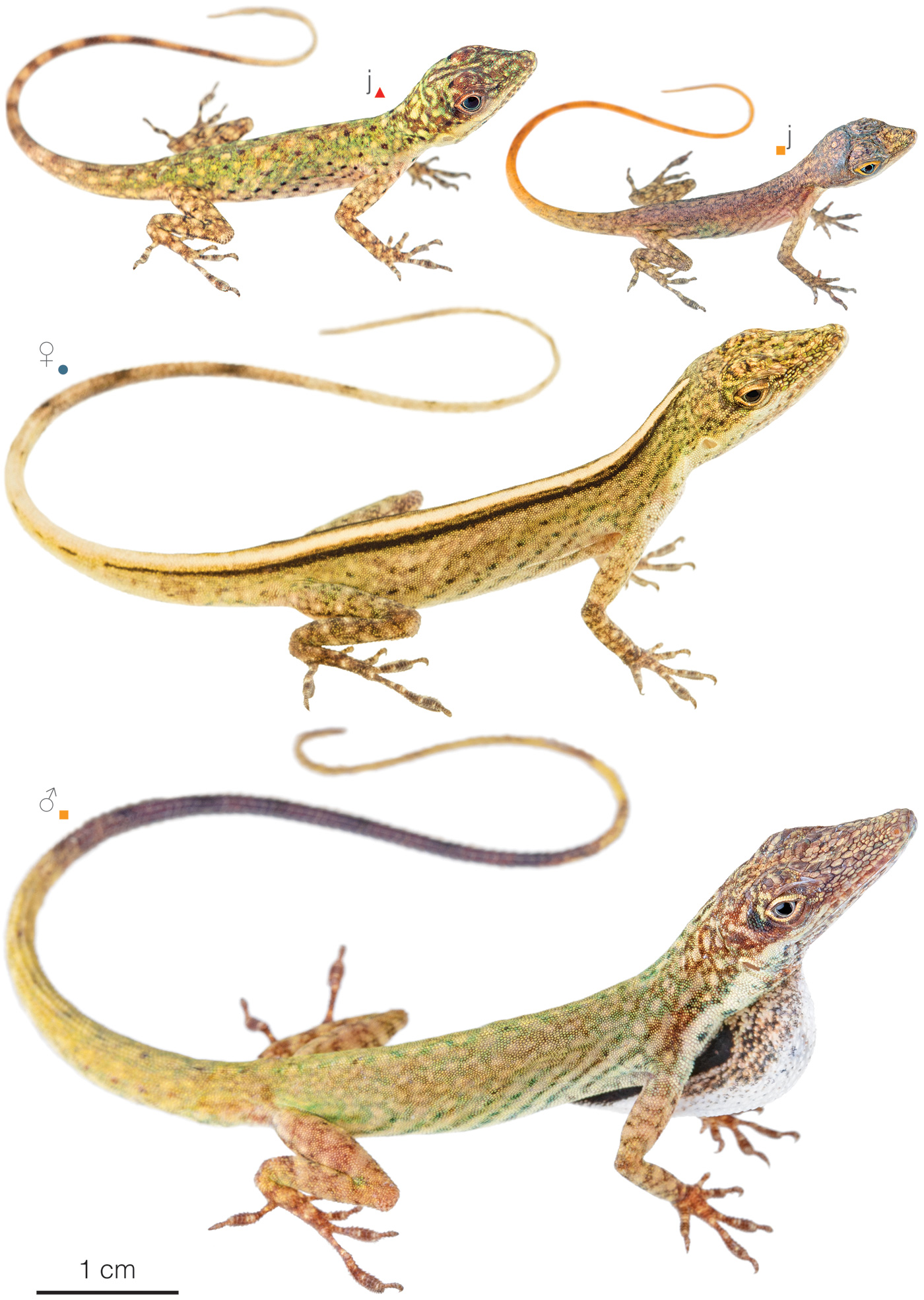 Figure 1: Individuals of Anolis festae from Ecuador: Canandé Reserve, Esmeraldas province (); Centro Científico Río Palenque, Los Ríos province (); Cerro de Hayas, Guayas province (). j=juvenile.
Natural history: Anolis festae is a locally common diurnal lizard that inhabits evergreen lowland forests and seasonally dry forests.1,4,5 This species also occurs in semi-open human-modified habitats such as teak plantations,6 cacao plantations,1 roadside vegetation,1 and border of pastures.1 During the day, Bottlenose Anoles prefer to dwell on tree trunks,6,7 but also occur on low understory vegetation or at ground level.1,5,6 At night, they roost on leaves and thin branches at 0.1–4 m above the ground.1,5 Bottlenose Anoles rely primarily on their twig-like camouflage to go unnoticed, but they can also jump to the ground and swiftly run away.1 When grabbed by a predator, they can shed the tail, which remains wiggling on the ground while the lizard escapes.1 Anolis festae is an oviparous species,8 but the clutch size and nesting sites are not known.
Conservation: Near Threatened Not currently at risk of extinction, but requires some level of management to maintain healthy populations..9 Anolis festae is listed in this category primarily because the species' habitat is severely fragmented and declining in extent and quality due to deforestation.9 Based on maps of vegetation cover of Ecuador10 and Colombia,11 it is estimated that approximately 70% of the habitat of A. festae (Fig. 2) has already been destroyed. Although it could qualify for threatened category, the species appears well adapted to human-modified environments.
Distribution: Anolis festae is native to an area of ~42,000 km2 on the Pacific lowlands of Ecuador, extreme northwestern Peru, and extreme southwestern Colombia. The species has been recorded at elevations between 1 and 430 m (Fig. 2).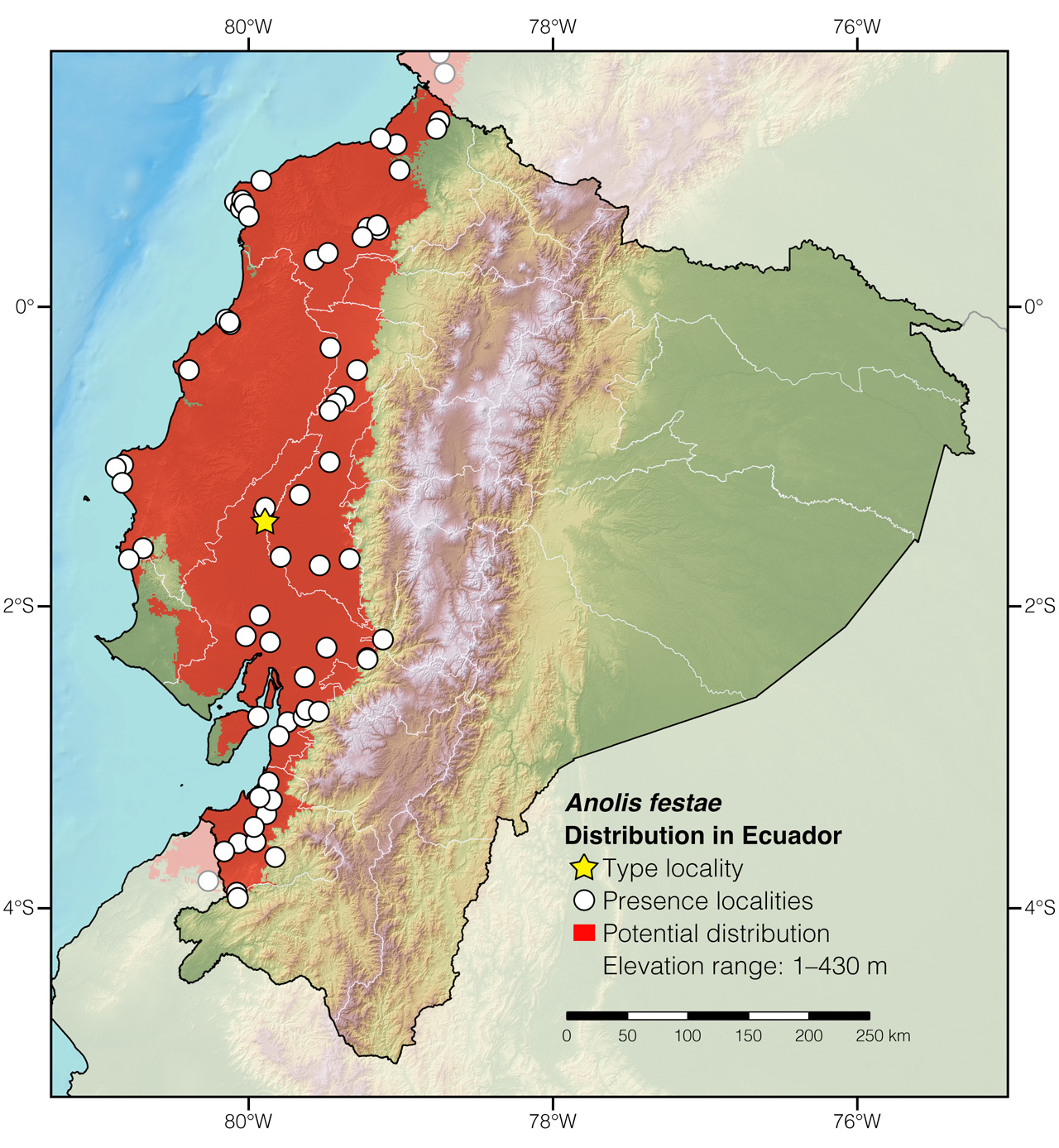 Figure 2: Distribution of Anolis festae in Ecuador. The star corresponds to the type locality: Balzar, Guayas province. See Appendix 1 for a complete list of the presence localities included in the map.
Etymology: The generic name Anolis is thought to have originated from Cariban languages, specifically from the word anoli, which is the name Arawak peoples may have used to refer to this group of lizards.12 The specific epithet festae honors Dr. Enrico Festa (1868–1939), an Italian zoologist who collected the holotype of the species.13
See it in the wild: Although Bottlenose Anoles are less common that other co-occurring anoles,1,6 they can be found with almost complete certainty in Pacoche Reserve and Centro Científico Río Palenque. The best way to find these lizards is to search for them at night along forest borders or in living fences while they sleep on leaves and twigs.
Special thanks to Wybo Zijlstra for symbolically adopting the Bottlenose Anole and helping bring the Reptiles of Ecuador book project to life.
Click here to adopt a species.
Author: Alejandro ArteagaaAffiliation: Khamai Foundation, Quito, Ecuador.
Photographer: Jose VieirabAffiliation: Tropical Herping (TH), Quito, Ecuador.,cAffiliation: ExSitu, Quito, Ecuador.
How to cite? Arteaga A (2023) Bottlenose Anole (Anolis festae). In: Arteaga A, Bustamante L, Vieira J, Guayasamin JM (Eds) Reptiles of Ecuador: Life in the middle of the world. Available from: www.reptilesofecuador.com. DOI: 10.47051/EAQM2287
Literature cited:
Appendix 1: Locality data used to create the distribution map of Anolis festae in Ecuador (Fig. 2). Go to the section on symbols and abbreviations for a list of acronyms used. Asterisk (*) indicates type locality.
| | | | |
| --- | --- | --- | --- |
| Country | Province | Locality | Source |
| Colombia | Nariño | El Palmichal | Pinto-Erazo et al. 2020 |
| Colombia | Nariño | Tangareal del Mira | iNaturalist; photo examined |
| Colombia | Nariño | Vía Pasto–Tumaco | Medina-Rangel et al. 2018 |
| Ecuador | Bolívar | Tierras bajas de Bolívar | Reyes-Puig & Ríos-Alvear 2017 |
| Ecuador | Chimborazo | Mayaguan | Medina-Rangel et al. 2018; Ayala-Varela and Carvajal-Campos 2017 |
| Ecuador | El Oro | Arenillas | iNaturalist; photo examined |
| Ecuador | El Oro | Buenavista, 3 km W of | MCZ 147041; VertNet |
| Ecuador | El Oro | Finca Jose Fernando | iNaturalist; photo examined |
| Ecuador | El Oro | La Avanzada | iNaturalist; photo examined |
| Ecuador | El Oro | La Pazmiño | iNaturalist; photo examined |
| Ecuador | El Oro | Machala | Williams 1965 |
| Ecuador | El Oro | Piñas, 24 km SW of | Medina-Rangel et al. 2018; Ayala-Varela and Carvajal-Campos 2017 |
| Ecuador | El Oro | Reserva Militar Arenillas | Garzón-Santomaro et al. 2019 |
| Ecuador | El Oro | Santa Rosa | iNaturalist; photo examined |
| Ecuador | Esmeraldas | Borbón | Medina-Rangel et al. 2018; Ayala-Varela and Carvajal-Campos 2017 |
| Ecuador | Esmeraldas | Bosque Protector La Chiquita | MHNG 2526.046; not examined |
| Ecuador | Esmeraldas | Caimito | Reptiles of Ecuador book database |
| Ecuador | Esmeraldas | Canandé | This work; Fig. 1 |
| Ecuador | Esmeraldas | El Aguacate | Vázquez et al. 2005 |
| Ecuador | Esmeraldas | Estero Chipa | Vázquez et al. 2005 |
| Ecuador | Esmeraldas | Estero Inés | Vázquez et al. 2005 |
| Ecuador | Esmeraldas | Molina | iNaturalist; photo examined |
| Ecuador | Esmeraldas | Partidero-Poza Honda | Vázquez et al. 2005 |
| Ecuador | Esmeraldas | Pichiyacu | Medina-Rangel et al. 2018; Ayala-Varela and Carvajal-Campos 2017 |
| Ecuador | Esmeraldas | Quinindé, 10 km W of | iNaturalist; photo examined |
| Ecuador | Esmeraldas | Quinindé, 4 km N of | iNaturalist; photo examined |
| Ecuador | Esmeraldas | Reserva Itapoa | Reptiles of Ecuador book database |
| Ecuador | Esmeraldas | Reserva Tesoro Escondido | Photo by Simon Maddock |
| Ecuador | Esmeraldas | Río Canandé | iNaturalist; photo examined |
| Ecuador | Esmeraldas | Same | iNaturalist; photo examined |
| Ecuador | Esmeraldas | Tundaloma Lodge | Medina-Rangel et al. 2018; Ayala-Varela and Carvajal-Campos 2017 |
| Ecuador | Guayas | Antenas de Cerro Azul | iNaturalist; photo examined |
| Ecuador | Guayas | Balao Chico | iNaturalist; photo examined |
| Ecuador | Guayas | Balzar* | Peracca 1904 |
| Ecuador | Guayas | Bosque Protector Cerro Blanco | Medina-Rangel et al. 2018; Ayala-Varela and Carvajal-Campos 2017 |
| Ecuador | Guayas | Cerro de Hayas | Reptiles of Ecuador book database |
| Ecuador | Guayas | Dos Bocas | iNaturalist; photo examined |
| Ecuador | Guayas | Durán, 40 km E of | UF 84146; VertNet |
| Ecuador | Guayas | Guayaquil | Williams 1965 |
| Ecuador | Guayas | Hacienda La Soledad | Ayala-Varela & Carvajal-Campos 2022 |
| Ecuador | Guayas | Isla Puná | Navarrete 2011 |
| Ecuador | Guayas | Isla Santay | Photo by Birds Santay |
| Ecuador | Guayas | Naranjal | MHNG 2515.060; not examined |
| Ecuador | Guayas | Quinta Caoba | Ayala-Varela & Carvajal-Campos 2022 |
| Ecuador | Guayas | Rancho Alemán | Online multimedia |
| Ecuador | Guayas | Reserva al pie del Cerro El Mate | Ayala-Varela & Carvajal-Campos 2022 |
| Ecuador | Guayas | Río Pescado | AMNH 23434; examined |
| Ecuador | Loja | Bosque Petrificado Puyango | Aguirre et al. 2017 |
| Ecuador | Loja | Las Pailitas | iNaturalist; photo examined |
| Ecuador | Los Ríos | Bosque Protector Pedro Franco Dávila | Cruz García 2017 |
| Ecuador | Los Ríos | Centro Científico Río Palenque | Reptiles of Ecuador book database |
| Ecuador | Los Ríos | Hacienda Cerro Chico | Miyata 2013 |
| Ecuador | Los Ríos | Hacienda María Jose | iNaturalist; photo examined |
| Ecuador | Los Ríos | Hostería El Senor de los Caballos | Reptiles of Ecuador book database |
| Ecuador | Los Ríos | Quevedo | MHNG 2521.057; not examined |
| Ecuador | Los Ríos | Quevedo, 39 km N of | MCZ 147022; VertNet |
| Ecuador | Manabí | Cerro San Sebastián | Cisneros-Heredia et al. 2021 |
| Ecuador | Manabí | El Aromo | Medina-Rangel et al. 2018; Ayala-Varela and Carvajal-Campos 2017 |
| Ecuador | Manabí | El Carmen | Cuadrado Saldarriaga 2020 |
| Ecuador | Manabí | Pacoche Lodge | Reptiles of Ecuador book database |
| Ecuador | Manabí | Pile | iNaturalist; photo examined |
| Ecuador | Manabí | Reserva Ayampe | Cisneros-Heredia et al. 2021 |
| Ecuador | Manabí | Reserva Jama Coaque | iNaturalist; photo examined |
| Ecuador | Manabí | Reserva Lalo Loor | Reptiles of Ecuador book database |
| Ecuador | Manabí | Río Muchacho farm | iNaturalist; photo examined |
| Ecuador | Manabí | Three Forests Trail | Photo by Paul Maier |
| Ecuador | Santo Domingo de los Tsáchilas | El Esfuerzo | Medina-Rangel et al. 2018; Ayala-Varela and Carvajal-Campos 2017 |
| Peru | Tumbes | Campamento El Caucho | Medina-Rangel et al. 2018; Ayala-Varela and Carvajal-Campos 2017 |