| | |
| --- | --- |
| Published February 14, 2022. Open access. | Gallery ❯ |
Purple Anole (Anolis purpurescens)
Reptiles of Ecuador | Sauria | Anolidae | Anolis purpurescens
English common names: Purple Anole, Chocoan Purple Anole, Chocoan Anole.
Spanish common names: Anolis morado, anolis morado del Chocó, anolis del Chocó.
Recognition: ♂♂ 20.4 cmMaximum distance from the snout to the tip of the tail. Snout–vent length=8.8 cm. ♀♀ 20.3 cmMaximum distance from the snout to the tip of the tail. Snout–vent length=7.4 cm..1,2 Anoles are easily distinguishable from other lizards by their diurnal habits, extensible dewlap in males, expanded digital pads, and granular scales on the dorsum and belly.3 The Purple Anole (Anolis purpurescens) can be identified from other co-occurring green anoles based on the presence of blue or dark brown dorsal spots, dark transverse bands, and a unique dewlap coloration.4 The dewlap differs between sexes. In males, it is orange with a white patch anteriorly and with rows of white or green scales. In females, it is green with rows of white scales.4,5 Also, the males can have a fleshy nuchal crest. The belly is pale green to grayish and the iris is pale brown.5 Anolis purpurescens can be confused with A. chloris, A. fraseri, A. parilis, and A. princeps, but it is easily distinguishable from these other species based on dewlap coloration. Anolis parilis has the most similar dewlap pattern, but it can be differentiated by having the white patch coloration in the posterior base of the dewlap.6 The Purple Anole can also be easily differentiated from A. princeps and A. fraseri by its smaller body size (SVL 11.7 cm in A. princeps; SVL 11.6 cm in A. fraseri).7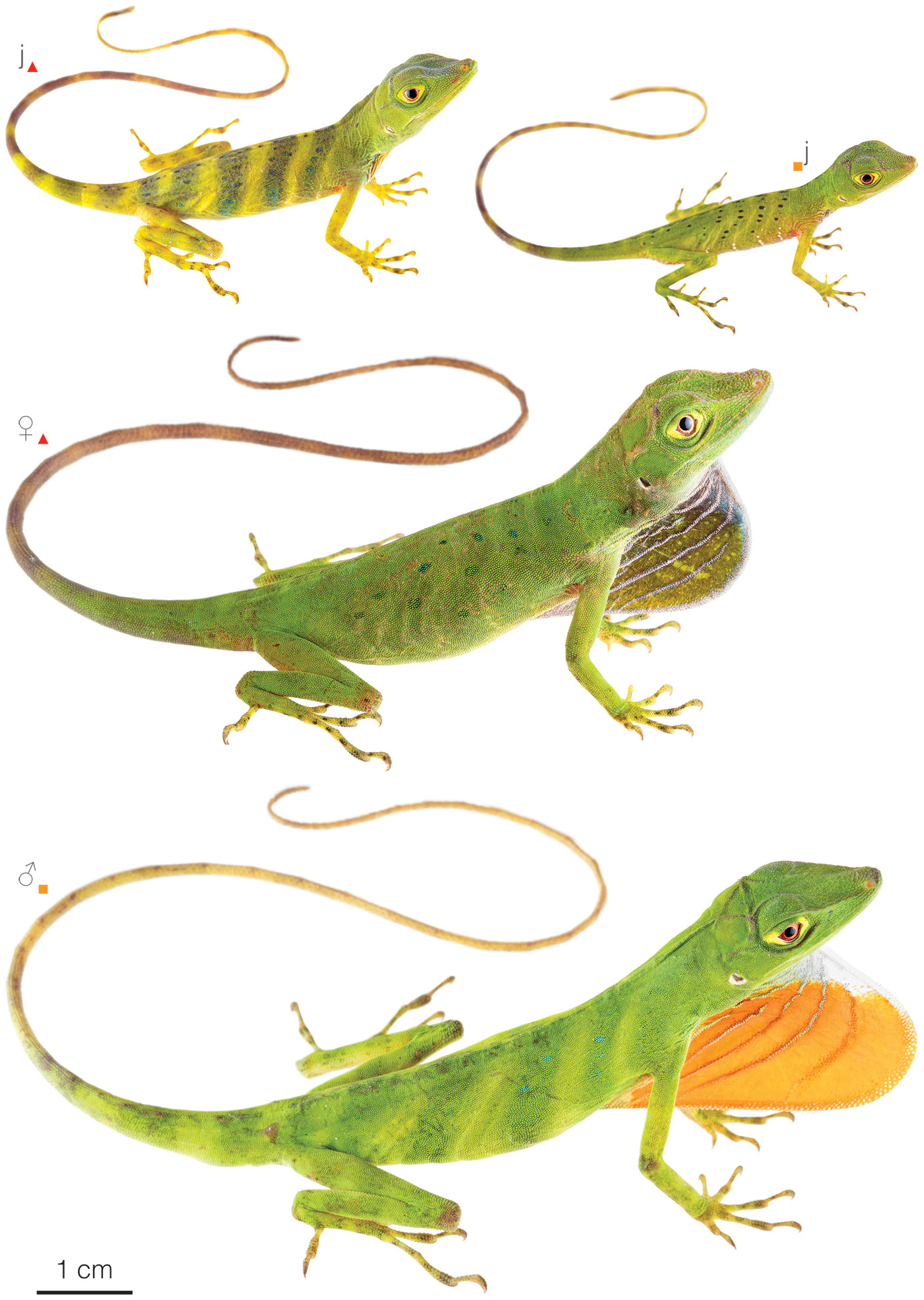 Figure 1: Individuals of Anolis purpurescens from Kapari Lodge, Pichincha province (); and Canandé Reserve, Esmeraldas province (), Ecuador. j=juvenile.
Natural history: FrequentRecorded weekly in densities below five individuals per locality., but often overlooked due the species' arboreal habits.8 Anolis purpurescens inhabits old-growth to moderately disturbed evergreen lowland forests.5,9 This Anolis has also been recorded in disturbed areas such as rural gardens adjacent to forest border.10 Purple Anoles are diurnal and usually active between 8:00 am and 2:00 pm. Their activity takes place on vegetation up to 9 m above the ground and includes perching, foraging, or flashing their dewlaps at intervals of about 15 minutes.8,10 At night, they can be found sleeping on shrubs, branches, small trees, or ferns up to 6 m above the ground, either along streams or inside the forest.5,8–11 The diet of A. purpurescens is based primarily on insects of the orders Coleoptera, Diptera, Hemiptera, Hymenoptera, and on arachnids of the order Araneae.10 The Purple Anole is oviparous. There is a single record of one egg found under loose bark on top of a rotting log.5
Conservation: Least Concern Believed to be safe from extinction given current circumstances..12 Anolis purpurescens is listed in this category given its wide distribution over areas that have not been heavily affected by deforestation, and its presence in several protected areas in Panama, Colombia and Ecuador. The most important threat for the long-term survival of some populations is large-scale deforestation caused by the expansion of the agricultural frontier.12 The current population trend is unknown because individuals of A. purpurescens are difficult to observe due to their arboreal habits.
Distribution: Anolis purpurescens is distributed throughout the Chocoan lowlands and adjacent Andean foothills from eastern Panama, through western Colombia, to Cotopaxi province in Ecuador. In the latter country, the species has been recorded at elevations between 74 and 902 m (Fig. 2).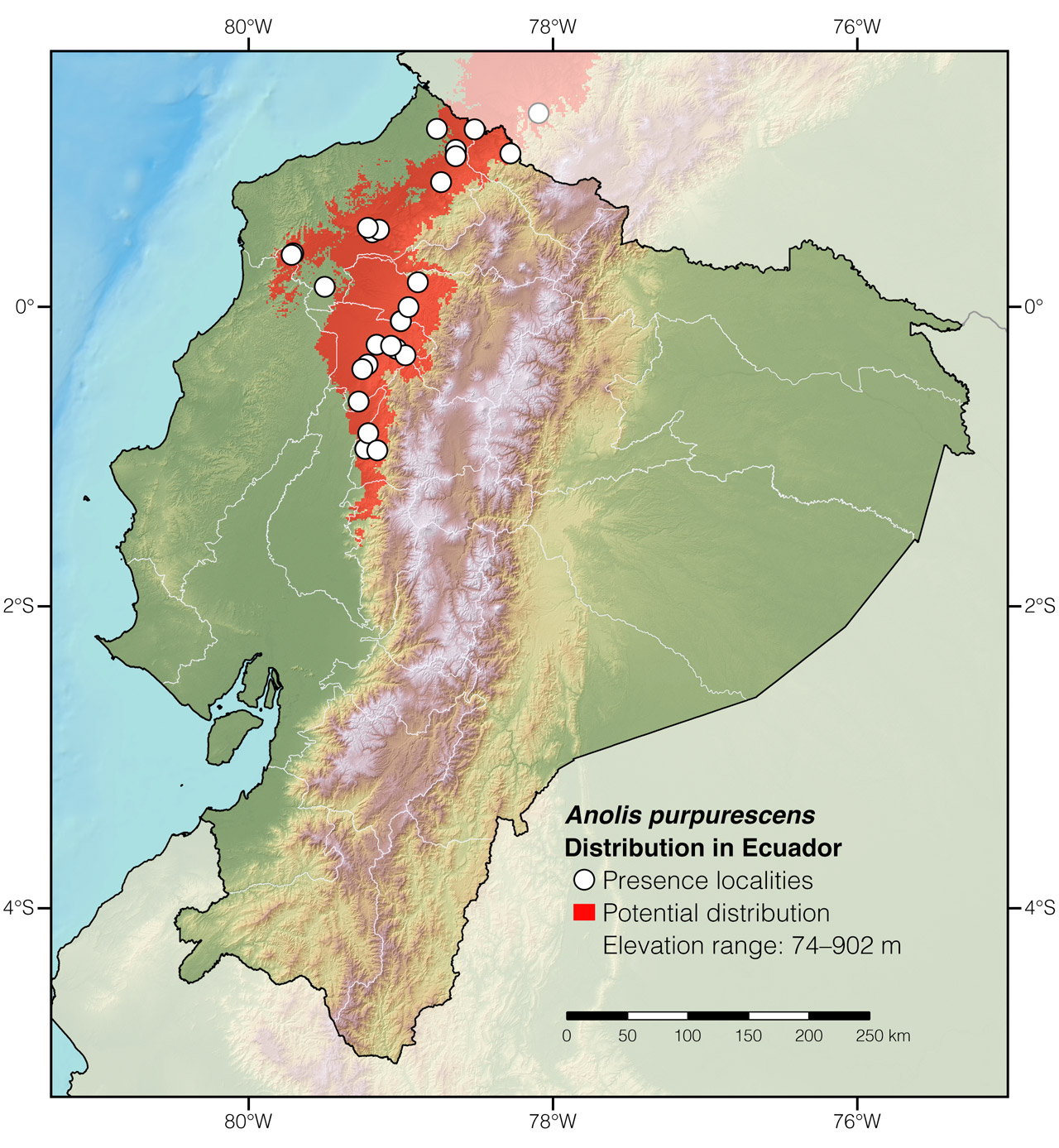 Figure 2: Distribution of Anolis purpurescens in Ecuador. See Appendix 1 for a complete list of the presence localities included in the map.
Etymology: The generic name Anolis is thought to have originated from Cariban languages, specifically from the word anoli, which is the name Arawak peoples may have used to refer to this group of lizards.13 The specific epithet purpurescens comes from the Latin word purpurasco (meaning "to turn purple").14 This refers to the coloration that individuals take on when preserved in ethanol.
See it in the wild: Due to their arboreal habits, Purple Anoles are usually overlooked by most visitors to the forests of western Ecuador. However, these anoles are common in some areas. Individuals are more easily located at night sleeping on branches near streams. In Ecuador, the localities having the greatest number of recent observations are: Kapari Lodge, Bilsa Biological Reserve, and Otongachi Reserve.
Author: Laura Gómez-MesaaAffiliation: Escuela de Ciencias Aplicadas e Ingeniería, Universidad EAFIT, Medellín, Colombia.
Editor: Alejandro ArteagabAffiliation: Khamai Foundation, Quito, Ecuador.
Photographer: Jose VieiracAffiliation: Tropical Herping (TH), Quito, Ecuador.,dAffiliation: ExSitu, Quito, Ecuador.
How to cite? Gómez-Mesa L (2022) Purple Anole (Anolis purpurescens). In: Arteaga A, Bustamante L, Vieira J, Guayasamin JM (Eds) Reptiles of Ecuador: Life in the middle of the world. Available from: www.reptilesofecuador.com. DOI: 10.47051/DTKD5209
Literature cited:
Velasco JA, Hurtado-Gómez JP (2014) A new green anole lizard of the Dactyloa clade (Squamata: Dactyloidae) from the Magdalena river valley of Colombia. Zootaxa 3758: 201–216. DOI: 10.11646/zootaxa.3785.2.4
Batista A, Vesely M, Mebert K, Lotzkat S, Köhler G (2015) A new species of Dactyloa from eastern Panama, with comments on other Dactyloa species present in the region. Zootaxa 4039: 57–84. DOI: 10.11646/zootaxa.4039.1.2
Peters JA, Donoso-Barros R (1970) Catalogue of the Neotropical Squamata: part II, lizards and amphisbaenians. Bulletin of the United States National Museum, Washington, D.C., 293 pp.
Cope ED (1899) Contributions to the herpetology of New Granada and Argentina, with descriptions of new forms. The Philadelphia Museums Scientific Bulletin 1: 1–22. DOI: 10.5962/bhl.title.54674
Williams EE, Duellman WE (1967) Anolis chocorum, a new punctatus-like anole from Darien, Panama (Sauria, Iguanidae). Breviora 256: 1–12.
Torres-Carvajal O, Pazmiño-Otamendi G, Salazar-Valenzuela D (2019) Reptiles of Ecuador: a resource-rich online portal, with dynamic checklists and photographic guides. Amphibian & Reptile Conservation 13: 209–229.
Williams EE, Rand H, Rand AS, O'Hara RJ (1995) A computer approach to the comparision and identification of species in difficult taxonomic groups. Breviora 502: 1–47.
Rengifo JTM, Herrera FC, Purroy FJ (2014) Diversidad de una comunidad de Anolis (Iguania: Dactyloidae) en la selva pluvial central, departamento del Chocó, Colombia. Basic and Applied Herpetology 28: 51–63. DOI: 10.11160/BAH.12004
Boada Viteri EA (2015) Ecología de una comunidad de lagartijas del género Anolis (Iguanidae: Dactyloinae) de un bosque pie-montano del Ecuador occidental. BSc thesis, Quito, Pontificia Universidad Católica del Ecuador, 111 pp.
Batista A, Velasco J, Arredondo JC, Castañeda MR (2020) Anolis purpurescens. The IUCN red list of threatened species. Available from: www.iucnredlist.org. DOI: 10.2305/IUCN.UK.2020-3.RLTS.T44577699A44577702.en
Appendix 1: Locality data used to create the distribution map of Anolis purpurescens in Ecuador (Fig. 2). Go to the section on symbols and abbreviations for a list of acronyms used.
| | | | |
| --- | --- | --- | --- |
| Country | Province | Locality | Source |
| Colombia | Nariño | Reserva Natural Río Ñambi | iNaturalist |
| Ecuador | Carchi | Destacamento Militar | MECN 8056 |
| Ecuador | Carchi | El Pailón | Velasco & Hurtado-Gómez 2014 |
| Ecuador | Carchi | Río San Juan | MECN 6713 |
| Ecuador | Carchi | Sendero Awa | MECN 6714 |
| Ecuador | Carchi | Tobar Donoso | iNaturalist |
| Ecuador | Cotopaxi | Bosque Privado El Jardín de los Sueños | Photo by Christophe Pellet |
| Ecuador | Cotopaxi | La Maná | Photo by Adam Javorcik |
| Ecuador | Cotopaxi | Yakusinchi | Photo by Jane Sloan |
| Ecuador | Esmeraldas | Durango | Velasco & Hurtado-Gómez 2014 |
| Ecuador | Esmeraldas | Lote Quijano | MECN 3245 |
| Ecuador | Esmeraldas | Reserva Canandé | This work |
| Ecuador | Esmeraldas | Reserva Ecológica Cotacachi Cayapas | Velasco & Hurtado-Gómez 2014 |
| Ecuador | Esmeraldas | Reserva Itapoa | This work |
| Ecuador | Esmeraldas | Tundaloma Lodge | This work |
| Ecuador | Esmeraldas | Vida Rosero Reserve | This work |
| Ecuador | Manabí | Bilsa Biological Reserve | This work |
| Ecuador | Pichincha | El Centinela | USNM 285675 |
| Ecuador | Pichincha | Ganaderos Orenses | Torres-Carvajal et al. 2019 |
| Ecuador | Pichincha | Kapari Lodge | This work |
| Ecuador | Pichincha | Mashpi Lodge | iNaturalist |
| Ecuador | Pichincha | Monterreal Rainforest Ecolodge | Photo by José Schreckinger |
| Ecuador | Pichincha | Río Baba Bridge, 4 km E of | UIMNH 82902 |
| Ecuador | Pichincha | Santa Marianita, 4 km E of | iNaturalist |
| Ecuador | Pichincha | Santo Domingo de los Colorados | Velasco & Hurtado-Gómez 2014 |
| Ecuador | Santo Domingo de los Tsáchilas | Finca Gloria | Velasco & Hurtado-Gómez 2014 |
| Ecuador | Santo Domingo de los Tsáchilas | La Florida | Velasco & Hurtado-Gómez 2014 |
| Ecuador | Santo Domingo de los Tsáchilas | Reserva La Perla | Photo by Plácido Palacios |
| Ecuador | Santo Domingo de los Tsáchilas | Reserva Otongachi | Velasco & Hurtado-Gómez 2014 |