| | |
| --- | --- |
| Published March 7, 2022. Open access. | Gallery ❯ |
First Anole (Anolis princeps)
Reptiles of Ecuador | Sauria | Anolidae | Anolis princeps
English common names: First Anole, Chief Anole, Prince Anole.
Spanish common names: Anolis príncipe, anolis jefe, anolis camuflado.
Recognition: ♂♂ 34.2 cmMaximum distance from the snout to the tip of the tail. Snout–vent length=11.7 cm. ♀♀ 34.5 cmMaximum distance from the snout to the tip of the tail. Snout–vent length=11 cm..1,2 Anoles are easily distinguishable from other lizards by their diurnal habits, extensible dewlap in males, expanded digital pads, and granular scales on the dorsum and belly.3 The First Anole (Anolis princeps) is one of the largest lizards of the genus.4 It can be distinguished from the other species of Anolis with which it co-occurs based on dewlap and dorsum coloration, and the presence of a fleshy crest behind the head in males. The dewlap is white in both sexes but is larger in males.5,6 Anolis fasciatus is most similar to A. princeps, but the color pattern in this other much smaller anole is different and its dewlap is white with grey longitudinal stripes.5,7 Anolis princeps can be differentiated from A. fraseri, A. parilis, and A. purpurescens by lacking yellow in any portion of the dewlap.7 The dorsum of A. princeps is olive green or bluish-grey with large dark-brown or black reticulations arranged obliquely on the sides, forming four series of cross-sections. There are also dark and light streaks across the supraocular and interorbital regions.1,5,7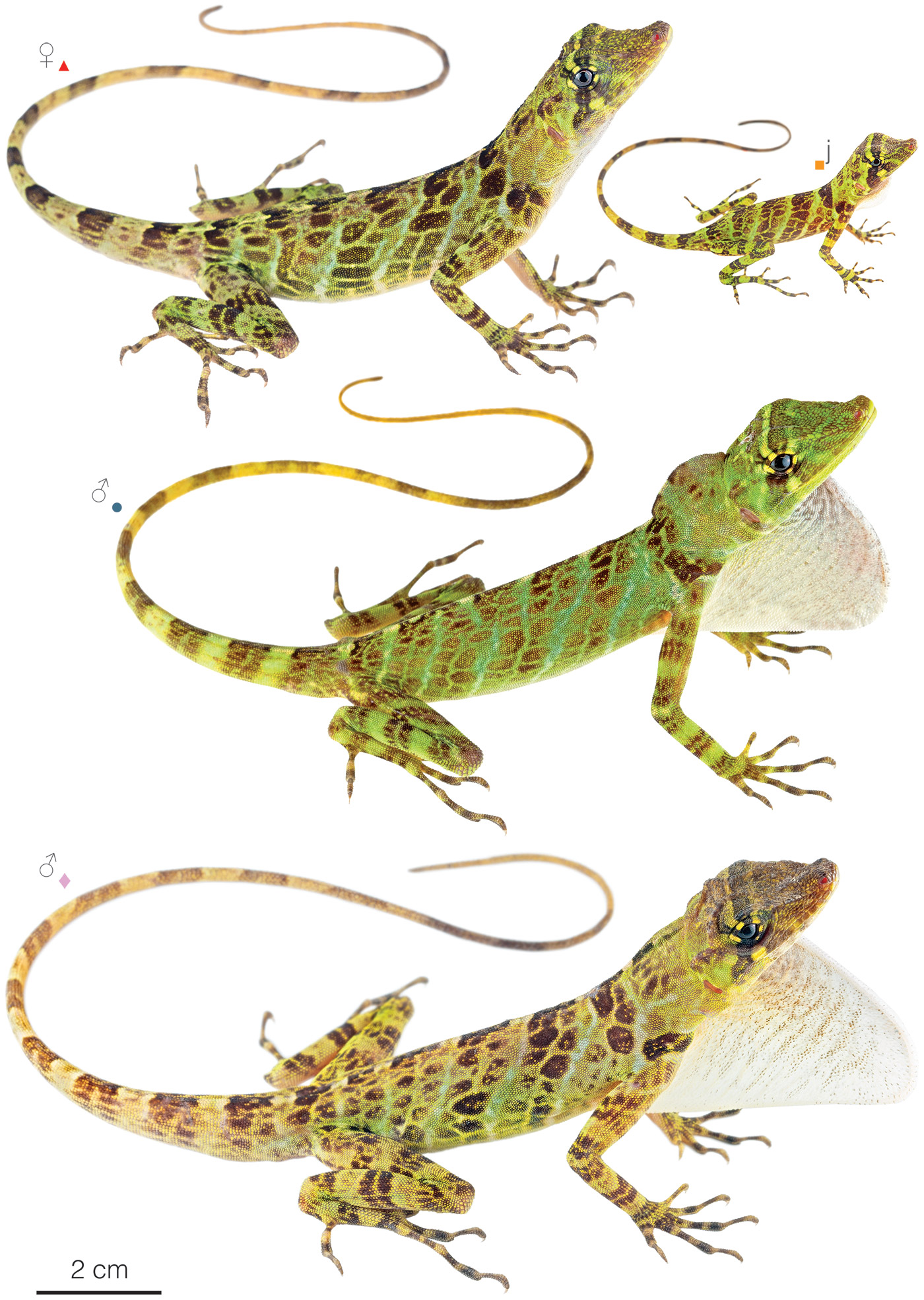 Figure 1: Individuals of Anolis princeps from Casa del Medio, Esmeraldas province (); Mache-Chindul Ecological Reserve, Esmeraldas province (); Kapari Lodge, Pichincha province (); and Canandé Reserve, Esmeraldas province (); Ecuador. j=juvenile.
Natural history: FrequentRecorded weekly in densities below five individuals per locality., but difficult to observe during the daytime due to its intricate green camouflage. Anolis princeps is a diurnal and solitary lizard found in primary and secondary evergreen lowland and foothill forests.7–10 This species is included in the "crown giant" anole guild and is most frequently observed on large tree trunks during the day.8 However, First Anoles also use lower perches from 50 cm above the ground with a mean diameter of ~14.5 cm.6,11 These normally strictly arboreal reptiles may also occasionally be seen on the leaf-litter.12 At night, they sleep clinging to twigs, shrubs, branches, and lianas 0.5–8 m above the ground.7,8 In the presence of a potential predator, individuals may remain motionless or, if on a trunk, move to the opposite side or run up along the trunk.8 There are unpublished records of First Anoles in Ecuador feeding on grasshoppers, katydids, and roaches,8 but other prey items are currently unknown. Anoles in general commonly feed on ants in a high proportion as these insects are very abundant in all ecosystems.13–16 Anolis princeps is an oviparous species.17 Females deposit clutches of one egg at a time.18
Conservation: Least Concern Believed to be safe from extinction given current circumstances..19 Anolis princeps is listed in this category given its wide distribution over a region (the Colombian Pacific coast) that has not been heavily affected by deforestation and based on its presence in several protected areas in Colombia and Ecuador. Furthermore, A. princeps is also believed to be a common anole in the areas it occupies. Therefore, the species is considered to be facing no major immediate extinction threats. However, in the Pacific lowlands of northwestern Ecuador, much (~61%)20 of the species' habitat has been lost due to deforestation caused by rural-urban development and the expansion of the agricultural frontier.9,21 For this reason, at the national level, A. princeps has been previously included in the Near Threatened category.22
Distribution: Anolis princeps occurs in the Chocoan lowlands and adjacent Andean foothills from western Colombia, including Gorgona Island,5 to Los Ríos province in west-central Ecuador. This species has been recorded at elevations between 13 and 994 m (Fig. 2).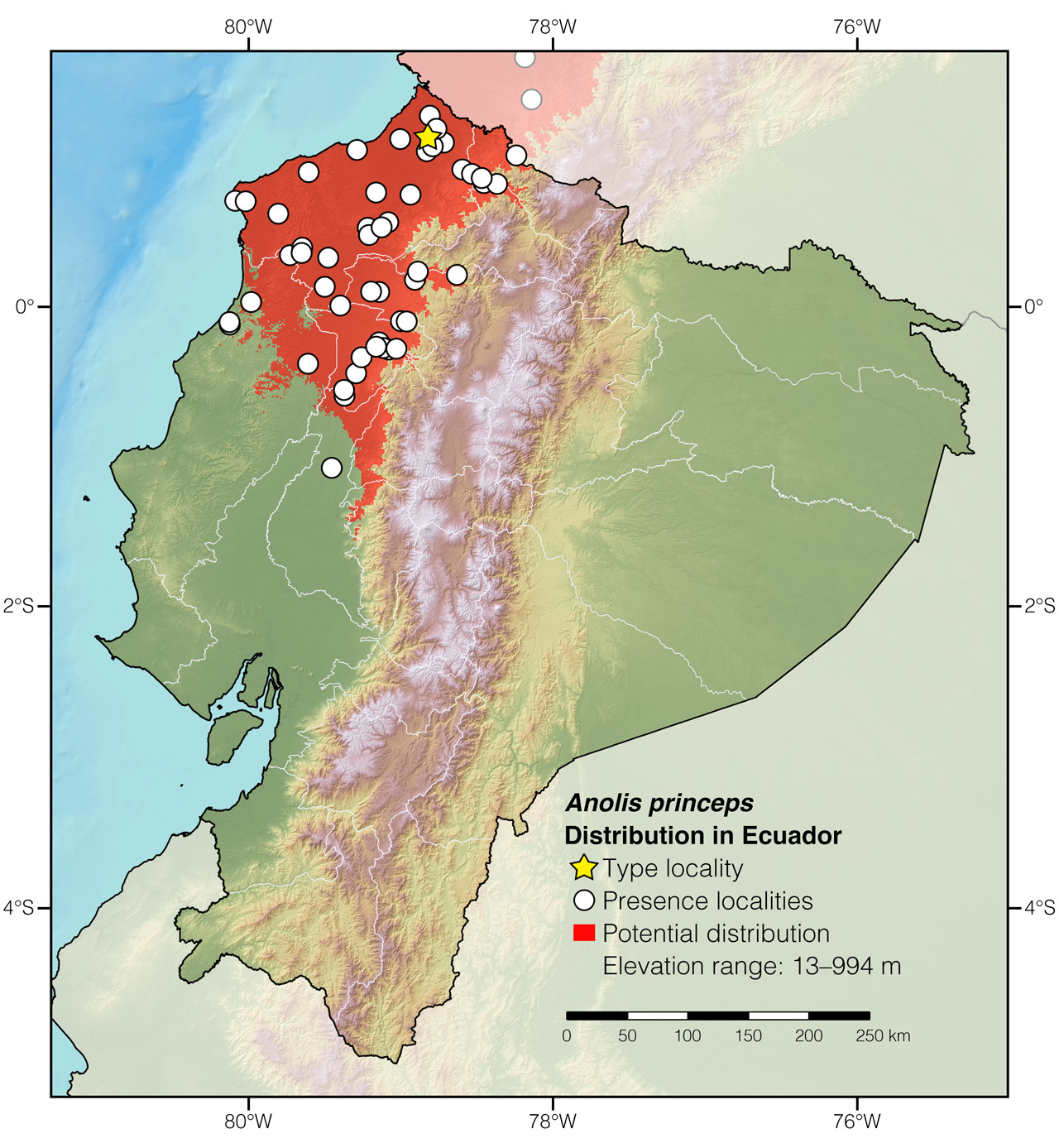 Figure 2: Distribution of Anolis princeps in Ecuador. The star corresponds to the type locality: San Javier, Esmeraldas province. See Appendix 1 for a complete list of the presence localities included in the map.
Etymology: The generic name Anolis is thought to have originated from Cariban languages, specifically from the word anoli, which is the name Arawak peoples may have used to refer to this group of lizards.23 The specific epithet princeps is a Latin word meaning "first" or "prince."24 This likely refers to the beautiful dorsal color pattern in individuals of this species.
See it in the wild: Prince Anoles are usually found in closed-canopy situations rather than in open or semi-open areas. In Ecuador, the best localities to find lizards of this species are Canandé Reserve, Bilsa Biological Reserve, and Centro Científico Río Palenque. Although this species is considered frequent in some areas, its intricate camouflage makes it go unnoticed by most visitors to the rainforests of northwestern Ecuador.
Author: Angie Tovar-OrtizaAffiliation: Universidad de los Andes, Bogotá, Colombia.
Editor: Alejandro ArteagabAffiliation: Khamai Foundation, Quito, Ecuador.
Photographer: Jose VieiracAffiliation: Tropical Herping (TH), Quito, Ecuador.,dAffiliation: ExSitu, Quito, Ecuador.
How to cite? Tovar-Ortiz A (2022) First Anole (Anolis princeps). In: Arteaga A, Bustamante L, Vieira J, Guayasamin JM (Eds) Reptiles of Ecuador: Life in the middle of the world. Available from: www.reptilesofecuador.com. DOI: 10.47051/YSOC4832
Literature cited:
Boulenger GA (1902) Descriptions of new batrachians and reptiles from north-western Ecuador. Annals and Magazine of Natural History 9: 51–57. DOI: 10.1080/00222930208678538
Williams EE, Rand H, Rand AS, O'Hara RJ (1995) A computer approach to the comparision and identification of species in difficult taxonomic groups. Breviora 502: 1–47.
Peters JA, Donoso-Barros R (1970) Catalogue of the Neotropical Squamata: part II, lizards and amphisbaenians. Bulletin of the United States National Museum, Washington, D.C., 293 pp.
Boulenger GA (1913) On a collection of batrachians and reptiles made by Dr. H.G.F. Spurrell, F.Z.S. in the Choco, Colombia. Proceedings of the Zoological Society of London 83: 1019–1038. DOI: 10.1111/j.1469-7998. 1914.tb07063.x
Castro-Herrera F, Valencia-Aguilar A, Villaquirán-Martínez DF (2012) Diversidad de anfibios y reptiles del Parque Nacional Natural Isla Gorgona. Universidad del Valle, Cali, 112 pp.
Moreno-Arias R, Velasco JA, Urbina Cardona J, Cárdenas-Arévalo G, Medina Rangel G, Gutiérrez Cárdenas P, Olaya-Rodriguez M, Noguera-Urbano E (2021) Atlas de la biodiversidad de Colombia. Anolis. Instituto de Investigación de Recursos Biológicos Alexander von Humboldt, Bogotá, 72 pp.
MECN (2010) Serie herpetofauna del Ecuador: El Chocó esmeraldeño. Museo Ecuatoriano de Ciencias Naturales, Quito, 232 pp.
Miyata KI (2013) Studies on the ecology and population biology of little known Ecuadorian anoles. Bulletin of the Museum of Comparative Zoology 161: 45–78.
Ortega-Andrade HM, Bermingham J, Aulestia C, Paucar C (2010) Herpetofauna of the Bilsa Biological Station, province of Esmeraldas, Ecuador. Check List 6: 119–154. DOI: 10.15560/6.1.119
Phillips JG, Burton SE, Womack MM, Pulver E, Nicholson KE (2019) Biogeography, systematics, and ecomorphology of Pacific Island anoles. Diversity 11: 141. DOI: 10.3390/d11090141
Eaton JM, Larimer SC, Howard KG, Powell R, Parmerlee JS (2002) Population densities and ecological release of the solitary lizard Anolis gingivinus in Anguilla, West Indies. Caribbean Journal of Science 38: 27–36.
Dalrymple GH (1980) Comments on the density and diet of a giant anole, Anolis equestris. Journal of Herpetology 14: 412–415. DOI: 10.2307/1563699
Pinilla-Renteria E, Rengifo-Mosquera JT, Londoño JS (2015) Dimorfismo, uso de hábitat y dieta de Anolis maculiventris (Lacertilia: Dactyloidae), en bosque pluvial tropical del Chocó, Colombia. Acta Biológica Colombiana 20: 89–100. DOI: 10.15446/abc
Rodriguez-Schettino L, Mercedes-Martinez R (1996) Algunos aspectos de la ecologia trófica de Anolis argenteolus (Sauria: Polychridae) en una localidad de la costa suroriental de Cuba. Biotropica 28: 252–257. DOI: 10.2307/2389079.
Blackburn D (1999) Viviparity and oviparity: evolution and reproductive strategies. In: Knobil E, Neill JD (Eds) Encyclopedia of Reproduction. Academic Press, London, 994–1003.
Castañeda MR, Velasco J (2020) Anolis princeps. The IUCN red list of threatened species. Available from: www.iucnredlist.org. DOI: 10.2305/IUCN.UK.2020-3.RLTS.T44577660A44577667.en
MAE (2012) Línea base de deforestación del Ecuador continental. Ministerio del Ambiente del Ecuador, Quito, 30 pp.
Cisneros-Heredia DF (2006) Distribution and ecology of the western Ecuador frog Leptodactylus labrosus (Amphibia: Anura: Leptodactylidae). Zoological Research 27: 234–255.
Carrillo E, Aldás A, Altamirano M, Ayala F, Cisneros-Heredia DF, Endara A, Márquez C, Morales M, Nogales F, Salvador P, Torres ML, Valencia J, Villamarín F, Yánez-Muñoz M, Zárate P (2005) Lista roja de los reptiles del Ecuador. Fundación Novum Millenium, Quito, 46 pp.
Appendix 1: Locality data used to create the distribution map of Anolis princeps in Ecuador (Fig. 2). Go to the section on symbols and abbreviations for a list of acronyms used. Asterisk (*) indicates type locality.
| | | | |
| --- | --- | --- | --- |
| Country | Province | Locality | Source |
| Colombia | Cauca | Gorgona Island | IAvH-R-4789 |
| Colombia | Cauca | Guapi | Velasco & Hurtado-Gómez 2014 |
| Colombia | Nariño | Guelnambi | Velasco & Hurtado-Gómez 2014 |
| Colombia | Nariño | Reserva El Pangán | iNaturalist |
| Ecuador | Esmeraldas | Alto Tambo, 4 km W of | Fields nots of Steve Poe |
| Ecuador | Esmeraldas | Bilsa Biological Reserve | Ortega-Andrade et al. 2010 |
| Ecuador | Esmeraldas | Cabeceras de Bilsa | Almendariz & Carr 2007 |
| Ecuador | Esmeraldas | Caimito | This work |
| Ecuador | Esmeraldas | Canandé Biological Reserve | Narváez et al. 2019 |
| Ecuador | Esmeraldas | Casa del Medio | This work |
| Ecuador | Esmeraldas | Comunidad Viruela | Photo by Néstor Acosta |
| Ecuador | Esmeraldas | Cuchubi | iNaturalist |
| Ecuador | Esmeraldas | Gualpi | This work |
| Ecuador | Esmeraldas | Hoja Blanca, 9 km SE of | iNaturalist |
| Ecuador | Esmeraldas | Lote Salvadores | This work |
| Ecuador | Esmeraldas | Pajonal | Morales 2004 |
| Ecuador | Esmeraldas | Quinindé | USNM 234718 |
| Ecuador | Esmeraldas | Río Malimpia | This work |
| Ecuador | Esmeraldas | Río San Francisco | MECN 2844 |
| Ecuador | Esmeraldas | Río San Miguel, 1 km from the mouth | MCZ 153161 |
| Ecuador | Esmeraldas | Río Santiago | USNM 20611 |
| Ecuador | Esmeraldas | Salidero | Boulenger 1902 |
| Ecuador | Esmeraldas | San Javier* | Boulenger 1902 |
| Ecuador | Esmeraldas | San Lorenzo | MECN 5435 |
| Ecuador | Esmeraldas | San Mateo, 3.5 km E of | iNaturalist |
| Ecuador | Esmeraldas | Tundaloma Lodge | This work |
| Ecuador | Imbabura | Paramba | Boulenger 1902 |
| Ecuador | Imbabura | Río Lita | Boulenger 1902 |
| Ecuador | Imbabura | Santa Rosa de Pacto, 1 km NW of | iNaturalist |
| Ecuador | Los Rios | Quevedo | MCZ 147172 |
| Ecuador | Los Ríos | Centro Científico Río Palenque | Miyata 2013 |
| Ecuador | Los Ríos | Puerto de Ilá | USNM 234720 |
| Ecuador | Manabí | Bosque La Esperanza | Online multimedia |
| Ecuador | Manabí | Cerro Pata de Pájaro | Photo by Tim Christensen |
| Ecuador | Manabí | Jama-Coaque Reserve | Lynch et al. 2016 |
| Ecuador | Manabí | Three Forests Trail | Photo by Paul Maier |
| Ecuador | Pichincha | Cascadas El Naranjal | iNaturalist |
| Ecuador | Pichincha | Hosteria Selva Virgen | This work |
| Ecuador | Pichincha | Monterreal Rainforest Ecolodge | Photo by José Schreckinger |
| Ecuador | Pichincha | Río Toachi | UIMNH 82894 |
| Ecuador | Pichincha | Santo Domingo, 1 km N and 2 km E of | KUH 178946 |
| Ecuador | Santo Domingo de los Tsáchilas | Bosque Protector La Perla | iNaturalist |
| Ecuador | Santo Domingo de los Tsáchilas | Finca la Esperanza | USNM 234722 |
| Ecuador | Santo Domingo de los Tsáchilas | Hacienda Santa Marianita | iNaturalist |
| Ecuador | Santo Domingo de los Tsáchilas | La Concordia | Online multimedia |
| Ecuador | Santo Domingo de los Tsáchilas | La Florida | MHNG 2463.078 |
| Ecuador | Santo Domingo de los Tsáchilas | Río Baba, 24 km S of Santo Domingo | UIMNH 82895 |
| Ecuador | Santo Domingo de los Tsáchilas | San Miguel de los Colorados | USNM 234719 |
| Ecuador | Santo Domingo de los Tsáchilas | Santo Domingo de los Colorados | USNM 234721 |