| | |
| --- | --- |
| Published July 1, 2021. Open access. | Gallery ❯ |
Nemonte's Anole (Anolis nemonteae)
Reptiles of Ecuador | Sauria | Anolidae | Anolis nemonteae
English common names: Nemonte's Anole, Star Anole.
Spanish common names: Anolis de Nemonte, anolis de las estrellas.
Recognition: ♂♂ 37.3 cmMaximum distance from the snout to the tip of the tail. Snout–vent length=11.5 cm. ♀♀ 33.5 cmMaximum distance from the snout to the tip of the tail. Snout–vent length=10.3 cm..1 Anoles are easily distinguishable from other lizards by their diurnal habits, extensible dewlap in males, expanded digital pads, and granular scales on the dorsum and belly.2 The Nemonte's Anoles (Anolis nemonteae) is the largest anole in southwestern Ecuador.1 It can be distinguished from the other three species of Anolis with which it co-occurs (A. binotatus, A. fasciatus, and A. festae) on the basis of its large size, fleshy crest behind the head, and unique coloration. The dorsum is greenish to pale cream with faint darker bands and numerous circular blotches made of a whiter pigment. The dewlap is large and uniformly cream in males, and yellow with dark green blotches in females. The iris is reddish brown.1 Juveniles of this species may be difficult to tell apart from individuals of A. fasciatus, but the iris of the latter is bluish.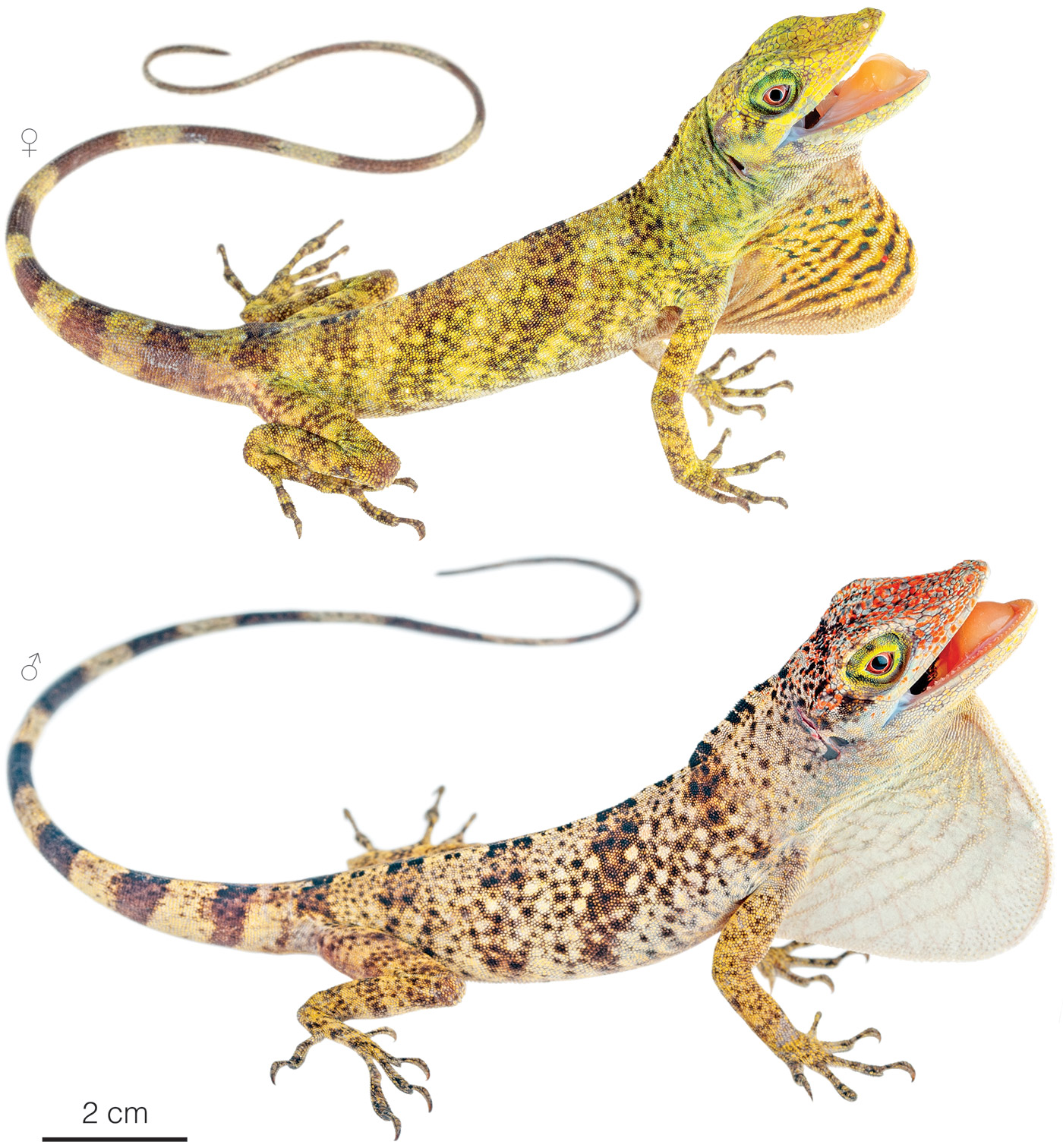 Figure 1: Individuals of Anolis nemonteae from Buenaventura Reserve, El Oro province, Ecuador.
Natural history: Anolis nemonteae is an uncommon diurnal and arboreal lizard that inhabits humid evergreen foothill forests, forest borders, and teak plantations.3 At night, individuals have been found sleeping horizontally on banana leaves, Toquilla palms, ferns, and branches 0.4–7.4 m above the ground.1,3 In captivity, one female laid one egg that hatched after an incubation period of 129 days (slightly over four months).1 There is an unpublished record of a Long-wattled Umbrellabird (Cephalopterus penduliger) preying upon an individual of this species.4
Conservation: Critically Endangered Considered to be facing imminent risk of extinction.. Anolis nemonteae has not yet been formally evaluated by the IUCN. Here, it is proposed to be assigned to the Critically Endangered (CR) category following IUCN criteria5 because the species' extent of occurrence is estimated to be around 87 km2, which is less than the 100 km2 threshold to qualify for CR. The species is known only from three localities,1,6,7 and in two of these, the local population is probably already extirpated. Only the population within Buenaventura Reserve is well protected. El Oro province has the sixth highest deforestation rate among Ecuador's 24 provinces.8 The expansion of Buenaventura Reserve is probably the best strategy to prevent A. nemonteae from going extinct.
Distribution: Anolis nemonteae is endemic to an area of approximately 87 km2 along the Pacific foothills of the Andes in southwestern Ecuador (Fig. 2).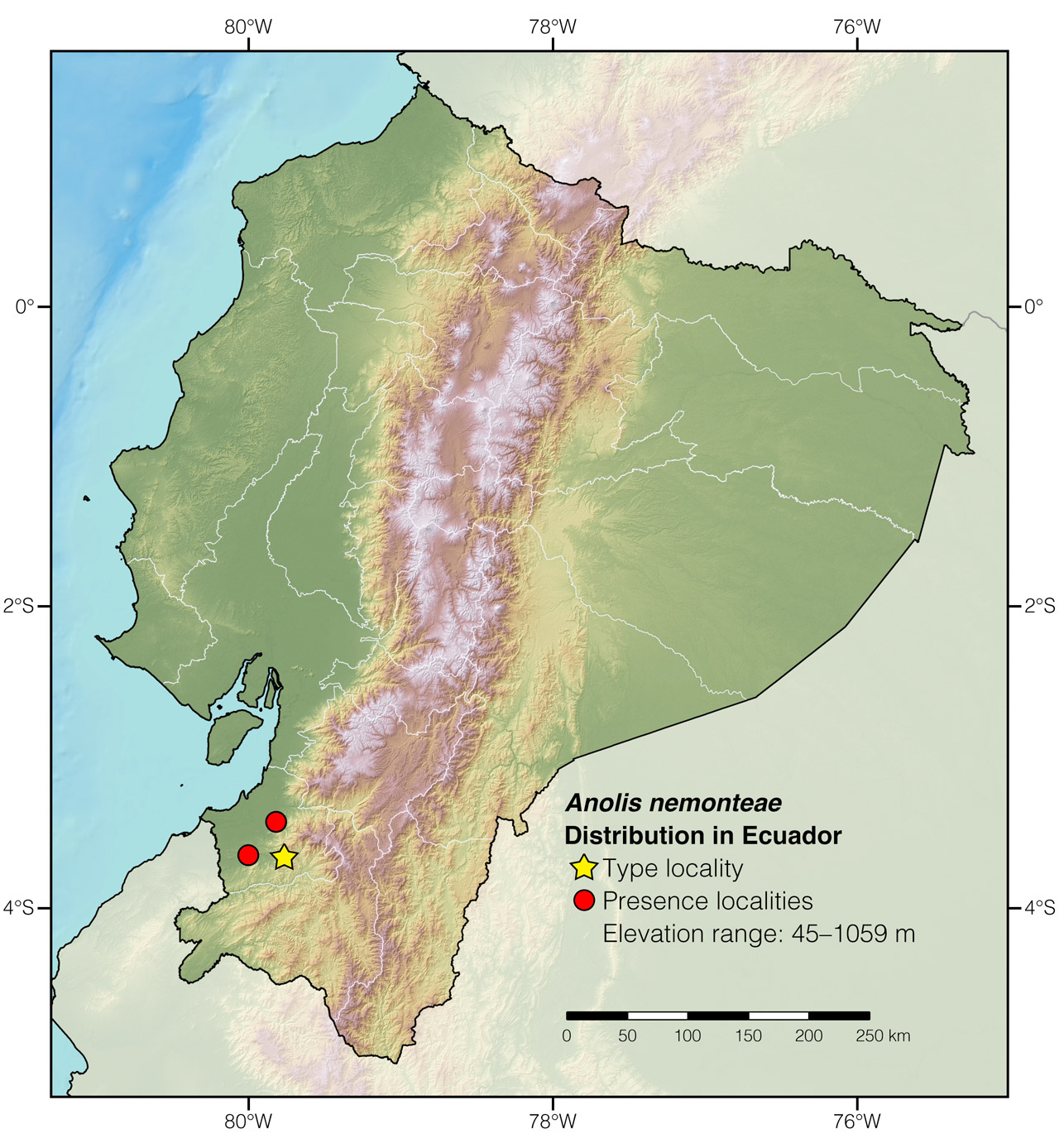 Figure 2: Distribution of Anolis nemonteae in Ecuador. See Appendix 1 for a complete list of the presence localities included in the map.
Etymology: The generic name Anolis is thought to have originated from Cariban languages, specifically from the word anoli, which is the name Arawak peoples may have used to refer to this group of lizards.9 The specific epithet nemonteae is a patronym honoring indigenous activist Nemonte Nenquimo, in recognition of her braveness and determination to protect natural forests and their inhabitants.1
See it in the wild: Nemonte's Anoles are only frequently observed within the limits of Buenaventura Reserve. Most individuals have been spotted sleeping on vegetation along the main dirt road that connects the reserve's system of trails.
Acknowledgments: Special thanks to Leovigildo Cabrera and José Manuel Falcón for providing information on the distribution and natural history of Anolis nemonteae. This account was published with the support of Secretaría Nacional de Educación Superior Ciencia y Tecnología (programa INEDITA; project: Respuestas a la crisis de biodiversidad: la descripción de especies como herramienta de conservación; No 00110378), Programa de las Naciones Unidas (PNUD), and Universidad San Francisco de Quito (USFQ).
Special thanks to Cheryl Vogt for symbolically adopting the Star Anole and helping bring the Reptiles of Ecuador book project to life.
Click here to adopt a species.
Author: Alejandro ArteagaaAffiliation: Khamai Foundation, Quito, Ecuador.
Photographers: Jose Vieira,aAffiliation: Tropical Herping (TH), Quito, Ecuador.,bAffiliation: ExSitu, Quito, Ecuador. Matthijs Hollanders,cAffiliation: Southern Cross University, East Lismore, Australia. and Alejandro ArteagaaAffiliation: Khamai Foundation, Quito, Ecuador.
How to cite? Arteaga A (2021) Nemonte's Anole (Anolis nemonteae). In: Arteaga A, Bustamante L, Vieira J, Guayasamin JM (Eds) Reptiles of Ecuador: Life in the middle of the world. Available from: www.reptilesofecuador.com. DOI: 10.47051/NMQC2047
Literature cited:
Ayala-Varela F, Valverde S, Poe S, Narváez AE, Yánez- Muñoz MH, Torres-Carvajal O (2021) A new giant anole (Squamata: Iguanidae: Dactyloinae) from southwestern Ecuador. Zootaxa 4991: 295–317. DOI: 10.11646/zootaxa.4991.2.4
Peters JA, Donoso-Barros R (1970) Catalogue of the Neotropical Squamata: part II, lizards and amphisbaenians. Bulletin of the United States National Museum, Washington, D.C., 293 pp.
IUCN (2012) IUCN Red List categories and criteria: Version 3.1. Second edition. IUCN Species Survival Commission, Gland and Cambridge, 32 pp.
Yánez-Muñoz MH, Bejarano-Muñoz P, Sánchez-Nivicela JC (2019) Anfibios y reptiles del páramo al manglar. Capítulo II. In: Garzón-Santomaro C, Sánchez-Nivicela JC, Mena-Valenzuela P, González-Romero D, Mena-Jaén JL (Eds) Anfibios, reptiles y aves de la provincia de El Oro. GADPEO–INABIO, Quito, 45–86.
Williams EE (1966) South American anoles: Anolis biporcatus and A. fraseri (Sauria, Iguanidae) compared. Breviora 239: 1–14.
MAE (2012) Línea base de deforestación del Ecuador continental. Ministerio del Ambiente del Ecuador, Quito, 30 pp.
Appendix 1: Locality data used to create the distribution map of Anolis nemonteae in Ecuador (Fig. 2). Go to the section on symbols and abbreviations for a list of acronyms used. Asterisk (*) indicates type locality.
| | | | |
| --- | --- | --- | --- |
| Country | Province | Locality | Source |
| Ecuador | El Oro | Buena Vista, 7 km SE of | Williams 1966 |
| Ecuador | El Oro | Casa de investigadores | This work |
| Ecuador | El Oro | Piñas, 13.2 km SW of | Ayala-Varela et al. 2021 |
| Ecuador | El Oro | Represa Tahuín | INABIO 2019 |
| Ecuador | El Oro | Reserva Biológica Buenaventura | Ayala-Varela et al. 2021 |
| Ecuador | El Oro | Umbrellabird trail | This work |