| | |
| --- | --- |
| Published April 4, 2022. Open access. | Gallery ❯ |
Two-marked Anole (Anolis binotatus)
Reptiles of Ecuador | Sauria | Anolidae | Anolis binotatus
English common names: Two-marked Anole, Roof Anole, West Ecuadorian Anole, White-Ribbon Anole.
Spanish common names: Anolis de dos marcas, anolis de dorso cubierto, anolis de cinta blanca.
Recognition: ♂♂ 17.9 cmMaximum distance from the snout to the tip of the tail. Snout–vent length=5.8 cm. ♀♀ 14.6 cmMaximum distance from the snout to the tip of the tail. Snout–vent length=4.7 cm..1,2 Anoles are easily distinguishable from other lizards by their diurnal habits, extensible dewlap in males, expanded digital pads, and granular scales on the dorsum and belly.3 The Two-marked Anole (Anolis binotatus) is a small brown lizard that can be differentiated from other co-occurring anoles by having a white ventrolateral stripe,4 inverted chevrons on the back, brown iris, and an orange dewlap in males.1,5 Anolis binotatus can be confused with A. gracilipes, a species lacking white ventrolateral stripes and in which males have a saffron yellow dewlap (instead of orange-red).6,7 Males of A. binotatus differ from females by having a dewlap and a thickening at the base of the tail due to the presence of the hemipenes.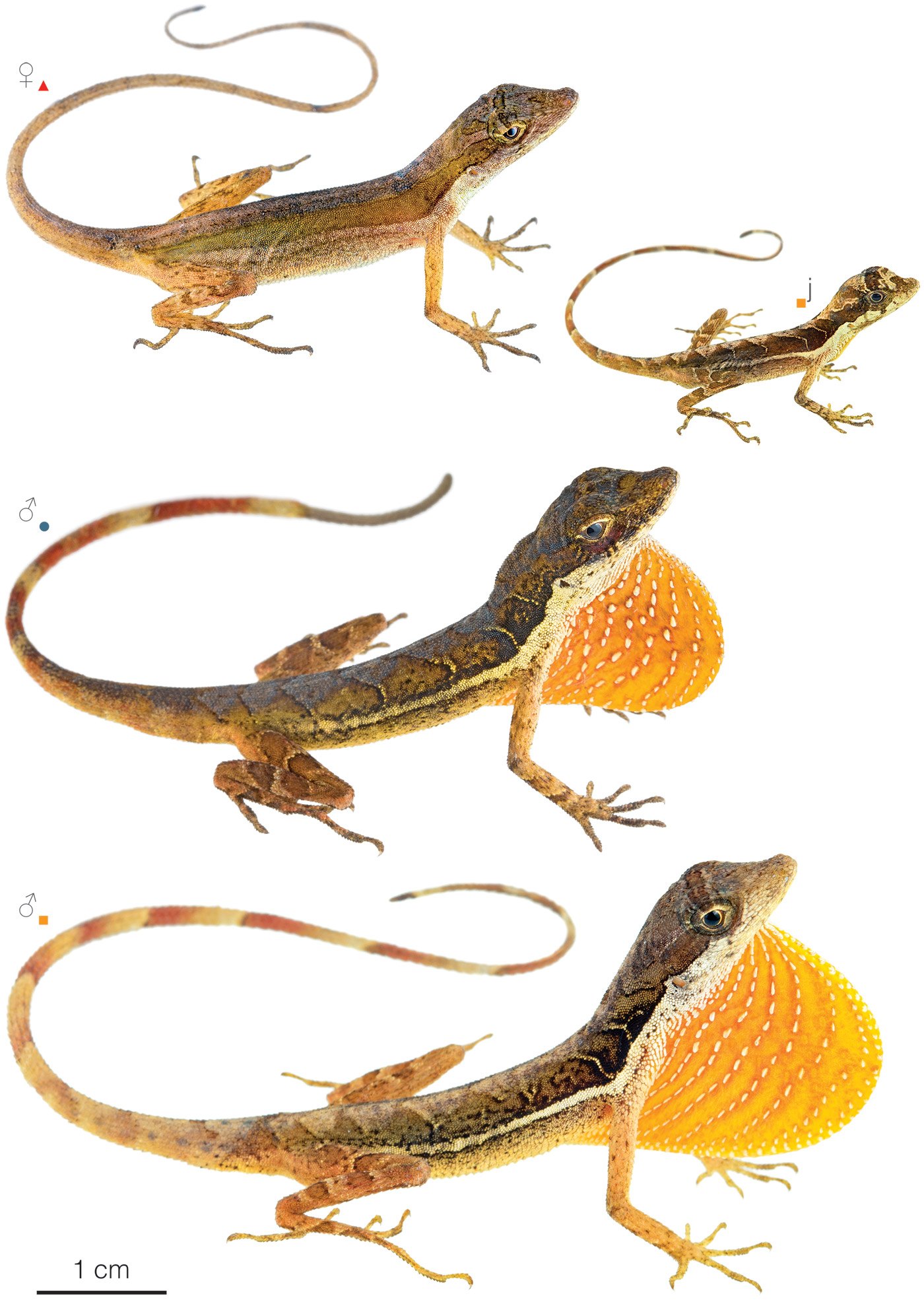 Figure 1: Individuals of Anolis binotatus from Ecuador: Hacienda Cerro Chico, Los Ríos province (); Cerro de Hayas, Guayas province (); Buenaventura Reserve, El Oro province (). j=juvenile.
Natural history: Anolis binotatus is a common diurnal lizard that inhabits old-growth to heavily disturbed evergreen lowland forests and seasonally dry forests. This species also occurs in semi-open human-modified habitats such as plantations, roadside vegetation, border of pastures, and planted forests.2,8 During the day, Two-marked Anoles dwell on soil and leaf-litter or on shrubs usually no more than 2 meters above the ground.2,8 At night, these anoles sleep perched on thin branches, leaves, grass blades, twigs of bushes, and wire fences at 3–150 cm above the ground.2 Anolis binotatus is an insectivorous species,2 but the specific prey items consumed have not been reported. There are records of snakes (Bothrops asper and Imantodes cenchoa) preying upon individuals of this species.2 Two-marked Anoles rely primarily on their "dry leaf" camouflage to go unnoticed, but they can also jump to the ground and swiftly run away.2 When grabbed by a predator, Two-marked Anoles can shed the tail, which remains wiggling on the ground while the lizard escapes.2 Anolis binotatus is an oviparous species,9 but the clutch size and nesting sites are not known.
Conservation: Near Threatened Not currently at risk of extinction, but requires some level of management to maintain healthy populations.. Anolis binotatus is proposed to be listed in this category, instead of Least Concern,10,11 because the species is much less widely-distributed and more affected by deforestation that previously thought. In this work, A. binotatus is considered to be restricted to an area smaller than 30,000 km2 (Fig. 2) where more than 81% of the forest has been converted to pastures, agricultural fields, and human settlements.12 Furthermore, the use of agrochemicals and predation by chickens and cats could affect some populations. Although it could qualify for a threatened category, the species appears well adapted to human-modified environments.
Distribution: Anolis binotatus is endemic to an estimated 27,241 km2 area on the Chocoan–Tumbesian transition area as well as adjacent foothills of the Andes in western Ecuador. The species has been recorded at elevations between 5 and 1197 m (Fig. 2).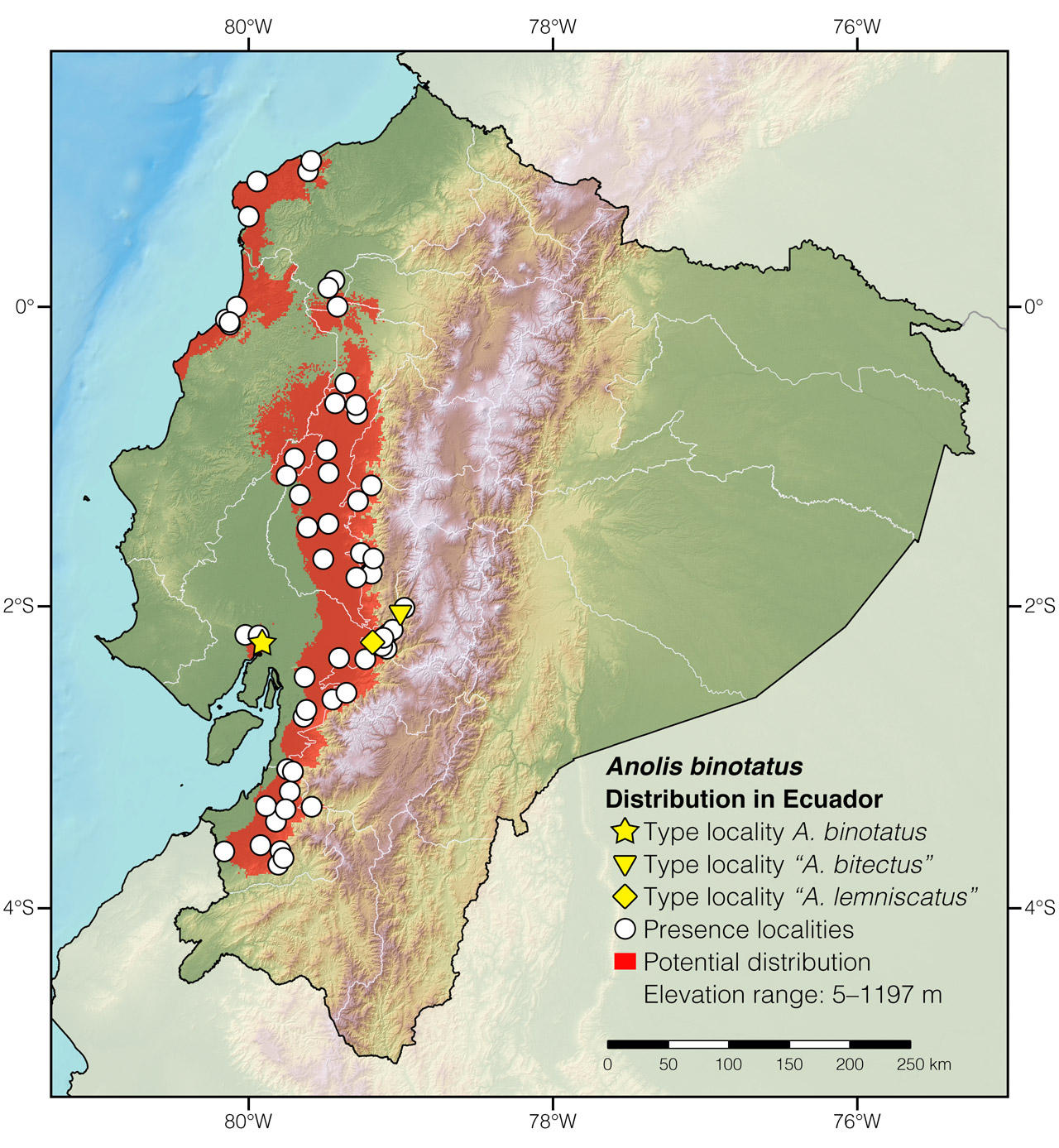 Figure 2: Distribution of Anolis binotatus in Ecuador. The star corresponds to the type locality: Guayaquil, Guayas province. See Appendix 1 for a complete list of the presence localities included in the map.
Etymology: The generic name Anolis is thought to have originated from Cariban languages, specifically from the word anoli, which is the name Arawak peoples may have used to refer to this group of lizards.13 The specific epithet binotatus, which is the combination of the Latin words bi (=two) and notatus (meaning "mark"),14 probably refers to the longitudinal marks on the flanks of this species.15
See it in the wild: Two-marked Anoles are easily located in forested areas throughout the species' area of distribution. The best way to find these lizards is to search for them at night along forest borders or trails while they sleep on thin branches or wire fences. Anolis binotatus appears particularly common in Buenaventura Reserve, Lalo Loor Reserve, and Cerro de Hayas Protected Area.
Notes: In this account, we consider Anolis bitectus16 and A. lemniscatus17 to be junior synonyms of A. binotatus.15 This decision is based on the lack of diagnosable morphological differences between the three forms as well as the close geographical proximity between the type localities (Fig. 2).
Acknowledgments: Special thanks to Lina Parra for helping compile information used in this account.
Authors: Jose VieiraaAffiliation: Tropical Herping (TH), Quito, Ecuador.,bAffiliation: ExSitu, Quito, Ecuador. and Alejandro ArteagacAffiliation: Khamai Foundation, Quito, Ecuador.
Photographer: Jose VieiraaAffiliation: Tropical Herping (TH), Quito, Ecuador.,bAffiliation: ExSitu, Quito, Ecuador.
How to cite? Vieira J, Arteaga A (2022) Two-marked Anole (Anolis binotatus). In: Arteaga A, Bustamante L, Vieira J, Guayasamin JM (Eds) Reptiles of Ecuador: Life in the middle of the world. Available from: www.reptilesofecuador.com. DOI: 10.47051/SQSO7747
Literature cited:
Appendix 1: Locality data used to create the distribution map of Anolis binotatus in Ecuador (Fig. 2). Go to the section on symbols and abbreviations for a list of acronyms used. Asterisk (*) indicates type locality.
| | | | |
| --- | --- | --- | --- |
| Country | Province | Locality | Source |
| Ecuador | Azuay | Cacaoloma | Photo by Diego Armijos |
| Ecuador | Azuay | Camilo Ponce Enriquez | MZUA.RE.0112 |
| Ecuador | Azuay | Proyecto Minero Gaby | DHMECN 10355 |
| Ecuador | Azuay | Sarayunga | José Manuel Falcón, pers. comm. |
| Ecuador | Bolivar | Cascada Milagrosa | This work |
| Ecuador | Bolívar | Balzapamba | This work |
| Ecuador | Bolívar | Caluma | iNaturalist |
| Ecuador | Bolívar | Moraspungo, 5 km E of | USNM 286070 |
| Ecuador | Bolívar | Pilahuín | iNaturalist |
| Ecuador | Bolívar | Río Chimbo | This work |
| Ecuador | Bolívar | Telimbela | Ayala-Varela et al. 2014 |
| Ecuador | Cañar | Río Patul | Felipe Campos, pers. comm. |
| Ecuador | Cañar | Ventura | AMNH 23033 |
| Ecuador | Chimborazo | Hostería SantVal | This work |
| Ecuador | Chimborazo | Naranjapata | CAS 94237 |
| Ecuador | Chimborazo | Pallatanga | Cope 1864 |
| Ecuador | Chimborazo | Río Chanchán | CAS 94762 |
| Ecuador | El Oro | Buenavista, 7 km SE of | USNM 234592 |
| Ecuador | El Oro | Cascadas de Manuel | Garzón-Santomaro et al. 2019 |
| Ecuador | El Oro | Lote Tituana | This work |
| Ecuador | El Oro | Machala, 7 km ESE of | USNM 234593 |
| Ecuador | El Oro | Ñalacapac | Garzón-Santomaro et al. 2019 |
| Ecuador | El Oro | Pasaje, 3 km E of | iNaturalist |
| Ecuador | El Oro | Remolinos | Garzón-Santomaro et al. 2019 |
| Ecuador | El Oro | Reserva Biológica Buenaventura | Betancourt et al. 2018 |
| Ecuador | El Oro | Reserva Militar Arenillas | Garzón-Santomaro et al. 2019 |
| Ecuador | Esmeraldas | Cerro Mutiles | iNaturalist |
| Ecuador | Esmeraldas | El Paisaje | DHMECN 9317 |
| Ecuador | Esmeraldas | Hacienda Cucaracha | This work |
| Ecuador | Esmeraldas | Hacienda de Germán Cortez | This work |
| Ecuador | Esmeraldas | Hacienda Guinchele | UMMZ |
| Ecuador | Esmeraldas | Partidero-Poza Honda | Vázquez et al. 2005 |
| Ecuador | Esmeraldas | Tonchigue | Photo by Martín Carrera |
| Ecuador | Guayas | Bosque Protector Cerro Blanco | Salvatierra et al. 2014 |
| Ecuador | Guayas | Cerro de Hayas | This work |
| Ecuador | Guayas | Cerro El Mate | This work |
| Ecuador | Guayas | Chimbo | Boulenger 1898 |
| Ecuador | Guayas | El Triunfo | Torres-Carvajal et al. 2019 |
| Ecuador | Guayas | Empalme | UF 1324103340 |
| Ecuador | Guayas | Guayaquil* | Peters 1863 |
| Ecuador | Guayas | Naranjal | MCZ 176377 |
| Ecuador | Guayas | Río Congo | USNM 234590 |
| Ecuador | Guayas | Río de la Esperanza | iNaturalist |
| Ecuador | Los Ríos | Bosque Protector Pedro Franco Dávila | Cruz & Sánchez 2016 |
| Ecuador | Los Ríos | Finca María José | iNaturalist |
| Ecuador | Los Ríos | Hacienda Cerro Chico | This work |
| Ecuador | Los Ríos | La Planada | iNaturalist |
| Ecuador | Los Ríos | Montalvo | Fernando Ayala, pers. comm. |
| Ecuador | Los Ríos | Pacalori | MZUA.RE.0163 |
| Ecuador | Los Ríos | Proyecto STADLER | DHMECN 16956 |
| Ecuador | Los Ríos | Quevedo, 4 km N of | KU 132480 |
| Ecuador | Los Ríos | Ventanas | MCZ 57449 |
| Ecuador | Los Rios | Pichilingue | MCZ 77377 |
| Ecuador | Manabí | Bosque Seco Lalo Loor | This work |
| Ecuador | Manabí | Reserva Jama Coaque | Lynch et al. 2016 |
| Ecuador | Manabí | Río Coaque | KU 218372 |
| Ecuador | Manabí | Three Forests Trail | Photo by Paul Maier |
| Ecuador | Santo Domingo de los Tsáchilas | Crest of Montañas de Ilá | USNM 285673 |