| | |
| --- | --- |
| Published March 23, 2023. Open access. | Gallery ❯ |
Black Caiman (Melanosuchus niger)
Reptiles of Ecuador | Crocodylia | Alligatoridae | Melanosuchus niger
English common name: Black Caiman.
Spanish common name: Caimán blanco.
Recognition: ♂♂ 4.84 mMaximum distance from the snout to the tip of the tail. ♀♀ 2.93 mMaximum distance from the snout to the tip of the tail..1–3 The Black Caiman (Melanosuchus niger) is the world's largest caiman species.4 It can be distinguished from the other two caimans inhabiting the Ecuadorian Amazon (Caiman crocodilus and Paleosuchus trigonatus) by having dark spots on the mandible and a blackish dorsal coloration with yellowish bands on the body and tail (Fig. 1).5–7 This species further differs from C. crocodilus by having flat eyelids and 4–5 rows of post-occipital plates (instead of 2–3 rows of post-occipital plates and eyelids with a triangular projection).5–7 The dwarf caiman P. trigonatus is smaller, has a chestnut iris, only one row of post-occipital plates, and lacks an inter-orbital ridge (present in M. niger).5–7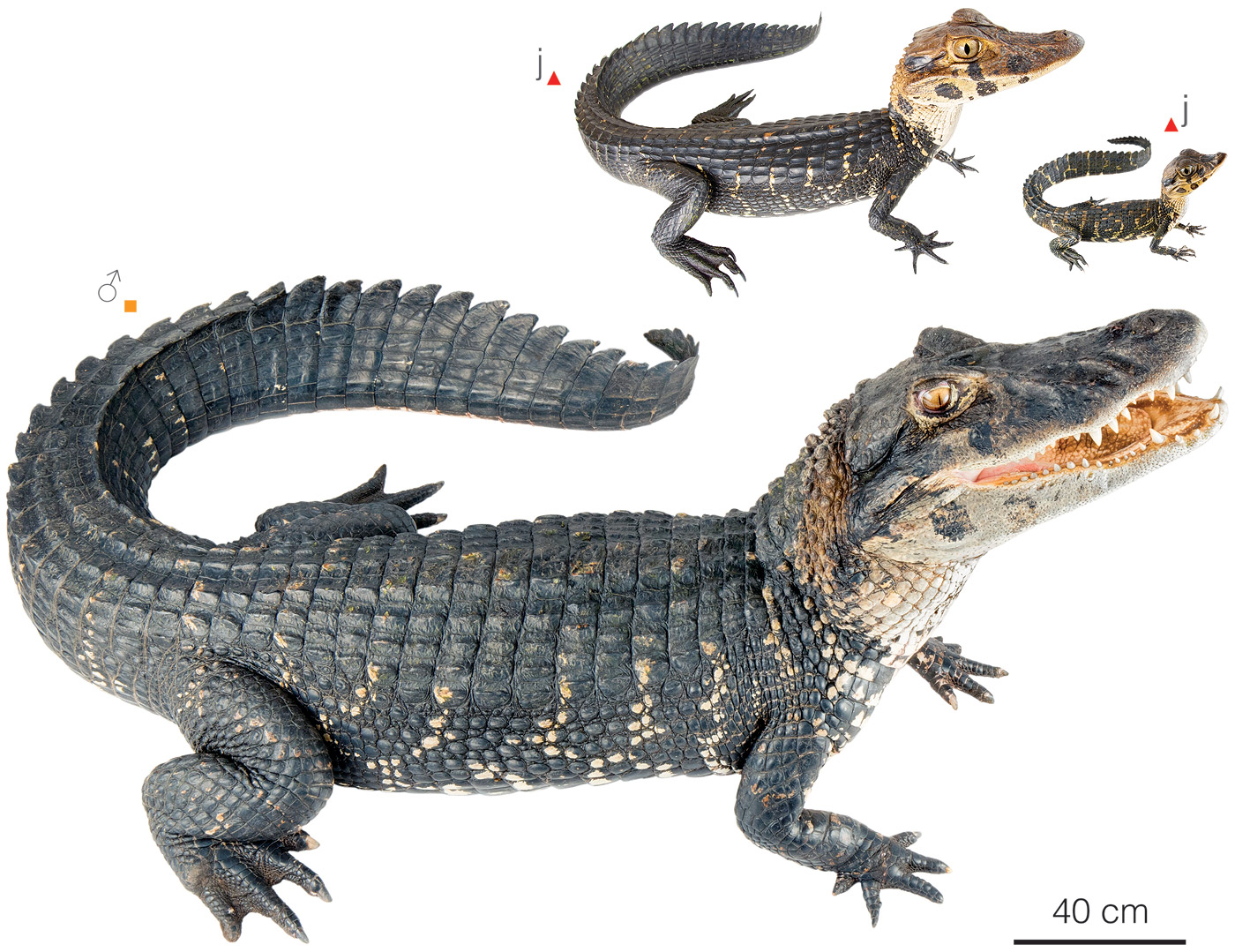 Figure 1: Individuals of Melanosuchus niger from Sani Lodge, Sucumbíos province, Ecuador (); and Amazonian Ecuador (). j=juvenile.
Natural history: Melanosuchus niger is a commonRecorded weekly in densities above five individuals per locality. caiman in some Amazonian localities in Ecuador, with population densities of 1–9 caimans/km, but is only about one third as abundant as the co-occurring Caiman crocodilus.8 Black Caimans are nocturnal, aquatic, and occur in a variety of slow-flowing9 freshwater habitats, including lagoons, lakes (particularly oxbow lakes), swamps, marshes, rivers, large streams, and seasonally flooded forests.4 Their home range is under 1 hectare during the low-water season and increases to 20 hectares during the rainy season.10,11 During periods of drought, individuals may remain completely embedded in the bottom mud until the rains return.9,12 Juveniles usually remain in the edges of the water bodies, surrounded by abundant floating vegetation, where they wait in ambush for prey to pass by.6,13 There is a dietary shift from invertebrate to vertebrate prey over the lifetime of M. niger.11,14 Their diet as juveniles is primarily composed of small fish, insects, arachnids, mollusks, crustaceans, and frogs.11,14,15 The diet in adults also includes these prey items,14,15 but is based primarily on fish,16 and to a smaller degree on birds, mammals (including otters,9 pacas,9 porcupines,17 agoutis,17 dogs,18,19 pigs, horses,17 and cattle16), turtles (Peltocephalus dumerilianus and Podocnemis erythrocephala,20 P. expansa,21 and P. unifilis21), smaller caimans (C. crocodilus6 as well as conspecifics17) and snakes.9,11,22 There are records of Black Caimans attacking,18,19 and even killing,23 humans.
"He [the caiman] never attacks man when his intended victim is on his guard; but he is cunning enough to know when this may be done with impunity." "No one could descend to bathe without being advanced by one or other of these hungry monsters."
Henry Walter Bates, British naturalist and explorer, 1864.18
Black Caimans reach sexual maturity at around 8 years old or at a length of about 2 m.4,24 Nesting in the Ecuadorian Amazon coincides with the annual low water level season (December–January).25 Males are territorial and exclude other males from their home range.26 Females are polyandrous27 (mating with multiple males) and build ~50–80 cm tall mount-like nests using leaf-litter, twigs, roots, and decaying vegetation.16,25–29 These are located ~2–59 m from the water bodies.9,28,25 Clutches consist of 21–75 eggs that measure ~5.2–8.8 cm in length, weigh 90–155 g, and take 60–90 days to hatch.9,25–29 In Ecuador, mean hatching success is ~42% and flooding of the nests is the main cause of egg mortality (29% of all the eggs).25 Hatchlings measure ~30 cm in total length at birth.6 Juveniles remain in groups and communicate acoustically with their siblings and with the mother.25 Adults produce loud noises and grunts that can be heard over long distances.9 Females aggressively defend the nests and the hatchlings.9,25,30 Jaguars, peccaries, capuchin monkeys, opossums, coatis, mice, and tegus (Tupinambis cuzcoensis) are known predators of eggs of Melanosuchus niger.25,31–32 Otters, coatis, tayras, herons, boids (Corallus hortulana and Eunectes murinus), tegus, and piranhas are known to prey on juveniles,32 whereas jaguars33 are the only known predators of adults.33
Conservation: Vulnerable Considered to be facing a high risk of extinction in the mid-term future. in Ecuador34 and Colombia,35 but listed as Least Concern globally.36 Although Melanosuchus niger is widely distributed and occurs in protected areas, the species was the subject of overexploitation for decades, particularly during the 1940s and 1950s.4,37 Uncontrolled large-scale hide hunting was the main driver of the decline,24 but so was direct killing for consumption16 or in retaliation for, or as a measure to prevent, attacks on humans, pets, or livestock.16,19,38 Although large-scale commercial exploitation of M. niger is now banned, the species is still used for other purposes.24 The meat and eggs are consumed30 and the skin is used as material for handicrafts and various garments.4,37 Some populations are still declining due to the creation of dams which force caimans into closer contact with people.39 Others are experiencing adverse effects by accumulating mercury associated with artisanal and small-scale gold mining.40 Fortunately, M. niger is now a protected species in many countries and the majority of populations appear to have recovered despite decades of overexploitation.4
Distribution: Melanosuchus niger is widely distributed throughout the Amazon basin and peripheral areas.37 In Ecuador, the species is known only from the extreme northeastern part of the Amazon at elevations between 116 and 247 m (Fig. 2).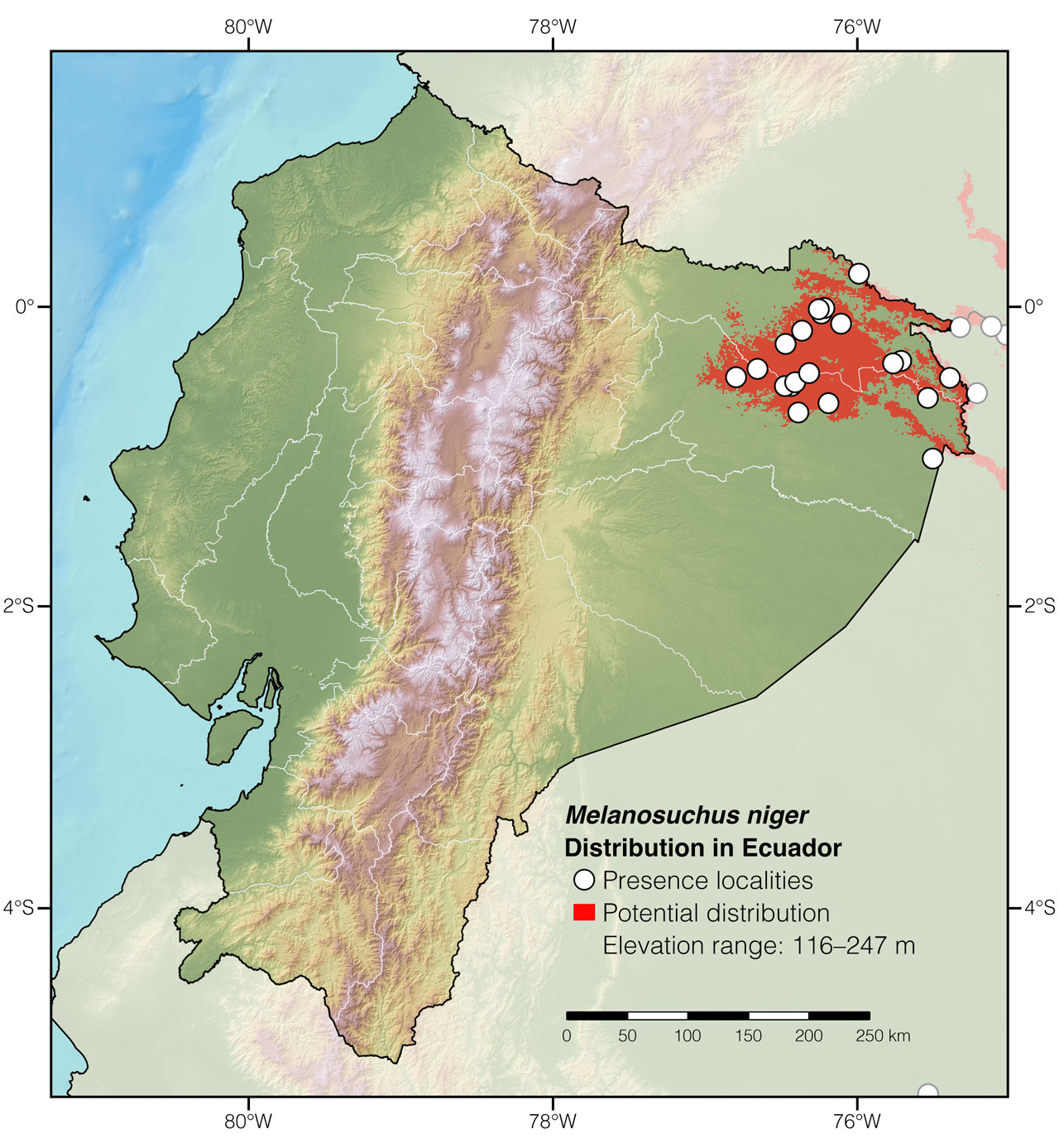 Figure 2: Distribution of Melanosuchus niger in Ecuador. See Appendix 1 for a complete list of the presence localities included in the map.
Etymology: The name Melanosuchus is derived from the Greek words melanos (meaning "black") and souchus (a crocodile).41 The specific epithet niger is a Latin word meaning "black."41
See it in the wild: Black Caimans can be seen reliably in well-preserved water systems throughout the Ecuadorian Amazon, particularly in the following blackwater lagoons: Limoncocha, Añangu, and Challuacocha. They are most easily found at night by detecting their bright orange eye-shine. However, in most areas, individuals are becoming increasingly wary of human presence,8 fleeing when approached.
Special thanks to Nick Trapani and Debra Dabideen for symbolically adopting the Black Caiman and helping bring the Reptiles of Ecuador book project to life.
Click here to adopt a species.
Acknowledgments: Special thanks to Ricardo Chiriboga and María Belén Chiriboga of Zoo el Pantanal for prodiving photographic access to specimens of Melanosuchus niger under their care.
Author: Alejandro ArteagaaAffiliation: Khamai Foundation, Quito, Ecuador.
Photographer: Jose VieirabAffiliation: Tropical Herping (TH), Quito, Ecuador.,cAffiliation: ExSitu, Quito, Ecuador.
How to cite? Arteaga A (2023) Black Caiman (Melanosuchus niger). In: Arteaga A, Bustamante L, Vieira J, Guayasamin JM (Eds) Reptiles of Ecuador: Life in the middle of the world. Available from: www.reptilesofecuador.com. DOI: 10.47051/IAHJ8674
Literature cited:
Appendix 1: Locality data used to create the distribution map of Melanosuchus niger in Ecuador (Fig. 2). Go to the section on symbols and abbreviations for a list of acronyms used.
| | | | |
| --- | --- | --- | --- |
| Country | Province | Locality | Source |
| Colombia | Putumayo | Caño Concepción | Medem 1963 |
| Colombia | Putumayo | Puerto Leguízamo | Alonso González & Augusto Bonilla 2008 |
| Colombia | Putumayo | Río Caucaya | WWF 2010 |
| Colombia | Putumayo | Río Putumayo | Medem 1963 |
| Ecuador | Orellana | Bodega NPW | Observation by AA |
| Ecuador | Orellana | Laguna Taracoa | iNaturalist; photo examined |
| Ecuador | Orellana | Napo Wildlife Center | Observation by AA |
| Ecuador | Orellana | Rio Tiputini, near YCS | Observation by AA |
| Ecuador | Orellana | Río Yasuní | iNaturalist; photo examined |
| Ecuador | Orellana | Tiputini Biodiversity Station | Cisneros-Heredia 2003 |
| Ecuador | Sucumbíos | Bloque 15 | Izquierdo et al. 2000 |
| Ecuador | Sucumbíos | Canangüeno | Ortiz 2012 |
| Ecuador | Sucumbíos | Comunidad Tsiaya | iNaturalist; photo examined |
| Ecuador | Sucumbíos | Comunidad Zábalo | Cevallos Bustos 2010 |
| Ecuador | Sucumbíos | Garzacocha | FMNH 2008 |
| Ecuador | Sucumbíos | Heron Lake | Observation by AA |
| Ecuador | Sucumbíos | Lago El Charo | iNaturalist; photo examined |
| Ecuador | Sucumbíos | Laguna Grande de Cuyabeno | Observation by AA |
| Ecuador | Sucumbíos | Mateococha | Ortiz 2012 |
| Ecuador | Sucumbíos | Payaguaje | iNaturalist; photo examined |
| Ecuador | Sucumbíos | Reserva Biológica Limoncocha | Villamarín 2006 |
| Ecuador | Sucumbíos | Río Güeppi | Yanez-Muñoz et al. 2017 |
| Ecuador | Sucumbíos | Río Zábalo camp | Observation by AA |
| Ecuador | Sucumbíos | Sani Lodge | Observation by AA |
| Ecuador | Sucumbíos | Zancudococha | Dueñas 2008 |
| Peru | Loreto | Pacaya Samiria National Reserve | Verdi et al. 1980 |
| Peru | Loreto | Redondococha | FMNH 2008 |