| | |
| --- | --- |
| Published May 12, 2022. Open access. | Gallery ❯ |
Common Root Lizard (Loxopholis parietalis)
Reptiles of Ecuador | Sauria | Gymnophthalmidae | Loxopholis | Loxopholis parietalis
English common names: Common Root Lizard, Striped Root-Lizard, Red-bellied Root Lizard, Common Root Teju.
Spanish common name: Lagartija común de raíces.
Recognition: ♂♂ 9.3 cmMaximum distance from the snout to the tip of the tail. Snout–vent length=4.4 cm. ♀♀ 9.4 cmMaximum distance from the snout to the tip of the tail. Snout–vent length=4.0 cm..1–3 The Common Root Lizard (Loxopholis parietalis) is a small, slender and brownish lizard having distinctly keeled dorsal head scales and three large, flattened posterior parietal scales forming a semicircle.1,2 Both the dorsal and ventral scales are imbricate, keeled, and leaf-shaped.1,2 In Amazonian Ecuador, L. parietalis can be confused with lizards of the genus Alopoglossus, from which it differs by having keeled dorsal head scales.1 During the reproductive period, males of L. parietalis acquire a bright reddish-orange ventral coloration; in females and juveniles, the ventral surfaces remain white or cream.1,4 Males also differ from females by having 4 preanal pores in addition to 10–17 femoral pores (0–1 preanal pores and no femoral pores in females).2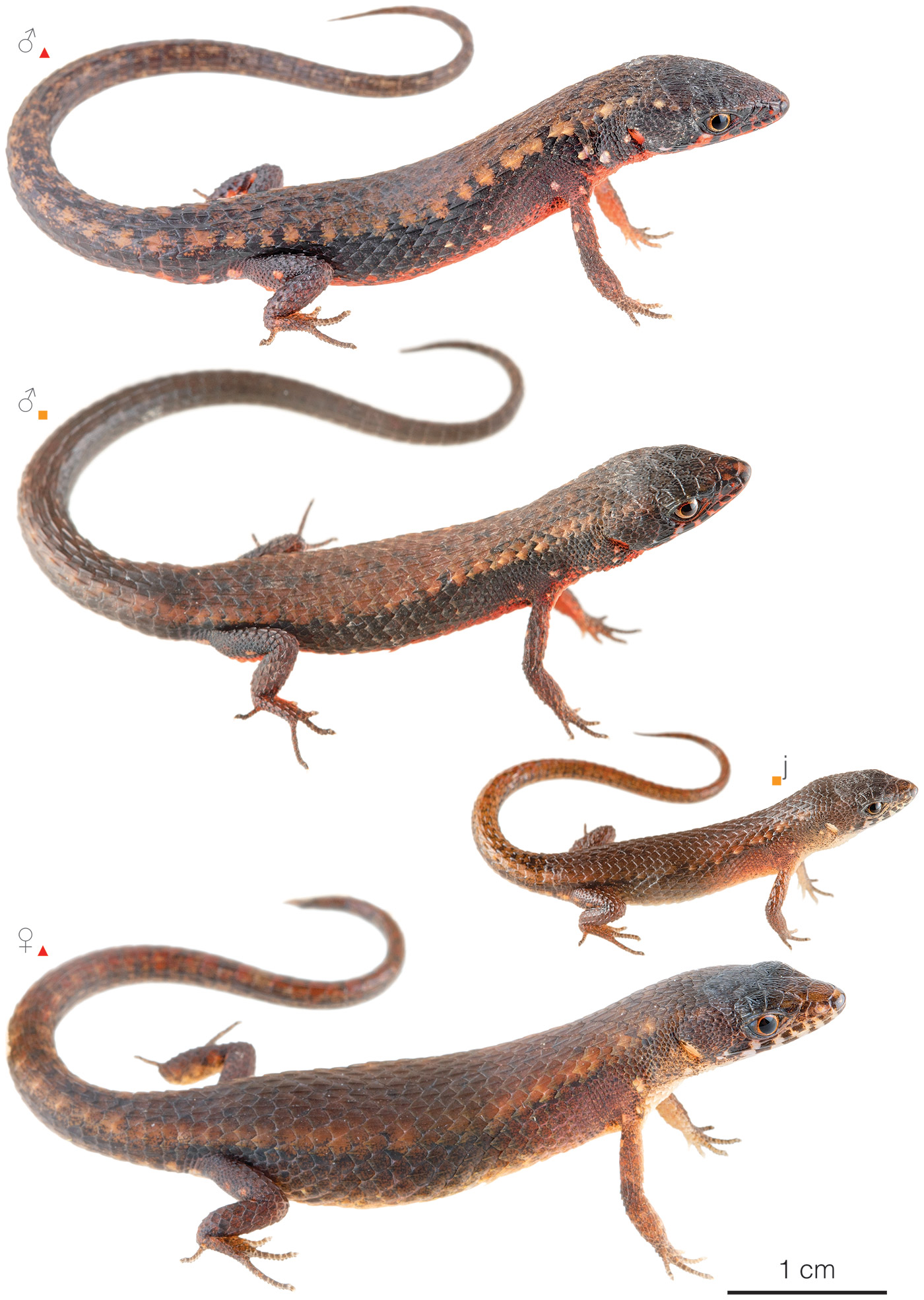 Figure 1: Individuals of Loxopholis parietalis from Aguas Negras Lodge, Sucumbíos province (); and Huella Verde Lodge, Pastaza province (); Ecuador. j=juvenile.
Natural history: Extremely commonLikely to be seen every day, usually in large numbers.. Loxopholis parietalis is usually the most common leaf-litter lizard wherever it occurs. This species inhabits areas of old-growth to4 moderately disturbed lowland rainforest,5 as well as forest edges, clearings,1,6,7 and grasslands.8 Common Root Lizards are diurnal,9 terrestrial, and primarily active whenever filtered sun reaches the forest floor,1 but also during cloudy days and even during heavy rains.4 These lizards are leaf-litter specialists,5,10 but they also utilize logs,2 the base of trees, stemless palm fronds, and tangled vegetation11 up to 50 cm above the ground.10 They occur on dry land10 and sand hills but also in damp areas such as depressions in the forest floor, edge of swamps, and along streams.4,12 When inactive or disturbed, these shy lizard take refuge in the leaf-litter or under logs or piles of wood.1,11 Common Root Lizards are active foragers. Their diet is dominated by invertebrates such as spiders, termites, cockroaches, caterpillars, and a variety of other insects.1,4 Individuals of L. parietalis have been confirmed as prey items of snakes (Oxyrhopus vanidicus,1 Micrurus ortoni,13 and Bothrops atrox2) and lizards (Anolis scypheus,1 Potamites ecpleopus,1 and members of its own species1). The breeding season in L. parietalis is believed to be acyclical,1 since gravid females have been found throughout the year.4,12 The clutch consists of two eggs1,4 and the hatchlings measure 17–19 mm in snout-vent-length.12
Conservation: Least Concern Believed to be safe from extinction given current circumstances..14–17 Loxopholis parietalis is included in this category because it is a common and widely distributed species believed to have large and stable populations facing no major immediate extinction threats.15 Additionally, L. parietalis is found in dozens of national parks and reserves and occurs over areas that have not been heavily affected by deforestation. Based on maps of Ecuador's vegetation cover published in 2012,18 the majority (~89%) of the species' potential distribution in this country still holds large continuous forest habitat, and ~23% of this area is inside national parks.
Distribution: Loxopholis parietalis is native to the Amazon basin of Colombia, Ecuador, and Peru.2 The species also occurs in the Andean piedmont of western Venezuela.19 In Ecuador, L. parietalis has been recorded at elevations between 174 m and 982 m (Fig. 2).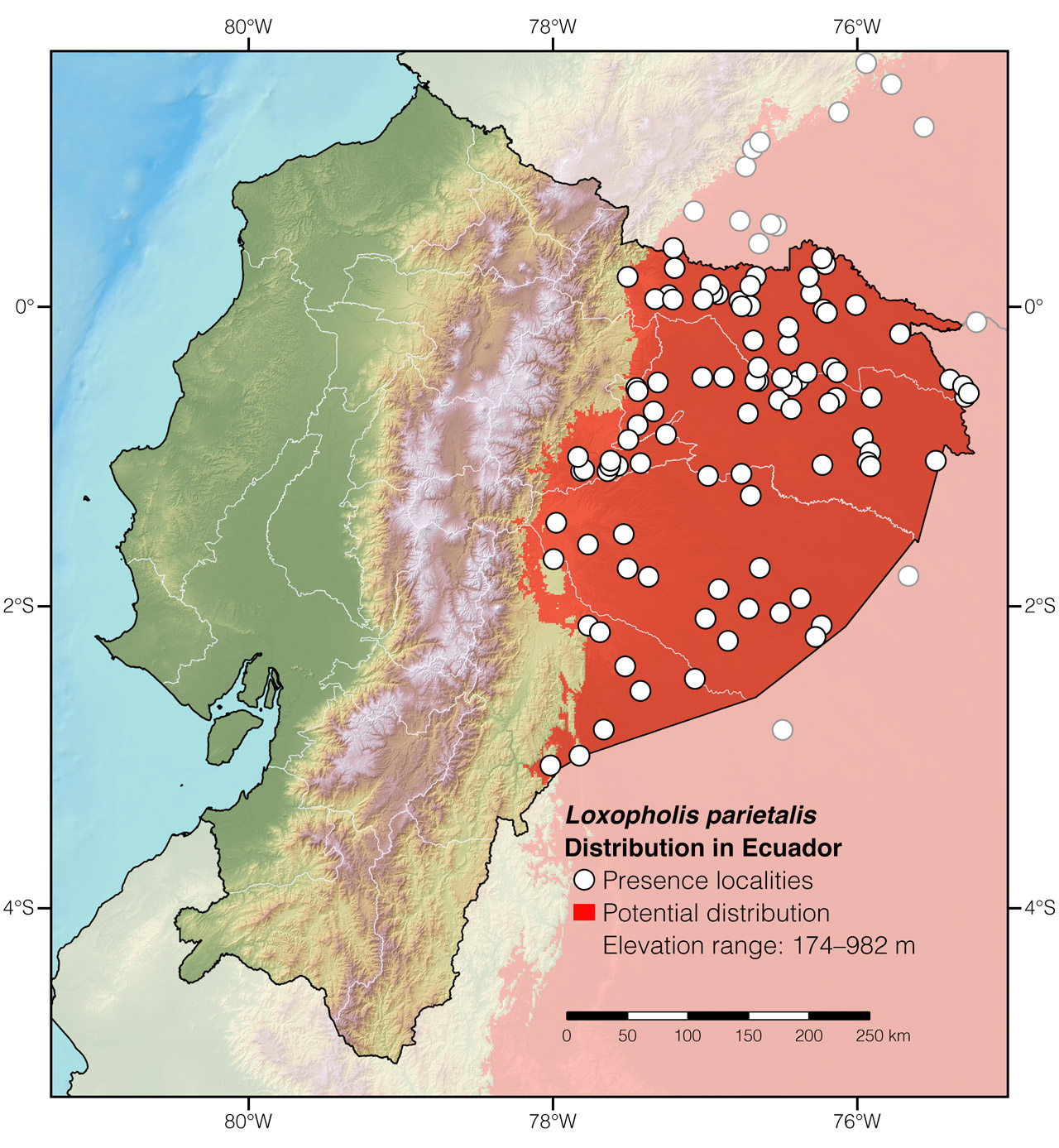 Figure 2: Distribution of Loxopholis parietalis in Ecuador. See Appendix 1 for a complete list of the presence localities included in the map.
Etymology: The generic name Loxopholis, which comes from the Greek words loxos (meaning "slanting") and pholis (meaning "scale"),20 probably refers to the obliquely arranged dorsal scales of L. rugiceps, the type species of the genus.21 The specific epithet parietalis probably refers the unusual shape and arrangement of the parietal scales in this species.22
See it in the wild: Common Root Lizards can be seen with almost complete certainty in forested areas throughout the species's area of distribution in Ecuador. The species is particularly abundant in terra-firme forests of Yasuní National Park, Cuyabeno Reserve, and Jatun Sacha Biological Reserve. These lizards can easily be spotted by carefully scanning the leaf-litter along forest trails during sunny days.
Author: Amanda QuezadaaAffiliation: Tropical Herping (TH), Quito, Ecuador.,bAffiliation: Laboratorio de Herpetología, Universidad del Azuay, Cuenca, Ecuador.
Editor: Alejandro ArteagacAffiliation: Khamai Foundation, Quito, Ecuador.
Photographer: Jose VieiraaAffiliation: Tropical Herping (TH), Quito, Ecuador.,dAffiliation: ExSitu, Quito, Ecuador.
How to cite? Quezada A (2022) Common Root Lizard (Loxopholis parietalis). In: Arteaga A, Bustamante L, Vieira J, Guayasamin JM (Eds) Reptiles of Ecuador: Life in the middle of the world. Available from: www.reptilesofecuador.com. DOI: 10.47051/DLVU2368
Literature cited:
Appendix 1: Locality data used to create the distribution map of Loxopholis parietalis in Ecuador (Fig. 2). Go to the section on symbols and abbreviations for a list of acronyms used.
| | | | |
| --- | --- | --- | --- |
| Country | Province | Locality | Source |
| Colombia | Caquetá | Monserrate | Gutiérrez-Lamus et al. 2020 |
| Colombia | Caquetá | Morelia | Uzzell & Barry 1971 |
| Colombia | Caquetá | Río Caguán and Río Caquetá confluence, 6 km N of | Medina-Rangel et al. 2019 |
| Colombia | Caquetá | Río Orotuya and Río Caquetá confluence, 18 km N of | Medina-Rangel et al. 2019 |
| Colombia | Caquetá | Río Yuruyaco | IAvH-R-4887 |
| Colombia | Caquetá | Villa María | Uzzell & Barry 1971 |
| Colombia | Putumayo | Centro Experimental Amazónico | Betancourth-Cundar & Gutiérrez-Zamora 2010 |
| Colombia | Putumayo | Cocaya | ICN 5484 |
| Colombia | Putumayo | La Castellana | ICN 5485 |
| Colombia | Putumayo | Mocoa, 10 km S of | Uzzell & Barry 1971 |
| Colombia | Putumayo | Mocoa, 7 km S of | Uzzell & Barry 1971 |
| Colombia | Putumayo | Puerto Asís | LACM 44672 |
| Colombia | Putumayo | Santa Rosa de Sucumbíos | Avila-Pires 1995 |
| Colombia | Putumayo | Simón Bolívar | iNaturalist |
| Colombia | Putumayo | Vereda La Esmeralda | IAvH-R-9283 |
| Ecuador | Morona Santiago | Cusuime | Ortega-Andrade 2010 |
| Ecuador | Morona Santiago | Estación Biológica Wisui | Chaparro et al. 2011 |
| Ecuador | Morona Santiago | Lagarto Cocha | Uzzell & Barry 1971 |
| Ecuador | Morona Santiago | Marantian Wildlife Refuge | Photo by Alex Achig |
| Ecuador | Morona Santiago | Mirador de la Virgen | Photo by Fernando Ayala |
| Ecuador | Morona Santiago | Río Llushin | Uzzell & Barry 1971 |
| Ecuador | Morona Santiago | Santiago de Tiwintza, 1.5 km NE of | Online multimedia |
| Ecuador | Morona Santiago | Shuin Mamus | iNaturalist |
| Ecuador | Morona Santiago | Taisha | Uzzell & Barry 1971 |
| Ecuador | Morona Santiago | Villa Ashuara | Ortega-Andrade 2010 |
| Ecuador | Napo | Ahuano | Photo by Diego Piñán |
| Ecuador | Napo | Gareno Lodge | This work |
| Ecuador | Napo | Jatun Sacha Biological Reserve | Narváez & Sanmartín-Villar 2016 |
| Ecuador | Napo | La Cruz Blanca | MCZ R-171943 |
| Ecuador | Napo | Lago Agrio | Duellman 1978 |
| Ecuador | Napo | Pitalala Reserve | This work |
| Ecuador | Napo | Río Pucuno | Uzzell & Barry 1971 |
| Ecuador | Napo | Río Sindi Apuya | MECN 3447 |
| Ecuador | Napo | San Francisco | Uzzell & Barry 1971 |
| Ecuador | Napo | Suchipakari Lodge | This work |
| Ecuador | Napo | Tena | Uzzell & Barry 1971 |
| Ecuador | Napo | Yachana Reserve | Beirne et al. 2013 |
| Ecuador | Orellana | Añangu | MECN 325 |
| Ecuador | Orellana | Apaika | iNaturalist |
| Ecuador | Orellana | Bloque 31 | Libro PetroAmazonas |
| Ecuador | Orellana | Cordillera de Galeras | Uzzell & Barry 1971 |
| Ecuador | Orellana | El Coca | MHNG 2437.073 |
| Ecuador | Orellana | El Edén | iNaturalist |
| Ecuador | Orellana | Guiyero | Almendáriz 2011 |
| Ecuador | Orellana | Hacienda Primavera | MHNG 2590.083 |
| Ecuador | Orellana | Kawimeno vicinity | MECN 3139 |
| Ecuador | Orellana | Loreto | Uzzell & Barry 1971 |
| Ecuador | Orellana | NWC Welcome Center | This work |
| Ecuador | Orellana | Pozo Penke B | MECN 3422 |
| Ecuador | Orellana | Río Bigal Reserve | Photo by Thierry García |
| Ecuador | Orellana | Río Yasuní, near Lake Jatuncocha | This work |
| Ecuador | Orellana | San José de Payamino | Maynard et al. 2017 |
| Ecuador | Orellana | San Jose Viejo de Sumaco | Uzzell & Barry 1971 |
| Ecuador | Orellana | Shiripuno Lodge | iNaturalist |
| Ecuador | Orellana | Sitio A65 | Torres-Carvajal et al. 2019 |
| Ecuador | Orellana | Tigüino | USNM 321092 |
| Ecuador | Orellana | Tiputini Biodiversity Station | Cisneros-Heredia 2006 |
| Ecuador | Orellana | Yarina Lodge | This work |
| Ecuador | Orellana | Yasuní National Park 1 | MECN 3391 |
| Ecuador | Orellana | Yasuní National Park 2 | MECN 3392 |
| Ecuador | Orellana | Yasuní Scientific Station | Vitt & Zani 1996 |
| Ecuador | Pastaza | Balsaura | Ortega-Andrade 2010 |
| Ecuador | Pastaza | Bataburo Lodge | Ortega-Andrade 2010 |
| Ecuador | Pastaza | Chuintza | Almendáriz 1987 |
| Ecuador | Pastaza | Conambo | Ortega-Andrade 2010 |
| Ecuador | Pastaza | Destacamento Militar Shiona | Avila-Pires 1995 |
| Ecuador | Pastaza | Estación Agro-Ecológica Fátima | Proaño-Morales et al. 2017 |
| Ecuador | Pastaza | Huella Verde Lodge | This work |
| Ecuador | Pastaza | Jatun Molino | Photo by Morley Read |
| Ecuador | Pastaza | Juyuintza | Ortega-Andrade 2010 |
| Ecuador | Pastaza | Kurintza | Ortega-Andrade 2010 |
| Ecuador | Pastaza | Montalvo | Almendáriz 1987 |
| Ecuador | Pastaza | Pindoyacu | Ortega-Andrade 2010 |
| Ecuador | Pastaza | Pozo Huito | Avila-Pires 1995 |
| Ecuador | Pastaza | Río Bufeo | Ortega-Andrade 2010 |
| Ecuador | Pastaza | Sarayacu | Uzzell & Barry 1971 |
| Ecuador | Sucumbíos | Baboroé, vicinity of | Yánez-Muñoz & Chimbo 2007 |
| Ecuador | Sucumbíos | Bermejo | Uzzell & Barry 1971 |
| Ecuador | Sucumbíos | Blanca | iNaturalist |
| Ecuador | Sucumbíos | Bloque 27 | MECN 8337 |
| Ecuador | Sucumbíos | Campo Platanillo | Envirotec 2015 |
| Ecuador | Sucumbíos | Cofán Bermejo Ecological Reserve | MECN 8297 |
| Ecuador | Sucumbíos | Comunidad Cofán Pisorié | Yánez-Muñoz & Chimbo 2007 |
| Ecuador | Sucumbíos | Cuyabeno Wildlife Production Reserve | Pellegrino et al. 2011 |
| Ecuador | Sucumbíos | Estación Amazonas OCP | Valencia & Garzón 2011 |
| Ecuador | Sucumbíos | Garzacocha | Yáñez-Muñoz & Venegas 2008 |
| Ecuador | Sucumbíos | Güeppicillo | Yáñez-Muñoz & Venegas 2008 |
| Ecuador | Sucumbíos | La Balsareña | MECN 7499 |
| Ecuador | Sucumbíos | Lago Agrio, 7 km NW of | IDIGBIO 43223 |
| Ecuador | Sucumbíos | Laguna Grande | MECN 323 |
| Ecuador | Sucumbíos | Laguna Pañacocha | MHNG 2590.078 |
| Ecuador | Sucumbíos | Limoncocha Biological Reserve | Uzzell & Barry 1971 |
| Ecuador | Sucumbíos | Lumbaqui | Dueñas-Tituaña 2015 |
| Ecuador | Sucumbíos | Puerto Libre | Duellman 1978 |
| Ecuador | Sucumbíos | Puerto Ore | Duellman 1978 |
| Ecuador | Sucumbíos | Reserva Dureno | iNaturalist |
| Ecuador | Sucumbíos | Río Pañayacu | USNM 163430 |
| Ecuador | Sucumbíos | Sacha Lodge | iNaturalist |
| Ecuador | Sucumbíos | San Pablo de Kantesiya | Avila-Pires 1995 |
| Ecuador | Sucumbíos | Sani Lodge | Thomas et al. 2020 |
| Ecuador | Sucumbíos | Sansahuari | Yáñez-Muñoz et al. 2010 |
| Ecuador | Sucumbíos | Santa Cecilia | Duellman 1978 |
| Ecuador | Sucumbíos | Santa Elena | MECN 7805 |
| Ecuador | Sucumbíos | Tapir Lodge | This work |
| Ecuador | Sucumbíos | Tarapoa, 7 km W of | MCZ R-163234 |
| Ecuador | Sucumbíos | Vía a Los Olivos | DHMECN 14782 |
| Perú | Amazonas | Caterpiza | USNM 568723 |
| Perú | Amazonas | La Poza, Río Santiago | USNM 568730 |
| Perú | Amazonas | Shiringa | USNM 568733 |
| Perú | Loreto | Bellavista, 15 km S of | USNM 565883 |
| Perú | Loreto | Campo Andoas | Valqui Schult 2015 |
| Perú | Loreto | Güeppí Reserved Zone | Yáñez-Muñoz & Venegas 2008 |
| Perú | Loreto | Lagarto Cocha, Aguas Negras | USNM 521045 |
| Perú | Loreto | Mashunta | Pérez-Peña et al. 2019 |
| Perú | Loreto | Moropon | Rodrigues & Avila-Pires 2005 |
| Perú | Loreto | Redondococha | Yáñez-Muñoz & Venegas 2008 |