Reptiles of Ecuador | Serpentes | Colubridae | Dipsas | Dipsas indica
English common names: Neotropical Snail-Eater, Amazonian Snail-Eater, Big-headed Snail-eating Snake.
Spanish common names: Caracolera neotropical.
Recognition: ♂♂ 106.7 cm ♀♀ 115.3 cm. The Neotropical Snail-Eater (Dipsas indica) can be identified based on its grayish body with 25–47 yellow-bordered blackish blotches, distinctly wider at the lower flanks than at the vertebral level, separated from each other by white or yellow spots.1,2 In Amazonian Ecuador, the most similar species is the Variegated Snail-Eater (D. variegata), which differs from D. indica by having black head blotches without yellowish borders.3
Picture: Adult from Llanganates National Park, Pastaza, Ecuador.
Picture: Adult from Llanganates National Park, Pastaza, Ecuador.
Picture: Adult from Sani Lodge, Sucumbíos, Ecuador.
Picture: Juvenile from Narupa Reserve, Napo, Ecuador.
Natural history: Frequent. Dipsas indica is a nocturnal snake that inhabits old-growth to moderately disturbed evergreen forests, forest edges, plantations, and banana groves, usually close to bodies of water.4–6 Neotropical Snail-Eaters are active at night, especially if it is raining or drizzling.7 They move actively but slowly at ground level, or on vegetation 0.8 cm to 12 m above the ground.7–9 They feed on slugs and snails,4,10,11 which they extract from their shells by means of alternating contractions of the specialized adductor muscles.12 Individuals of D. indica have glands in the lower jaw which produce a mucous secretion that presumably causes paralysis and death of the molluscs as well as facilitates prey lubrication during ingestion.13 During the day, snakes of this species rest coiled inside the leaf litter or under surface objects.7,11 Neotropical Snail-Eaters are harmless to humans; they are extremely docile and never attempt to bite.7 If threatened, individuals may flatten their body and expand their head to simulate a triangular shape and produce a musky and distasteful odor.7,9 Females lay 5 eggs per clutch. These may take about 107 days to hatch.11
Conservation: Least Concern.14 Dipsas indica is listed in this category because the species is widely distributed throughout the Amazon basin, occurs in several protected areas (at least 19 in Ecuador), and is considered to be facing no major immediate threats of extinction.14
Distribution: Dipsas indica occurs throughout the Amazon basin and adjacent slopes of the Andes in Bolivia, Brazil, Colombia, Ecuador, French Guiana, Guyana, Peru, Suriname, and Venezuela. In Ecuador, the species is native to an estimated 109,762 km2 area in the Amazon basin and the eastern foothills of the Andes.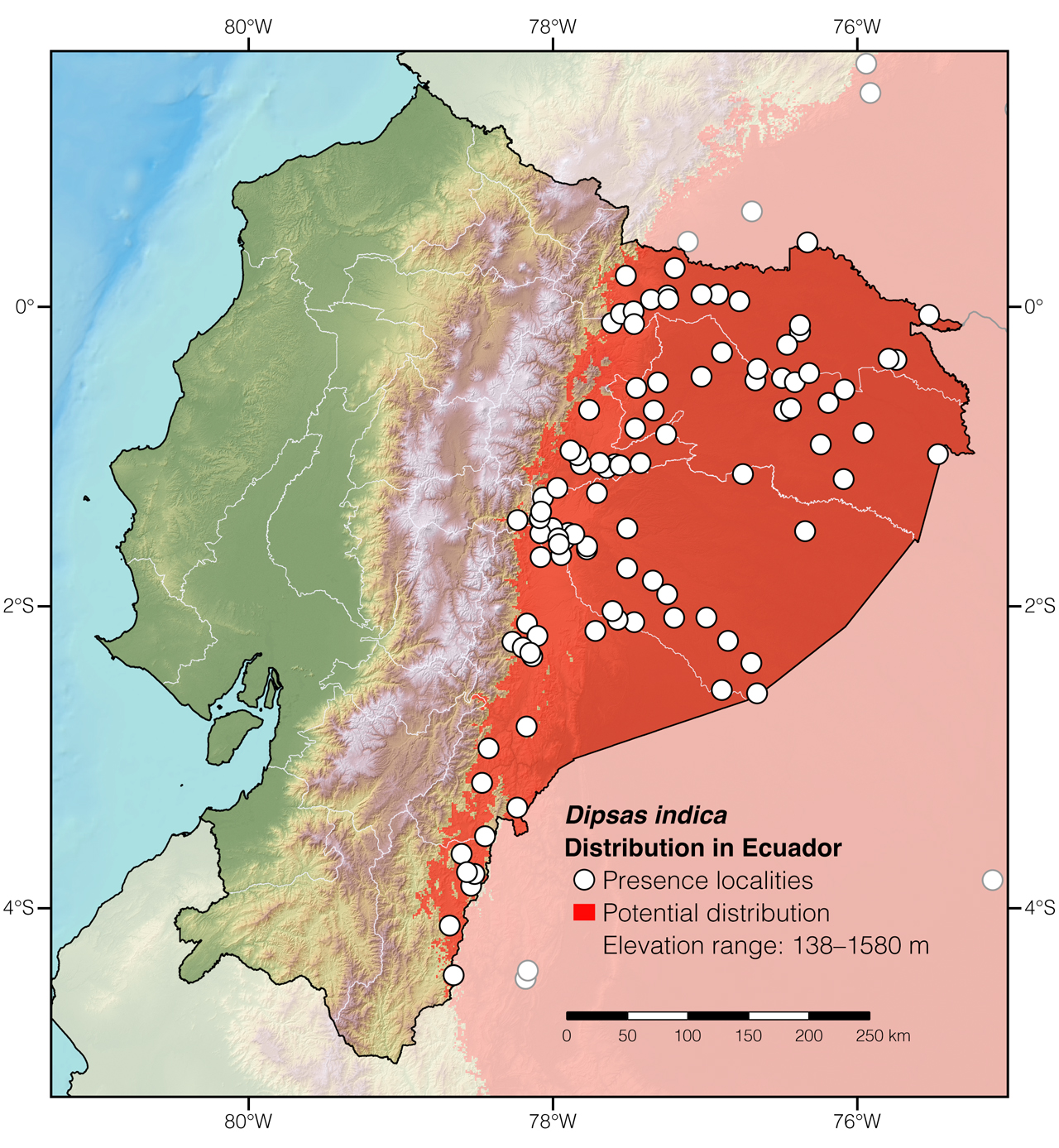 Etymology: The generic name Dipsas, which comes from the Greek word dipsa (meaning "thirst"),15 probably refers to the fact that the bite of these snakes was believed to cause intense thirst. The specific epithet indica is a reference to the Indian Ocean, as the author who described this species16 thought, mistakenly, that the specimen upon which he based the description came from Ceylon, now Sri Lanka.
See it in the wild: Neotropical Snail-Eaters can be seen with ~5–30% certainty at night, especially after a rainy day, in forested areas throughout its area of distribution in Ecuador. Some of the best localities to find Neotropical Snail-Eaters in Ecuador are Yasuní National Park, Jatun Sacha Biological Station, Narupa Reserve, and Sani Lodge.
Special thanks to Samantha Schenker for symbolically adopting the Neotropical Snail-Eater and helping bring the Reptiles of Ecuador book project to life.
Click here to adopt a species.
Author: Alejandro ArteagaaAffiliation: Khamai Foundation, Quito, Ecuador.
Photographer: Jose VieiraaAffiliation: Tropical Herping (TH), Quito, Ecuador.,bAffiliation: ExSitu, Quito, Ecuador.
How to cite? Arteaga A (2020) Dipsas indica. In: Arteaga A, Bustamante L, Vieira J, Guayasamin JM (Eds) Reptiles of Ecuador: Life in the middle of the world. Available from: www.reptilesofecuador.com
Literature cited: