Reptiles of Ecuador | Serpentes | Colubridae | Dipsas | Dipsas variegata
English common names: Variegated Snail-Eater.
Spanish common names: Caracolera jaspeada.
Recognition: ♂♂ 91.2 cm ♀♀ 86.9 cm. In Ecuador, the Variegated Snail-Eater (Dipsas variegata) can be identified based on its blunt prominent head with black markings that lack yellow borders and its grayish dorsum with 26–48 blackish blotches on the body and tail. In Amazonian Ecuador, the most similar species is the Neotropical Snail-Eater (D. indica), which differs from D. variegata by having yellow-bordered black head blotches.
Picture: Adult from Gareno, Napo, Ecuador.
Natural history: Extremely rare in Ecuador, but frequent in the northern part of its range. Dipsas variegata is a nocturnal snake that inhabits old-growth to moderately disturbed evergreen to semideciduous forests.1,2 At night, Variegated Snail-Eaters move actively but slowly at ground level or on vegetation up to 3 m above the ground.1,3 During the day, they sleep under surface debris4 or coiled up on branches of woody plants and tree ferns 1.5–3 m above the ground.1 Individuals of D. variegata feed on slugs and snails.3,5 Variegated Snail-Eaters are harmless to humans; they are extremely docile and never attempt to bite.2 If threatened, individuals may flatten their body and coil into a defensive posture. Females lay 5 eggs per clutch.5
Conservation: Least Concern.6 Dipsas variegata is listed in this category because the species is widely distributed, frequently encountered in the northern part of its range, occurs in protected areas, and is considered to be facing no major immediate extinction threats.6
Distribution: Dipsas variegata occurs as four distinct populations: one in the Amazonian lowlands of Bolivia, Brazil, Ecuador, and Peru; another in the Guiana Shield in Brazil, Guyana, French Guiana, Suriname, and Venezuela; another in Trinidad and Tobago and the coastal cordilleras and Andean foothills of Venezuela; and another in the Atlantic Forest of Brazil.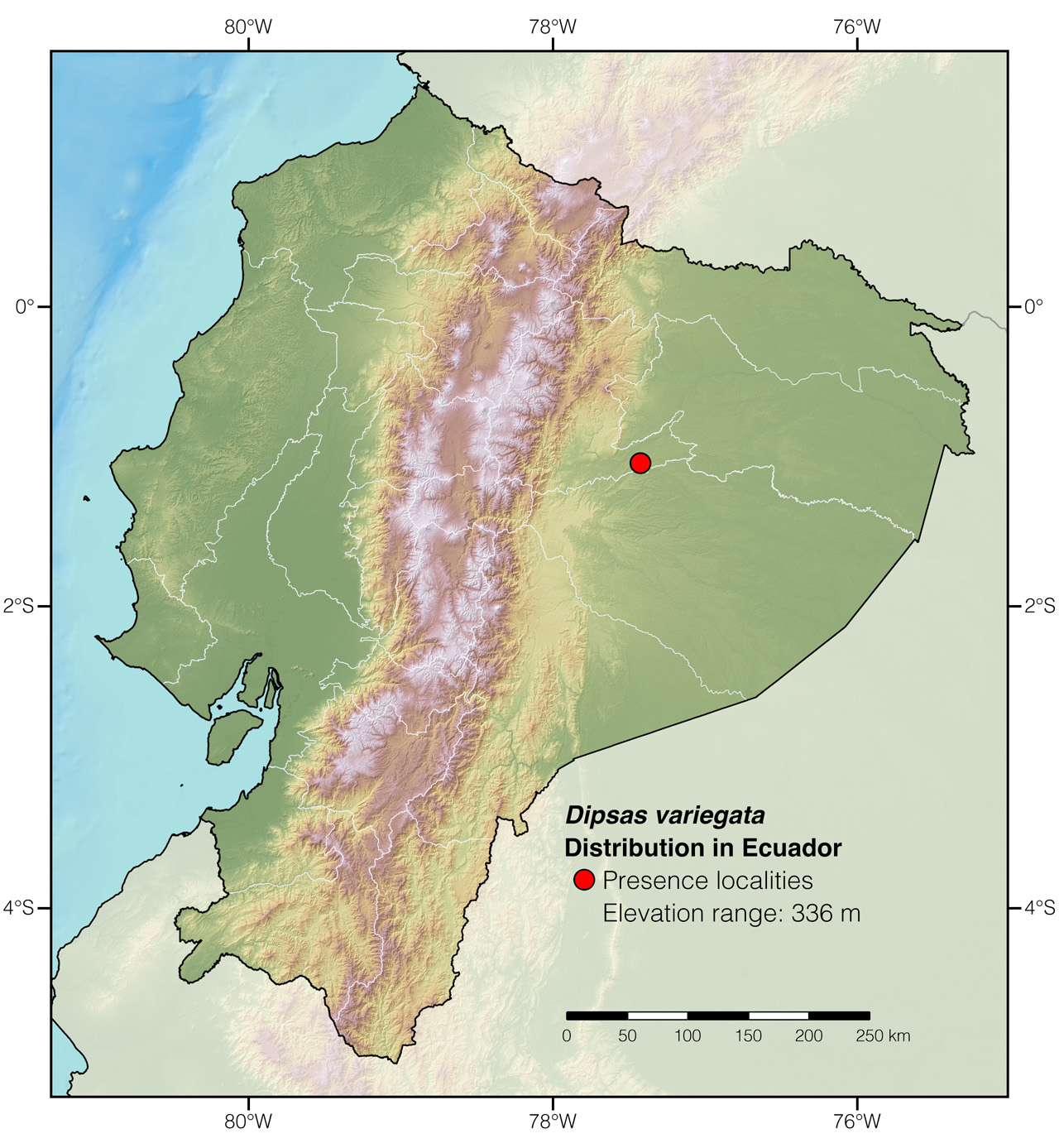 Etymology: The generic name Dipsas, which comes from the Greek word dipsa (meaning "thirst"),7 is probably a reference to the fact that the bite of these snakes was believed to cause intense thirst. The specific epithet variegata is a Latin word meaning "of various colors."7
See it in the wild: In Ecuador, Variegated Snail-Eaters cannot be expected to be seen reliably as there is only one record of the species in the country.
FAQ
Are snail-eating snakes venomous? No, but some species have glands in the lower jaw which produce a mucous secretion that presumably causes paralysis and death of the molluscs they consume. This secretion also facilitates prey lubrication during ingestion.8
Do snails attract snakes? Yes. Snail-eating snakes follow snails visually or by tracking their scent trail.9
Do snail-eating snakes eat the shell of the snails? They don't. These snakes use specialized muscular contractions of their wedge-like head to extract snails from their shells.9
Author: Alejandro ArteagaaAffiliation: Khamai Foundation, Quito, Ecuador.
Photographer: Jose VieiraaAffiliation: Tropical Herping (TH), Quito, Ecuador.,bAffiliation: ExSitu, Quito, Ecuador.
How to cite? Arteaga A (2020) Dipsas variegata. In: Arteaga A, Bustamante L, Vieira J, Guayasamin JM (Eds) Reptiles of Ecuador: Life in the middle of the world. Available from: www.reptilesofecuador.com
Literature cited: