| | |
| --- | --- |
| Bob Ridgely's Snail-Eater | |
Reptiles of Ecuador | Serpentes | Colubridae | Dipsas | Dipsas bobridgelyi
English common names: Bob Ridgely's Snail-Eater.
Spanish common names: Caracolera de Bob Ridgely.
Recognition: ♂♂ 67.3 cm ♀♀ 56.2 cm. In its area of distribution, the Bob Ridgely's Snail-Eater (Dipsas bobridgelyi) is the only snake having a combination of large bulging eyes and a pattern of 29–35 broad black body rings separated from each other by narrow brown-stippled whitish interspaces. It also has a blunt, prominent head with a characteristic pattern of scattered whitish, black, and rusty speckling. The Western Flame-Snake (Oxyrhopus sebae) also has a pattern of black rings, but the head of this snake is completely black and pointed. Dipsas gracilis has a similar color pattern, but this species occurs north of the distribution of D. bobridgelyi.
Picture: Adult from Buenaventura Reserve, El Oro, Ecuador.
Picture: Adult male from Buenaventura Reserve, El Oro, Ecuador.
Picture: Adult male from Buenaventura Reserve, El Oro, Ecuador.
Natural history: Frequent. Dipsas bobridgelyi is a nocturnal snake that inhabits old-growth to moderately disturbed semideciduous forests.1 Bob Ridgely's Snail-Eaters move actively but slowly on vegetation 1–2.5 m above the ground.1 They feed on snails1 and probably also on slugs. Snakes of this species are harmless to humans; they are extremely docile and never attempt to bite. However, they coil into a defensive posture and produce a musky and distasteful odor when threatened.2
Conservation: Endangered.1 Dipsas bobridgelyi is listed in this category following IUCN criteria3 because the species' extent of occurrence is estimated to be less than 5,000 km2, it is known to occur only in four patches of forest lacking connectivity between them, and its habitat is severely fragmented and declining in extent and quality due to deforestation. Furthermore, only two of the localities (Buenaventura Reserve in Ecuador and Reserva Nacional de Tumbes in Peru) where D. bobridgelyi occurs are currently protected.1
Distribution: Dipsas bobridgelyi is native the Tumbesian foothills of the Andes in southwestern Ecuador and northwestern Peru. Although its potential area of distribution in Ecuador is ~6,645 km2, we estimate that only ~2,179 km2 holds habitat where D. bobridgelyi might occur.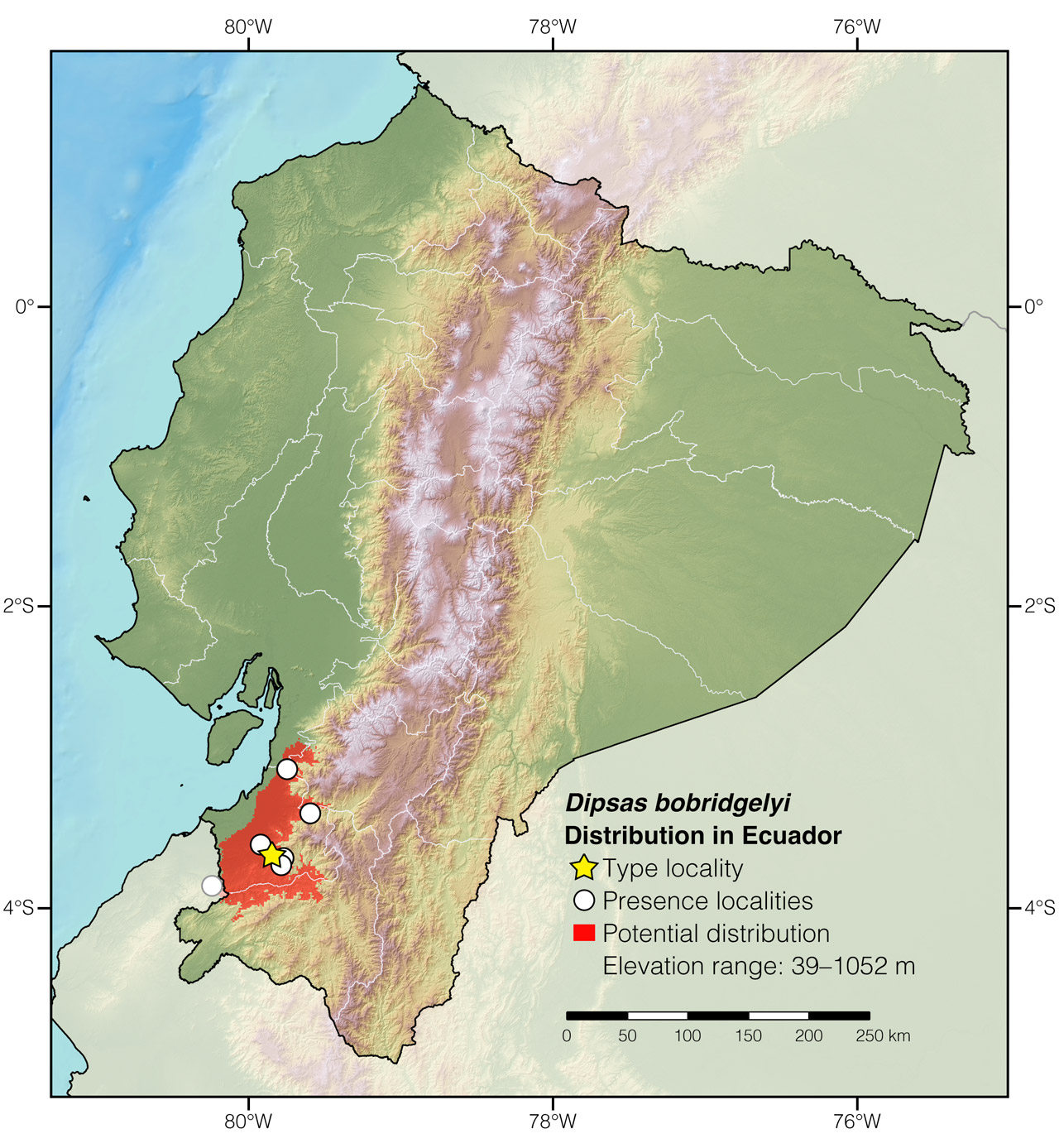 Etymology: The generic name Dipsas, which comes from the Greek word dipsa (meaning "thirst"),4 probably refers to the fact that the bite of these snakes was believed to cause intense thirst. The specific epithet bobridgelyi honors Dr. Robert "Bob" S. Ridgely, a leading ornithologist and distinguished conservationist who has dedicated almost 50 years of his life to the study and conservation of birds and biodiversity across Latin America.1
See it in the wild: Bob Ridgely's Snail-Eaters can be seen with ~20–50% certainty in Buenaventura Biological Reserve, especially during nights after rainy days.
Special thanks to Linda and Walt Jennings for symbolically adopting the Bob Ridgely's Snail-Eater and helping bring the Reptiles of Ecuador book project to life.
Click here to adopt a species.
Author: Alejandro ArteagaaAffiliation: Khamai Foundation, Quito, Ecuador.
Photographers: Jose Vieira,aAffiliation: Tropical Herping (TH), Quito, Ecuador.,bAffiliation: ExSitu, Quito, Ecuador. Alejandro Arteaga,aAffiliation: Tropical Herping (TH), Quito, Ecuador. and Matthijs Hollanders.
How to cite? Arteaga A (2020) Dipsas bobridgelyi. In: Arteaga A, Bustamante L, Vieira J, Guayasamin JM (Eds) Reptiles of Ecuador: Life in the middle of the world. Available from: www.reptilesofecuador.com
Literature cited: