| | |
| --- | --- |
| Published May 14, 2022. Updated November 20, 2023. Open access. | Gallery ❯ |
Long-sleeved Eyed-Lizard (Cercosaura manicata)
Reptiles of Ecuador | Sauria | Gymnophthalmidae | Cercosaura | Cercosaura manicata
English common names: Long-sleeved Eyed-Lizard, Slender Eyed Lizard.
Spanish common names: Lagartija colilarga de mangas, lagartija rayada de mangas.
Recognition: ♂♂ 15.8 cmMaximum distance from the snout to the tip of the tail. Snout–vent length=6.5 cm. ♀♀ 16.9 cmMaximum distance from the snout to the tip of the tail. Snout–vent length=7.3 cm..1,2 Species in the genus Cercosaura differ from other similar-sized leaf-litter lizards (particularly those in the genera Anadia, Alopoglossus, Arthrosaura, and Loxopholis) by having keeled and imbricate dorsal scales arranged in rows and scales on flanks smaller than dorsals.1,3 Cercosaura manicata differs from its co-occurring congeners, C. argulus and C. oshaughnessyi, by having a single frontonasal scale instead of a pair of frontonasal scales.2,4 Although C. manicata does not exhibit marked sexual dimorphism,4 males have a more intense orange-red coloration towards the rear of the body (Fig. 1).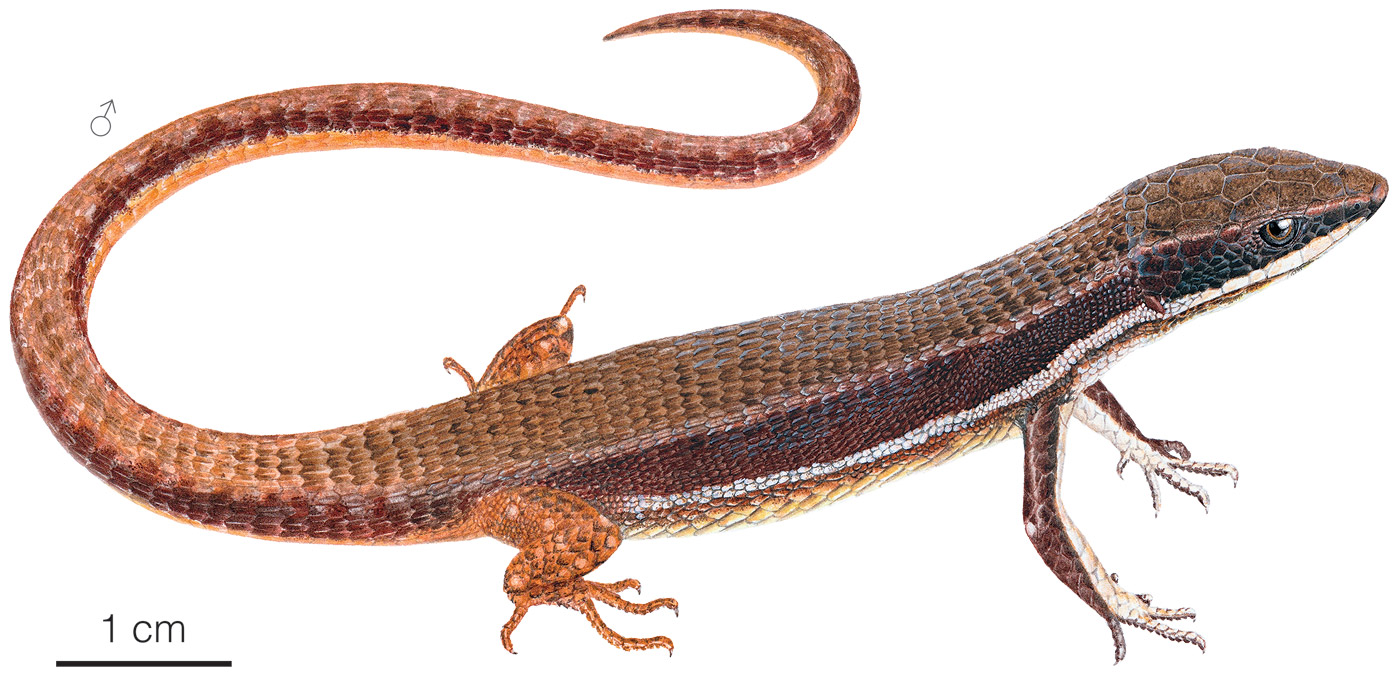 Figure 1: Illustration of an adult male of Cercosaura manicata.
Natural history: Cercosaura manicata is a rarely seen lizard that inhabits well-preserved2 to moderately disturbed rainforests, which may be terra-firme or seasonally flooded,5 but it also occurs in fragmented and open areas.6 Long-sleeved Eyed-Lizards are active during the day at ambient temperatures around 27–29°C.7 These reptiles are primarily terrestrial and forage actively amidst the leaf-litter,2,7 but they also climb and bask on palm stilts, logs, stems, and shrubs up to 35 cm above the ground.2 In the presence of a disturbance, Long-sleeved Eyed-Lizards take refuge in leaf-litter or among roots.2 The diet of C. manicata is likely composed of a variety of ground-dwelling arthropods, but only spiders and orthopterans have been confirmed as prey items.2 The snake Oxyrhopus petolarius has been reported as a predator of this species.2 Cercosaura manicata an oviparous lizard. Gravid females containing two eggs have been found,2 but the real clutch size is not known. One egg was found under a log.2
Conservation: Least Concern Believed to be safe from extinction given current circumstances..6 Cercosaura manicata is included in this category because it is widely distributed over areas that have not been heavily affected by deforestation. Thus, the species is believed to be facing no major immediate extinction threats.6 However, since C. manicata is a rare lizard associated with well-preserved forests, some populations are likely declining due to the continuous loss of forest habitat caused by the expansion of the agricultural frontier, mining, and oil development.6 It is necessary to know more about the ecology, distribution, and population trend of C. manicata in order to assess the true conservation needs of the species.6
Distribution: Cercosaura manicata is native to the upper Amazon basin in Bolivia, Colombia, Ecuador (Fig. 2), and Perú.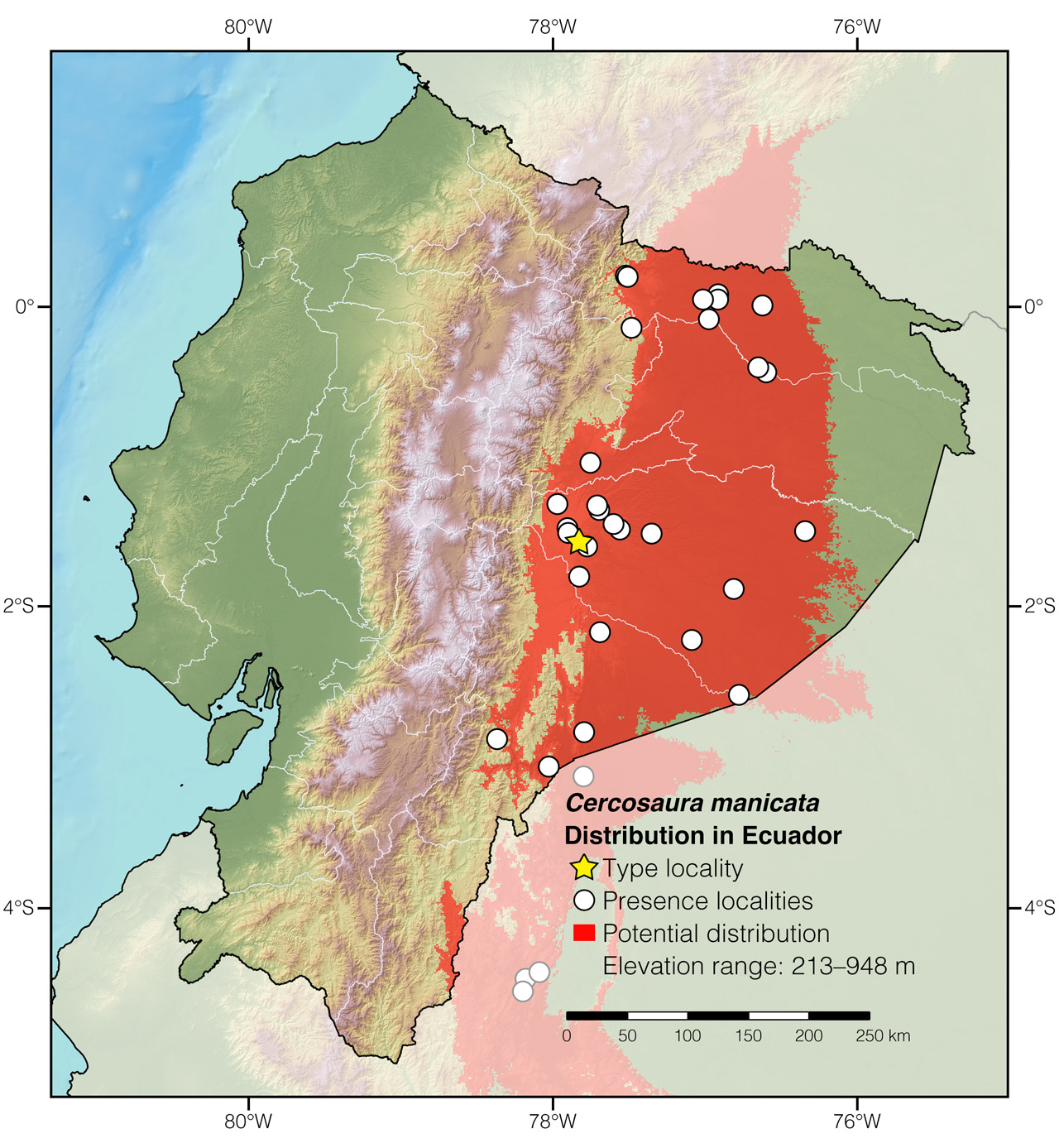 Figure 2: Distribution of Cercosaura manicata in Ecuador. The star corresponds to the type locality: Canelos, Pastaza province. See Appendix 1 for a complete list of the presence localities included in the map.
Etymology: The generic name Cercosaura, which comes from the Greek words kerkos (=tail) and saura (=lizard),8 probably refers to the long tail.9 The specific epithet manicata, which comes from the Latin word manus (=hand) and from the Greek word kata (=underneath),8 probably refers to the projected scales under the fingers.10
See it in the wild: Long-sleeved Eyed-Lizards are unlikely to be seen more than once every few months at any given locality, even in protected areas such as Limoncocha Biological Reserve and Tamandúa Reserve. So far, it appears the best way to find lizards of this species is to remove leaf-litter along forest trails in well-preserved habitats.
Authors: Amanda QuezadaaAffiliation: Tropical Herping (TH), Quito, Ecuador.,bAffiliation: Laboratorio de Herpetología, Universidad del Azuay, Cuenca, Ecuador. and Alejandro ArteagacAffiliation: Khamai Foundation, Quito, Ecuador.
Illustrator: Valentina Nieto Fernández
How to cite? Quezada A, Arteaga A (2023) Long-sleeved Eyed-Lizard (Cercosaura manicata). In: Arteaga A, Bustamante L, Vieira J, Guayasamin JM (Eds) Reptiles of Ecuador: Life in the middle of the world. Available from: www.reptilesofecuador.com. DOI: 10.47051/RVQF3096
Literature cited:
Doan TM (2003) A new phylogenetic classification for the gymnophthalmid genera Cercosaura, Pantodactylus, and Prionodactylus (Reptilia: Squamata). Zoological Journal of the Linnean Society 137: 101–115. DOI: 10.1046/j.1096-3642.2003.00043.x
Duellman WE (1978) The biology of an equatorial herpetofauna in Amazonian Ecuador. Publications of the Museum of Natural History, University of Kansas 65: 1–352.
Avila-Pires TCS (1995) Lizards of Brazilian Amazonia (Reptilia: Squamata). Zoologische Verhandelingen 299: 1–706.
Uzzell T (1973) A revision of the genus Prionodactylus with a new genus for P. leucostictus and notes on the genus Euspondylus (Sauria, Teiidae). Postilla 159: 1–67.
Catenazzi A, Lehr E, von May R (2013) The amphibians and reptiles of Manu National Park and its buffer zone, Amazon basin and eastern slopes of the Andes, Peru. Biota Neotropica 13: 269–283. DOI: 10.1590/S1676-06032013000400024
Caicedo JR, Calderón M, Ines Hladki A, Ramírez Pinilla M, Renjifo J, Urbina N, Gonzales L, Aguayo R, Venegas P, Yánez-Muñoz M, Cisneros-Heredia DF, Muñoz A, Lehr E, Catenazzi A (2017) Cercosaura manicata. The IUCN red list of threatened species. Available from: www.iucnredlist.org. DOI: 10.2305/IUCN.UK.2017-2.RLTS.T44578511A44578516.en
Wagler JG (1830) Natürliches System der Amphibien: mit vorangehender Classification der Säugetiere und Vögel: ein Beitrag zur vergleichenden Zoologie. J.G. Cotta'scchen, München, 354 pp. doi:10.5962/bhl.title.58730
Appendix 1: Locality data used to create the distribution map of Cercosaura manicata in Ecuador (Fig. 2). Go to the section on symbols and abbreviations for a list of acronyms used. Asterisk (*) indicates type locality.
| | | | |
| --- | --- | --- | --- |
| Country | Province | Locality | Source |
| Ecuador | Loreto | Campamento K10 | Echevarría et al. 2015 |
| Ecuador | Morona Santiago | Limón, 13 km NE of | Doan 2003 |
| Ecuador | Morona Santiago | Marantian Wildlife Refuge | Mamani et al. 2020 |
| Ecuador | Morona Santiago | Puerto Morona, 12 km N of | Mamani et al. 2020 |
| Ecuador | Morona Santiago | Santiago de Tiwintza | MCZ 45779 |
| Ecuador | Morona Santiago | Wachirpas, 7 km E of | Doan 2003 |
| Ecuador | Napo | Manuel Galindo, 15 km SE of | Uzzell 1973 |
| Ecuador | Napo | Puerto Napo | Uzzell 1973 |
| Ecuador | Napo | Puyo, 11.7 km NE of | USNM 196212 |
| Ecuador | Orellana | Indillama Sur | Mamani et al. 2020 |
| Ecuador | Orellana | Nueva Loja, 15 km S of | KU 148275 |
| Ecuador | Pastaza | Arutam, 3 km E of | SMF 95946 |
| Ecuador | Pastaza | Cabeceras del Bobonaza | Mamani et al. 2020 |
| Ecuador | Pastaza | Campo Oglán | Torres-Carvajal et al. 2015 |
| Ecuador | Pastaza | Canelos* | O'Shaughnessy 1881 |
| Ecuador | Pastaza | Pablo Lopez de Oglán Alto | Echevarría et al. 2015 |
| Ecuador | Pastaza | Río Capahuari | Mamani et al. 2020 |
| Ecuador | Pastaza | Río Conambo, near mouth of Río Romarizo | USNM 196213 |
| Ecuador | Pastaza | Río Lliquino | USNM 194066 |
| Ecuador | Pastaza | Río Pindo | Uzzell 1973 |
| Ecuador | Pastaza | Río Villano | USNM 157105 |
| Ecuador | Pastaza | Tamandúa Reserve | Photo by Jorge Flores |
| Ecuador | Sucumbíos | Lago Agrio | KU 126845 |
| Ecuador | Sucumbíos | Limoncocha Biological Reserve | KU 183509 |
| Ecuador | Sucumbíos | Nueva Loja, 2 km S of | Duellman 1978 |
| Ecuador | Sucumbíos | Puerto Libre | Duellman 1978 |
| Ecuador | Sucumbíos | San Pedro de los Cofanes | Duellman 1978 |
| Ecuador | Sucumbíos | Santa Cecilia | Duellman 1978 |
| Ecuador | Sucumbíos | Secoya | Mamani et al. 2020 |
| Perú | Amazonas | Huampami | USNM 334921 |
| Perú | Amazonas | Kumpin Entse | USNM 316899 |
| Perú | Amazonas | Sua, vicinity of, on the Río Cenepa | USNM 316900 |
| Perú | Loreto | Pongo Chinim | Echevarría et al. 2015 |