| | |
| --- | --- |
| Published December 3, 2021. Updated November 21, 2023. Open access. | Gallery ❯ |
White-striped Eyed-Lizard (Cercosaura oshaughnessyi)
Reptiles of Ecuador | Sauria | Gymnophthalmidae | Cercosaura | Cercosaura oshaughnessyi
English common name: White-striped Eyed-Lizard.
Spanish common names: Lagartija colilarga ocelada, lagartija rayada de O'Shaughnessy.
Recognition: ♂♂ 16.6 cmMaximum distance from the snout to the tip of the tail. Snout–vent length=5.1 cm. ♀♀ 15.3 cmMaximum distance from the snout to the tip of the tail. Snout–vent length=5.1 cm..1,2 Species in the genus Cercosaura differ from other similar-sized leaf-litter lizards (particularly those in the genera Anadia, Alopoglossus, Arthrosaura, and Loxopholis) by having keeled and imbricate dorsal scales arranged in rows and scales on flanks smaller than dorsals.2,3 Cercosaura oshaughnessyi is often confused with C. argulus, from which it differs by having scales on flanks distinctly (rather than moderately) smaller than dorsals and arranged in 8–12 (rather than 4–7) rows.1–4 The presence of a femoral pore in the eupreanal position and rows of femoral pores separated medially by two (instead of four) ventral scales further separate C. oshaughnessyi from C. argulus.2,4 Cercosaura oshaughnessyi differs from C. manicata by having reddish brown flanks with black ocelli and two frontonasal scales (uniform dark brown flanks and a single undivided frontonasal scale in C. manicata).1–6 White-striped Eyed-Lizards present strong sexual dimorphism (Fig. 1): males differ from females by being more brightly colored, with striking red flanks and well-defined ocelli, and having 17–28 (instead of 8–15 or 0) femoral pores.2,6,7 However, it appears like the strong red coloration of males is seasonal, at least in the Iquitos region of Peru, with a peak between June and September.8
Figure 1: Individuals of Cercosaura oshaughnessyi: Aguas Negras Lodge, Sucumbíos province, Ecuador (); Palmarí Reserve, Amazonas state, Brazil (); Llanganates National Park, Pastaza province, Ecuador (); Huella Verde Lodge, Pastaza province, Ecuador (). j=juvenile.
Natural history: Cercosaura oshaughnessyi is a common lizard in old growth to moderately disturbed rainforests, which may be terra-firme or seasonally flooded.7,9 The species also occurs in forest edge, pastures with scattered trees,10 roadside vegetation,9 swamps,11 banana groves,1 and buildings in the forest.8 White-striped Eyed-Lizards are diurnal and terrestrial to semi-arboreal. They forage primarily on leaf-litter, tree trunks, the forest floor,7,11 or rocks and sand along streams and rivers,8–10 but they also occupy above-ground microhabitats with high structural diversity.7,9 They use their prehensile (capable of grasping) tail and streamlined body to nimbly move along, and hold on to, raised roots, twigs, branches, leaves, and palm fronds, usually less than 1.6 m above the ground.1,9,11 During the daytime, White-striped Eyed-Lizards move under forest shade or in filtered sunlight, which allows them to maintain body temperatures around 29°C.11,12 Individuals are active during sunny and cloudy days, but may occasionally have nocturnal activity.9,10 At night, the majority of individuals are seen sleeping, perched on leaves, stems, and branches up to 2 m above the ground.1,9,11
These active foragers feed on a variety of arthropods: primarily insect larvae, spiders, roaches, grasshoppers, crickets, and katydids.1,11,13 They also consume at least other 15 prey item categories, from beetles and ants to isopods and millepedes.1,11 Lizards of this species can be hosts to intestinal parasites such as helminths.14,15 When threatened, these reptiles quickly take refuge in leaf-litter, sticking their heads out to observe the surroundings after a few seconds.7 They are also quick to shed their bright tail as a distraction to predators.9 There are records of snakes (Xenoxybelis argenteus) preying upon individuals of Cercosaura oshaughnessyi.1 Females lay clutches of two eggs2,7,8 in soft soil or in ant nests,8 with multiple clutches per year.7 Hatchlings measure 17–20 mm in snout-vent length.8
Conservation: Least Concern Believed to be safe from extinction given current circumstances.. Cercosaura oshaughnessyi is proposed to be included in this category because the species has a wide distribution throughout the Amazon basin and it is comparatively common7,8 and abundant in most areas. Approximately 56% of the occurrence area of C. oshaughnessyi in Brazil is within protected areas.16 In Ecuador,17 this figure is closer to 23%.
Distribution: Cercosaura oshaughnessyi is native to an estimated 397,102 km2 area throughout the western Amazon basin in Brazil, Colombia, Ecuador (Fig. 2), and Peru.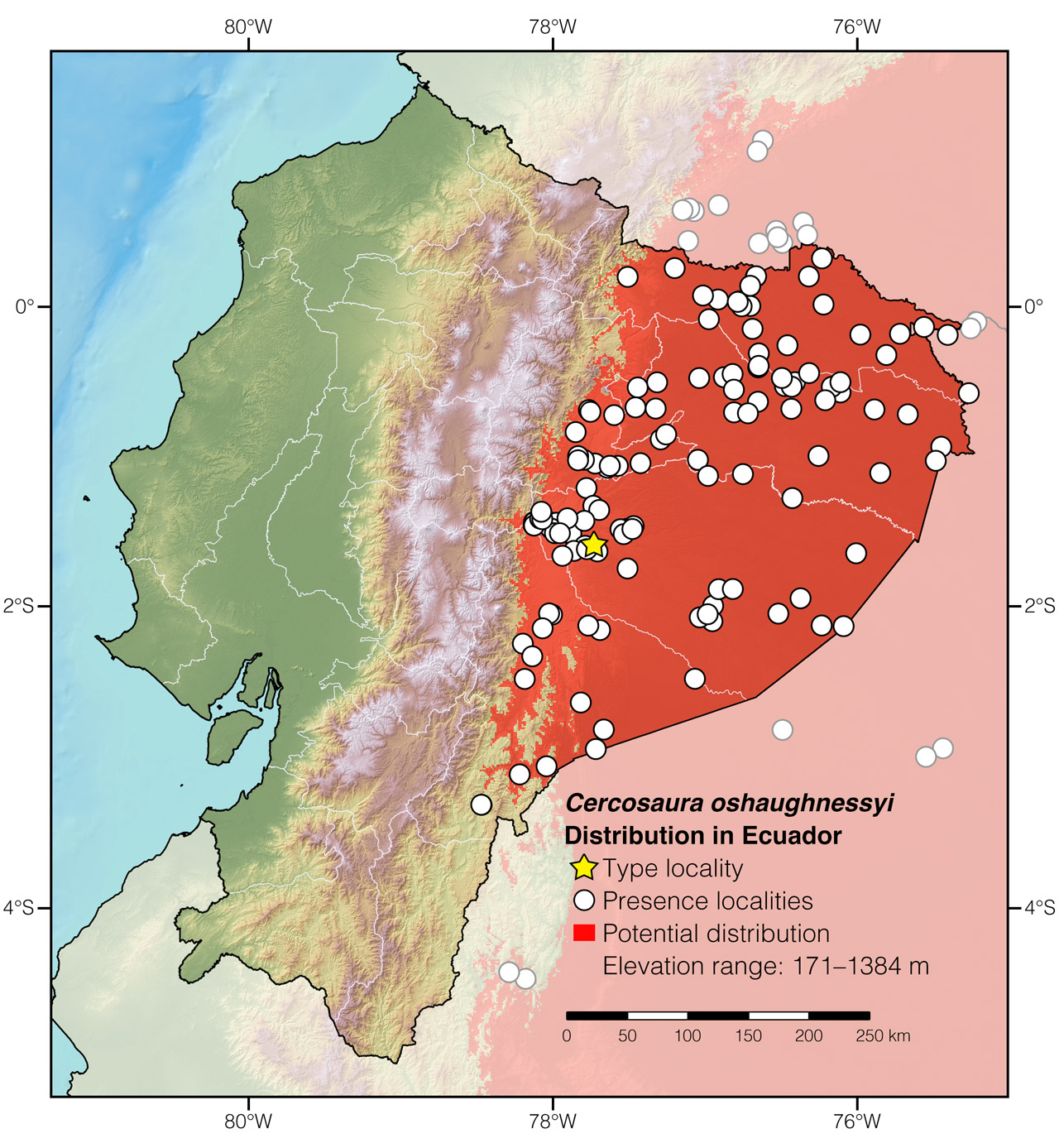 Figure 2: Distribution of Cercosaura oshaughnessyi in Ecuador. The star corresponds to the type locality: Canelos, Pastaza province. See Appendix 1 for a complete list of the presence localities included in the map.
Etymology: The generic name Cercosaura, which comes from the Greek words kerkos (=tail) and saura (=lizard),18 probably refers to the long tail.19 The specific epithet oshaughnessyi honors Arthur William Edgar O'Shaughnessy (1844–1881), an English herpetologist who worked at the British Museum of Natural History.20
See it in the wild: White-striped Eyed-Lizards can be observed at a rate of about once or twice per day in well-preserved forested areas throughout their range in Ecuador. These lizards are particularly common in Yasuní National Park, Llanganates National Park, Cuyabeno Reserve, and in the immediate environs of the tows Puyo and Tena. Individuals can be seen more easily during sunny days by scanning the leaf-litter and understory vegetation inside the forest.
Special thanks to Tim Paine for symbolically adopting the White-striped Eyed-Lizard and helping bring the Reptiles of Ecuador book project to life.
Click here to adopt a species.
Authors: Amanda QuezadaaAffiliation: Tropical Herping (TH), Quito, Ecuador.,bAffiliation: Laboratorio de Herpetología, Universidad del Azuay, Cuenca, Ecuador. and Alejandro ArteagacAffiliation: Khamai Foundation, Quito, Ecuador.
Photographers: Jose Vieira,aAffiliation: Tropical Herping (TH), Quito, Ecuador.,dAffiliation: ExSitu, Quito, Ecuador. Sebastián Di Doménico,eAffiliation: Keeping Nature, Bogotá, Colombia. and Alejandro ArteagacAffiliation: Khamai Foundation, Quito, Ecuador.
How to cite? Quezada A, Arteaga A (2023) White-striped Eyed-Lizard (Cercosaura oshaughnessyi). In: Arteaga A, Bustamante L, Vieira J, Guayasamin JM (Eds) Reptiles of Ecuador: Life in the middle of the world. Available from: www.reptilesofecuador.com. DOI: 10.47051/ZHNF3665
Literature cited:
Appendix 1: Locality data used to create the distribution map of Cercosaura oshaughnessyi in Ecuador (Fig. 2). Go to the section on symbols and abbreviations for a list of acronyms used. Asterisk (*) indicates type locality.
| | | | |
| --- | --- | --- | --- |
| Country | Province | Locality | Source |
| Colombia | Cauca | Serranía de los Churumbelos | ICN 8248 |
| Colombia | Putumayo | Centro Experimental Amazónico | Betancourth-Cundar & Gutiérrez-Zamora 2010 |
| Colombia | Putumayo | Orito | MCZ R-131100 |
| Colombia | Putumayo | Puerto Asís | MLS-sau 374 |
| Colombia | Putumayo | Puerto Asís, 20 km NE of | iNaturalist |
| Colombia | Putumayo | Reserva La Isla Escondida | iNaturalist |
| Colombia | Putumayo | Tuaya | iNaturalist |
| Colombia | Putumayo | Vereda El Líbano | iNaturalist |
| Colombia | Putumayo | Vereda Islas de Cartagena | IAvH-R-9178 |
| Colombia | Putumayo | Vereda La Esmeralda | IAvH-R-9285 |
| Colombia | Putumayo | Vereda Monte Verde | IAvH-R-9146 |
| Colombia | Putumayo | Villa Garzón | Avila-Pires 1995 |
| Colombia | Putumayo | Villa Santa María | iNaturalist |
| Ecuador | Morona Santiago | Ashuara Village | Ortega-Andrade 2010 |
| Ecuador | Morona Santiago | Chiguaza | Avila-Pires 1995 |
| Ecuador | Morona Santiago | Comunidad Tiink | Torres-Carvajal et al. 2015 |
| Ecuador | Morona Santiago | Cordillera de Cutucú | Chaparro et al. 2011 |
| Ecuador | Morona Santiago | Cusuime | Ortega-Andrade 2010 |
| Ecuador | Morona Santiago | Huamboya, 9 km S of | MZUTI 5500 |
| Ecuador | Morona Santiago | Los Tayos | Avila-Pires 1995 |
| Ecuador | Morona Santiago | Parque Nacional Sangay | Brito & Almendariz 2013 |
| Ecuador | Morona Santiago | Puerto Morona, 5.3 km E of | Photo by Ernesto Arbeláez |
| Ecuador | Morona Santiago | Río Yuquipa | Ribeiro-Júnior and Amaral 2016 |
| Ecuador | Morona Santiago | Santiago de Tiwintza, 1.7 km W of | Torres-Carvajal et al. 2015 |
| Ecuador | Morona Santiago | Shuin Mamus | iNaturalist |
| Ecuador | Morona Santiago | Sinaí, 4 km S of | iNaturalist |
| Ecuador | Morona Santiago | Sucúa | Ribeiro-Júnior and Amaral 2016 |
| Ecuador | Morona Santiago | Suritiak | This work |
| Ecuador | Morona-Santiago | Miazal | USNM 196205 |
| Ecuador | Napo | Ahuano | Photo by Diego Piñán |
| Ecuador | Napo | Gareno Lodge | This work |
| Ecuador | Napo | Guagua Sumaco, on trail to rio Pinguyo waterfall | Torres-Carvajal et al. 2015 |
| Ecuador | Napo | Jatun Sacha Biological Reserve | This work |
| Ecuador | Napo | Misahuallí, 3 km W of | iNaturalist |
| Ecuador | Napo | Misahuallí, 6.5 km ESE of | Ribeiro-Júnior and Amaral 2016 |
| Ecuador | Napo | Misahuallí, 7.3 km E of | MCZ R-178333 |
| Ecuador | Napo | Narupa Reserve | This work |
| Ecuador | Napo | Ongota, 2.5 km S of | Doan & Lamar 2002 |
| Ecuador | Napo | Rio Hollín | Torres-Carvajal et al. 2015 |
| Ecuador | Napo | Sacha Lodge | This work |
| Ecuador | Napo | San Francisco | DHMECN 3452 |
| Ecuador | Napo | San Jose Viejo de Sumaco | Avila-Pires 1995 |
| Ecuador | Napo | Tena | Torres-Carvajal et al. 2015 |
| Ecuador | Napo | Tena, 1 km S of | Doan 2003 |
| Ecuador | Napo | Yachana Lodge | This work |
| Ecuador | Napo | Yachana Reserve | Whitworth & Beirne 2011 |
| Ecuador | Napo | Yarina Lodge | This work |
| Ecuador | Orellana | Ávila, 3.5 km S of | iNaturalist |
| Ecuador | Orellana | Bloque Edén Yuturi, 7 km SW of | iNaturalist |
| Ecuador | Orellana | Boanamo | This work |
| Ecuador | Orellana | Campo Edén Yuturi | Photo by Jorge Valencia |
| Ecuador | Orellana | Campo Yuca Sur | E&E Consulting 2012 |
| Ecuador | Orellana | Coca | Avila-Pires 1995 |
| Ecuador | Orellana | Dayuma | Torres-Carvajal et al. 2015 |
| Ecuador | Orellana | Edén | Torres-Carvajal et al. 2015 |
| Ecuador | Orellana | La Joya de los Sachas | DHMECN 6864 |
| Ecuador | Orellana | La Primavera | Torres-Carvajal et al. 2015 |
| Ecuador | Orellana | Loracachi | Torres-Carvajal et al. 2019 |
| Ecuador | Orellana | Loreto | Ribeiro-Júnior and Amaral 2016 |
| Ecuador | Orellana | Mandaripanga Lodge | This work |
| Ecuador | Orellana | Napo Wildlice Center | This work |
| Ecuador | Orellana | Nenke | DHMECN 3387 |
| Ecuador | Orellana | Nenkepare | This work |
| Ecuador | Orellana | Nueva Loja, 18 km S of | KU 148269 |
| Ecuador | Orellana | Nuevo Rocafuerte | iNaturalist |
| Ecuador | Orellana | Paushiyacu | Kingsbury et al. 2008 |
| Ecuador | Orellana | Pompeya–Iro road, km 108 | Torres-Carvajal et al. 2015 |
| Ecuador | Orellana | Río Yasuní, near Lake Jatuncocha | This work |
| Ecuador | Orellana | San José de Payamino | Maynard et al. 2017 |
| Ecuador | Orellana | Santa María de Huiririma | Torres-Carvajal et al. 2019 |
| Ecuador | Orellana | Shiripuno Lodge | Online multimedia |
| Ecuador | Orellana | Sinchichikta | Torres-Carvajal et al. 2015 |
| Ecuador | Orellana | Taracoa | Avila-Pires 1995 |
| Ecuador | Orellana | Tiputini Biodiversity Station | Cisneros-Heredia 2003 |
| Ecuador | Orellana | Yasuní National Park | iNaturalist |
| Ecuador | Orellana | Yasuní Scientific Station | Torres-Carvajal et al. 2015 |
| Ecuador | Pastaza | Arajuno, 8 km NW of | iNaturalist |
| Ecuador | Pastaza | Balsaura | Ortega-Andrade 2010 |
| Ecuador | Pastaza | Bobonaza | Torres-Carvajal et al. 2015 |
| Ecuador | Pastaza | Bosque Protector Pablo López de Oglán Alto | DHMECN 3091 |
| Ecuador | Pastaza | Cabeceras del Bobonaza, 2.5 km downstream from | USNM 193949 |
| Ecuador | Pastaza | Cabeceras del Río Bobonaza | This work |
| Ecuador | Pastaza | Campo K4 | Torres-Carvajal et al. 2015 |
| Ecuador | Pastaza | Campo Oglán | Torres-Carvajal et al. 2015 |
| Ecuador | Pastaza | Campo Villano B | Torres-Carvajal et al. 2015 |
| Ecuador | Pastaza | Campo Villano K10 | Torres-Carvajal et al. 2015 |
| Ecuador | Pastaza | Canelos* | Ortega-Andrade 2010 |
| Ecuador | Pastaza | Canelos, 6 km W of | Uzzell 1973 |
| Ecuador | Pastaza | Comunidad Campus | Torres-Carvajal et al. 2015 |
| Ecuador | Pastaza | Conambo | Ortega-Andrade 2010 |
| Ecuador | Pastaza | El Triunfo, 3 km NE of | Avila-Pires 1995 |
| Ecuador | Pastaza | Fátima | Avila-Pires 1995 |
| Ecuador | Pastaza | Finca Heimatlos | Photo by Ferhat Gundogdu |
| Ecuador | Pastaza | Huella Verde Lodge | Torres-Carvajal et al. 2015 |
| Ecuador | Pastaza | Indichuris | USNM 193952 |
| Ecuador | Pastaza | Jatun Yaku | Torres-Carvajal et al. 2015 |
| Ecuador | Pastaza | Juyuintza | Ortega-Andrade 2010 |
| Ecuador | Pastaza | Kurintza | Ortega-Andrade 2010 |
| Ecuador | Pastaza | Mera | Uzzell 1973 |
| Ecuador | Pastaza | Mera, 3 km N of | iNaturalist |
| Ecuador | Pastaza | Mera, 3.9 km N of | iNaturalist |
| Ecuador | Pastaza | Montalvo | Ortega-Andrade 2010 |
| Ecuador | Pastaza | Mouth of Río Shione | Ribeiro-Júnior and Amaral 2016 |
| Ecuador | Pastaza | Murialdo | iNaturalist |
| Ecuador | Pastaza | Nuevo Golandrinas | USNM 321105 |
| Ecuador | Pastaza | Puka Yaku | Torres-Carvajal et al. 2015 |
| Ecuador | Pastaza | Puyo, 1 km N of | iNaturalist |
| Ecuador | Pastaza | Puyo, 2.5 km SE of | USNM 193948 |
| Ecuador | Pastaza | Río Alpayacu | Doan 2003 |
| Ecuador | Pastaza | Río Arajuno, headwaters of | USNM 196211 |
| Ecuador | Pastaza | Río Conambo | USNM 193953 |
| Ecuador | Pastaza | Río Corrientes | Ribeiro-Júnior and Amaral 2016 |
| Ecuador | Pastaza | Sarayacu | Uzzell 1973 |
| Ecuador | Pastaza | Sumak Kawsay In Situ | Bentley et al. 2021 |
| Ecuador | Pastaza | Tinajas del Río Anzu | iNaturalist |
| Ecuador | Pastaza | Tzarentza | This work |
| Ecuador | Pastaza | Veracruz | Uzzell 1973 |
| Ecuador | Pastaza | Villano | This work |
| Ecuador | Sucumbios | Güeppicillo | Yánez-Muñoz & Venegas 2008 |
| Ecuador | Sucumbíos | Aguas Negras River Lodge | This work |
| Ecuador | Sucumbíos | Borboroé | DHMECN 4091 |
| Ecuador | Sucumbíos | Cooperativa la Balsareña | DHMECN 7501 |
| Ecuador | Sucumbíos | Cuyabeno Reserve | Bursey and Goldberg 2004 |
| Ecuador | Sucumbíos | Estación Amazonas OCP | Valencia & Garzón 2011 |
| Ecuador | Sucumbíos | La Balsareña | iNaturalist |
| Ecuador | Sucumbíos | La Selva Lodge | Torres-Carvajal et al. 2015 |
| Ecuador | Sucumbíos | Lago Agrio | Duellman 1978 |
| Ecuador | Sucumbíos | Limoncocha Biological Reserve | Uzzell 1973 |
| Ecuador | Sucumbíos | Napo Wildlife Center | This work |
| Ecuador | Sucumbíos | NWC clay lick | This work |
| Ecuador | Sucumbíos | Pitsorie-Setsacco | DHMECN 4090 |
| Ecuador | Sucumbíos | Pozo Jivino B | DHMECN 3612 |
| Ecuador | Sucumbíos | Puerto Libre | Duellman 1978 |
| Ecuador | Sucumbíos | Putumayo, trail to Cabo Minacho | DHMECN 1621 |
| Ecuador | Sucumbíos | Reserva Cofán Dureno | iNaturalist |
| Ecuador | Sucumbíos | Reserva Ecologica Cofán Bermejo | DHMECN 8301 |
| Ecuador | Sucumbíos | Río Singue | DHMECN 7964 |
| Ecuador | Sucumbíos | Sacha Lodge | iNaturalist |
| Ecuador | Sucumbíos | San Pablo Kantesiya | Avila-Pires 1995 |
| Ecuador | Sucumbíos | Sani Lodge | This work |
| Ecuador | Sucumbíos | Santa Cecilia | Avila-Pires 1995 |
| Ecuador | Sucumbíos | Santa Elena | DHMECN 7793 |
| Ecuador | Sucumbíos | Sector Blanca A | DHMECN 8338 |
| Ecuador | Sucumbíos | Shushufindi, 4 km N of | iNaturalist |
| Ecuador | Sucumbíos | Totoa Naiqui | DHMECN 4093 |
| Ecuador | Sucumbíos | Zábalo | Torres-Carvajal et al. 2015 |
| Peru | Amazonas | Caterpiza | USNM 334922 |
| Peru | Amazonas | Huampami | MVZ 199528 |
| Peru | Amazonas | La Poza | USNM 568740 |
| Peru | Amazonas | Paagat | USNM 316898 |
| Peru | Amazonas | Shiringa | USNM 568749 |
| Peru | Loreto | Aguas Negras | Yánez-Muñoz & Venegas 2008 |
| Peru | Loreto | Campo Andoas | Valqui Schult 2015 |
| Peru | Loreto | Güeppi-Sekime National Park | Yánez-Muñoz & Venegas 2008 |
| Peru | Loreto | Güeppi, 5.6 km SE of | SERFOR |
| Peru | Loreto | Paiche Playa, 12.5 km NW of | SERFOR |
| Peru | Loreto | Paiche Playa, 21 km W of | SERFOR |
| Peru | Loreto | Redondococha | Yánez-Muñoz & Venegas 2008 |