| | |
| --- | --- |
| Published December 5, 2021. Updated November 20, 2023. Open access. | Gallery ❯ |
Elegant Eyed-Lizard (Cercosaura argulus)
Reptiles of Ecuador | Sauria | Gymnophthalmidae | Cercosaura | Cercosaura argulus
English common name: Elegant Eyed-Lizard.
Spanish common names: Lagartija colilarga elegante, lagartija rayada brillante.
Recognition: ♂♂ 14.6 cmMaximum distance from the snout to the tip of the tail. Snout–vent length=4.8 cm. ♀♀ 14 cmMaximum distance from the snout to the tip of the tail. Snout–vent length=4.1 cm..1,2 Species in the genus Cercosaura differ from other similar-sized leaf-litter lizards (particularly those in the genera Anadia, Alopoglossus, Arthrosaura, and Loxopholis) by having keeled and imbricate dorsal scales arranged in rows and scales on flanks smaller than dorsals.1,3 Cercosaura argulus is often confused with C. oshaughnessyi, from which it differs by having scales on flanks moderately (rather than distinctly) smaller than dorsals and arranged in 4–7 (rather than 8–12) rows.1–5 The absence of a femoral pore in the preanal position and rows of femoral pores separated medially by four (instead of two) ventral scales further separate C. argulus from C. oshaughnessyi.1,5 Cercosaura argulus differs from C. manicata by having brown to reddish flanks with black ocelli and two frontonasal scales (uniform dark brown flanks and a single undivided frontonasal scale in C. manicata).1–7 Males of C. argulus differ from females by being more brightly colored, with striking red flanks and well-defined ocelli (Fig. 1), and having 12–20 (instead of 2–6) femoral pores.1,6,7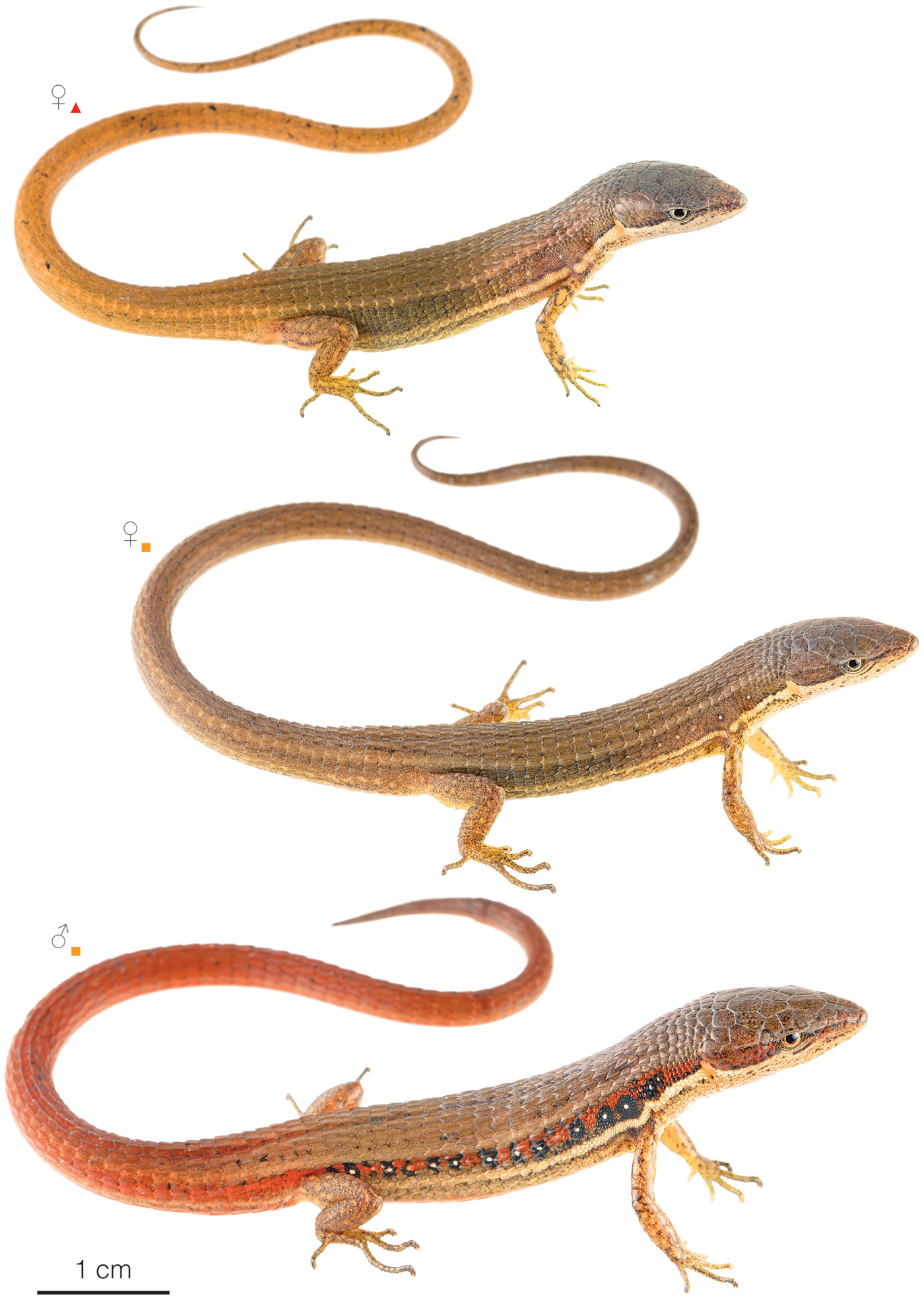 Figure 1: Individuals of Cercosaura argulus from Líbano () and Ibagué (), Tolima department, Colombia.
Natural history: Cercosaura argulus is a rare species, about nine times less likely to be seen than C. oshaughnessyi in areas where both lizards co-occur. This species inhabits old growth to moderately disturbed rainforests, which may be terra-firme,8 seasonally flooded,1 or dominated by swamps.9 It also occurs in clearings,10 pastures with scattered trees,11 banana groves,10 rural gardens12 and inside houses.13 Elegant Eyed-Lizards are semi-arboreal and less terrestrial than C. oshaughnessyi.14 They forage actively in shady areas,8 either in leaf-litter on the forest floor,1,15,16 or on shrubby vegetation, vines,8 logs, and tree trunks up to about 10 m above the ground1,9,16 and probably all the way up to the canopy. Individuals have also be seen crossing dirt roads.1 These lizards are active during sunny and cloudy conditions.14 At night, they sleep in leaf-litter,11,16 under piles of debris,11 or perched on leaves.17 The diet of C. argulus is composed primarily of insect larvae and roaches.14 It also includes at least other 13 prey item categories, from spiders8 and ants to mollusks and millepedes.14 Members of this species may host nematodes as internal parasites.18,19 One female collected in Peru had two oviductal eggs,8 but the real clutch size is not known.
Conservation: Least Concern Believed to be safe from extinction given current circumstances..10,20,21 Cercosaura argulus is included in this category primarily because the species has a wide distribution.22 Although rare, the scarcity of records is believed to be an object of sampling caused by the species' arboreal habits.10,16 In Brazil, about 50% of the occurrence area of C. argulus is within protected areas and about 87% of its habitat is still forested.22 In Ecuador,23 these figures are closer to 23% and 89%, respectively.
Distribution: Cercosaura argulus is native to an estimated 1,926,782 km2 area throughout the Amazon basin in Brazil, Colombia, Ecuador (Fig. 2), Guyana, Peru, and Suriname. The species also occurs west of the Andes in the drainages of the rivers Magadalena and Cauca, Colombia.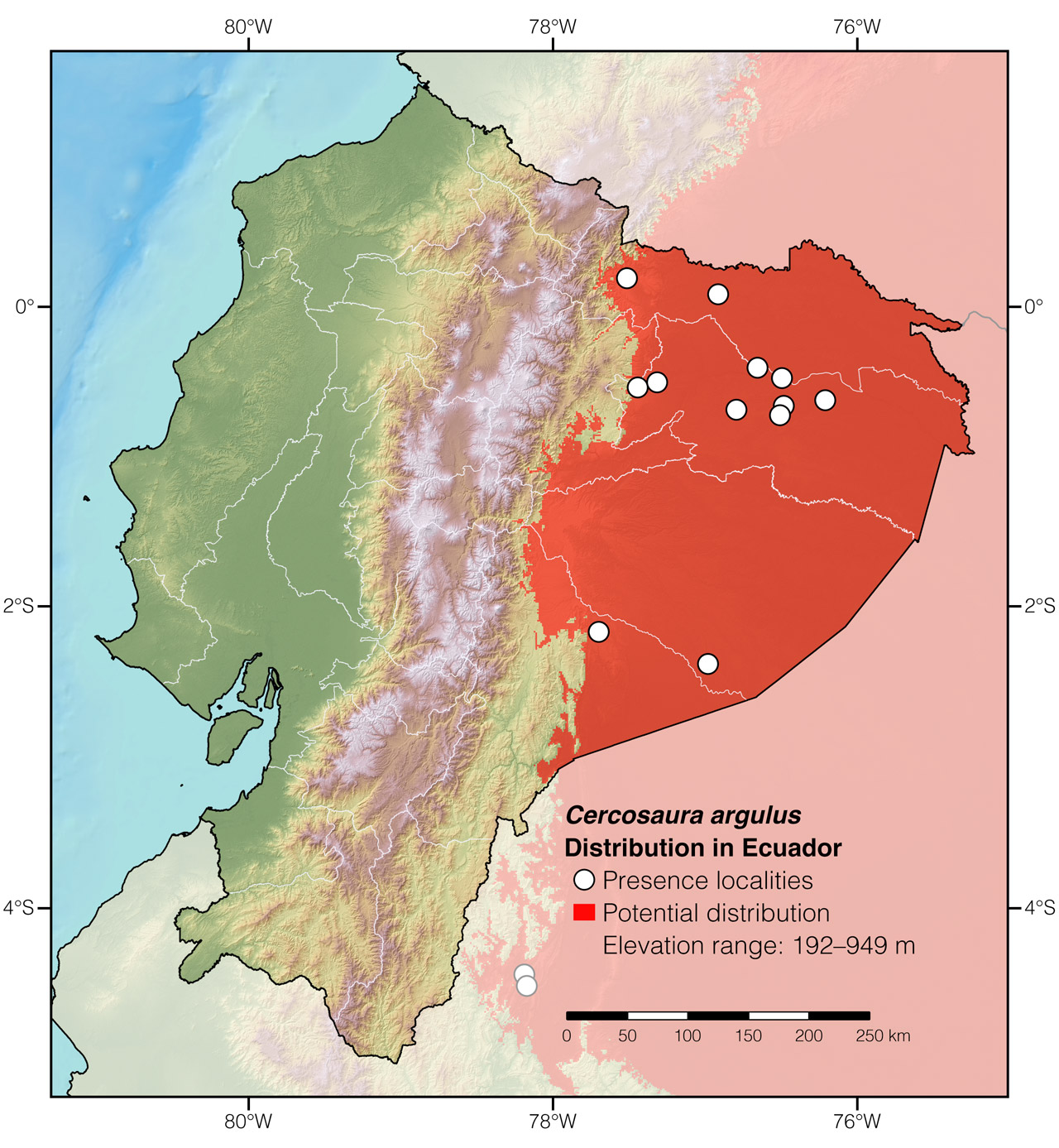 Figure 2: Distribution of Cercosaura argulus in Ecuador. The type locality is around Santa Fe de Bogotá, Colombia. See Appendix 1 for a complete list of the presence localities included in the map.
Etymology: The generic name Cercosaura, which comes from the Greek words kerkos (=tail) and saura (=lizard),24 probably refers to the long tail.25 The specific epithet argulus is a diminutive of the Greek word argos (=bright).24 It refers to the clear ocelli along the flanks.26
See it in the wild: Cercosaura argulus is a rare species that cannot be expected to be seen reliably in Ecuador, especially given its arboreal habits. Most recent observations in this country come from Yasuní National Park. Probably the best way to find lizards of this species is by scanning arboreal vegetation in well-preserved rainforest during sunny days, although some individuals have been taken using pitfall traps in Brazil.27
Authors: Amanda QuezadaaAffiliation: Tropical Herping (TH), Quito, Ecuador.,bAffiliation: Laboratorio de Herpetología, Universidad del Azuay, Cuenca, Ecuador. and Alejandro ArteagacAffiliation: Khamai Foundation, Quito, Ecuador.
Photographer: Jose Vieira,aAffiliation: Tropical Herping (TH), Quito, Ecuador.,dAffiliation: ExSitu, Quito, Ecuador.
How to cite? Quezada A, Arteaga A (2023) Elegant Eyed-Lizard (Cercosaura argulus). In: Arteaga A, Bustamante L, Vieira J, Guayasamin JM (Eds) Reptiles of Ecuador: Life in the middle of the world. Available from: www.reptilesofecuador.com. DOI: 10.47051/RVQF3096
Literature cited:
Appendix 1: Locality data used to create the distribution map of Cercosaura argulus in Ecuador (Fig. 2). Go to the section on symbols and abbreviations for a list of acronyms used.
| | | | |
| --- | --- | --- | --- |
| Country | Province | Locality | Source |
| Ecuador | Morona Santiago | Quebrada Pampants | Torres-Carvajal et al. 2019 |
| Ecuador | Napo | Lago Agrio | Avila-Pires 1995 |
| Ecuador | Napo | San Jose Viejo de Sumaco | Avila-Pires 1995 |
| Ecuador | Orellana | Campo SPF | Torres-Carvajal et al. 2015 |
| Ecuador | Orellana | Pompeya–Iro road, km 49 | Torres-Carvajal et al. 2015 |
| Ecuador | Orellana | San José de Payamino | Maynard et al. 2017 |
| Ecuador | Orellana | Tiputini Biodiversity Station | Cisneros-Heredia 2003 |
| Ecuador | Orellana | Yarina Lodge | This work |
| Ecuador | Pastaza | Río Capahuari | Avila-Pires 1995 |
| Ecuador | Sucumbíos | Lago Agrio | iNaturalist |
| Ecuador | Sucumbíos | Limoncocha Biological Reserve | iNaturalist |
| Ecuador | Sucumbíos | Puerto Libre | Avila-Pires 1995 |
| Ecuador | Sucumbíos | Sacha Lodge | iNaturalist |
| Peru | Amazonas | Caterpiza | Avila-Pires 1995 |
| Peru | Amazonas | Huampami | Avila-Pires 1995 |
| Peru | Amazonas | Kayamas | Avila-Pires 1995 |
| Peru | Amazonas | San Antonio, Río Cenepa | Avila-Pires 1995 |
| Peru | Amazonas | Shiringa | Avila-Pires 1995 |