| | |
| --- | --- |
| Published June 6, 2022. Open access. | Gallery ❯ |
Mountain Shade-Lizard (Alopoglossus buckleyi)
Reptiles of Ecuador | Sauria | Alopoglossidae | Alopoglossus buckleyi
English common names: Mountain Shade-Lizard, Buckley's Shade-Lizard, Buckley's Teiid.
Spanish common names: Lagartija sombría de montaña, lagartija sombría de Buckley.
Recognition: ♂♂ 15.9 cmMaximum distance from the snout to the tip of the tail. Snout–vent length=6.8 cm. ♀♀ 13.9 cmMaximum distance from the snout to the tip of the tail. Snout–vent length=6.0 cm.. The Buckley's Shade-Lizard (Alopoglossus buckleyi) is a small, brownish lizard that can be distinguished from other Amazonian leaf-litter lizards by having strongly keeled dorsal scales arranged in oblique rows on the dorsum and arms1,2 and by the absence of occipital and postparietal scales.3 Within its distribution area, A. buckleyi is often confused with A. atriventris, A. carinicaudatus, and A. copii, from which it differs by having granular neck scales, smooth ventral scales,4–6 and smooth head scales.7,8 Alopoglossus buckleyi differs from Loxopholis parietalis by its larger size, lack of red ventral coloration in adult males, and parietal scales not forming a semicircle.4,9 Adult males of the Mountain Shade-Lizard can be differentiated from adult females by having a black belly (light cream in females).10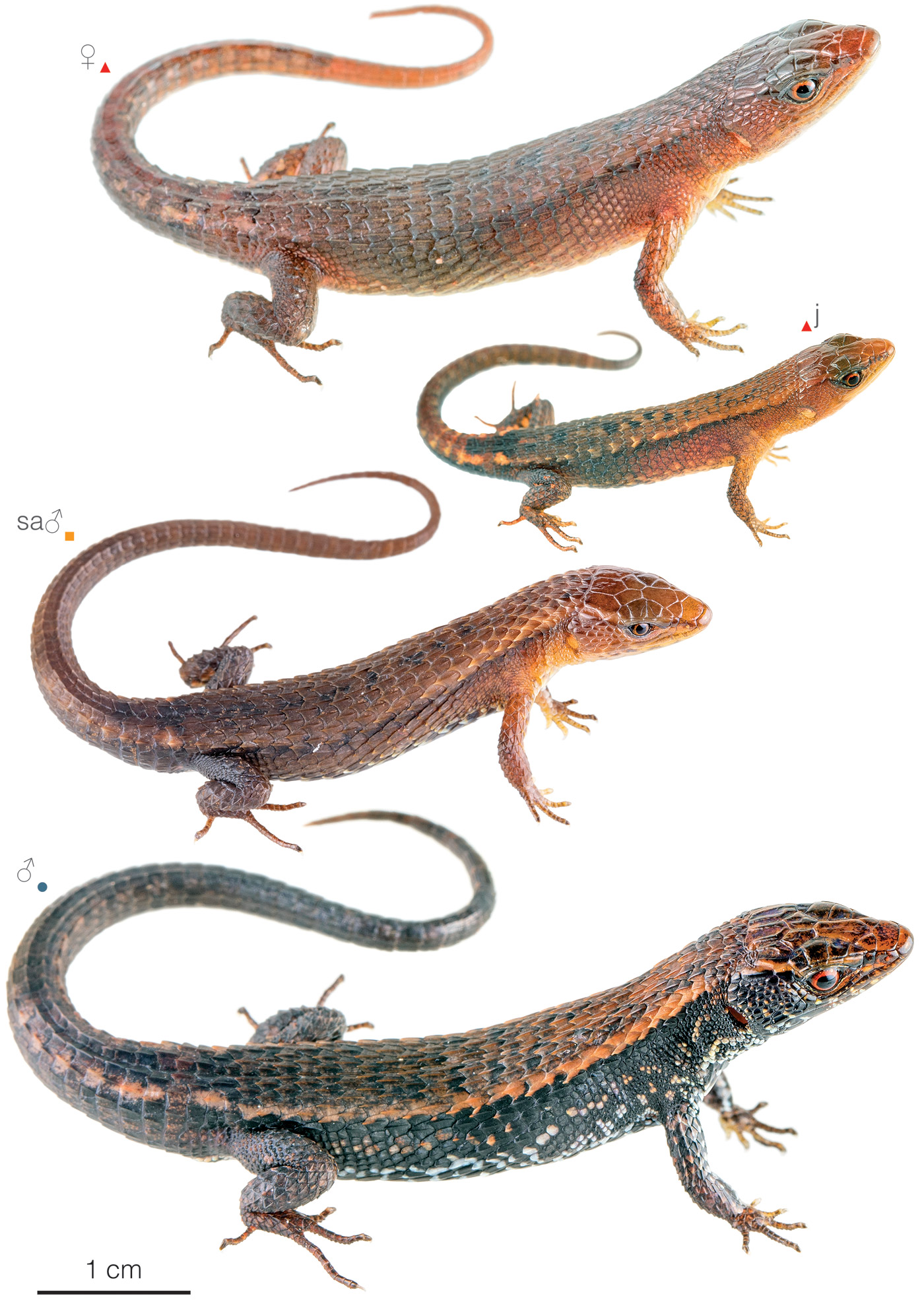 Figure 1: Individuals of Alopoglossus buckleyi from Tzarentza, Pastaza province (); San Pedro, Tungurahua province (); and Cabeceras del Bobonaza, Pastaza province (); Ecuador. j=juvenile.
Natural history: Alopoglossus buckleyi is a frequentlyRecorded weekly in densities below five individuals per locality. encountered lizard that inhabits old-growth to moderately disturbed lowland and foothill rainforests and cloud forests11,12 as well as pastures and plantations adjacent to these forests.11 Mountain Shade-Lizards are diurnal and terrestrial.4,6 During warm sunny days, they forage among leaf-litter4,11 in shaded or partially shaded spots at ground level or on roots up to 20 cm above the ground.11 They may also be seen crossing trails in logged forests.4 During cloudy days and at night, individuals have been found hidden under leaf-litter, logs, rocks, in dirt walls, at the base of dense tall grass, or inside bromeliads.6,11 As a defense mechanism, Mountain Shade-Lizards tend to flee into the leaf-litter or under roots.13 If captured, they can shed the tail or bite.11 The snake Xenoxybelis argenteus is confirmed as predator of A. buckleyi.14
Conservation: Least Concern Believed to be safe from extinction given current circumstances..15,16 Alopoglossus buckleyi is included in this category mainly on the basis of the species' wide distribution, presence in protected areas, and presumed large stable populations.15 Thus, the species is considered to be facing no major immediate extinction threats. However, some populations are in areas experiencing forest fires and deforestation caused by large-scale mining and the expansion of the agricultural frontier.17,18
Distribution: Alopoglossus buckleyi is native to the upper Amazon basin and adjacent foothills of the Andes in Brazil, Colombia, Ecuador, and Peru.18 The species has been recorded at elevations between 213 m and 2099 m (Fig. 2).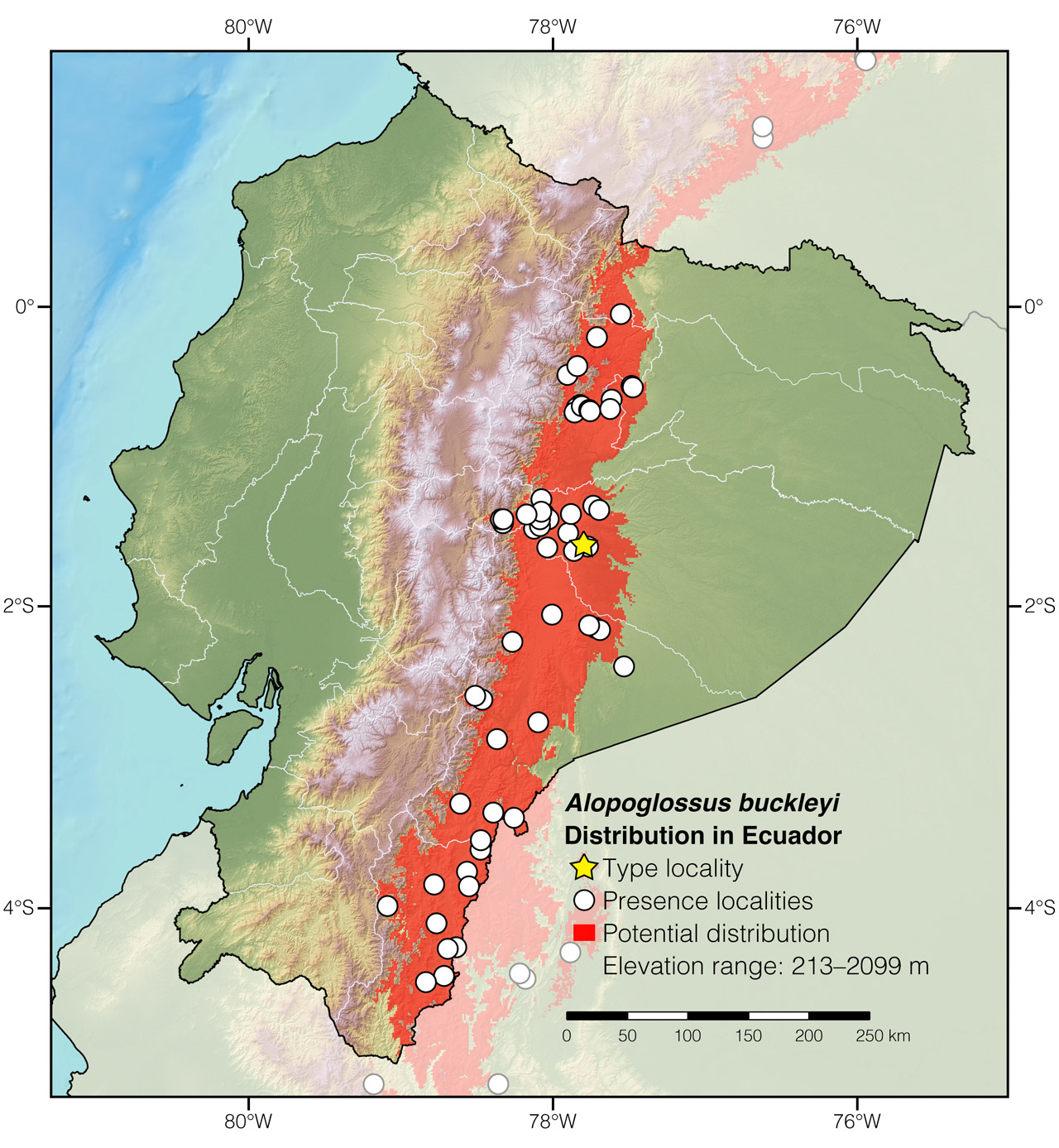 Figure 2: Distribution of Alopoglossus buckleyi in Ecuador. The star corresponds to the type locality: Canelos. See Appendix 1 for a complete list of the presence localities included in the map.
Etymology: The generic name Alopoglossus, which is derived from the Greeks words alopekia (meaning "bare") and glossa (meaning "tongue"),19 refers to the tongue of lizards of this genus, which lacks scale-like papillae.1,20 The specific epithet buckleyi honors Mr. Clarence Buckley (1832–1885), an English naturalist and explorer who collected the type series of the species.21,22
See it in the wild: Mountain Shade-Lizards can be seen with relative ease in forested areas throughout the species' area of distribution in Ecuador. These shy reptiles may be spotted during the daytime by scanning the leaf-litter in areas of filtered sunlight reaching the forest floor. At night, they may be located by searching under plant matter or under rocks and logs. In Ecuador, some of the best places to observe Mountain Shade-Lizards are Wildsumaco Wildlife Sanctuary, Narupa Reserve, and Río Anzu Reserve.
Acknowledgments: Thanks to Katherine Cano for helping compile some of the information used in this account.
Special thanks to Shelli Nelligan-Anderson for symbolically adopting the Mountain Shade-Lizard and helping bring the Reptiles of Ecuador book project to life.
Click here to adopt a species.
Author and photographer: Jose VieiraaAffiliation: Tropical Herping (TH), Quito, Ecuador.,bAffiliation: ExSitu, Quito, Ecuador.
Editor: Alejandro ArteagacAffiliation: Khamai Foundation, Quito, Ecuador.
How to cite? Vieira J (2022) Mountain Shade-Lizard (Alopoglossus buckleyi). In: Arteaga A, Bustamante L, Vieira J, Guayasamin JM (Eds) Reptiles of Ecuador: Life in the middle of the world. Available from: www.reptilesofecuador.com. DOI: 10.47051/YVFD8181
Literature cited:
Harris DM (1994) Review of the teiid lizard genus Ptychoglossus. Herpetological Monographs 8: 226–275. DOI: 10.2307/1467082
Ribeiro-Júnior MA, Choueri E, Lobos S, Venegas P, Torres-Carvajal O, Werneck F (2020) Eight in one: morphological and molecular analyses reveal cryptic diversity in Amazonian alopoglossid lizards (Squamata: Gymnophthalmoidea). Zoological Journal of the Linnean Society 190: 227–270. DOI: 10.1093/zoolinnean/zlz155
Avila-Pires TCS (1995) Lizards of Brazilian Amazonia (Reptilia: Squamata). Zoologische Verhandelingen 299: 1–706.
Köhler G, Hans-Helmut D, Veselý M (2012) A contribution to the knowledge of the lizard genus Alopoglossus (Squamata: Gymnophthalmidae). Herpetological Monographs 26: 173–188. DOI: 10.1655/HERPMONOGRAPHS-D-10-00011.1
Camper JD, Torres-Carvajal O, Ron SR, Nilsson J, Arteaga A, Knowles TW, Arbogast BS (2021) Amphibians and reptiles of Wildsumaco Wildlife Sanctuary, Napo Province, Ecuador. Check List 17: 729–751.
Duellman WE (1978) The biology of an equatorial herpetofauna in Amazonian Ecuador. Publications of the Museum of Natural History, University of Kansas 65: 1–352.
Duellman WE (1973) Descriptions of new lizards from the upper Amazon basin. Herpetologica 29: 228–231.
Vitt LJ, De la Torre S (1996) A research guide to the lizards of Cuyabeno. Pontificia Universidad Católica del Ecuador, Quito, 165 pp.
Ruibal R (1952) Revisionary studies of some South American Teiidae. Bulletin of the Museum of Comparative Zoology 106: 475–529.
Almendáriz A (1987) Contribución al conocimiento de la herpetofauna centroriental Ecuatoriana. Revista Politécnica 12: 77–133.
Freile J, Moscoso P, Félix C (2010) La magia de los tepuyes del Nangaritza: una guía para conocer a sus habitantes. Conservación Internacional Ecuador, Quito, 68 pp.
Gasc JP (1977) Liste commentée de lézards capturés en Amazonie colombienne. Bulletin de la Societé Herpétologique de France 102: 267–276.
Calderón M, Perez P, Avila-Pires TCS, Aparicio J, Moravec J (2016) Alopoglossus buckleyi. The IUCN red list of threatened species. Available from: www.iucnredlist.org. DOI: 10.2305/IUCN.UK.2016-1.RLTS.T44578087A44578096.en
Reyes-Puig C (2015) Un método integrativo para evaluar el estado de conservación de las especies y su aplicación a los reptiles del Ecuador. MSc thesis, Pontificia Universidad Católica del Ecuador, 73 pp.
Malhi Y, Roberts JT, Betts RA, Killeen TJ, Li W, Nobre CA (2008) Climate change, deforestation, and the fate of the Amazon. Science 319: 169–172. DOI: 10.1126/science.1146961
Pereira AAA, Guerra V, Barbosa MS, Corrêa F (2021) Distribution extension of Alopoglossus buckleyi (O'Shaughnessy, 1881) (Squamata: Alopoglossidae). Brazilian Journal of Biology 81: 842–844. DOI: 10.1590/1519-6984.231235
Boulenger GA (1885) Catalogue of the lizards in the British Museum. Taylor & Francis, London, 497 pp.
O'Shaughnessy AWE (1881) An account of the collection of lizards made by Mr. Buckley in Ecuador, and now in the British Museum, with descritions of the new species. Proceedings of the Zoological Society of London 49: 227–245.
Appendix 1: Locality data used to create the distribution map of Alopoglossus buckleyi in Ecuador (Fig. 2). Go to the section on symbols and abbreviations for a list of acronyms used. Asterisk (*) indicates type locality.
| | | | |
| --- | --- | --- | --- |
| Country | Province | Locality | Source |
| Colombia | Caquetá | Cerro Aguacate | Gutiérrez-Lamus et al. 2020 |
| Colombia | Caquetá | Faldas del Cerro El Aguacate | SINCHI-R 995 |
| Colombia | Cauca | Serranía de los Churumbelos | Hernández-Morales et al. 2020 |
| Colombia | Putumayo | Finca Mariposa | Hernández-Morales et al. 2020 |
| Ecuador | Morona Santiago | 9 de Octubre | Tipantiza-Tuguminago et al. 2021 |
| Ecuador | Morona Santiago | Arutam | Köhler et al. 2012 |
| Ecuador | Morona Santiago | Cabeceras del Río Piuntza | Köhler et al. 2012 |
| Ecuador | Morona Santiago | Campamento Sopladora | MZUA.Re.0232 |
| Ecuador | Morona Santiago | Chiguaza | Hernández-Morales et al. 2020 |
| Ecuador | Morona Santiago | Destacamento Militar Coangos | Köhler et al. 2012 |
| Ecuador | Morona Santiago | Guarumales | MZUA.Re.0033 |
| Ecuador | Morona Santiago | Region between Río Pastaza and Río Santiago | Ribeiro-Júnior & Amaral 2016 |
| Ecuador | Morona Santiago | Reserva Ecológica El Paraíso | This work |
| Ecuador | Morona Santiago | Taisha | Hernández-Morales et al. 2020 |
| Ecuador | Morona Santiago | Trail between Logroño and Yaupi | Köhler et al. 2012 |
| Ecuador | Morona Santiago | Villa Ashuara | Ortega-Andrade 2010 |
| Ecuador | Morona Santiago | Wisui | Chaparro et al. 2011 |
| Ecuador | Napo | Baeza | MCZ 166538 |
| Ecuador | Napo | Cocodrilos | This work |
| Ecuador | Napo | Cordillera de Guacamayos | Köhler et al. 2012 |
| Ecuador | Napo | Estación de bombeo El Salado | Köhler et al. 2012 |
| Ecuador | Napo | Jondachi, 3.5 km W of | iNaturalist |
| Ecuador | Napo | Narupa Reserve, higher trails | This work |
| Ecuador | Napo | Narupa Reserve, lower trails | This work |
| Ecuador | Napo | Refugio Mirador, Sumaco | This work |
| Ecuador | Napo | Río Quijos Ecolodge | This work |
| Ecuador | Napo | Vía Hollín–Loreto, km 13 | Avila-Pires 1995 |
| Ecuador | Napo | Wildsumaco Wildlife Sanctuary | Camper et al. 2021 |
| Ecuador | Orellana | Cantón Loreto | Hernández-Morales et al. 2020 |
| Ecuador | Orellana | Río Bigal Biological Reserve | Photo by Thierry García |
| Ecuador | Pastaza | Bosque Protector Pablo López de Oglán Alto | DHMECN 3091 |
| Ecuador | Pastaza | Cabeceras del Bobonaza | This work |
| Ecuador | Pastaza | Campo Oglán | Torres-Carvajal et al. 2019 |
| Ecuador | Pastaza | Canelos* | O'Shaughnessy 1881 |
| Ecuador | Pastaza | Cavernas del Anzu | iNaturalist |
| Ecuador | Pastaza | Centro Ecológico Zanja Arajuno | This work |
| Ecuador | Pastaza | Comunidad Ingaru | Torres-Carvajal. 2014 |
| Ecuador | Pastaza | Finca de Peter Archer | Photo by Yatin Kalki |
| Ecuador | Pastaza | Finca Heimatlos | Photo by Ferhat Gundogdu |
| Ecuador | Pastaza | Mera | iNaturalist |
| Ecuador | Pastaza | Puyo, 8 km N of | iNaturalist |
| Ecuador | Pastaza | Río Alpayacu | Köhler et al. 2012 |
| Ecuador | Pastaza | Río Anzu Reserve | MECN 2013 |
| Ecuador | Pastaza | Santana | Köhler et al. 2012 |
| Ecuador | Pastaza | Shell, 5 km N of | iNaturalist |
| Ecuador | Pastaza | Tinajas del Río Anzu | iNaturalist |
| Ecuador | Pastaza | Tzarentza | This work |
| Ecuador | Sucumbíos | El Reventador | Ribeiro-Júnior & Amaral 2016 |
| Ecuador | Tungurahua | Reserva La Candelaria | This work |
| Ecuador | Tungurahua | Reserva Río Zuñac | DHMECN 5126 |
| Ecuador | Tungurahua | San Pedro | This work |
| Ecuador | Tungurahua | Trail to Reserva La Candelaria | This work |
| Ecuador | Zamora Chinchipe | Bosque Protector del Alto Nangaritza | Guayasamin et al. 2011 |
| Ecuador | Zamora Chinchipe | Ciudad Perdida | iNaturalist |
| Ecuador | Zamora Chinchipe | Concesión Colibrí | DHMECN 8484 |
| Ecuador | Zamora Chinchipe | Estación Científica San Francisco | MZUA.Re.0131 |
| Ecuador | Zamora Chinchipe | Guayzimi alto | This work |
| Ecuador | Zamora Chinchipe | Miazi Alto | This work |
| Ecuador | Zamora Chinchipe | Reserva Forestal El Zarza | iNaturalist |
| Ecuador | Zamora Chinchipe | Subcuenca del Río Tundayme | Betancourt et al. 2018 |
| Ecuador | Zamora Chinchipe | Tepuy Las Orquídeas | This work |
| Ecuador | Zamora Chinchipe | Valle del Quimi | Betancourt et al. 2018 |
| Ecuador | Zamora Chinchipe | Yantzaza | Online multimedia |
| Peru | Amazonas | Chiriaco, 20 km SW of | LSUMZ 32580 |
| Peru | Amazonas | Huampami | Hernández-Morales et al. 2020 |
| Peru | Amazonas | Kagka | Hernández-Morales et al. 2020 |
| Peru | Amazonas | Pais | Hernández-Morales et al. 2020 |
| Peru | Amazonas | Puerto Galilea | Hernández-Morales et al. 2020 |
| Peru | Amazonas | Shiringa | Hernández-Morales et al. 2020 |
| Peru | Amazonas | Teniente López, 1.5 km N of | Köhler et al. 2012 |
| Peru | Cajamarca | Santuario Nacional Tabaconas Namballe | Köhler et al. 2012 |