Red-throated Dwarf-Iguana
Reptiles of Ecuador | Sauria | Hoplocercidae | Enyalioides rubrigularis
Spanish common name: Iguana enana gargantirroja.
Recognition: ♂♂ 32.5 cm ♀♀ 29.8 cm. In eastern Ecuador, Enyalioides rubrigularis is the only dwarf iguana (genus Enyalioides) distributed south of the Santiago river occurring above 800 m and having a dorsolateral row of enlarged spiny scales. The most similar species are E. praestabilis, which occurs north of the Santiago river, and E. microlepis, which occurs below 800 m.
Picture: Adult male.
Picture: Adult male.
Picture: Subadult male.
Natural history: Common. Enyalioides rubrigularis is a diurnal sunlight-loving terrestrial to semiarboreal lizard that sleeps perched on ferns or stems 1–2.5 m above the ground during the night.1–3 It occurs in primary and secondary evergreen forests.1,3 This species avoids predators by running suddenly under holes in the ground.1,3 If captured, this aggressive lizard can inflict a painful prolonged bite.1 Females of E. rubrigularis containing 3–4 eggs have been found.2
Conservation: Vulnerable. We consider Enyalioides rubrigularis to be in this category following IUCN criteria4 because, although it occurs in 26 localities including protected areas, its extent of occurrence is estimated to be less than 10,000 km2 and its habitat is threatened by large scale mining concessions.
Distribution: Amazonian slopes of the Andes in Ecuador and probably Peru.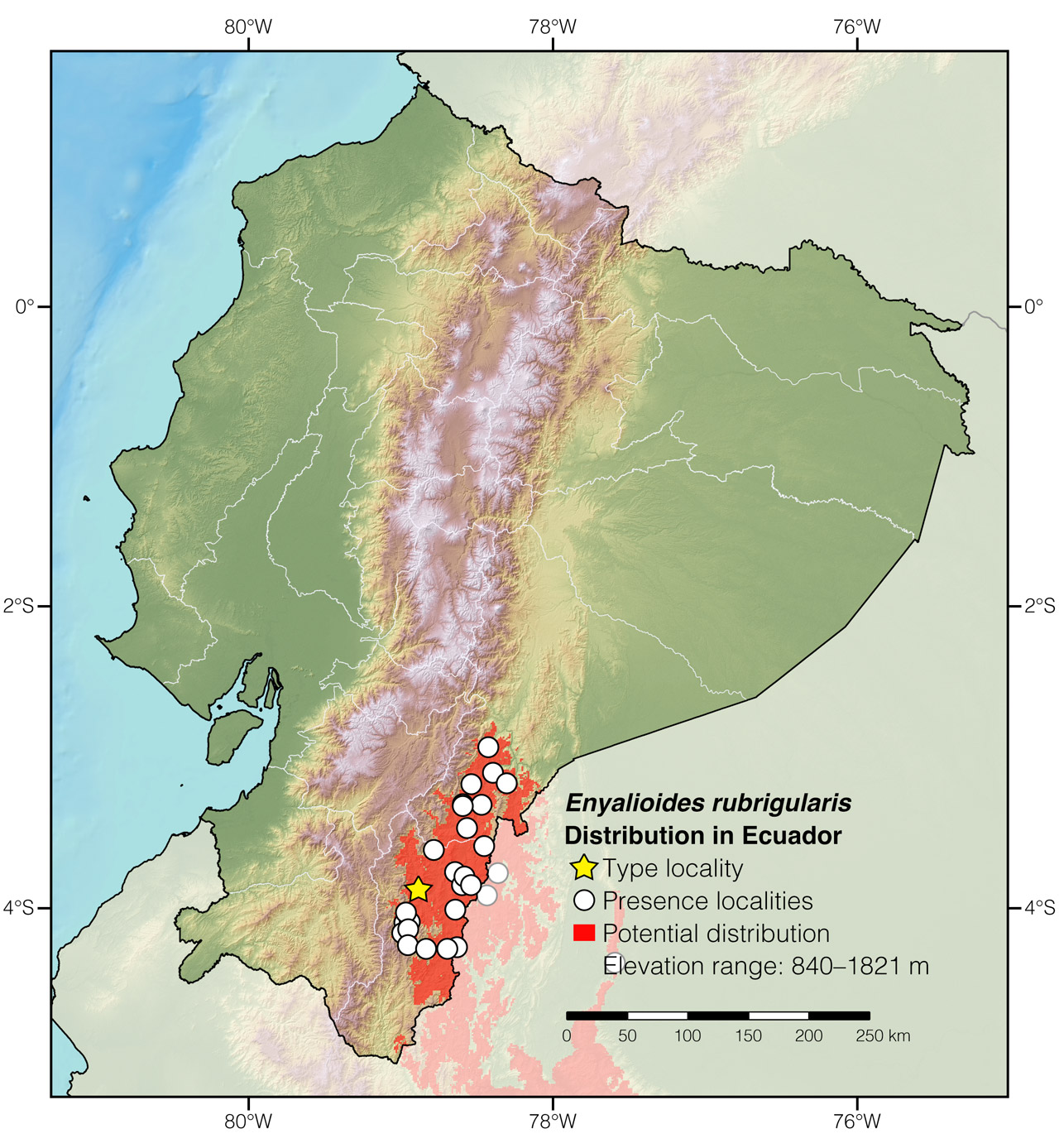 Etymology: The generic name Enyalioides, which comes from the Latin words Enyalius (a genus of neotropical lizards) and oides (meaning "similar to"), refers to the similarity between lizards of the two genera.5 The specific epithet rubrigularis, which comes from the Latin words ruber (meaning "red") and gula (meaning "throat"), refers to the characteristic reddish throat of adult males in this species.3
Special thanks to Ishita Das for symbolically adopting the Red-throated Dwarf-Iguana and helping bring the Reptiles of Ecuador book project to life.
Click here to adopt a species.
Authors: Alejandro ArteagaaAffiliation: Khamai Foundation, Quito, Ecuador. and Gabriela Aguiar.
Literature cited: