| | |
| --- | --- |
| Oswaldo Báez' Snail-Eater | |
Reptiles of Ecuador | Serpentes | Colubridae | Dipsas | Dipsas oswaldobaezi
English common names: Oswaldo Báez' Snail-Eater.
Spanish common names: Caracolera de Oswaldo Báez.
Recognition: ♂♂ 46.2 cm ♀♀ 55 cm. In its area of distribution, the Oswaldo Báez' Snail-Eater (Dipsas oswaldobaezi) can be identified based on its light brown dorsum with 55–63 drab to brown black-edged middorsal blotches that, in the first one-third of the body, form complete "saddles" that reach the ventral scales.1 The Mountain Snail-Eater (D. oreas) and the Tumbesian Cat-eyed Snake (Leptodeira larcorum) are similar, but in the former, the blotches are narrower near the top of the dorsum (not like "saddles"), and the latter has blotches that do not reach the ventral scales.
Picture: Adult from La Ceiba Reserve, Loja, Ecuador.
Natural history: Extremely rare. Dipsas oswaldobaezi is a crepuscular and nocturnal snake that inhabits deciduous and semideciduous lowland to lower montane forests, dry lowland shrublands, pastures, and rural gardens.1 During the night, Oswaldo Báez' Snail-Eaters move actively but slowly at ground level or on vegetation.1,2 During the daytime, they hide under the leaf-litter.1
Conservation: Vulnerable.1 Dipsas oswaldobaezi is listed in this category following IUCN criteria3 because the species' extent of occurrence is estimated to be 8,605 km2 and it is known only from nine localities effectively corresponding to four patches of forest lacking connectivity between them. The habitat of D. oswaldobaezi is severely fragmented and declining in extent and quality due to deforestation.1
Distribution: Dipsas oswaldobaezi is native to an estimated 8,605 km2 area in the Tumbesian lowlands and adjacent Andean foothills of southwestern Ecuador and northwestern Peru.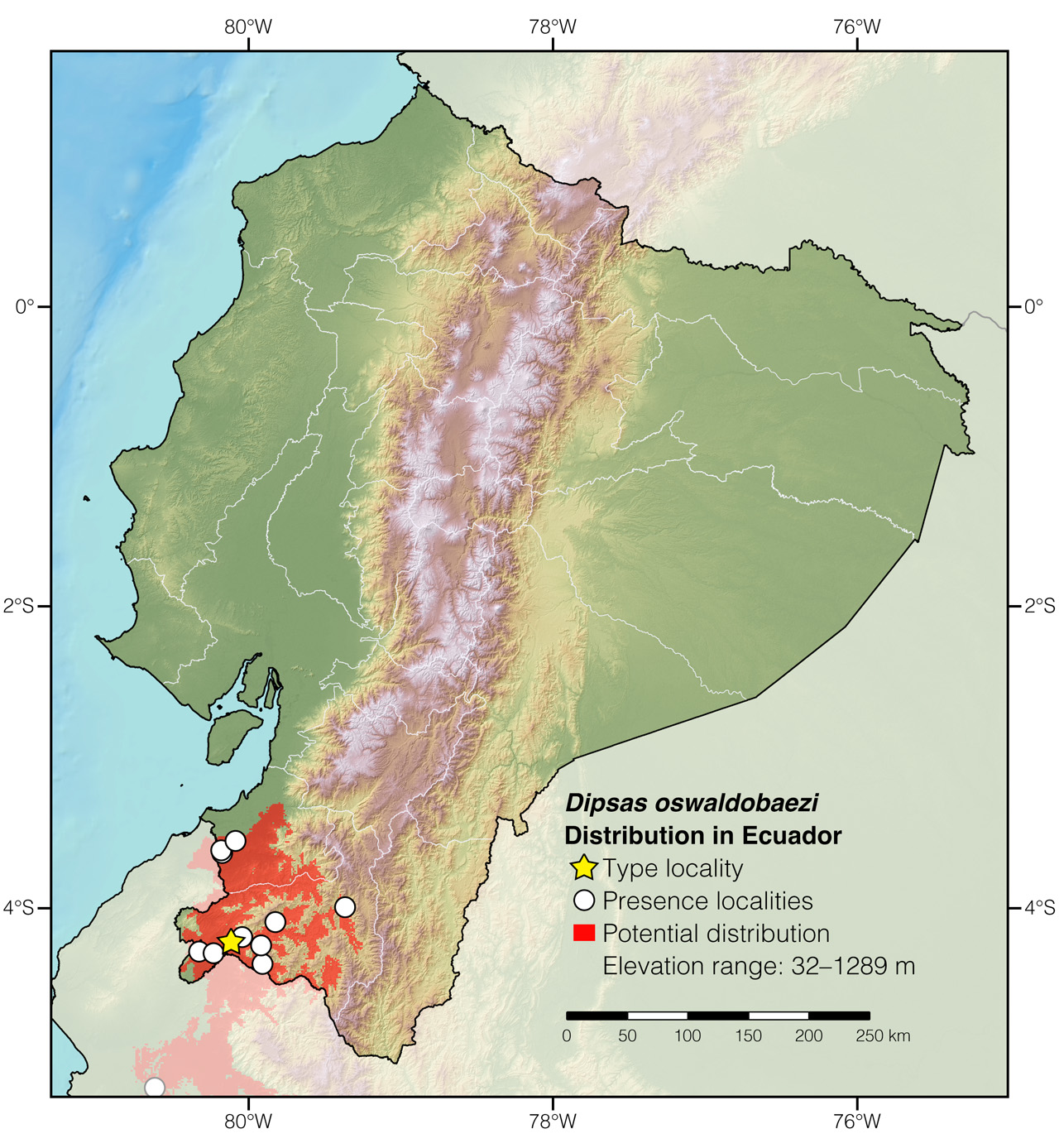 Etymology: The generic name Dipsas, which comes from the Greek word dipsa (meaning "thirst"),4 probably refers to the fact that the bite of these snakes was believed to cause intense thirst. The specific epithet oswaldobaezi honors Dr. Oswaldo Báez, a renowned Ecuadorian biologist and researcher who has dedicated his life to the teaching of science, scientific thinking, and the conservation of nature. Oswaldo Báez has played a major role in science education in Ecuador through many popular science articles and books.1
See it in the wild: Oswaldo Báez' Snail-Eaters are recorded rarely, usually no more than once every few months at any given locality. However, at La Ceiba Reseve, individuals of Dipsas oswaldobaezi may be seen more frequently. The snakes may be spotted as they cross trails and roads in areas of dry forest, especially around sunset.
FAQ
Do snails attract snakes? Yes. Snail-eating snakes follow snails visually or by tracking their scent trail.5
Do snail-eating snakes eat the shell of the snails? They don't. These snakes use specialized muscular contractions of their wedge-like head to extract snails from their shells.5
Author: Alejandro ArteagaaAffiliation: Khamai Foundation, Quito, Ecuador.
Photographer: Jose VieiraaAffiliation: Tropical Herping (TH), Quito, Ecuador.,bAffiliation: ExSitu, Quito, Ecuador.
How to cite? Arteaga A (2020) Dipsas oswaldobaezi. In: Arteaga A, Bustamante L, Vieira J, Guayasamin JM (Eds) Reptiles of Ecuador: Life in the middle of the world. Available from: www.reptilesofecuador.com
Literature cited: