Reptiles of Ecuador | Serpentes | Colubridae | Dipsas | Dipsas oligozonata
English common names: Short-banded Snail-Eater.
Spanish common names: Caracolera de bandas cortas.
Recognition: ♂♂ 76.6 cm ♀♀ 77.2 cm. In its area of distribution, the Short-banded Snail-Eater (Dipsas oligozonata) can be identified by lacking a preocular scale and having a light brown dorsum with distinct bold dark crossbands only on the anterior half of the body. The most similar snake species occurring alongside D. oligozonata are D. jamespetersi, which has a preocular scale, and D. oreas, which has a pattern of bold elliptical blotches along the entire length of the body.
Picture: Adult from Poetate, Azuay, Ecuador.
Natural history: Uncommon to locally frequent. Dipsas oligozonata is a crepuscular and nocturnal snake that inhabits pristine to moderately disturbed humid and dry montane shrublands, highland grasslands, high evergreen montane forests, plantations, and rural gardens.1–3 Short-banded Snail-Eaters are terrestrial and most active between 6:30 and 10:00 pm.1,2 They feed on snails, slugs, and soft-bodied insects.2 During the day, snakes of this species rest coiled between weeds, under trunks, or among piled leaves.2 Individuals of D. oligozonata are harmless to humans; they are extremely docile and never attempt to bite.3 Females lay 5 eggs per clutch.4
Conservation: Endangered. We consider Dipsas oligozonata to be in this category, instead of Vulnerable,5 following IUCN criteria,6 because although the species occurs over an estimated 1,453 km2 area, only ~487 km2 of this area holds habitat where D. oligozonata might persist. The species occurs as fragmented populations and there is continuing decline in the extent and quality of its habitat.3 Individuals of D. oligozonata are rarely encountered, but are commonly seen dead on roads,7 which may indicate a high rate of mortality from vehicle traffic.
Distribution: Dipsas oligozonata is endemic to an estimated 1,453 km2 area along the headwaters of the Río Jubones in the southwestern slopes of the Andes in Ecuador.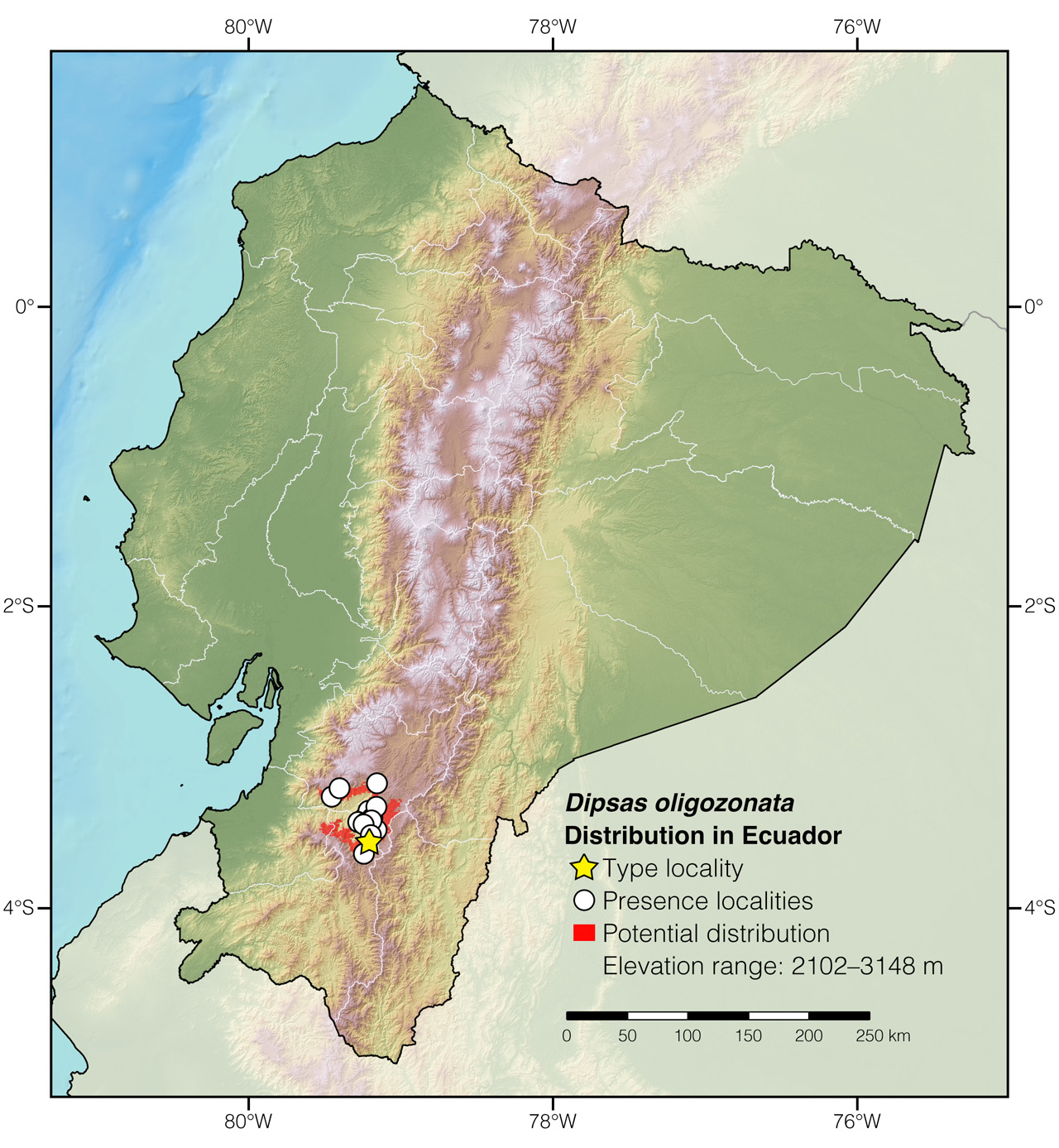 Etymology: The generic name Dipsas, which comes from the Greek word dipsa (meaning "thirst"),8 probably refers to the fact that the bite of these snakes was believed to cause intense thirst. The specific epithet oligozonata, which comes from the Greek words oligo (meaning "few"), zona (meaning "belt"), and the suffix -atus (meaning "provided with"),9 refers to the few transverse bands in members of this species, much less numerous than is usual in the genus.1
See it in the wild: Short-banded Snail-Eaters are recorded rarely, usually no more than once every few weeks at any given locality. However, there are some areas, like around the towns Susudel and Oña, where individuals of Dipsas oligozonata are seen more frequently. The snakes are may be spotted as they cross trails and roads in areas of highland shrubland, especially around sunset.
FAQ
Do snails attract snakes? Yes. Snail-eating snakes follow snails visually or by tracking their scent trail.10
Do snail-eating snakes eat the shell of the snails? They don't. These snakes use specialized muscular contractions of their wedge-like head to extract snails from their shells.10
Author: Alejandro ArteagaaAffiliation: Khamai Foundation, Quito, Ecuador.
Photographer: Jose VieiraaAffiliation: Tropical Herping (TH), Quito, Ecuador.,bAffiliation: ExSitu, Quito, Ecuador.
How to cite? Arteaga A (2020) Dipsas oligozonata. In: Arteaga A, Bustamante L, Vieira J, Guayasamin JM (Eds) Reptiles of Ecuador: Life in the middle of the world. Available from: www.reptilesofecuador.com
Literature cited: