Reptiles of Ecuador | Serpentes | Colubridae | Dipsas | Dipsas klebbai
English common names: Klebba's Snail-Eater.
Spanish common names: Caracolera de Klebba.
Recognition: ♂♂ 107.9 cm ♀♀ 87 cm. The Klebba's Snail-Eater (Dipsas klebbai) is the only snake in its area of distribution having a light brown dorsum with 27–36 dark brown to black cream-edged oblong blotches and no white transverse line on the snout. The most similar snake species in the area is the Ornate Snail-Eater (D. catesbyi), which differs from D. klebbai by having a loreal scale that does not contact the orbit.
Picture: Adult from El Chaco, Napo, Ecuador.
Picture: Adult from La Bonita, Sucumbíos, Ecuador.
Picture: Adult from El Chaco, Napo, Ecuador.
Picture: Adult from El Chaco, Napo, Ecuador.
Picture: Juvenile from La Bonita, Sucumbíos, Ecuador.
Natural history: Frequent. Dipsas klebbai is a nocturnal snake that inhabits old-growth to heavily disturbed evergreen montane forests, cloudforests, forest edges, silvopastures, rural gardens, and houses.1,2 Klebba's Snail-Eaters are active at night, especially between 17:00 pm and 02:13 am, but may at times bask on leaf litter during the day.1,2 They move actively but slowly at ground level or on vegetation 50–500 cm above the ground.1 In captivity, they feed on slugs.2 During the day, snakes of this species rest coiled underground in pastures, among shrubs in rural gardens, or perched on leaves 300 cm above the ground.1 At dusk, after warm days, individuals of D. klebbai have been seen crossing roads.1 Klebba's Snail-Eaters are harmless to humans; they are extremely docile and never attempt to bite.3 If threatened, individuals may flatten their body and expand their head to simulate a triangular shape and produce a musky and distasteful odor.3 Females lay clutches of 5–9 eggs under rotten logs.1,2
Conservation: Least Concern.1 Dipsas klebbai is listed in this category following IUCN criteria4 because all known localities of occurrence for the species fall within the limits or within the buffer zone of the following protected areas: Parque Nacional Cayambe Coca, Parque Nacional Sumaco Napo Galeras, Reserva Ecológica Antisana, and Reserva Ecológica Cofán Bermejo.1 Furthermore, D. klebbai is common in degraded environments, which suggests a degree of tolerance for habitat modification.1
Distribution: Dipsas klebbai is endemic to an estimated 4,597 km2 area in the northeastern slopes of the Ecuadorian Andes.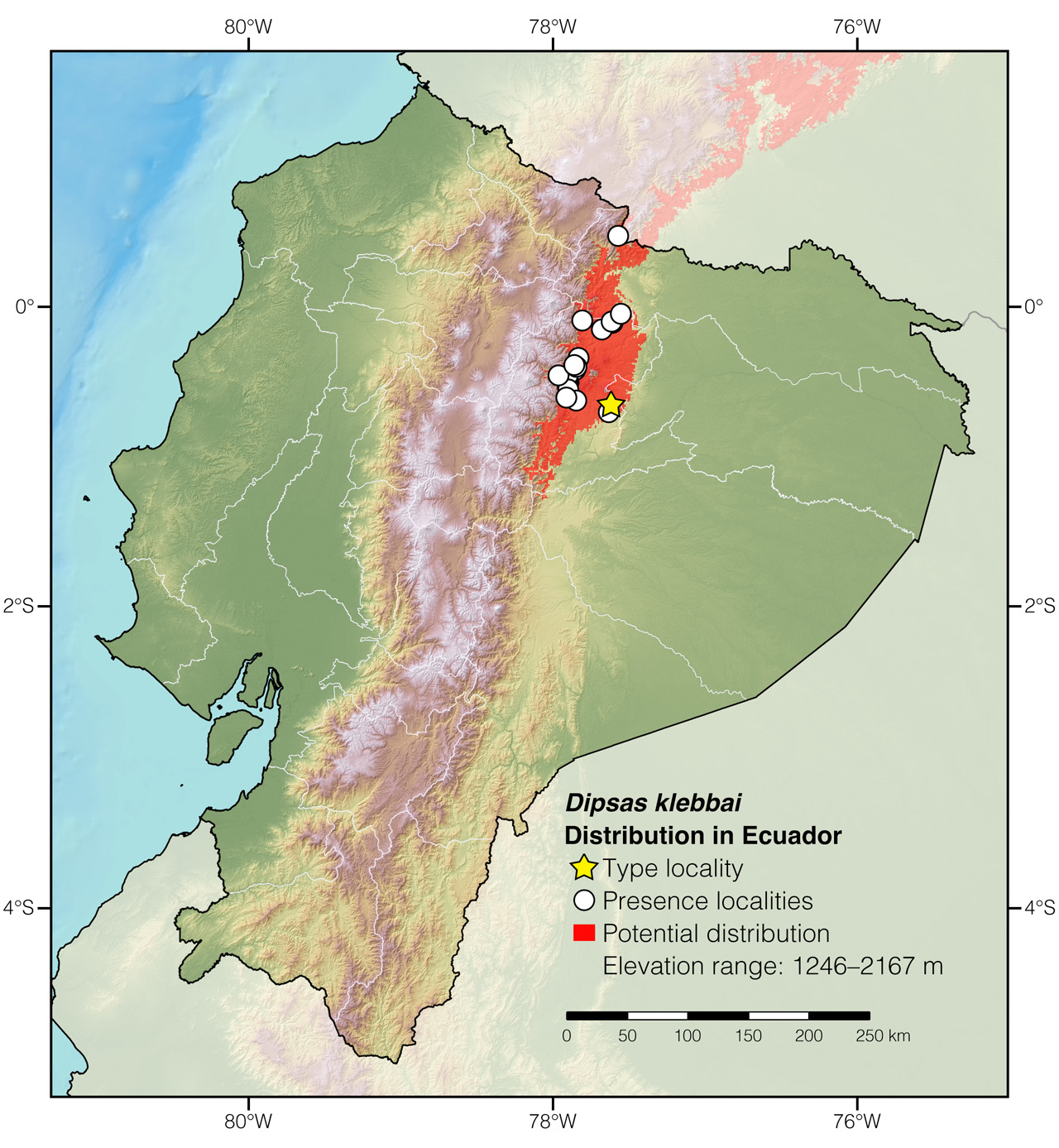 Etymology: The generic name Dipsas, which comes from the Greek word dipsa (meaning "thirst"),5 probably refers to the fact that the bite of these snakes was believed to cause intense thirst. The specific epithet klebbai honors Casey Klebba, in recognition of his appreciation of and passion for Andean wildlife, and his invaluable support of Tropical Herping's field expeditions to remote areas of Ecuador. After a visit to Peru in 2011, Casey became an active supporter of conservation and scientific projects in Ecuador.1
See it in the wild: Klebba's Snail-Eaters can be seen with ~20–50% certainty at night, especially after a warm day, in forested areas throughout the species' area of distribution. Some of the best localities to find Klebba's Snail-Eaters are the vicinities of the towns El Chaco and La Bonita. The snakes may be detected by scanning arboreal vegetation along roads and trails.
FAQ
Do snails attract snakes? Yes. Snail-eating snakes follow snails visually or by tracking their scent trail.6
Do snail-eating snakes eat the shell of the snails? They don't. These snakes use specialized muscular contractions of their wedge-like head to extract snails from their shells.6
Author: Alejandro ArteagaaAffiliation: Khamai Foundation, Quito, Ecuador.
Photographers: Jose VieiraaAffiliation: Tropical Herping (TH), Quito, Ecuador.,bAffiliation: ExSitu, Quito, Ecuador. and Matthijs Hollanders.
How to cite? Arteaga A (2020) Dipsas klebbai. In: Arteaga A, Bustamante L, Vieira J, Guayasamin JM (Eds) Reptiles of Ecuador: Life in the middle of the world. Available from: www.reptilesofecuador.com
Literature cited: