Reptiles of Ecuador | Testudines | Cheloniidae | Caretta caretta
English common names: Loggerhead, Loggerhead Sea-Turtle.
Spanish common name: Caguama, tortuga boba, cayume, cabezona.
Recognition: ♂♂ 125 cmThis is a measurement of the straight length of the carapace. ♀♀ 213 cmThis is a measurement of the straight length of the carapace.. The Loggerhead (Caretta caretta) is unique among sea turtles in Ecuador because it haves five pairs of costal shields, and a distinctly reddish brown carapace coloration. Adult males are much smaller than females, have longer and thicker tails, and have enlarged claws on the flippers, which they use to grasp females during copulation.
Illustration. Adult female.
Illustration. Juvenile.
Natural history: Extremely rare in Galápagos. After hatching on tropical and subtropical beaches,1 hatchlings of Caretta caretta frantically swim for 1–3 days in an offshore direction2 until they reach open ocean "nursery" habitats where they spend 6.5–11.5 years,3 drifting and actively swimming along with surface currents,4 usually in association with masses of floating seaweed.1 During this early stage, the young C. caretta spend 80% of their time within 5 m from the surface.5 These post-hatchling C. caretta are mostly carnivorous, feeding primarily on pelagic jelly organisms until they become large enough to dive and feed on bottom-dwelling prey.6 At nesting grounds throughout the world, hatchlings of the Loggerhead Sea-Turtle are preyed upon by a variety of animals. On land, they are preyed upon by mammals (for example, dogs, foxes, house cats, mongooses, raccoons, and genets), a variety of birds, lizards, snakes, toads, and ants.1,7 In the water, they are preyed upon by monk seals, killer whales, fish, sharks, squid, and crabs.1,7
When they reach a carapace length of 42–59 cm,8 most Loggerheads establish their home ranges on hard- and soft-bottom habitats in shallower waters near the coast.1 Others may remain in or reenter the oceanic environment.9 From this age onwards, the young Caretta caretta become generalist opportunistic predators of both deep water and surface prey, including sponges, cnidarians (jellyfish, hydrozoans, sea anemones, whip corals, and sea pens), annelids (bristle worms and tube worms), molluscs (squid, octopuses, sea snails, and bivalves), arthropods (horseshoe crabs, amphipod crustaceans, isopods, barnacles, crabs, shrimp, and insects), bryozoans, echinoderms (cake urchins, sea urchins, and sea cucumbers), tunicates, fish and their eggs, sea horses, members of their own species, algae, and terrestrial plants.1,7 Presumably as a result of this diet, C. caretta is biofluorescent, although part of the fluorescence is likely emitted by algae living on the turtles.10
Loggerheads spend up to 86–95% of their time (day and night) submerged, mostly diving near the surface,11–13 although they can dive to 233 m in depth14 and for up to eight hours.15 They spend the remaining time floating,1 basking,16 foraging at the sea bottom,6 or resting.16 Loggerhead Sea Turtles rest on the seabed16 or wedged between coral or rock ledges in shallow (0–30 m deep) water,1,15 surfacing for air every 10–56 minutes.1 In the open ocean, Loggerheads sleep while floating.1 Some adults of Caretta caretta are residents of 954–28,833 km2 foraging home ranges including coastal and oceanic waters.11 They may also enter mangrove estuaries, lagoons, salt marshes, creeks, and the mouths of large rivers.7
Adults of Caretta caretta are capable of migrating long distances with the aid of geomagnetic cues.7 They swim actively and also passively drift along with major oceanic currents17 to distant (up to 11,512 km away)17 rookeries, foraging grounds, or nesting beaches.18 In areas where the water temperature is 12–15°C during winter months,15 some Loggerhead Sea Turtles (those that don't migrate into warmer regions) spend most of their time in a state of dormancy at the sea bottom at depths of 20–30 m.15
Loggerheads become sexually mature at 24–29 years old.19 Some gather in polygamous (mating with multiple partners)20 breeding rookeries21 in shallow waters not necessarily close to the nesting beaches,1 while others mate in the open ocean.7 Copulation takes place on the water's surface1 and may last for up to 320 minutes (over five hours).22 Hybridization between C. caretta and other sea turtle species such as Chelonia mydas,23 Eretmochelys imbricata,24 and Lepidochelys olivacea,25 occurs. Females of the Loggerhead are capable of storing sperm throughout the breeding season,20 and, in some populations, 33–94% of the resulting clutches are sired by multiple males.26
Females of Caretta caretta nest every 1–9 years1 on roughly (less than 5 km apart)27 the same beaches season after season,1 which may also be the same beaches on which they themselves hatched.28 Others may sometimes select different beaches up to 725 km apart.1 The nesting season generally coincides with summer at times of plentiful rainfall,1 but Loggerheads do not nest in Ecuador. During a single season, Loggerhead Sea-Turtle females may lay 1–6 clutches1 at intervals of 9–34 (but usually 12–15)29 days.1,29 They produce 39–198 eggs per clutch1 and lay them mostly on continental, or, less frequently, on insular beaches in 35–85 cm deep nests in the sand,1 either in the open or among shrubs and grasses behind the beach.7 Nesting emergences typically last 45–150 minutes1 and take place at night or early in the morning.21 During emergences, female Loggerheads are very shy, and can be easily scared back into the sea.1
Nesting in Caretta caretta is solitary,1 with no more than seven turtles nesting on the same stretch (1 km long) of beach on the same night.30 The eggs' incubation period is 46–102 days7 and an average of 53–84% of the eggs hatch.1 Temperature determines the sex of the offspring.31 The proportion of female hatchlings increases with the incubation temperature.32 Eggs of C. caretta are preyed upon by a variety of animals at nesting grounds throughout the world. Predators include mammals (pigs, dogs, jackals, foxes, dingoes, honey badgers, skunks, raccoons, bears, armadillos, and rats), birds (crows and gulls), reptiles (monitor lizards and snakes), arthropods (crabs, beetles, fly larvae, wasp larvae, and ants), and worms.1,7 They are also occasionally lost to erosion, inundation, invasion of nests by plant roots, disturbance by other nesting turtles, and off-road vehicles crushing nests. The eggs are also widely harvested by humans for food.1,7
Loggerhead Sea-Turtle eggs usually hatch at night, early morning, or late in the afternoon, but not necessarily in synchrony.1,7 Some hatchlings are unable to dig their way out of the nest and perish.7 During nocturnal emergence, the presence of artificial lighting affects the orientation of hatchlings,7 which may result in mortality caused by traffic, dehydration, exhaustion, or predation.33,34 During diurnal emergence, desiccation can also cause hatchling mortality.35 It is estimated that less than 0.1% of the hatchlings reach adulthood.36
In addition to predation by sharks, large fish, and dogs,1 causes of mortality of adult Loggerheads include red tides, ingestion of plastic, collision with boats, interactions with fishing gear, direct harvesting for meat consumption (although their meat may cause food poisoning),37 and oil spills.1,38–40 Individuals of Caretta caretta are parasitized by a variety of worms and leeches, and are colonized by cnidarians (including hydrozoans, sea anemones, sea whips, and hard coral), molluscs (such as bivalves and sea snails), bristle worms, arthropods (for example, barnacles, amphipods, isopods, and crabs), bryozoans, tunicates, remoras, and algae.1 The estimated maximum lifespan of members of C. caretta is 67 years.41
Conservation: Vulnerable.42 Caretta caretta is listed in this category because its populations have declined 47% over the past three generations as a result of incidental mortality due to interactions with small-scale and industrial fisheries, direct harvesting of eggs and adults for meat, and the degradation of marine and nesting habitats.42,43 Another threat faced by C. caretta is climate change.44,45 Since temperature during incubation determines the sex of the offspring,31 the increase of the average global temperature may result in the complete feminization of some populations.44 Under some scenarios of global sea level rise, up to 67% of clutches in some nesting beaches may be lost to flooding by 2100.45
Distribution: Loggerhead Sea Turtles occur throughout the tropical, subtropical, and temperate waters of the Atlantic, Indian, and Pacific oceans.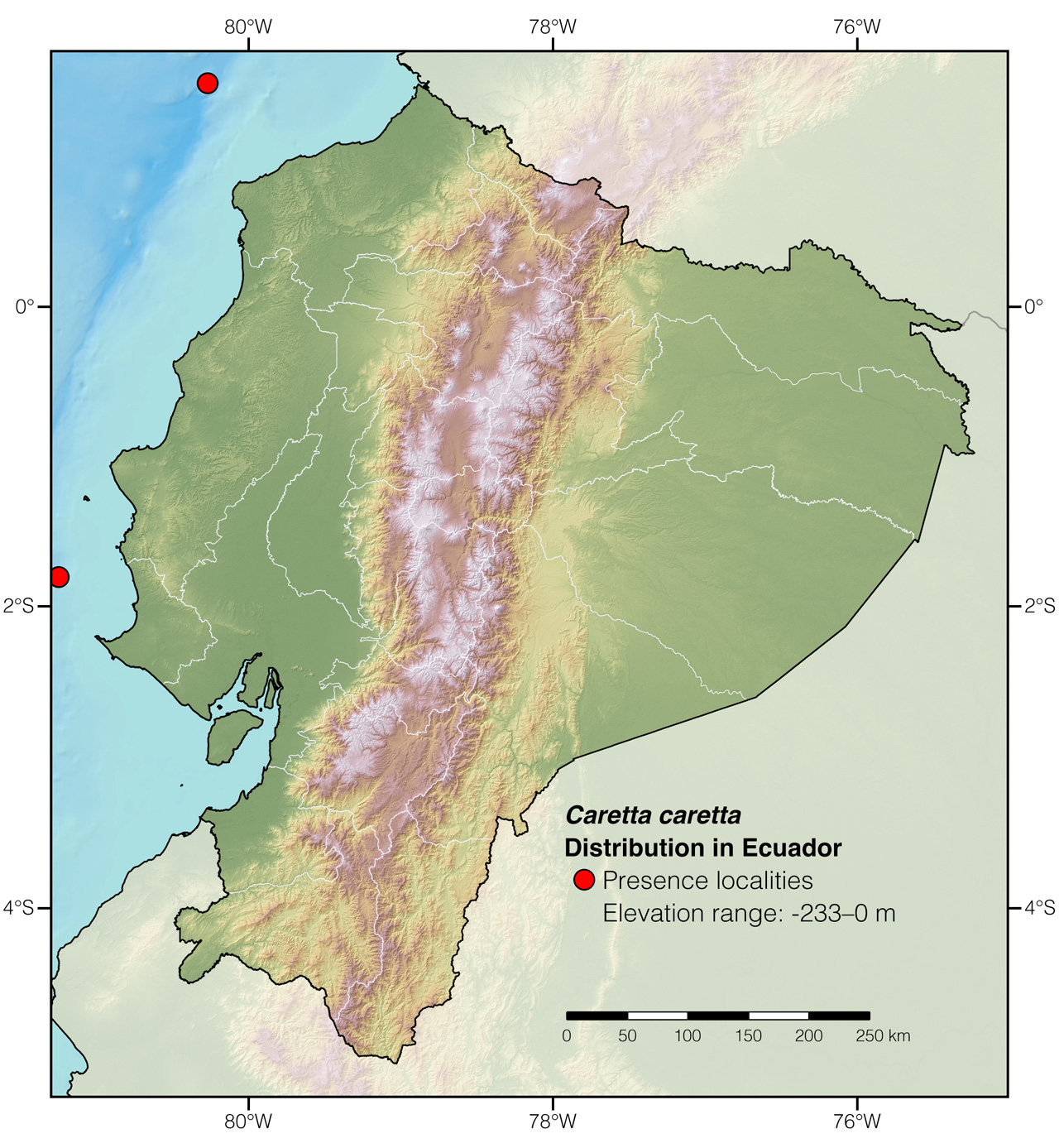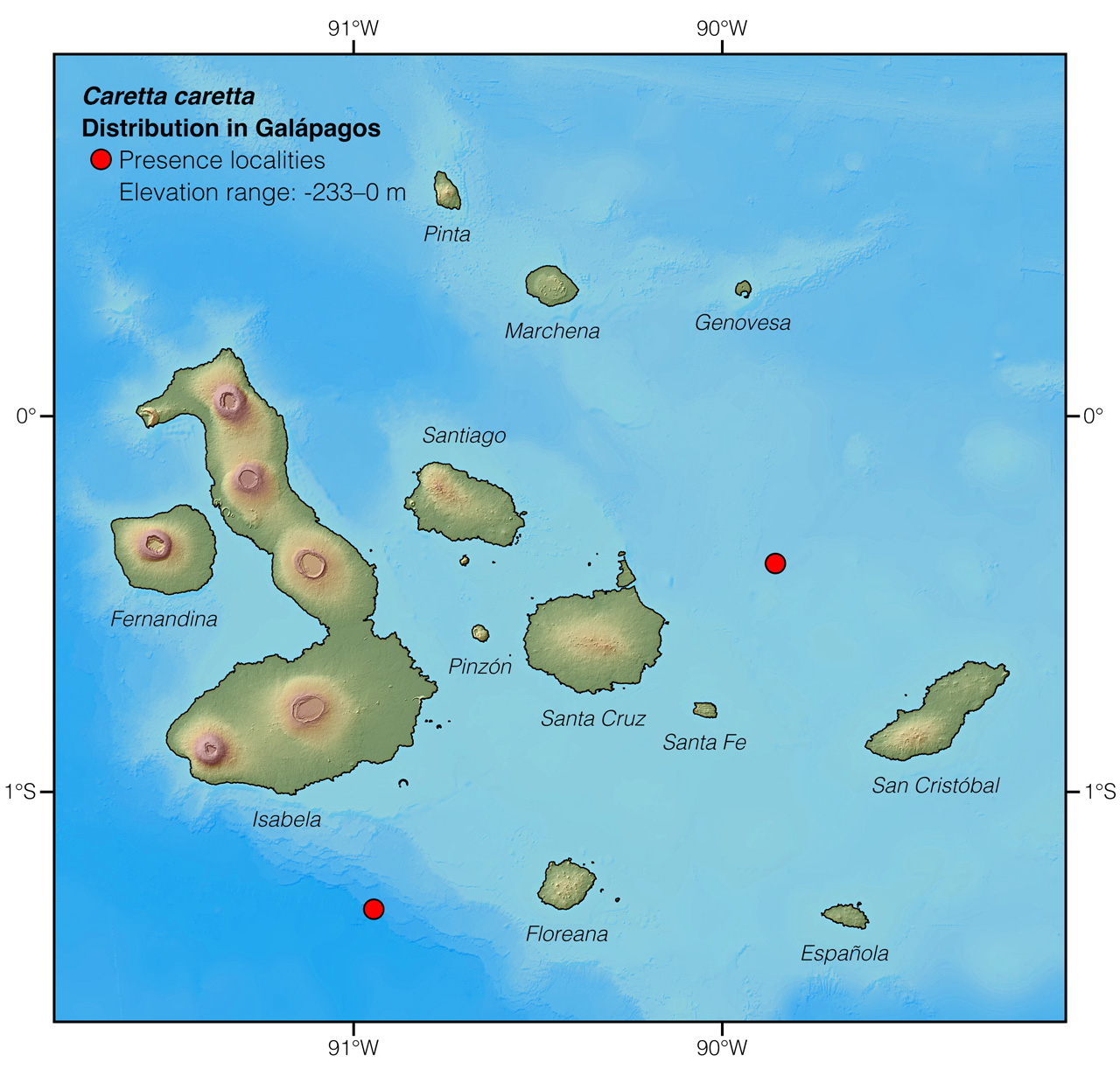 Etymology: Both the generic name and specific epithet are derived from the French word caret (meaning "turtle").47
See it in the wild: Caretta caretta cannot be expected to be seen reliably along the coast of mainland Ecuador and Galápagos, since individuals presumably arrive to Ecuadorian waters no more than once every few years.
Author: Alejandro ArteagaaAffiliation: Khamai Foundation, Quito, Ecuador.
Academic reviewers: Juan José Alava.
Illustrator. Valentina Nieto Fernández.
How to cite? Arteaga A (2020) Caretta caretta. In: Arteaga A, Bustamante L, Vieira J, Guayasamin JM (Eds) Reptiles of Ecuador: Life in the middle of the world. Available from: www.reptilesofecuador.com
Literature cited: