| | |
| --- | --- |
| Published August 22, 2023. Open access. | Gallery ❯ |
Upper-Amazon Skink (Varzea altamazonica)
Reptiles of Ecuador | Sauria | Scincidae | Varzea altamazonica
English common names: Upper-Amazon Skink, South American spotted Skink.
Spanish common name: Lagartija lisa de puntos negros.
Recognition: ♂♂ 17.4 cmMaximum distance from the snout to the tip of the tail. Snout–vent length=8.7 cm. ♀♀ 18.4 cmMaximum distance from the snout to the tip of the tail. Snout–vent length=9.2 cm..1,2 The Upper-Amazon Skink (Varzea altamazonica) stands out distinctly from most other lizards found in the Ecuadorian Amazon rainforest. It is characterized by its shiny smooth dorsal scales, which are uniform in size and similar in dimensions to the ventral scales.3 The dorsum is pale brown with a bronze sheen, accompanied by broad black dorsolateral stripes (Fig. 1).2 Juveniles of this species have a blue tail. Unlike other lizards with smooth scales (like Iphisa elegans), the dorsal scales of V. altamazonica are cycloid, overlapping, and arranged in oblique rows.3 This species is often confused with Copeoglossum nigropunctatum, an Amazonian skink that can be identified by having parietals separated by the interparietal and eight or nine (instead of seven) supralabials, with the sixth (instead of the fifth) being the largest and placed under the eye.1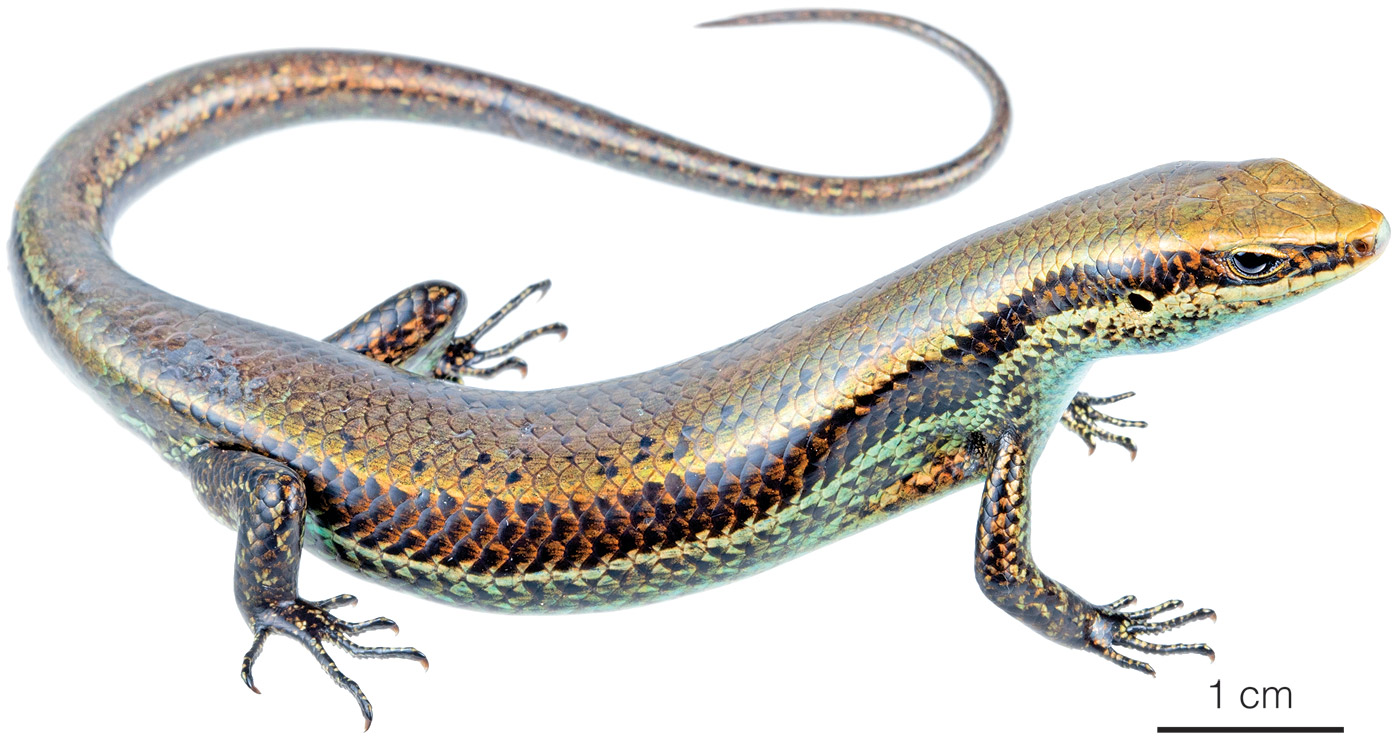 Figure 1: Adult of Varzea altamazonica from Río Curaray, Pastaza province, Ecuador.
Natural history: Varzea altamazonica is a locally frequent skink that inhabits semi-open areas in old growth to moderately disturbed rainforests, which may be terra-firme or seasonally flooded.3,4 The species prefers clearings, tree fall areas, forest edges, and peri-urban areas.2,5 Upper-Amazon Skinks are diurnal and terrestrial to fully arboreal.4,5 They occupy all strata of the rainforest, from the forest floor to the branches of emergent trees at 37 m above the ground.5,6 Moreover, these skinks have been observed to inhabit man-made structures such as fences, walls, and thatched roofs.2,5 This species is diurnal and heliophilic, meaning its activity is restricted to periods of direct sunlight.2,5 Individuals are often seen foraging or basking on logs, tree trunks, branches, and thatched roofs under these conditions.4,5 Conversely, during overcast days or at nighttime, they are nowhere to be seen.5 Amazonian skinks in general are active foragers that feed primarily on insects,7–10 but the diet of V. altamazonica is not known. When confronted with threats, these cautious reptiles swiftly evade observers by darting into thick vegetation.5 They are also quick to shed their tail as a distraction to predators.5 Varzea altamazonica is a viviparous species, 1 but the gestation period and brood sizes are not known.
Conservation: Least Concern Believed to be safe from extinction given current circumstances..11 Varzea altamazonica is listed in this category because the species has a wide distribution throughout the western Amazon basin and it is comparatively common and abundant in most areas. Moreover, anecdotal observations in Ecuador5 indicate that this species not only tolerates, but actually benefits from, conversion of dense-canopy rainforests to semi-open environments.
Distribution: Varzea altamazonica is native to the western Amazon basin of Brazil, Colombia, Ecuador, Peru and Bolivia. In Ecuador, the species has been recorded at elevations between 105 and 852 m (Fig. 2).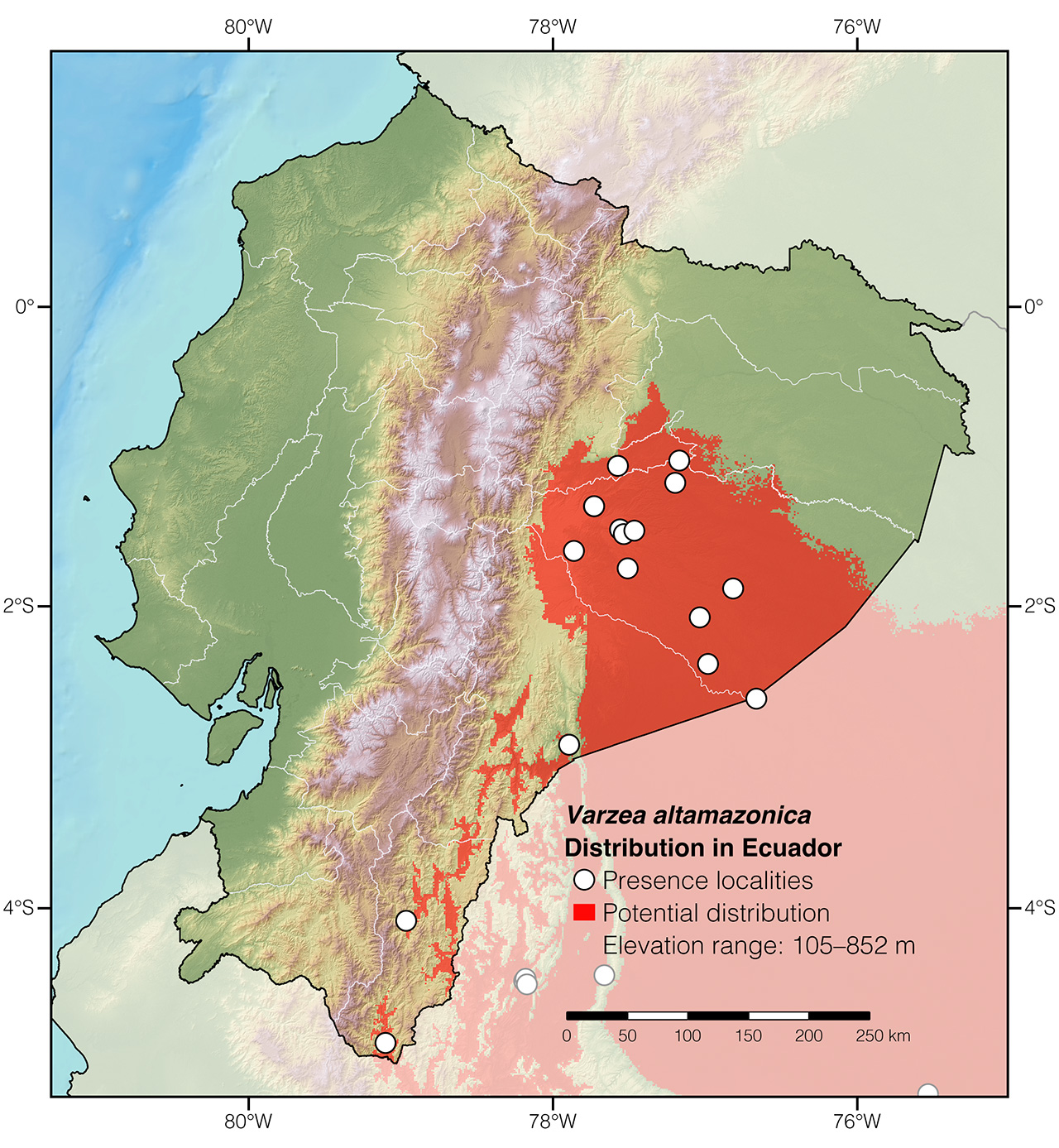 Figure 2: Distribution of Varzea altamazonica in Ecuador. See Appendix 1 for a complete list of the presence localities included in the map.
Etymology: The generic name Varzea is a pre-Roman Portugese word, Iberian in origin, that means "flooded river bank." It refers to the apparent preferred habitat of the included species.3 The specific epithet altamazonica refers to the upper Amazon basin, where the species occurs.1
See it in the wild: Upper-Amazon Skinks can be observed sporadically along semi-open areas throughout their range in Ecuador, particularly along the Río Napo. The species is locally common at Yarina Lodge and Sani Lodge. Individuals can be seen more easily during sunny days by scanning logs and tree trunks along forest borders and clearings.
Author: Alejandro ArteagaaAffiliation: Khamai Foundation, Quito, Ecuador.
Photographer: Jose VieirabAffiliation: Tropical Herping (TH), Quito, Ecuador.,cAffiliation: ExSitu, Quito, Ecuador.
How to cite? Arteaga A (2023) Upper-Amazon Skink (Varzea altamazonica). In: Arteaga A, Bustamante L, Vieira J, Guayasamin JM (Eds) Reptiles of Ecuador: Life in the middle of the world. Available from: www.reptilesofecuador.com. DOI: 10.47051/ZVND1454
Literature cited:
Miralles A, Barrio-Amoros CL, Rivas GA, Chaparro-Auza JC (2006) Speciation in the "Varzea" flooded forest: a new Mabuya (Squamata, Scincidae) from western Amazonia. Zootaxa 1188: 1–22. DOI: 10.11646/zootaxa.1188.1.1
Thomas O, Bird D, O'Donovan G (2020) The fish and herpetofauna of the Sani Reserve, Ecuador. Operation Wallacea, Lincolnshire, 262 pp.
Hedges SB, Conn CE (2012) A new skink fauna from Caribbean islands (Squamata, Mabuyidae, Mabuyinae). Zootaxa 3288: 1–244. DOI: 10.11646/zootaxa.3288.1.1
Ribeiro-Junior MA, Amaral S (2016) Catalogue of distribution of lizards (Reptilia: Squamata) from the Brazilian Amazonia. III. Anguidae, Scincidae, Teiidae. Zootaxa 4205: 401–430. DOI: 10.11646/zootaxa.4205.5.1
Duellman WE (1978) The biology of an equatorial herpetofauna in Amazonian Ecuador. Publications of the Museum of Natural History, University of Kansas 65: 1–352.
Duellman WE (2005) Cusco amazónico: the lives of amphibians and reptiles in an Amazonian rainforest. Cornell University Press, Ithaca, 433 pp.
Vitt LJ, Blackburn DG (1991) Ecology and life history of the viviparous lizard Mabuya bistriata (Scincidae) in the Brazilian Amazon. Copeia 1991: 916–927. DOI: 10.2307/1446087
Avila-Pires TCS (1995) Lizards of Brazilian Amazonia (Reptilia: Squamata). Zoologische Verhandelingen 299: 1–706.
Cisneros-Heredia DF, Yánez-Muñoz M, Brito J, Valencia J, Perez P, Avila-Pires TCS, Aparicio J, Moravec J (2021) Varzea altamazonica. The IUCN red list of threatened species. Available from: www.iucnredlist.org. DOI: 10.2305/IUCN.UK.2021-3.RLTS.T44579239A44579243.en
Appendix 1: Locality data used to create the distribution map of Varzea altamazonica in Ecuador (Fig. 2). Go to the section on symbols and abbreviations for a list of acronyms used.
| | | | |
| --- | --- | --- | --- |
| Country | Province | Locality | Source |
| Colombia | Putumayo | Reserva La Isla Escondida | iNaturalist; photo examined |
| Ecuador | Napo | Ahuano | Diego Piñán |
| Ecuador | Napo | Huaorani Lodge | Reptiles of Ecuador book database |
| Ecuador | Napo | Río Cotopino | Ribeiro-Junior & Amaral 2016 |
| Ecuador | Napo | San Jose Viejo de Sumaco | Ribeiro-Junior & Amaral 2016 |
| Ecuador | Napo | Yachana Reserve | Beirne et al. 2013 |
| Ecuador | Orellana | Comunidad Oasis | Carvajal-Campos & Torres-Carvajal 2018 |
| Ecuador | Orellana | El Coca | iNaturalist; photo examined |
| Ecuador | Orellana | Loreto | Ribeiro-Junior & Amaral 2016 |
| Ecuador | Orellana | Reserva Río Bigal | García et al. 2021 |
| Ecuador | Orellana | Río Pucuno | Ribeiro-Junior & Amaral 2016 |
| Ecuador | Orellana | Río Rumiyacu | iNaturalist; photo examined |
| Ecuador | Orellana | Río Yanayacu | Carvajal-Campos & Torres-Carvajal 2018 |
| Ecuador | Orellana | Tiputini Biodiversity Station | iNaturalist; photo examined |
| Ecuador | Orellana | Yarina Lodge | Reptiles of Ecuador book database |
| Ecuador | Orellana | Yasuní Scientific Station | iNaturalist; photo examined |
| Ecuador | Pastaza | Curaray Medio | This work; Fig. 1 |
| Ecuador | Pastaza | Estación Científica Oglán | Carvajal-Campos & Torres-Carvajal 2018 |
| Ecuador | Pastaza | Montalvo | Ribeiro-Junior & Amaral 2016 |
| Ecuador | Pastaza | Río Capahuari | Ribeiro-Junior & Amaral 2016 |
| Ecuador | Pastaza | Río Conambo | Ribeiro-Junior & Amaral 2016 |
| Ecuador | Pastaza | Sarayacu | Ribeiro-Junior & Amaral 2016 |
| Ecuador | Sucumbíos | Sacha Lodge | iNaturalist; photo examined |
| Ecuador | Sucumbíos | Sani Lodge | Thomas et al. 2020 |
| Ecuador | Zamora Chinchipe | Río Mayo | Torres-Carvajal et al. 2021 |
| Ecuador | Zamora Chinchipe | Zamora | Reptiles of Ecuador book database |
| Peru | Amazonas | Aintami | Ribeiro-Junior & Amaral 2016 |
| Peru | Amazonas | Chazuta | Ribeiro-Junior & Amaral 2016 |
| Peru | Amazonas | Huampami | Ribeiro-Junior & Amaral 2016 |
| Peru | Amazonas | La Poza | Ribeiro-Junior & Amaral 2016 |
| Peru | Amazonas | Puerto Galilea | Ribeiro-Junior & Amaral 2016 |
| Peru | Amazonas | San Antonio, Río Cenepa | Ribeiro-Junior & Amaral 2016 |
| Peru | Amazonas | Teniente Pinglo | Miralles et al. 2006 |
| Peru | Cajamarca | Gota de Agua | Photo by Claudia Koch |
| Peru | Loreto | Cabo Pantoja | Ribeiro-Junior & Amaral 2016 |
| Peru | Loreto | Moropon | Ribeiro-Junior & Amaral 2016 |
| Peru | Loreto | Mouth of Río Tigre | Ribeiro-Junior & Amaral 2016 |
| Peru | Loreto | Quache | Miralles et al. 2006 |
| Peru | Loreto | Río Samiria | Ribeiro-Junior & Amaral 2016 |
| Peru | San Martín | Tarapoto, 34 km N of | Reptiles of Ecuador book database |
| Peru | San Martín | Yarina | Miralles et al. 2006 |