| | |
| --- | --- |
| Published December 12, 2022. Open access. | Gallery ❯ |
Big-scaled Thread-Snake (Trilepida macrolepis)
Reptiles of Ecuador | Serpentes | Leptotyphlopidae | Trilepida macrolepis
English common names: Big-scaled Thread-Snake, Big-scaled Blind Snake.
Spanish common names: Culebra lombriz escamosa, serpiente hebra de escamas grandes.
Recognition: ♂♂ 33.3 cmMaximum distance from the snout to the tip of the tail. Snout–vent length=31 cm. ♀♀ 37.8 cmMaximum distance from the snout to the tip of the tail..1–3 The Big-scaled Thread-Snake (Trilepida macrolepis) can be easily recognized by its subcylindrical body, small size, rudimentary but visible eyes, depressed head, and presence of a conical tail-tip spine.3,4 It occurs at lower elevations than T. pastusa, from which it differs by having an ocular scale with a rounded anterior border and a reticulate dorsal and ventral coloration.2,5 Trilepida macrolepis differs from Epictia subcrotilla by being more robust, having a conical tai-tip spine, and by lacking yellow head pigmentation.6 Females of T. macrolepis are larger and have a greater number of ventral scales than males.4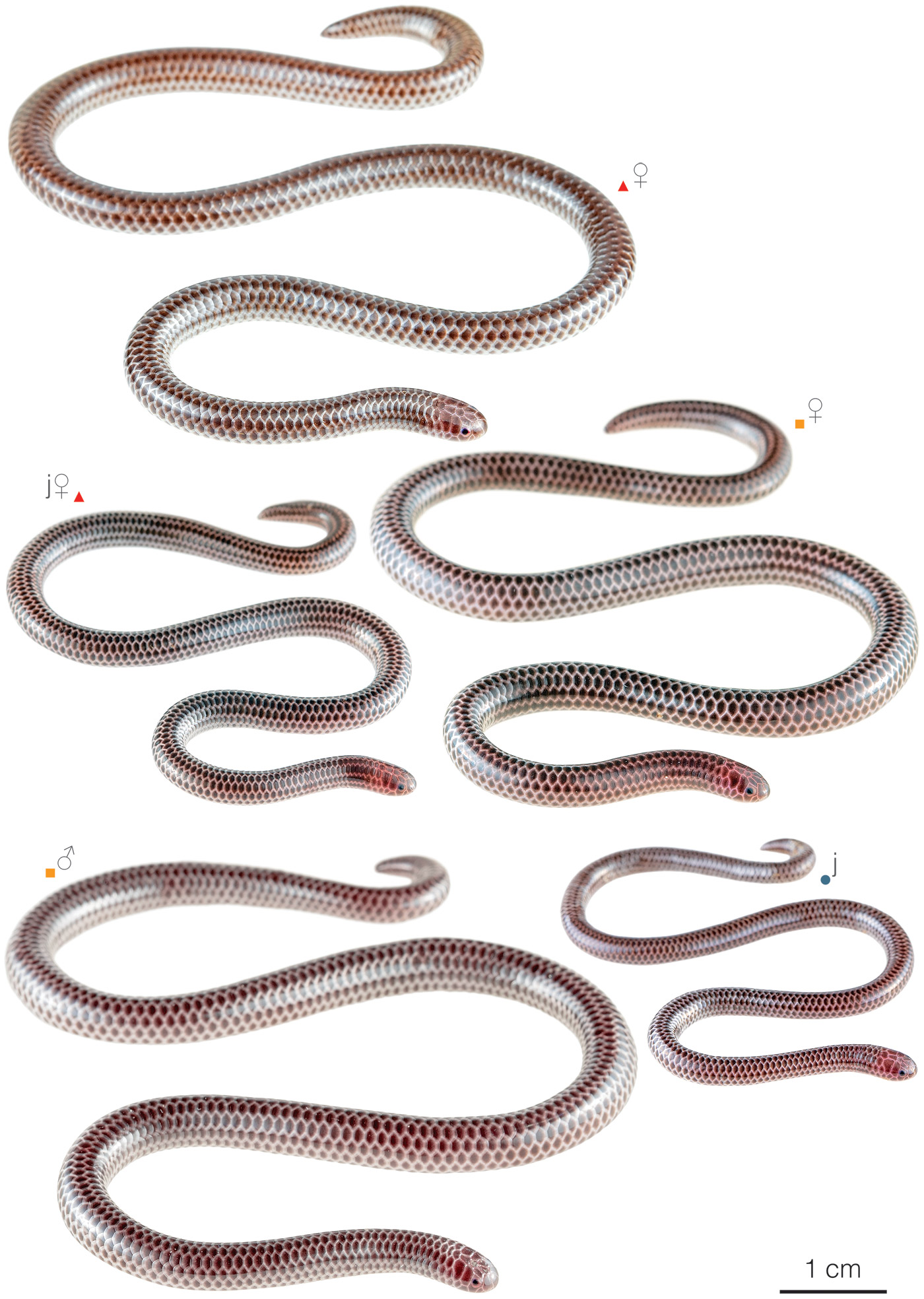 Figure 1: Individuals of Trilepida macrolepis from Morromico Reserve, Chocó department, Colombia (); Canandé Reserve, Esmeraldas province, Ecuador (); and Itapoa Reserve, Esmeraldas province, Ecuador (). j=juvenile.
Natural history: Extremely rareTotal average number of reported observations per locality less than three.. Trilepida macrolepis inhabits old-growth to fragmented evergreen lowland and foothill forests,2,7 plantations,8 and rural and urban gardens.9 Big-scaled Thread-Snakes are fossorial and thus usually found buried underground,2,10,11 beneath surface objects,8 in leaf-litter, or inside tree bark or Heliconia leaf axils.8 They are also occasionally spotted on vegetation up to 2.5 m above the ground,2,8,11 especially before, after, or during torrential rains.8 Members of this species exhibit diurnal10 and nocturnal8 activity. They move on the forest floor, along trails, or across roads.8,11 In general, members of the Leptotyhlopidae family feed on small social insects and their larvae.11,12 In Venezuela, an individual of T. macrolepis was found feeding on ants under a metal board.8 When handled, Big-scaled Thread-Snakes usually use their sharp tail-tip for poking. However, they are completely harmless to humans. There is a record of the snake Clelia clelia feeding on an individual of T. macrolepis in Venezuela.13 This species is listed as being oviparous,11 but there is no information on clutch size or reproductive habits.
Conservation: Least Concern Believed to be safe from extinction given current circumstances..9 Trilepida macrolepis is included in this category because it is widely distributed and is believed to be facing no major immediate extinction threats.9 However, it is suggested that T. macrolepis represents a species complex,3,14 so the conservation status of different populations warrants further study. In Ecuador this species occurs in three privately protected areas: reserves Canandé, Otokiki, and Itapoa.
Distribution: Trilepida macrolepis is widely distributed throughout the lowlands and adjacent Andean foothills of northern South America as well as in parts of Central America. West of the Andes, the species occurs throughout the Chocó–Río Magdalena Valley biome in Colombia, Panama, and northwestern Ecuador. East of the Andes, the species occurs in parts of the Amazon in Brazil, French Guiana, Guyana, Suriname, and Peru, as well as in the Llanos and coastal cordilleras of Venezuela.3,15 In Ecuador, T. macrolepis has been recorded at elevations between 47 and 902 m.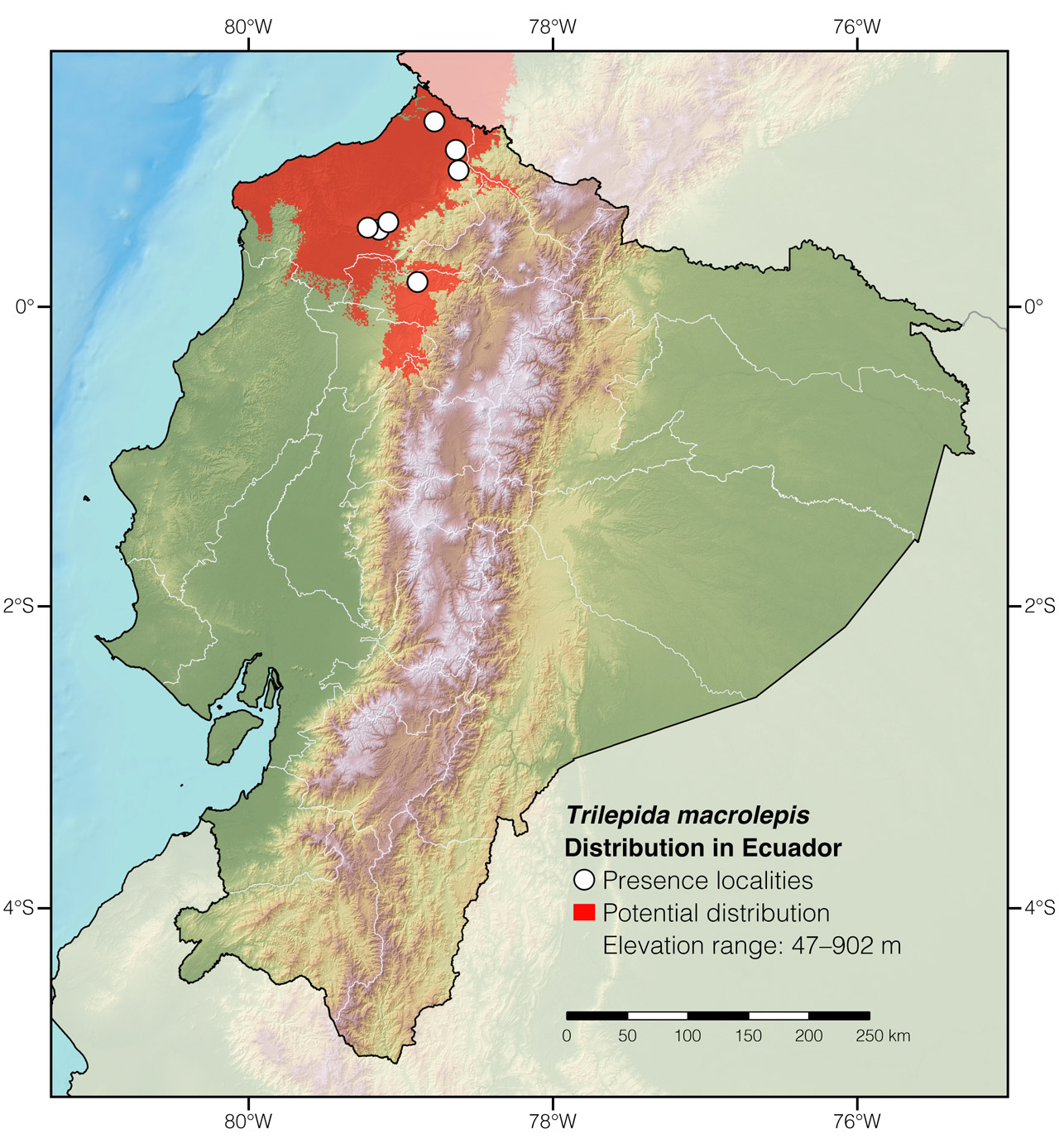 Figure 2: Distribution of Trilepida macrolepis in Ecuador. See Appendix 1 for a complete list of the presence localities included in the map.
Etymology: The generic name Trilepida is derived from the Greek words treis (meaning "three") and lepis (meaning "scale").16 It refers to the presence of three supralabial scales, a characteristic that separates snakes of this genus from other blind snakes.14 The specific epithet macrolepis, which comes from the Greek words makros (meaning "large") and lepis (meaning "scale"),17 probably refers to the large head scales.
See it in the wild: Due to their fossorial habits, Big-scaled Thread-Snakes are unlikely to be recorded more than once every few months at any locality in Ecuador. In this country, individuals of Trilepida macrolepis have been recorded sporadically in pristine rainforests while removing leaf-litter, turning over logs and trunks, or when digging among tree roots.
Special thanks to Adriano Losso for symbolically adopting the Big-scaled Thread-Snake and helping bring the Reptiles of Ecuador book project to life.
Click here to adopt a species.
Authors: Amanda QuezadaaAffiliation: Tropical Herping (TH), Quito, Ecuador.,bAffiliation: Laboratorio de Herpetología, Universidad del Azuay, Cuenca, Ecuador. and Alejandro ArteagacAffiliation: Biodiversity Field Lab, Khamai Foundation, Quito, Ecuador.
Photographer: Jose VieiraaAffiliation: Tropical Herping (TH), Quito, Ecuador.,dAffiliation: ExSitu, Quito, Ecuador.
How to cite? Quezada A, Arteaga A (2022) Big-scaled Thread-Snake (Trilepida macrolepis). In: Arteaga A, Bustamante L, Vieira J, Guayasamin JM (Eds) Reptiles of Ecuador: Life in the middle of the world. Available from: www.reptilesofecuador.com. DOI: 10.47051/HKSS8959
Literature cited:
Pinto RR, Passos P, Caicedo-Portilla JR, Arredondo JC, Fernandes R (2010) Taxonomy of the Threadsnakes of the tribe Epictini (Squamata: Serpentes: Leptotyphlopidae) in Colombia. Zootaxa 2724: 1–28. DOI: 10.11646/zootaxa.2724.1.1
Salazar-Valenzuela D, Martins A, Amador-Oyola L, Torres-Carvajal O (2015) A new species and country record of threadsnakes (Serpentes: Leptotyphlopidae: Epictinae) from northern Ecuador. Amphibian & Reptile Conservation 8: 107–120.
Pinto RR, Fernandes R (2017) Morphological variation of Trilepida macrolepis (Peters 1857), with reappraisal of the taxonomic status of Rena affinis (Boulenger 1884) (Serpentes: Leptotyphlopidae: Epictinae). Zootaxa 4244: 246–260. DOI: 10.11646/zootaxa.4244.2.6
Cunha OR, Nascimento FP (1978) Ofídios da Amazônia. X. As cobras da região leste do Pará. Papéis Avulsos Museu Paraense Emílio Goeldi 31: 1–218.
Hahn DE (1979) Leptotyphlopidae, Leptotyphlops. Catalogue of American Amphibians and Reptiles 230: 1–4.
Schmidt KP, Walker WF (1943) Snakes of the Peruvian coastal region. Zoological Series of Field Museum of Natural History 24: 297–327.
Carvajal-Cogollo JE, Rojas-Murcia LE, G C-A (2020) Reptiles del Caribe Colombiano. Editorial Universidad Pedagógica y Tecnológica de Colombia, Tunja, 268 pp.
Ibáñez R, Jaramillo C, Rivas G, Gutiérrez-Cárdenas P, Caicedo J, Ouboter P (2019) Trilepida macrolepis. The IUCN red list of threatened species. Available from: www.iucnredlist.org. DOI: 10.2305/IUCN.UK.2019-3.RLTS.T203650A2769375.en
Silva JL, Valdez J, Ojasti J (1985) Algunos aspectos de una comunidad de ofidios del norte de Venezuela. Biotropica 17: 112–125. DOI: 10.2307/2388503
Starace F (1998) Serpents et amphisbènes de Guyane Française. Ibis Rouge Editions, Guadeloupe, 450 pp.
Webb JK, Shine R, Branch WR, Harlow PS (2000) Life-history strategies in basal snakes: reproduction and dietary habits of the African thread snake Leptotyphlops scutifrons (Serpentes: Leptotyphlopidae). Journal of Zoology 250: 321–327. DOI: 10.1111/j.1469-7998.2000.tb00776.x
Natera-Mumaw M, Esqueda-González LF, Castelaín-Fernández M (2015) Atlas serpientes de Venezuela. Dimacofi Negocios Avanzados S.A., Santiago de Chile, 456 pp.
Adalsteinsson SA, Branch WR, Trape S, Vitt LJ, Hedges SB (2009) Molecular phylogeny, classification, and biogeography of snakes of the Family Leptotyphlopidae (Reptilia, Squamata). Zootaxa 2244: 1–50. DOI: 10.11646/zootaxa.2244.1.1
Nogueira CC, Argôlo AJS, Arzamendia V, Azevedo JA, Barbo FE, Bérnils RS, Bolochio BE, Borges-Martins M, Brasil-Godinho M, Braz H, Buononato MA, Cisneros-Heredia DF, Colli GR, Costa HC, Franco FL, Giraudo A, Gonzalez RC, Guedes T, Hoogmoed MS, Marques OAV, Montingelli GG, Passos P, Prudente ALC, Rivas GA, Sanchez PM, Serrano FC, Silva NJ, Strüssmann C, Vieira-Alencar JPS, Zaher H, Sawaya RJ, Martins M (2019) Atlas of Brazilian snakes: verified point-locality maps to mitigate the Wallacean shortfall in a megadiverse snake fauna. South American Journal of Herpetology 14: 1–274. DOI: 10.2994/SAJH-D-19-00120.1
Hedges SB (2011) The type species of the threadsnake genus Tricheilostoma Jan revisited (Squamata, Leptotyphlopidae). Zootaxa 3027: 63–64. DOI: 10.11646/zootaxa.3027.1.7
Appendix 1: Locality data used to create the distribution map of Trilepida macrolepis in Ecuador (Fig. 2). Go to the section on symbols and abbreviations for a list of acronyms used.
| | | | |
| --- | --- | --- | --- |
| Country | Province | Locality | Source |
| Colombia | Chocó | Morromico | This work |
| Colombia | Valle del Cauca | Buenaventura | Pinto et al. 2017 |
| Colombia | Valle del Cauca | Campamento Cartón Colombia | Pinto et al. 2017 |
| Ecuador | Esmeraldas | Canandé Reserve | This work |
| Ecuador | Esmeraldas | Durango | Salazar-Valenzuela et al. 2015 |
| Ecuador | Esmeraldas | Finca de Carlos Vásquez | Photo by Carlos Vásquez |
| Ecuador | Esmeraldas | Gualpi | This work |
| Ecuador | Esmeraldas | Itapoa Reserve | This work |
| Ecuador | Esmeraldas | Otokiki Reserve | Salazar-Valenzuela et al. 2015 |
| Ecuador | Pichincha | Mashpi Reserve | iNaturalist |