| | |
| --- | --- |
| Published September 9, 2020. Updated March 7, 2021. Open access Peer-reviewed. | Gallery ❯ |
Yumbo Lightbulb-Lizard (Riama yumborum)
Reptiles of Ecuador | Sauria | Gymnophthalmidae | Riama | Riama yumborum
English common names: Yumbo Lightbulb-Lizard.
Spanish common names: Lagartija minadora de los Yumbos.
Recognition: ♂♂ 13.3 cmMaximum distance from the snout to the tip of the tail. Snout–vent length=6.2 cm. ♀♀ 13.1 cmMaximum distance from the snout to the tip of the tail. Snout–vent length=5.4 cm.. Lightbulb-lizards are easily distinguishable from other lizards by their fossorial (living underground) habits and extremities so short that the front and hind limbs cannot reach each other.1,2 The Yumbo Lightbulb-Lizard (Riama yumborum) is one of three short-legged lizards occurring in the Santa Lucía Cloud Forest Reserve. The other two are Andinosaura oculata and R. colomaromani.3,4 Riama yumborum differs from them by lacking dorsolateral lines.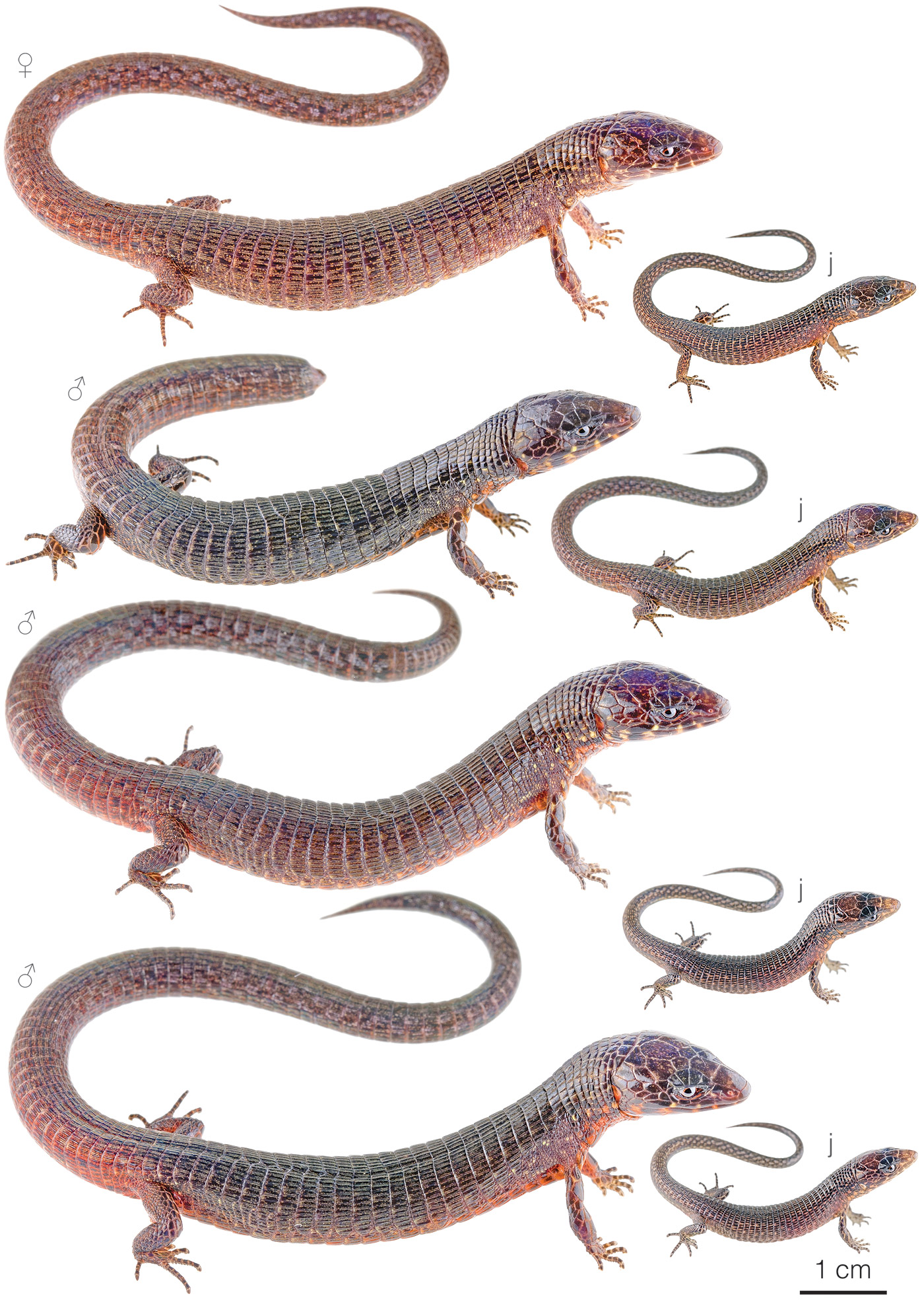 Figure 1: Yumbo Lightbulb-Lizards (Riama yumborum) from Santa Lucía Cloud Forest Reserve (type locality), Pichincha province, Ecuador. j=juvenile
Natural history: UncommonUnlikely to be seen more than once every few months.. Riama yumborum is a cryptozoic (preferring moist, shaded microhabitats) lizard that inhabits old-growth evergreen montane forests as well as borders between disturbed forest and pasture.5 Yumbo Lightbulb-Lizards occur in areas of dense leaf-litter usually near (within 100 m from) streams6 and waterfalls5. Individuals are active at ground level during the daytime, either under leaf-litter, at the base of trees, or among shallow roots.5,6 When not active, individuals of R. yumborum hide under leaf-litter, logs, soil, and rocks.6 When threatened, Yumbo Lightbulb-Lizards seek refuge under surface objects. If captured, they may bite or readily shed the tail.
Conservation: Vulnerable Considered to be facing a high risk of extinction in the mid-term future.. Riama yumborum is proposed to be assigned in this category, instead of Data Deficient,7 following IUCN criteria8 because the species is known from a single population occupying an area estimated to be no larger than 4 km2. Currently, R. yumborum is the lizard species in Ecuador having the smallest known geographic range, which makes it especially prone to extinction from anthropogenic disturbances or natural stochastic events within a short time period.9 Fortunately, the species faces no major immediate extinction threats and its entire area of distribution is currently within the limits of the Santa Lucía Cloud Forest Reserve.
Distribution: Riama yumborum is endemic to an estimated ~3.27 km2 area in the Pacific slopes of the Andes in northwestern Ecuador. It has only been recorded in the Santa Lucía Cloud Forest Reserve, but an unconfirmed photographic record from Manduriacu Reserve could represent the second known locality for R. yumborum. The species occurs at elevations between 1542 and 1658 m.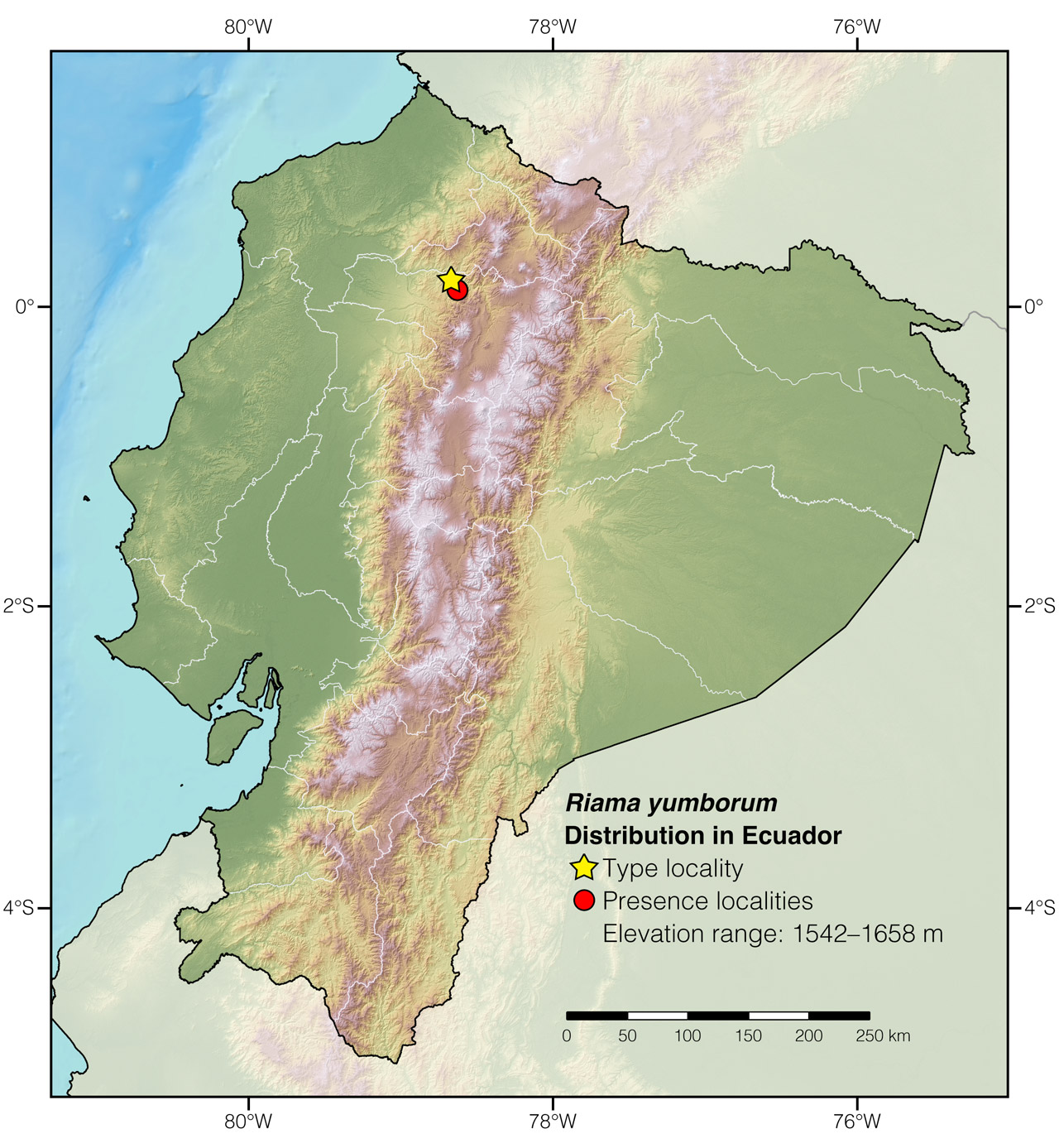 Figure 2: Distribution of Riama yumborum in Ecuador. The single presence locality corresponds to Santa Lucía Cloud Forest Reserve.
Etymology: The generic name Riama does not appear to be a reference to any feature of this group of lizards, but a matter of personal taste. John Edward Gray usually selected girl's names to use on reptiles.10–13 The specific epithet yumborum means "of the Yumbos." It honors the Yumbo culture (800–1660 A.D.), a pre-Incan civilization that inhabited the same region where R. yumborum occurs.3
See it in the wild: Given their secretive habits and extremely small geographic range, Yumbo Lightbulb-Lizards are not recorded accidentally. The few times these lizards have been located is when they are captured using pitfall traps with drift fences or when actively searched for by raking leaf-litter or by turning over rocks and logs in moist, shaded microhabitats. There are three trails in Santa Lucía Cloud Forest Reserve where individuals of Riama yumborum can be found with ~10–20% certainty if the search is focused and carried out for a period of at least four hours.
Acknowledgments: Special thanks to Connor Sullivan for providing locality and natural history data of Riama yumborum. Thanks to Holger Beck for granting access to Santa Lucía Cloud Forest Reserve. This account was published with the support of Secretaría Nacional de Educación Superior Ciencia y Tecnología (programa INEDITA; project: Respuestas a la crisis de biodiversidad: la descripción de especies como herramienta de conservación; No 00110378), Programa de las Naciones Unidas (PNUD), and Universidad San Francisco de Quito (USFQ).
Author: Alejandro ArteagaaAffiliation: Khamai Foundation, Quito, Ecuador.
Academic reviewer: Simon MaddockbAffiliation: Faculty of Science and Engineering, University of Wolverhampton, Wolverhampton, United Kingdom.
Photographer: Jose VieiraaAffiliation: Tropical Herping (TH), Quito, Ecuador.,cAffiliation: ExSitu, Quito, Ecuador.
How to cite? Arteaga A (2020) Yumbo Lightbulb-Lizard (Riama yumborum). In: Arteaga A, Bustamante L, Vieira J, Guayasamin JM (Eds) Reptiles of Ecuador: Life in the middle of the world. Available from: www.reptilesofecuador.com. DOI: 10.47051/MXLB2904
Literature cited:
Doan TM, Castoe TA (2005) Phylogenetic taxonomy of the Cercosaurini (Squamata: Gymnophthalmidae), with new genera for species of Neusticurus and Proctoporus. Zoological Journal of the Linnean Society 143: 405–416. DOI: 10.1111/j.1096-3642.2005.00145.x
Kizirian DA (1996) A review of Ecuadorian Proctoporus (Squamata: Gymnophthalmidae) with descriptions of nine new species. Herpetological Monographs 10: 85–155. DOI: 10.2307/1466981
Aguirre-Penafiel V, Torres-Carvajal O, Nunes PM, Peck MR, Maddock ST (2014) A new species of Riama Gray, 1858 (Squamata: Gymnophthalmidae) from the Tropical Andes. Zootaxa 3866: 246–260. DOI: 10.11646/zootaxa.3866.2.4
Maddock ST, Aguirre-Peñafiel V, Torres-Carvajal O, Morales JN, Peck MR (2011) Riama unicolor (NCN). Feeding and new altitudinal range. Herpetological Review 42: 278.
Yánez-Muñoz M (2017) Riama yumborum. The IUCN red list of threatened species. Available from: www.iucnredlist.org. DOI: 10.2305/IUCN.UK.2017-2.RLTS.T68049597A68049600.en
IUCN (2001) IUCN Red List categories and criteria: Version 3.1. IUCN Species Survival Commission, Gland and Cambridge, 30 pp.
Meiri S, Bauer AM, Allison A, Castro-Herrera F, Chirio L, Colli G, Das I, Doan TM, Glaw F, Grismer LL, Hoogmoed M, Kraus F, LeBreton M, Meirte D, Nagy ZT, Nogueira CdC, Oliver P, Pauwels OSG, Pincheira-Donoso D, Shea G, Sindaco R, Tallowin OJS, Torres-Carvajal O, Trape J-F, Uetz P, Wagner P, Wang Y, Ziegler T, Roll U (2018) Extinct, obscure or imaginary: the lizard species with the smallest ranges. Diversity and Distributions 24: 262–273. DOI: 10.1111/ddi.12678
Gray JE (1831) Description of a new genus of ophisaurean animal, discovered by the late James Hunter in New Holland. Treuttel, Würtz & Co., London, 40 pp.
Gray JE (1831) A synopsis of the species of the class Reptilia. In: Griffith E, Pidgeon E (Eds) The animal kingdom arranged in conformity with its organization. Whittaker, Treacher, & Co., London, 1–110.
Gray JE (1838) Catalogue of the slender-tongued saurians, with descriptions of many new genera and species. Annals and Magazine of Natural History 1: 274–283.