Reptiles of Ecuador | Serpentes | Colubridae | Pseudalsophis | Pseudalsophis steindachneri
English common names: Painted Racer, Steindachner Racer, Striped Galápagos Snake.
Spanish common names: Culebra pintada, culebra de Steindachner, serpiente corredora pintada.
Recognition: ♂♂ 61.2 cm ♀♀ 53.4 cm. Pseudalsophis steindachneri is one of two snake species known to occur on Baltra, Santa Cruz, and Seymour Norte islands. The other species is the Central Galápagos Racer (P. dorsalis), a larger snake that does not have golden speckled lateral black stripes.
Picture: Adult. Santa Cruz Island. Galápagos, Ecuador.
Natural history: Frequent. Pseudalsophis steindachneri is a diurnal snake inhabiting volcanic rock areas, dry shrublands, dry grasslands, deciduous forests, and, in Puerto Ayora on Santa Cruz Island, rural gardens and urban areas.1 Painted Racers are active throughout the day, but usually not during hot midday hours. They move on soil, rocks, concrete, and cacti.1 Individuals of P. occidentalis are mildly venomous, which means their bite is dangerous to small prey, but not to humans.3 They are foraging predators that feed on Isabela Lava-Lizards on Santa Cruz Lava-Lizards (Microlophus indefatigabilis),3 and on grasshoppers.4
Conservation: Endangered. We consider Pseudalsophis steindachneri to be in this category following IUCN criteria5 because the species' extent of occurrence is estimated to be less than 500 km2, it is exposed to extreme population fluctuations due to irregular weather patterns, and anecdotal observations indicate the species is declining due to predation by feral cats.1 The Painted Racer is believed to have been nearly extirpated from Baltra6 and the co-occurring Central Galápagos Racer (P. dorsalis) is believed to have been extirpated from Santa Cruz.1
The population of Painted Racers remaining on Santa Cruz faces numerous ongoing conservation challenges that the require the constant attention of the Galápagos National Park in collaboration with scientists, local authorities, and the community. Santa Cruz is the island with the largest human population in the Galápagos Archipelago, with nearly 16,000 inhabitants. Additionally, it is inhabited by several exotic species that may prey upon snakes, including feral cats, rats, and dogs.6
Distribution: Painted Racers are endemic to an estimated 233.8 km2 area on Baltra, Santa Cruz, and Seymour Norte islands. Galápagos, Ecuador.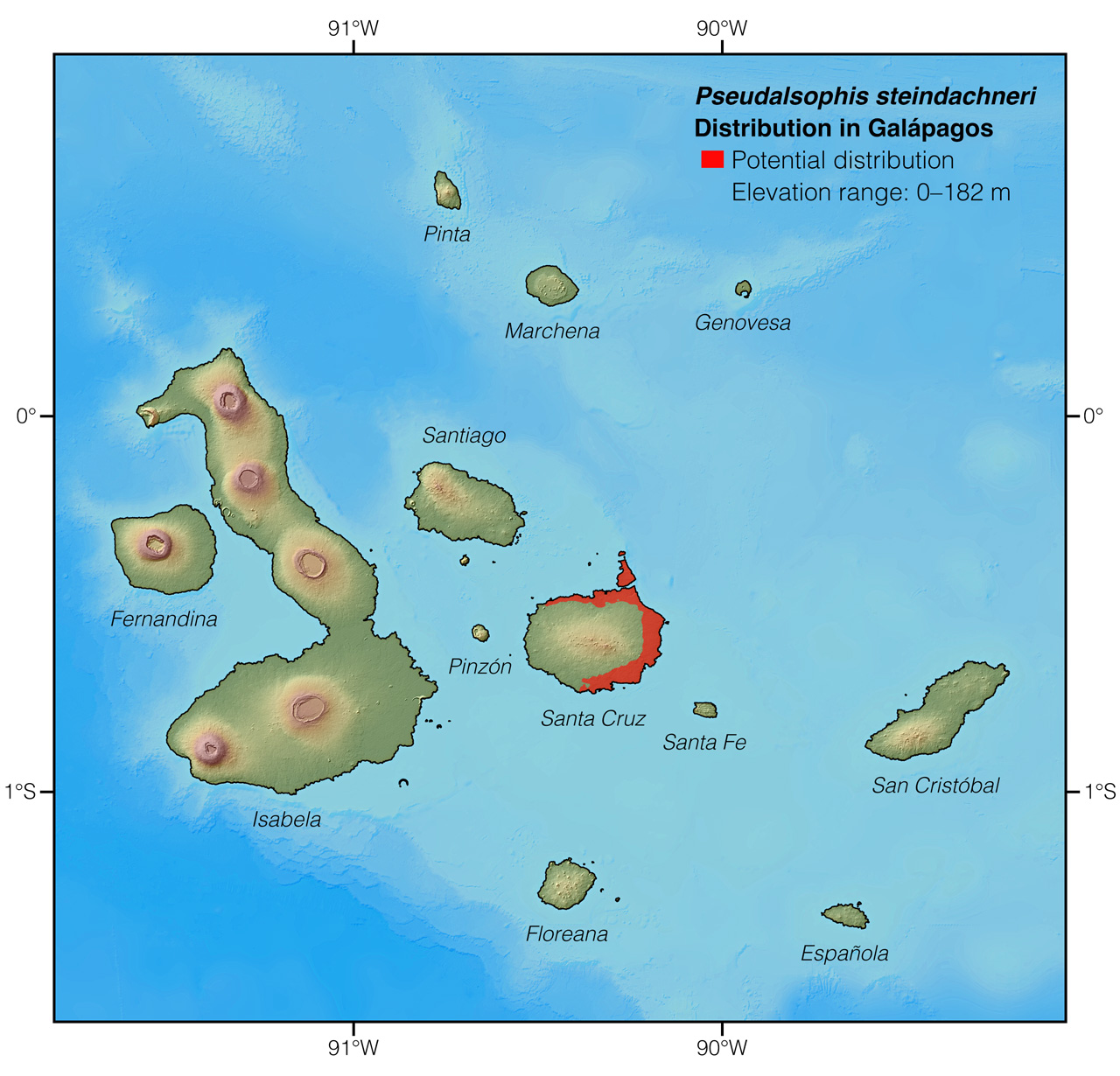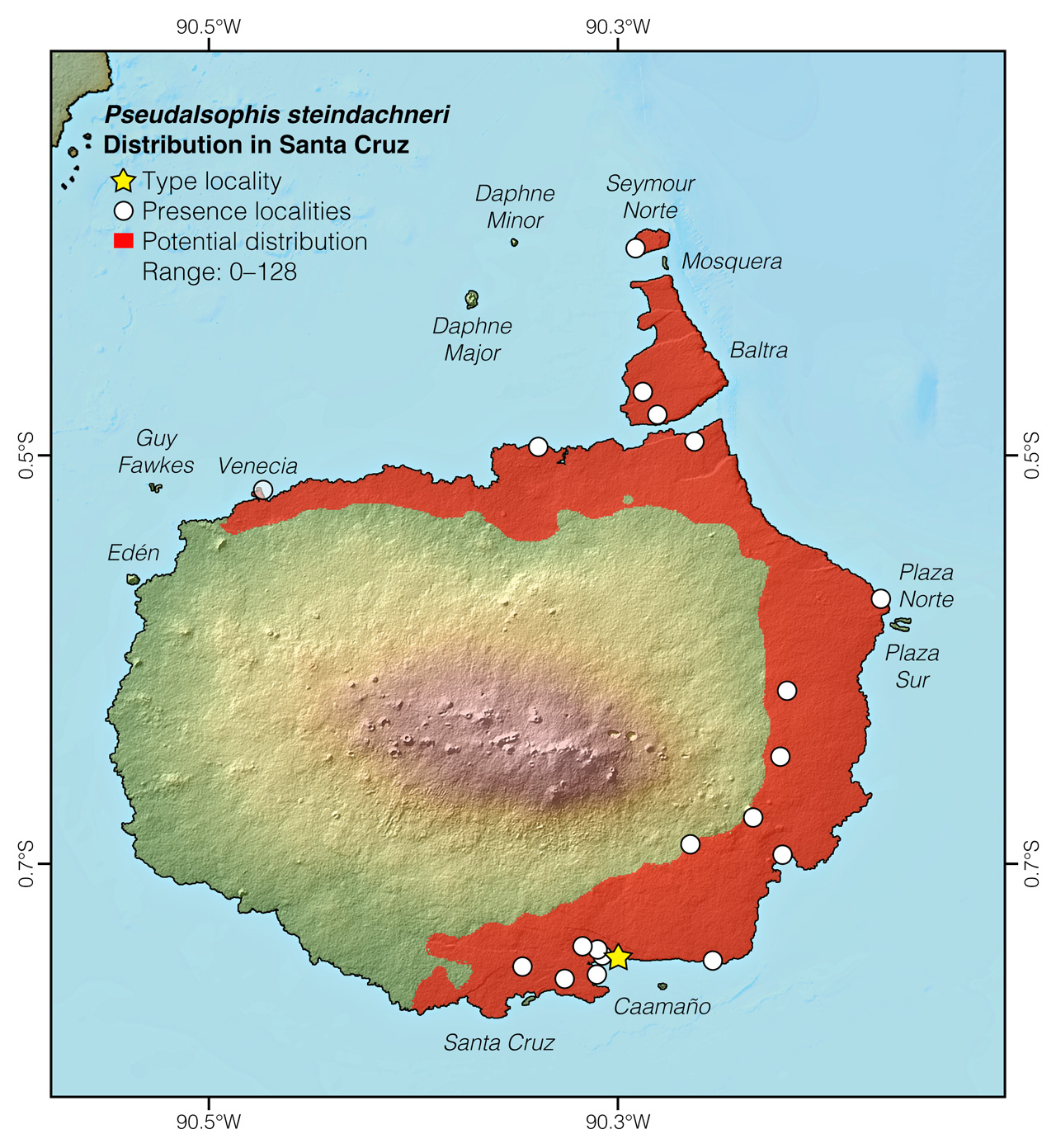 Etymology: The generic name Pseudalsophis, which comes from the Greek words pseudo (meaning "false") and Alsophis (a genus of Caribbean snakes), refers to the similarity between snakes of the two genera.7 The specific epithet steindachneri honors Franz Steindachner (1834–1919), a prolific Austrian zoologist, ichthyologist, and herpetologist who described hundreds of new species.4
See it in the wild: Like most snakes in Galápagos, Painted Racers are secretive snakes, but, with some luck, they can be seen with ~20% certainty at some tourism sites on Santa Cruz Island. The easiest place to see the racers is along the trail leading from Puerto Ayora to Tortuga Bay. The best time to look for them is during the first hours after sunrise or right before sunset.
Special thanks to Lina Knuth-Winterfeldt for symbolically adopting the Painted Racer and helping bring the Reptiles of Ecuador book project to life.
Click here to adopt a species.
Authors: Alejandro ArteagaaAffiliation: Khamai Foundation, Quito, Ecuador. and Juan M GuayasaminbAffiliation: Laboratorio de Biología Evolutiva, Universidad San Francisco de Quito (USFQ), Quito, Ecuador.,cAffiliation: Galapagos Science Center, Galápagos, Ecuador.,dAffiliation: Centro de Investigación de la Biodiversidad y Cambio Climático, Universidad Tecnológica Indoamérica, Quito, Ecuador.
Academic reviewers: Robert A Thomas and Luis Ortiz-Catedral.
Photographers: Alejandro ArteagaaAffiliation: Tropical Herping (TH), Quito, Ecuador.
How to cite? Arteaga A, Guayasamin JM (2020) Pseudalsophis steindachneri. In: Arteaga A, Bustamante L, Vieira J, Guayasamin JM (Eds) Reptiles of Ecuador: Life in the middle of the world. Available from: www.reptilesofecuador.com
Literature cited: