Reptiles of Ecuador | Sauria | Phyllodactylidae | Phyllodactylus gilberti
English common names: Wolf Leaf-toed Gecko, Gilbert's Leaf-toed Gecko.
Spanish common names: Geco de Wolf, salamanquesa de Wolf.
Recognition: ♂♂ 10.9 cm ♀♀ 11.5 cm. Geckos are easily distinguishable from other lizards by their nocturnal habits and vertical pupils. The Wolf Leaf-toed Gecko (Phyllodactylus gilberti) is the only gecko known to occur on Darwin and Wolf islands.
Picture: Adult. Wolf Island. Galápagos, Ecuador.
Picture: Adult. Wolf Island. Galápagos, Ecuador.
Picture: Adult. Wolf Island. Galápagos, Ecuador.
Picture: Adult female. Wolf Island. Galápagos, Ecuador.
Picture: Juvenile. Wolf Island. Galápagos, Ecuador.
Picture: Juvenile. Wolf Island. Galápagos, Ecuador.
Natural history: Locally extremely common. Phyllodactylus gilberti is a nocturnal and terrestrial gecko inhabiting dry shrubland and semideciduous forests.1 During daytime, Wolf Leaf-toed Geckos seek refuge under lava blocks.1,2 When threatened, they flee into crevices, and easily shed their tail if captured. Individuals of Phyllodactylus gilberti are preyed upon by owls and egrets.3,4
Conservation: Vulnerable. We consider Phyllodactylus gilberti to be in this category following IUCN criteria5 because the species is restricted to two islands having an area less than 3 km2 each. Therefore, the species is prone to be affected by random unpredictable events (like droughts and introduced species) within a short time period.
Distribution: Native to Darwin (2.33 km2) and Wolf (2.85 km2) islands, which are the most remote islands in the Galápagos Archipelago. Both are the remains of a massive extinct volcano which is now submerged. On Wolf Island, Wolf Leaf-toed Geckos are present only on the plateau.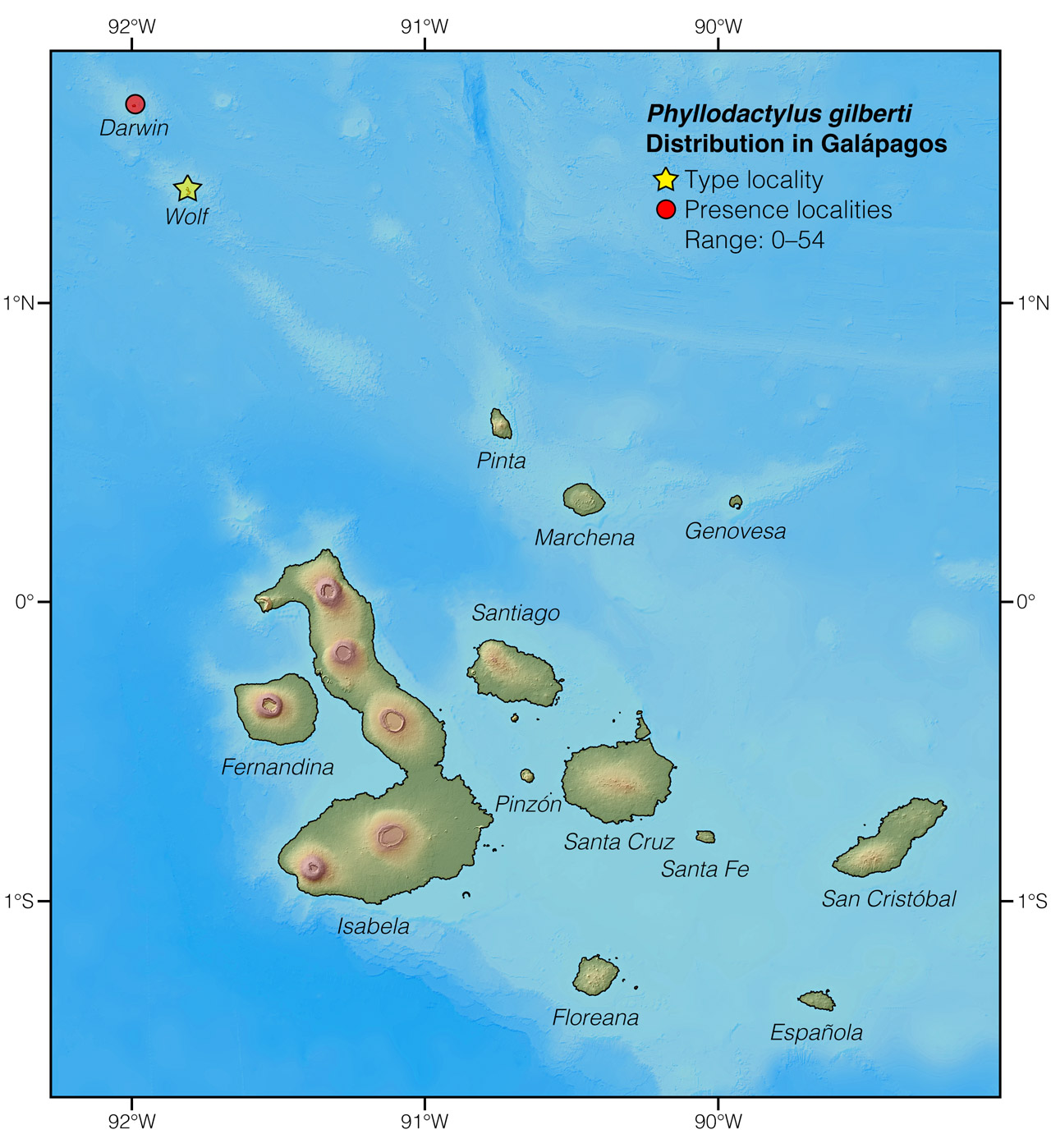 Etymology: The generic name Phyllodactylus, which comes from the Greek words phyllon (meaning "leaf") and daktylos (meaning "finger"),6 refers to the leaf-shaped fingers characteristic of this group of geckos. The specific epithet gilberti honors Charles H Gilbert (1859–1928), an American ichthyologist, conservationist, and one of the founding faculty of Stanford University.7
See it in the wild: Darwin and Wolf islands are inaccessible to tourism. Researchers and members of the Galápagos National Park may visit the habitat of Phyllodactylus gilberti, but only in the context of a scientific expedition or a conservation agenda.
Authors: Alejandro ArteagaaAffiliation: Biodiversity Field Lab, Khamai Foundation, Quito, Ecuador. and Juan M GuayasaminbAffiliation: Laboratorio de Biología Evolutiva, Universidad San Francisco de Quito (USFQ), Quito, Ecuador.,cAffiliation: Galapagos Science Center, Galápagos, Ecuador.,dAffiliation: Centro de Investigación de la Biodiversidad y Cambio Climático, Universidad Tecnológica Indoamérica, Quito, Ecuador.
Academic reviewers: Cruz Márquez.
Photographers: Lucas Bustamante.
How to cite? Arteaga A, Guayasamin JM (2020) Phyllodactylus gilberti. In: Arteaga A, Bustamante L, Vieira J, Guayasamin JM (Eds) Reptiles of Ecuador: Life in the middle of the world. Available from: www.reptilesofecuador.com
Literature cited: