| | |
| --- | --- |
| Published April 1, 2021. Open access. | Gallery ❯ |
Sharp-snouted Dwarf-Gecko (Lepidoblepharis intermedius)
Reptiles of Ecuador | Sauria | Sphaerodactylidae | Lepidoblepharis intermedius
English common names: Sharp-snouted Dwarf-Gecko, Lowland Scaly-eyed Gecko.
Spanish common names: Hojarito hocicudo, gecko pintado.
Recognition: ♂♂ 6.3 cmMaximum distance from the snout to the tip of the tail. Snout–vent length=2.9 cm. ♀♀ 7.3 cmMaximum distance from the snout to the tip of the tail. Snout–vent length=3.4 cm.. Dwarf geckos differ from other lizards based on their small size, lack of moveable eyelids, presence of a scaly supraciliary flap, and their leaf-litter-dwelling habits.1,2 The Sharp-snouted Dwarf-Gecko (Lepidoblepharis intermedius) differs from other members of its genus occurring in the rainforests of northwestern Ecuador by its medium-size, sharp snout, and homogenous granular dorsal scales.3,4 The dorsal surfaces are orangish brown with (usually) a whitish streak across the nape.5 In Ecuador, the other two co-occurring Lepidoblepharis species (L. grandis and L. peraccae) have blunt snouts. Males of L. intermedius differ from females by their bright red tail and by having a silver escutcheon, a characteristic concentration of holocrine secretory glands, on the belly.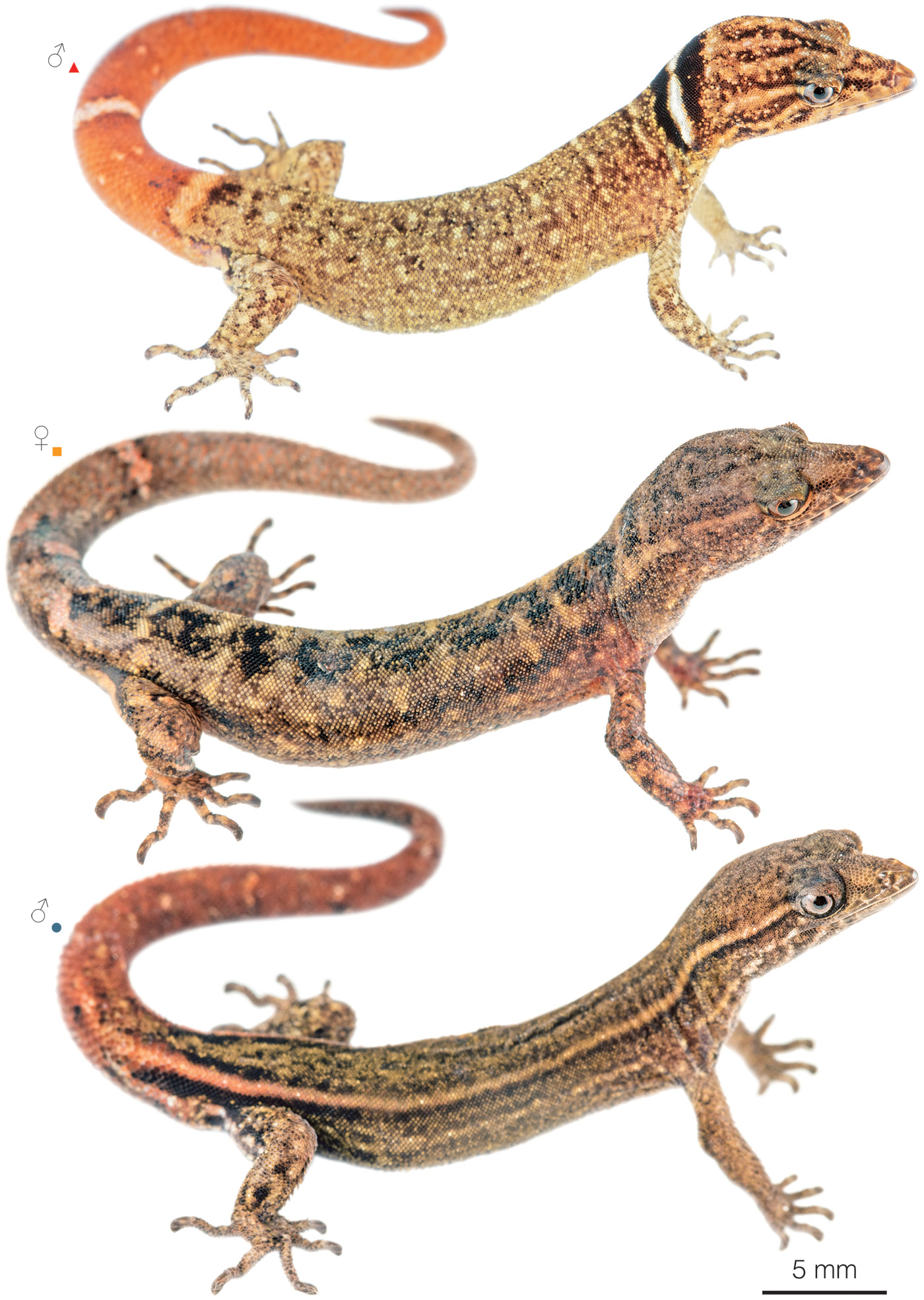 Figure 1: Sharp-snouted Dwarf-Geckos (Lepidoblepharis intermedius) from Mashpi Lodge, Pichincha province, Ecuador (); and Morromico, Chocó department, Colombia (). sa=subadult.
Natural history: Extremely rareTotal average number of reported observations per locality less than three.. Lepidoblepharis intermedius is a cryptozoic (preferring moist, shaded microhabitats), terrestrial to semi-arboreal, and diurnal lizard that inhabits old-growth evergreen lowland and foothill forests.6 When not active, Sharp-snouted Dwarf-Geckos hide under logs or piles of rotten coconuts.7 In the presence of a disturbance, individuals will quickly flee under surface objects.7 If captured, they can readily shed the tail as well as portions of their skin.6 This species is oviparous.8
Conservation: Least Concern Believed to be safe from extinction given current circumstances..9 Lepidoblepharis intermedius is listed in this category because the species is widely distributed throughout the Chocoan lowlands, especially in areas that have not been heavily affected by deforestation, like the Colombian Pacific coast. Thus, the species is considered to be facing no major immediate extinction threats.9 The main threat to the long-term survival of populations of L. intermedius is the continuing decline in the extent and quality of its habitat, mostly due to encroaching human activities such as agriculture and cattle grazing. In Ecuador, an estimated ~61% of the habitat of the species has been destroyed.10 Therefore, the species may qualify for a threatened category in the near future if this threat is not addressed.
Distribution: Lepidoblepharis intermedius is endemic to the Chocó biome, from western Colombia to northwestern Ecuador. The species occurs at elevations between 0 and 920 m (Fig. 2).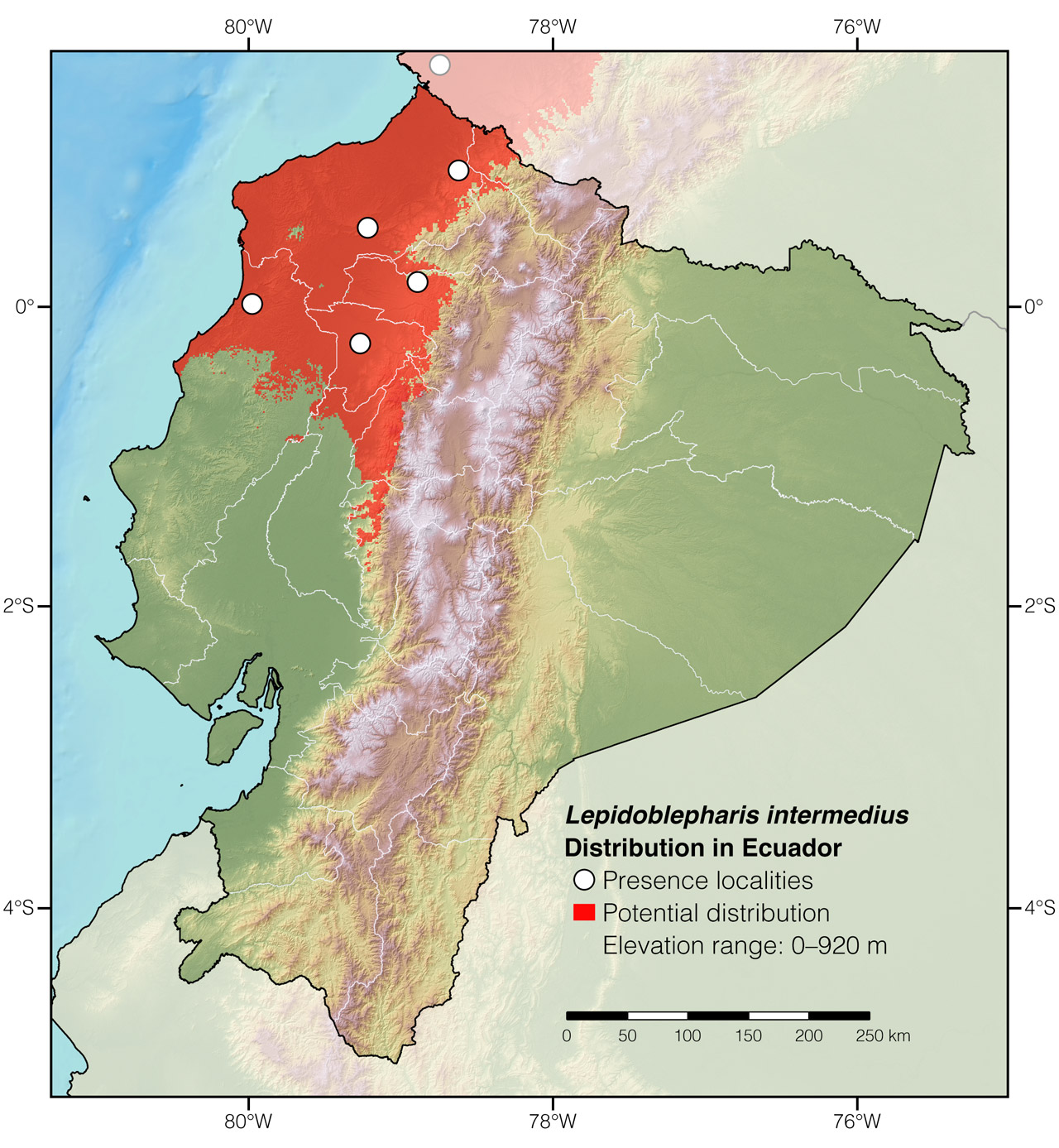 Figure 2: Distribution of Lepidoblepharis intermedius in Ecuador. See Appendix 1 for a complete list of the presence localities included in the map.
Etymology: The generic name Lepidoblepharis, which comes from the Greek words lepidos (meaning "scale") and blepharis (meaning "eyelash"),11 refers to the scaly supraciliary flaps that are characteristic to this group of geckos.12 The specific epithet intermedius probably refers to the body size of this gecko, which is intermediate among members of the genus.13
See it in the wild: Sharp-snouted Dwarf-Geckos are rare and secretive lizards that are recorded no more than once every few moths at any given locality. The majority of the observations come from Gorgona, an island off the Colombian Pacific Coast. In this island, individuals of Lepidoblepharis intermedius were taken mostly from under piles of rotten coconuts.
Acknowledgments: This account was published with the support of Secretaría Nacional de Educación Superior Ciencia y Tecnología (programa INEDITA; project: Respuestas a la crisis de biodiversidad: la descripción de especies como herramienta de conservación; No 00110378), Programa de las Naciones Unidas (PNUD), and Universidad San Francisco de Quito (USFQ).
Author: Alejandro ArteagaaAffiliation: Khamai Foundation, Quito, Ecuador.
Photographer: Jose VieiraaAffiliation: Tropical Herping (TH), Quito, Ecuador.,bAffiliation: ExSitu, Quito, Ecuador.
How to cite? Arteaga A (2021) Sharp-snouted Dwarf-Gecko (Lepidoblepharis intermedius). In: Arteaga A, Bustamante L, Vieira J, Guayasamin JM (Eds) Reptiles of Ecuador: Life in the middle of the world. Available from: www.reptilesofecuador.com. DOI: 10.47051/RSXK9784
Literature cited:
Peters JA, Donoso-Barros R (1970) Catalogue of the Neotropical Squamata: part II, lizards and amphisbaenians. Bulletin of the United States National Museum, Washington, D.C., 293 pp.
Batista A, Ponce M, Vesely M, Mebert K, Hertz A, Köhler G, Carrizo A, Lotzkat S (2015) Revision of the genus Lepidoblepharis (Reptilia: Squamata: Sphaerodactylidae) in Central America, with the description of three new species. Zootaxa 3994: 187–221. DOI: 10.11646/zootaxa.3994.2.2
Ayala SC, Serna MA (1986) Una nueva especie de Lepidoblepharis (Sauria, Gekkonidae) de la Cordillera Central de Colombia. Caldasia 15: 649–654.
Calderón-Espinosa ML, Medina-Rangel GF (2016) A new Lepidoblepharis lizard (Squamata: Sphaerodactylidae) from the Colombian Guyana shield. Zootaxa 4067: 215–232. DOI: 10.11646/zootaxa.4067.2.6
Boulenger GA (1914) On a second collection of batrachians and reptiles made by Dr. H.G.F. Spurrell, F.Z.S., in the Choco, Colombia. Proceedings of the Zoological Society of London 84: 813–817. DOI: 10.1111/j.1469-7998.1914.tb07063.x
Castro-Herrera F, Valencia-Aguilar A, Villaquirán-Martínez DF (2012) Diversidad de anfibios y reptiles del Parque Nacional Natural Isla Gorgona. Universidad del Valle, Cali, 112 pp.
Parker HW (1926) The neotropical lizards of the genera Lepidoblepharis, Pseudogonatodes, Lanthrogecko, and Sphaerodactylus, with the description of a new genus. Annals and Magazine of Natural History 17: 291–301. DOI: 10.1080/00222932608633413
Bolívar W, Castañeda MR, Cisneros-Heredia DF, Velasco J (2015) Lepidoblepharis intermedius. The IUCN red list of threatened species. Available from: www.iucnredlist.org. DOI: 10.2305/IUCN.UK.2015-4.RLTS.T44579386A44579389.en
MAE (2012) Línea base de deforestación del Ecuador continental. Ministerio del Ambiente del Ecuador, Quito, 30 pp.
Peracca MG (1897) Viaggio del Dr. Enrico Festa nell'Ecuador e regioni vicine. Bolletino dei Musei di Zoologia ed Anatomia Comparata della Università di Torino 12: 1–20. DOI: 10.5962/bhl.part.4563
Appendix 1: Locality data used to create the distribution map of Lepidoblepharis intermedius in Ecuador (Fig. 2). Go to the section on symbols and abbreviations for a list of acronyms used.
| | | | |
| --- | --- | --- | --- |
| Country | Province | Locality | Source |
| Colombia | Nariño | Dirección General Marítima (DIMAR) | Pinto-Erazo et al. 2020 |
| Colombia | Nariño | Universidad Nacional de Colombia, Sede Nariño | Pinto-Erazo et al. 2020 |
| Ecuador | Esmeraldas | Bosque Integral Otokiki | Elicio Tapia, pers. comm. |
| Ecuador | Esmeraldas | Canandé Reserve | This work |
| Ecuador | Manabí | Cerro Pata de Pajaro | EPN 12977 |
| Ecuador | Manabí | San Plácido | NMNH 234573 |
| Ecuador | Pichincha | Mashpi Lodge | This work |
| Ecuador | Santo Domingo de los Tsáchilas | Hacienda Espinosa | CAS 13260 |