| | |
| --- | --- |
| Published March 3, 2021. Open access. | Gallery ❯ |
Chocoan Dwarf-Gecko (Lepidoblepharis peraccae)
Reptiles of Ecuador | Sauria | Sphaerodactylidae | Lepidoblepharis peraccae
English common names: Chocoan Dwarf-Gecko, Chocoan Scaly-eyed Gecko, Peracca's Dwarf-Gecko.
Spanish common names: Hojarito del Chocó, hojarito de Peracca.
Recognition: ♂♂ 5.8 cmMaximum distance from the snout to the tip of the tail. Snout–vent length=2.7 cm. ♀♀ 5.7 cmMaximum distance from the snout to the tip of the tail. Snout–vent length=2.6 cm.. Dwarf geckos differ from other lizards based on their small size, lack of moveable eyelids, presence of a scaly supraciliary flap, and their leaf-litter-dwelling habits.1,2 The Chocoan Dwarf-Gecko (Lepidoblepharis peraccae) differs from other members of its genus occurring in the rainforests of northwestern Ecuador by being smaller in body size and having homogenous granular dorsal scales.3,4 The most similar species is L. buchwaldi, which occurs in the seasonally dry forest ecosystem south of the Chocó rainforest. Males of L. peraccae differ from females by having a reddish throat (white in females) and a silver escutcheon, a characteristic concentration of holocrine secretory glands, on the belly.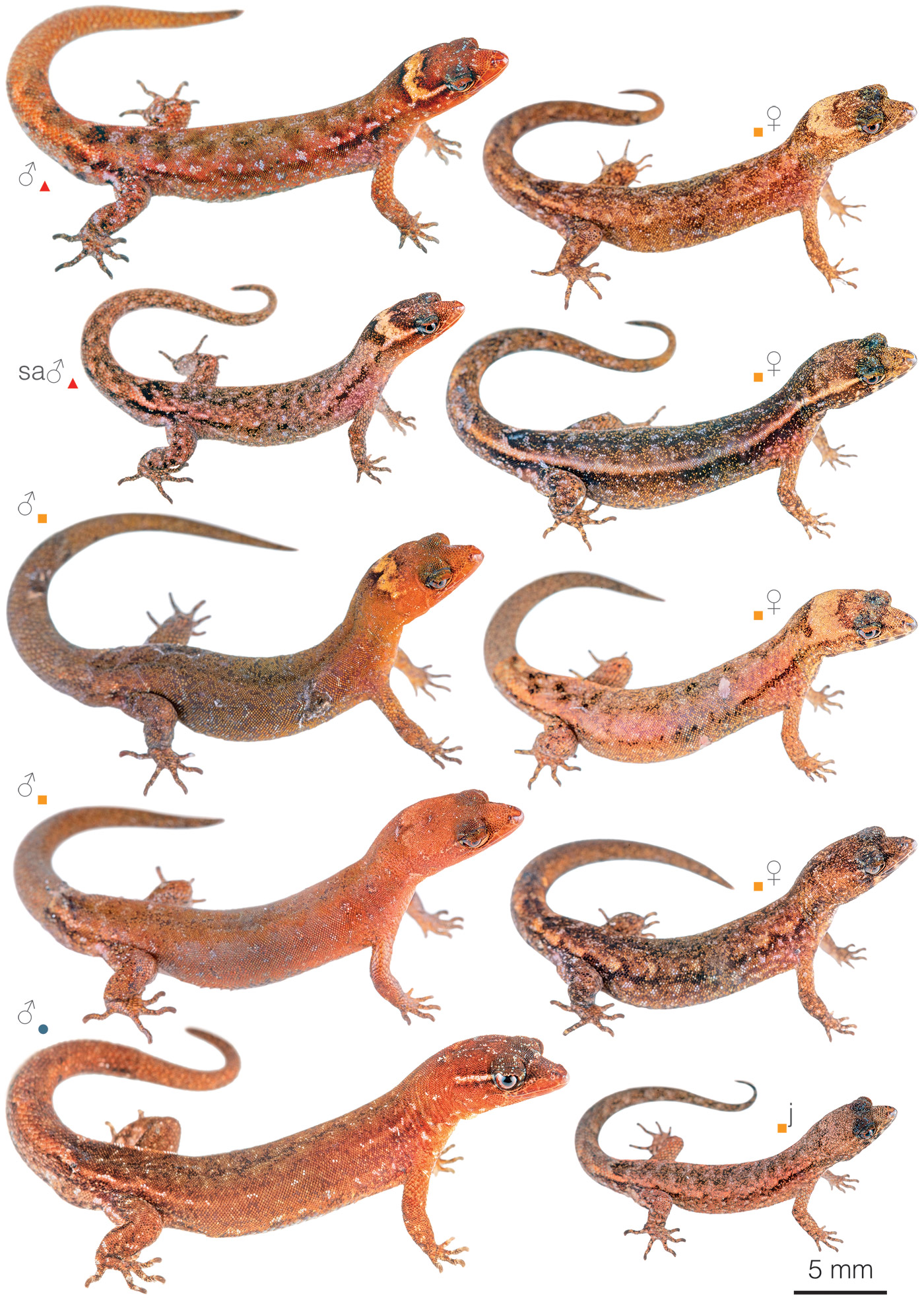 Figure 1: Individuals of Lepidoblepharis peraccae from Kapari Lodge, Pichincha province, Ecuador (); Centro Científico Río Palenque, Los Ríos province, Ecuador (); and Morromico, Chocó Department, Colombia (). sa=subadult, j=juvenile.
Natural history: Locally commonRecorded weekly in densities above five individuals per locality.. Lepidoblepharis peracccae is a cryptozoic (preferring moist, shaded microhabitats), terrestrial, and diurnal lizard that inhabits old-growth to moderately-disturbed evergreen lowland and foothill forests.5 Chocoan Dwarf-Geckos spend most of their lives in thick accumulations of leaf-litter, especially along streams.5 When not active, they hide under logs or piles of leaves.5 In the presence of a disturbance, individuals of L. peraccae will quickly flee under leaf-litter. If captured, they can readily shed the tail as well as portions of their skin.5
Conservation: Least Concern Believed to be safe from extinction given current circumstances..6,7 Lepidoblepharis peraccae is listed in this category because the species is widely distributed throughout the Chocoan lowlands, especially in areas that have not been heavily affected by deforestation, like the Colombian Pacific coast. Thus, the species is considered to be facing no major immediate extinction threats.6 The main threat to the long-term survival of populations of L. peraccae is the continuing decline in the extent and quality of its habitat, mostly due to encroaching human activities such as agriculture and cattle grazing. In Ecuador, an estimated ~62% of the habitat of the species has been destroyed.8 Therefore, the species may qualify for a threatened category in the near future if this threat is not addressed.
Distribution: Lepidoblepharis peraccae is endemic to the Chocó biome, from western Colombia to northwestern Ecuador. The species occurs at elevations between 41 and 1162 m (Fig. 2).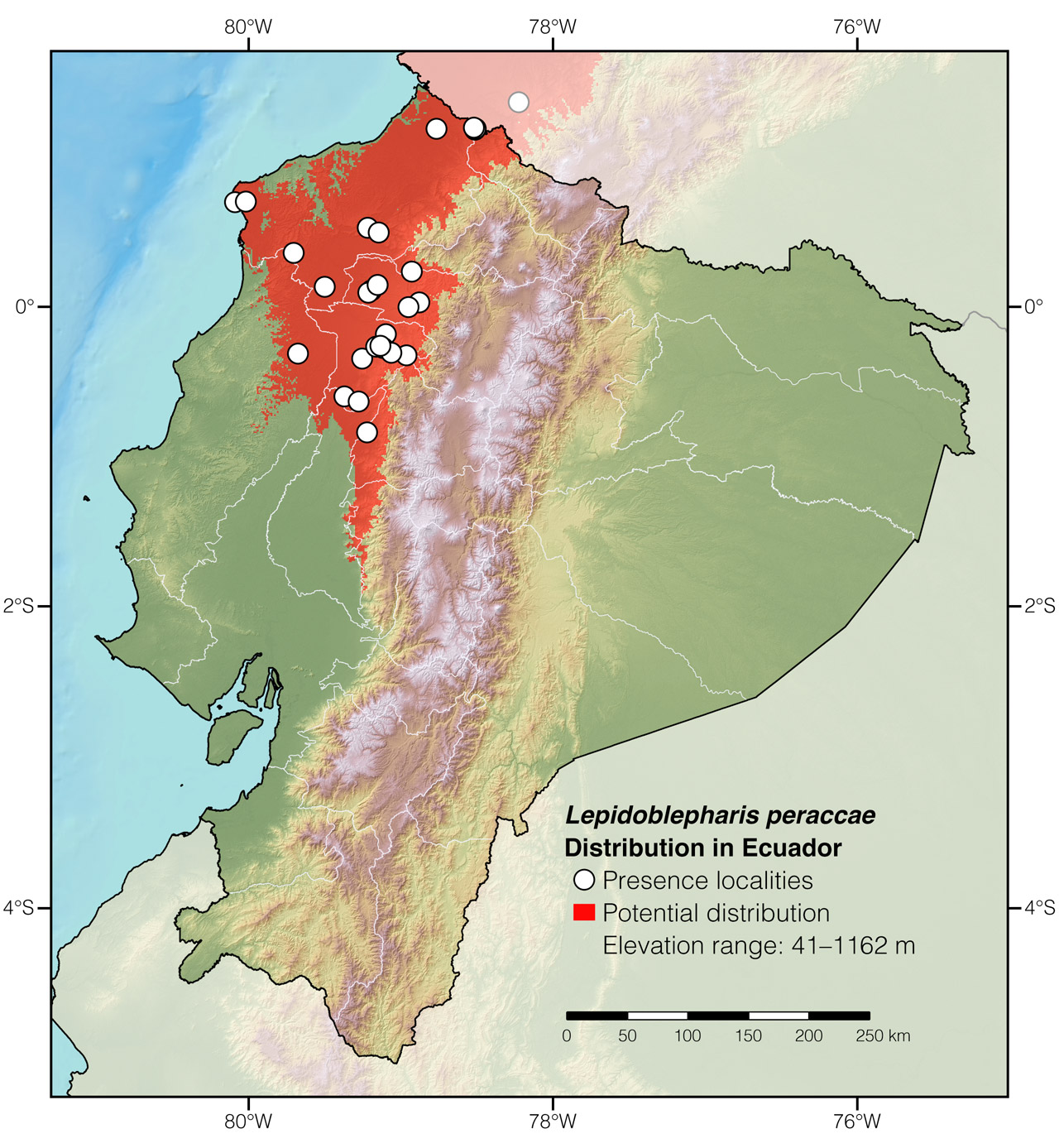 Figure 2: Distribution of Lepidoblepharis peraccae in Ecuador. See Appendix 1 for a complete list of the presence localities included in the map.
Etymology: The generic name Lepidoblepharis, which comes from the Greek words lepidos (meaning "scale") and blepharis (meaning "eyelash"),9 refers to the scaly supraciliary flaps that are characteristic to this group of geckos.10 The specific epithet peraccae honors Mario Giacinto Peracca (1861–1923), an Italian herpetologist who described the genus Lepidoblepharis.3
See it in the wild: Although secretive, Chocoan Dwarf-Geckos can be seen with almost complete certainty by carefully raking leaf-litter in forested areas throughout the species' area of distribution. The species is particularly abundant in Centro Científico Río Palenque, Río Silanche Bird Sanctuary, and Kapari Lodge.
Acknowledgments: This account was published with the support of Secretaría Nacional de Educación Superior Ciencia y Tecnología (programa INEDITA; project: Respuestas a la crisis de biodiversidad: la descripción de especies como herramienta de conservación; No 00110378), Programa de las Naciones Unidas (PNUD), and Universidad San Francisco de Quito (USFQ).
Author: Alejandro ArteagaaAffiliation: Khamai Foundation, Quito, Ecuador.
Photographers: Jose VieiraaAffiliation: Tropical Herping (TH), Quito, Ecuador.,bAffiliation: ExSitu, Quito, Ecuador. and Alejandro ArteagaaAffiliation: Khamai Foundation, Quito, Ecuador.
How to cite? Arteaga A (2021) Chocoan Dwarf-Gecko (Lepidoblepharis peraccae). In: Arteaga A, Bustamante L, Vieira J, Guayasamin JM (Eds) Reptiles of Ecuador: Life in the middle of the world. Available from: www.reptilesofecuador.com. DOI: 10.47051/ZJNS9475
Literature cited:
Appendix 1: Locality data used to create the distribution map of Lepidoblepharis peraccae in Ecuador (Fig. 2). Go to the section on symbols and abbreviations for a list of acronyms used.
| | | | |
| --- | --- | --- | --- |
| Country | Province | Locality | Source |
| Colombia | Nariño | Reserva Natural El Pangán | Online multimedia |
| Ecuador | Carchi | Campamento 2 | DHMECN 6772 |
| Ecuador | Carchi | Destacamento Militar | DHMECN 8072 |
| Ecuador | Carchi | Tobar Donoso | Yanez-Muñoz et al. 2009 |
| Ecuador | Cotopaxi | El Jardín de los Sueños | MZUTI 4817 |
| Ecuador | Esmeraldas | Bilsa Biological Station | Ortega-Andrade et al. 2010 |
| Ecuador | Esmeraldas | Bosque Protector La Perla | iNaturalist |
| Ecuador | Esmeraldas | Caimito | This work |
| Ecuador | Esmeraldas | Canandé Reserve | This work |
| Ecuador | Esmeraldas | Reserva Tesoro Escondido | Citlalli Morelos, pers. comm. |
| Ecuador | Esmeraldas | Río San Francisco | MECN 2878 |
| Ecuador | Esmeraldas | Tundaloma Lodge | This work |
| Ecuador | Imbabura | Manduriacu Reserve | iNaturalist |
| Ecuador | Los Ríos | Centro Científico Río Palenque | CAMPO 540 |
| Ecuador | Manabí | El Carmen, 26.8 km W of | KU 152152 |
| Ecuador | Pichincha | Hostería Selva Virgen | MZUTI 4182 |
| Ecuador | Pichincha | Milpe | EPN 13132 |
| Ecuador | Pichincha | Puerto Quito, 6 km SE of | iNaturalist |
| Ecuador | Pichincha | Río Blanco | This work |
| Ecuador | Pichincha | Río Silanche Bird Sanctuary | MZUTI 3201 |
| Ecuador | Santo Domingo de los Tsáchilas | Alianza para el Progreso | Field notes of Luis Coloma |
| Ecuador | Santo Domingo de los Tsáchilas | Centinela | USNM 285672 |
| Ecuador | Santo Domingo de los Tsáchilas | Finca la Esperanza | EPN 8324 |
| Ecuador | Santo Domingo de los Tsáchilas | Otongachi Reserve | This work |
| Ecuador | Santo Domingo de los Tsáchilas | Puerto Naranjo | Ítalo Tapia, pers. comm. |
| Ecuador | Santo Domingo de los Tsáchilas | Santo Domingo de los Colorados | Online multimedia |
| Ecuador | Santo Domingo de los Tsáchilas | Tinalandia | Photo by Luis Amador |
| Ecuador | Santo Domingo de los Tsáchilas | Vía Aloag–Santo Domingo | Online multimedia |