Touzet's Dwarf-Iguana
Reptiles of Ecuador | Sauria | Hoplocercidae | Enyalioides touzeti
Spanish common name: Iguana enana de Touzet.
Recognition: ♂♂ 28.2 cm ♀♀ 27.7 cm. Enyalioides touzeti is the only dwarf iguana (genus Enyalioides) occurring in southwestern Ecuador. Another species, E. heterolepis, might as well occur in this area, but this lizard has a pale vertical line above the arm.
Picture: Adult male.
Picture: Adult male.
Picture: Adult male.
Picture: Subadult.
Natural history: Uncommon. Enyalioides touzeti is a diurnal primarily terrestrial lizard that sleeps on ferns or branches 30–160 cm above the ground during the night.1–3 It is found in primary and secondary evergreen to semideciduous forests and cacao plantations.1 If captured, E. touzeti can inflict a painful prolongued bite.1
Conservation: Vulnerable. We consider Enyalioides touzeti to be in this category following IUCN criteria4 because, although it occurs in 17 localities including protected areas, its extent of occurrence is estimated to be less than 10,000 km2 and there is continuing decline in the area, extent and quality of its habitat.
Distribution: Tumbesian foothills of the Andes in Ecuador and Peru.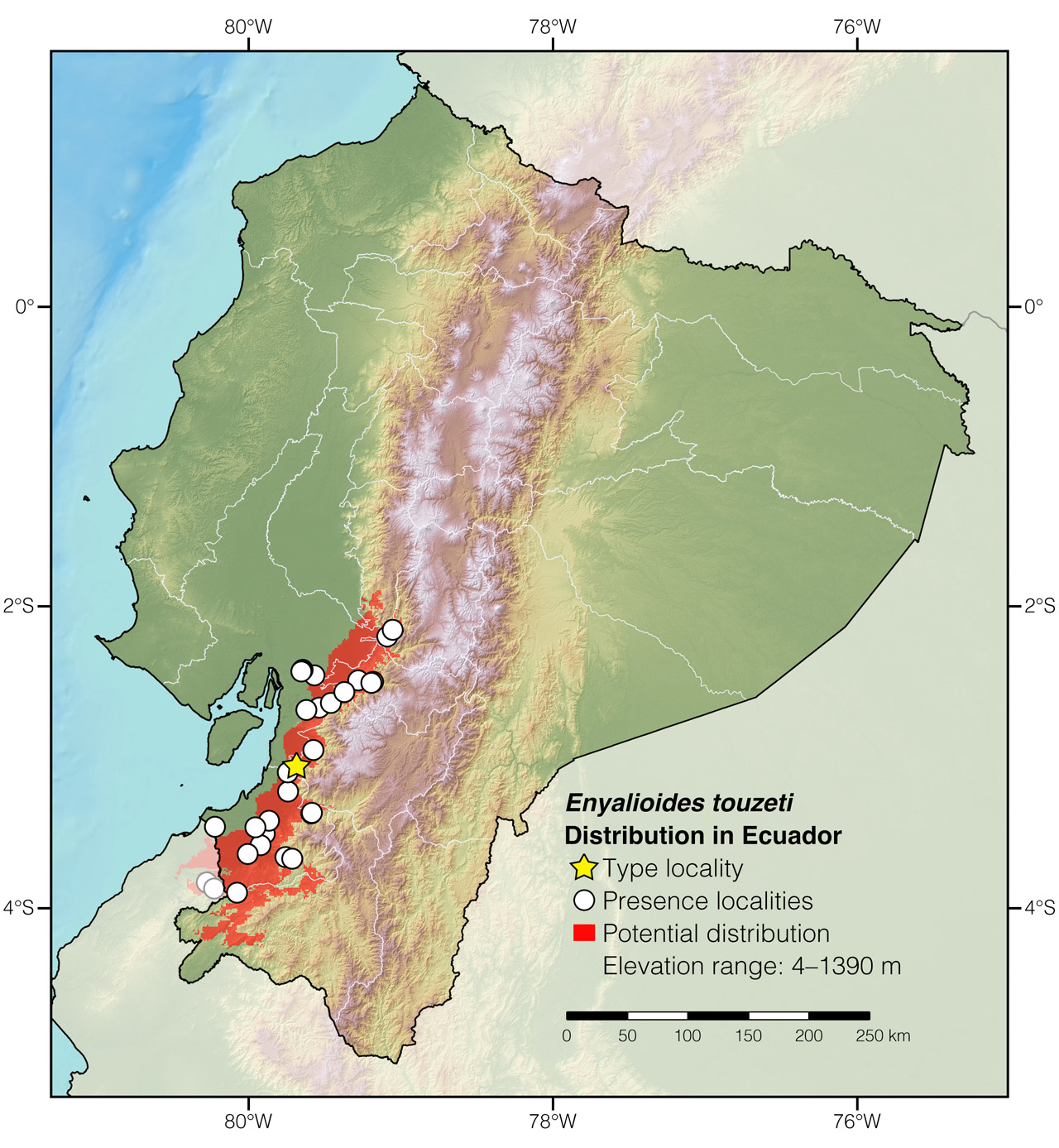 Etymology: The generic name Enyalioides, which comes from the Latin words Enyalius (a genus of neotropical lizards) and oides (meaning "similar to"), refers to the similarity between lizards of the two genera.5 The specific epithet touzeti honors Jean-Marc Touzet, a prolific herpetologist who has contributed immensely to the study and conservation of the herpetofauna of Ecuador.2
Authors: Alejandro ArteagaaAffiliation: Khamai Foundation, Quito, Ecuador. and Gabriela Aguiar.
Literature cited: