Red-eyed Dwarf-Iguana
Reptiles of Ecuador | Sauria | Hoplocercidae | Enyalioides oshaughnessyi
Spanish common name: Iguana enana de ojos rojos.
Recognition: ♂♂ 30.4 cm ♀♀ 26.3 cm. Enyalioides oshaughnessyi is unique among dwarf iguanas (genus Enyalioides) in Ecuador in having bright red eyes and lacking a pale vertical line above the arm. The most similar species is E. altotambo, a species that has brown eyes and occurs north of the known range of E. oshaughnessyi.
Picture: Adult male.
Picture: Adult male.
Picture: Adult male.
Picture: Adult female.
Picture: Subadult.
Picture: Juvenile.
Picture: Juvenile.
Natural history: Frequent. Enyalioides oshaughnessyi is a diurnal sunlight-loving semiarboreal lizard that sleeps on stems and tree trunks 0.8–2.8 m above the ground during the night.1,2 It is a territorial species found in primary and secondary evergreen forests or in deciduous forests close to bodies of water.1,3 Enyalioides oshaughnessyi avoids predators by staying still and blending against the vegetation or by moving up and around trunks.1
Conservation: Vulnerable.4 Enyalioides oshaughnessyi was originally listed in this category because its extent of occurrence was estimated to be smaller than 20,000 km2, it was thought to occur in fewer than 10 localities, and its old-growth forest habitat is under intense, and increasing, pressure from deforestation.4 Although the species is now known from 37 localities and we estimate its extent of occurrence to be over 30,000 km2, E oshaughnessyi is still facing the threat of becoming extinct due to habitat loss, which is taking place even in the protected areas where it occurs.5
Distribution: Endemic to the Chocoan lowlands and adjacent Andean foothills in Ecuador. Colombian records6 of this species likely correspond to Enyalioides altotambo.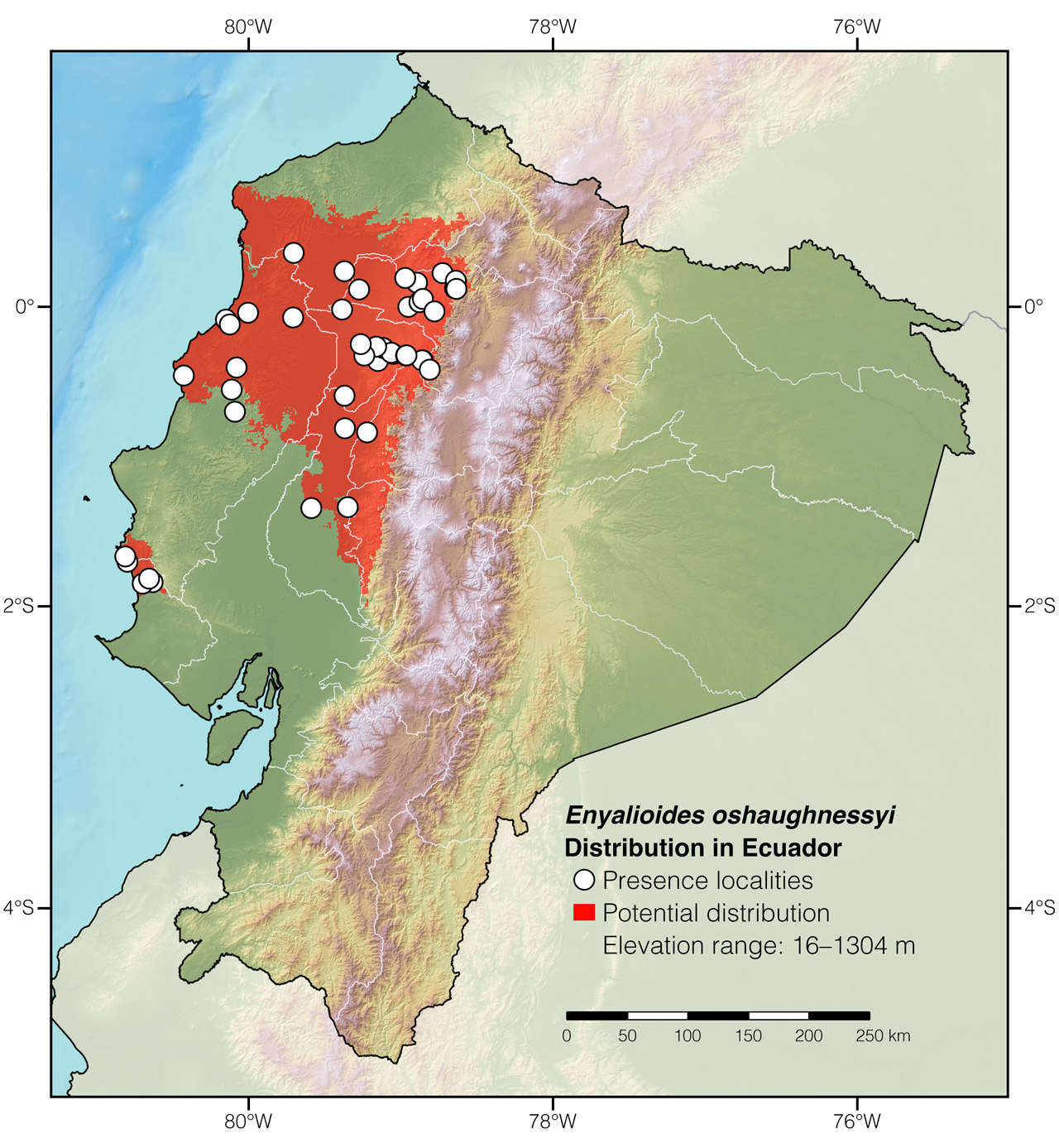 Etymology: The generic name Enyalioides, which comes from the Latin words Enyalius (a genus of neotropical lizards) and oides (meaning "similar to"), refers to the similarity between lizards of the two genera.7 The specific epithet oshaughnessyi honors Arthur O'Shaughnessy, a British poet and herpetologist.
Special thanks to Don Taylor for symbolically adopting the Red-eyed Dwarf Iguana and helping bring the Reptiles of Ecuador book project to life.
Click here to adopt a species.
Authors: Alejandro ArteagaaAffiliation: Khamai Foundation, Quito, Ecuador.
Literature cited: