| | |
| --- | --- |
| George Jett's Snail-Eater | |
Reptiles of Ecuador | Serpentes | Colubridae | Dipsas | Dipsas georgejetti
English common names: George Jett's Snail-Eater.
Spanish common names: Caracolera de George Jett.
Recognition: ♂♂ 88.1 cm ♀♀ 85.6 cm. In its area of distribution, the George Jett's Snail-Eater (Dipsas georgejetti) can be identified based on its light brown dorsum with 53–61 drab to brown black-edged middorsal blotches that, in the first one-third of the body, form complete "saddles" that reach the ventral scales. The Andean Snail-Eater (D. andiana) and the Tumbesian Cat-eyed Snake (Leptodeira larcorum) are similar, but lack the pattern of complete brown "saddles."
Picture: Adult male from Cabuyal, Manabí, Ecuador.
Natural history: Uncommon to extremely rare. Dipsas georgejetti is a nocturnal snake that inhabits old-growth to moderately disturbed dry lowland shrublands, savannahs, deciduous and semideciduous forests, and pastures with scattered trees.1,2 George Jett's Snail-Eaters move actively but slowly at ground level or on vegetation up to 2 m above the ground.1 Nothing is know about the diet of these snakes, but they probably feed on snails and slugs. Snakes of this species are harmless to humans; they are extremely docile and never attempt to bite.2
Conservation: Vulnerable.1 Dipsas georgejetti is listed in this category following IUCN criteria3 because the species' extent of occurrence is estimated to be ~9,611 km2, it is known only from 15 localities effectively corresponding to 4 patches of forest lacking connectivity between them, and its habitat is severely fragmented and declining in extent and quality due to deforestation.1,2 Some of the localities where D. georgejetti occurs are being cleared to accommodate cattle pastures. Some are now completely deforested, which suggests that this arboreal species may have been extirpated locally.1
Distribution: Dipsas georgejetti is endemic to an estimated 9,611 km2 area in the Tumbesian lowlands of the central Pacific coast of Ecuador.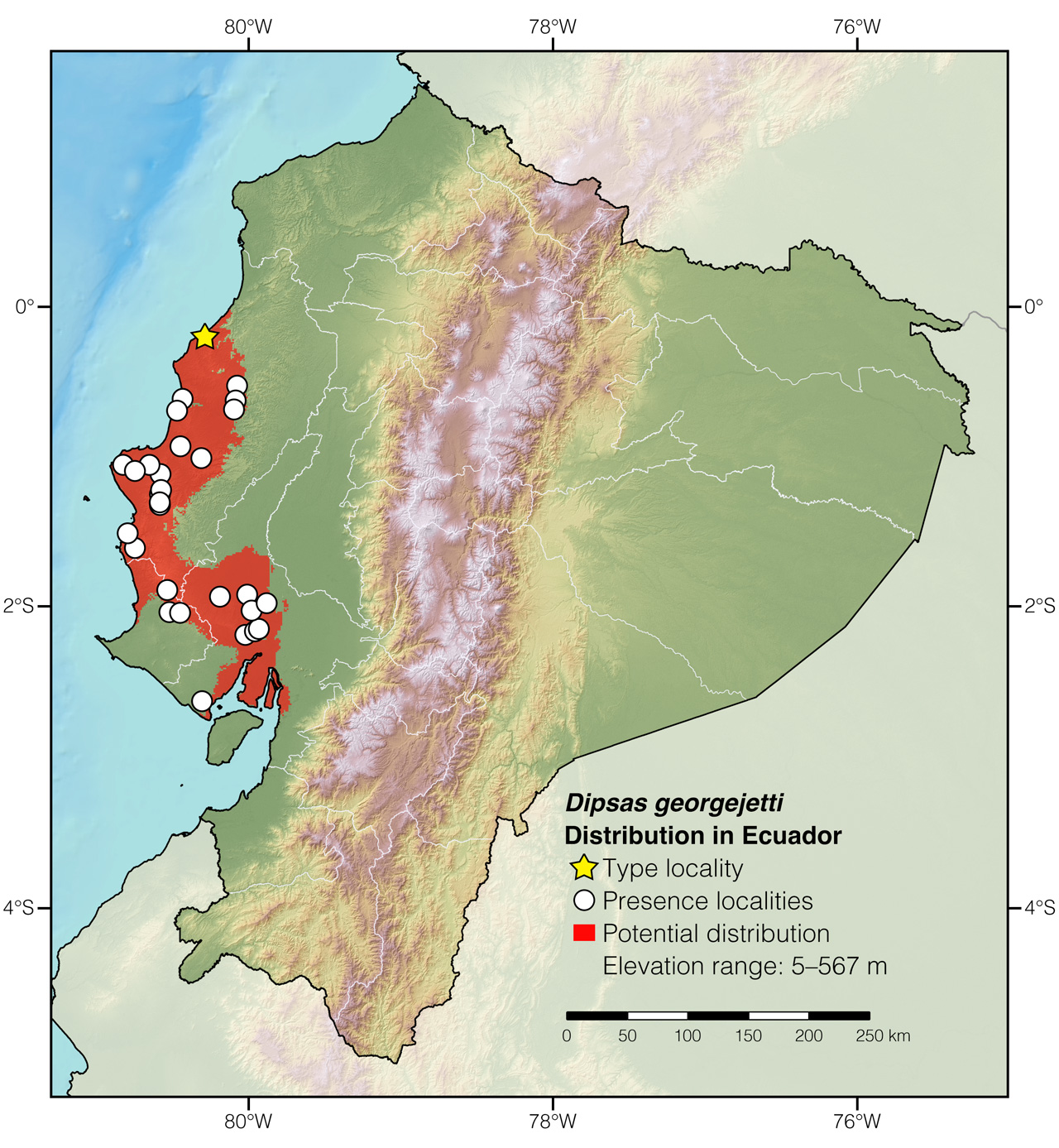 Etymology: The generic name Dipsas, which comes from the Greek word dipsa (meaning "thirst"),4 probably refers to the fact that the bite of these snakes was believed to cause intense thirst. The specific epithet georgejetti honors George Jett, who has helped create several private reserves in Ecuador. He is an international traveler with a passion for reptiles, amphibians, and birds.
See it in the wild: George Jett's Snail-Eaters are usually not seen more than once every few months. Two localities where visitors may safely explore the habitat of this species at night are Parque Nacional Machalilla and Reserva Cerro Blanco.
FAQ
Do snails attract snakes? Yes. Snail-eating snakes follow snails visually or by tracking their scent trail.5
Do snail-eating snakes eat the shell of the snails? They don't. These snakes use specialized muscular contractions of their wedge-like head to extract snails from their shells.5
Author: Alejandro ArteagaaAffiliation: Biodiversity Field Lab, Khamai Foundation, Quito, Ecuador.
Photographer: Alejandro ArteagaaAffiliation: Tropical Herping (TH), Quito, Ecuador.
How to cite? Arteaga A (2020) Dipsas georgejetti. In: Arteaga A, Bustamante L, Vieira J, Guayasamin JM (Eds) Reptiles of Ecuador: Life in the middle of the world. Available from: www.reptilesofecuador.com
Literature cited: