| | |
| --- | --- |
| Published January 13, 2023. Open access. | Gallery ❯ |
Ecuadorian Forest-Racer (Dendrophidion graciliverpa)
Reptiles of Ecuador | Serpentes | Colubridae | Dendrophidion | Dendrophidion graciliverpa
English common name: Ecuadorian Forest-Racer.
Spanish common name: Corredora selvática ecuatoriana.
Recognition: ♂♂ 105.4 cmMaximum distance from the snout to the tip of the tail. Snout–vent length=67.6 cm. ♀♀ 102.7 cmMaximum distance from the snout to the tip of the tail. Snout–vent length=66.3 cm..1 In its area of distribution, the Ecuadorian Forest-Racer (Dendrophidion graciliverpa) can be identified from most other snakes by having conspicuously large eyes, keeled dorsal scales arranged in 17 rows at mid-body, and a brown dorsum with pale crossbars, but without a black nuchal collar.1,2 In juveniles, the crossbars are conspicuous, but these become faint in adults (Fig. 1). Similar species in western Ecuador are D. clarkii and D. prolixum. The former can be recognized by having a black nuchal collar and dark crossbands with embedded pale ocelli (both characters lacking in D. graciliverpa).3 The other species, D. prolixum, occurs north of the known distribution of D. graciliverpa and has a lower number of pale body bands (49–57 vs 57–87) than D. graciliverpa.1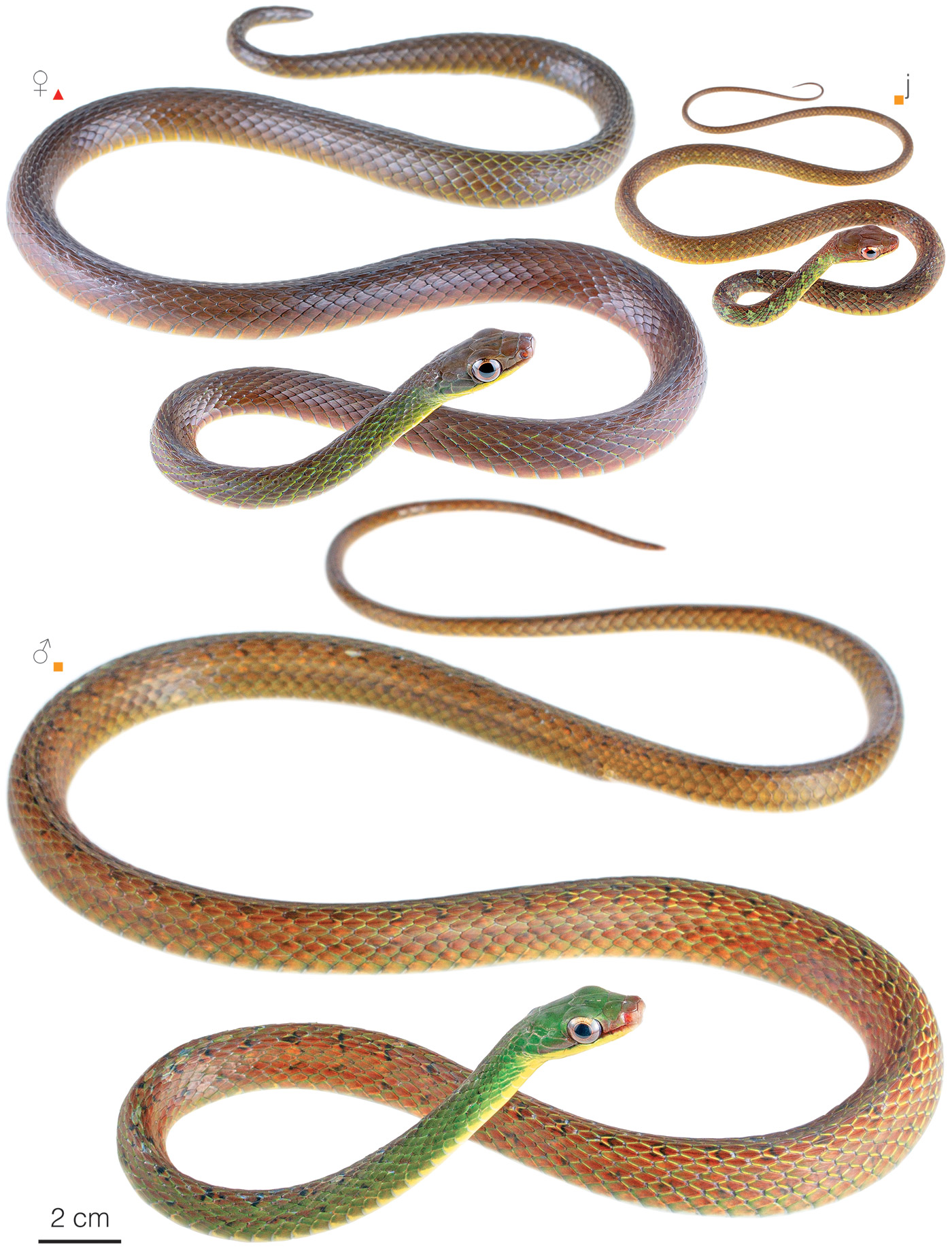 Figure 1: Individuals of Dendrophidion graciliverpa from Ecuador: Mindo, Pichincha province (); and Canandé Reserve, Esmeraldas province (). ad=adult, j=juvenile.
Natural history: Dendrophidion graciliverpa is a frequentlyRecorded weekly in densities below five individuals per locality. encountered snake in some areas of Ecuador.2 The species occurs in old-growth rainforest as well as in pastures with scattered trees, cacao plantations, and banana groves.1,2 Snakes of this species are most often seen active at ground level,3 either basking or actively foraging on the leaf-litter.1 At night, they roost on low (less than 1.5 m above the ground) understory vegetation.4 Ecuadorian Forest-Racers are active hunters having an aglyphous dentition (meaning their teeth lack specialized grooves to deliver venom).1 Therefore, they ingest prey quickly to avoid them from escaping. There are records of individuals of D. graciliverpa feeding on rainfrogs (Pristimantis achatinus)5 and poison frogs (Epipedobates anthonyi).1 The main defense mechanism of Ecuadorian Forest-Racers is to flee quickly, but they can also strike or shed-off parts of their tail.1
Conservation: Least Concern Believed to be safe from extinction given current circumstances..6 Dendrophidion graciliverpa is listed in this category primarily on the basis of its wide (over 40,000 km2; Fig. 2) distribution, presence in protected areas, adaptability to disturbed habitats, and presumed large and stable populations. However, D. graciliverpa is distributed over an area where more than 75% of the forest has been converted to pastures, agricultural fields, and human settlements.7 Thus, the species may qualify for a threatened category in the future if deforestation in western Ecuador continues at the current rate.
Distribution: Dendrophidion graciliverpa is native to an estimated area of 44,693 km2 in western Ecuador and extreme northwestern Peru. The species has been recorded at elevations between 4 and 1585 m (Fig. 2).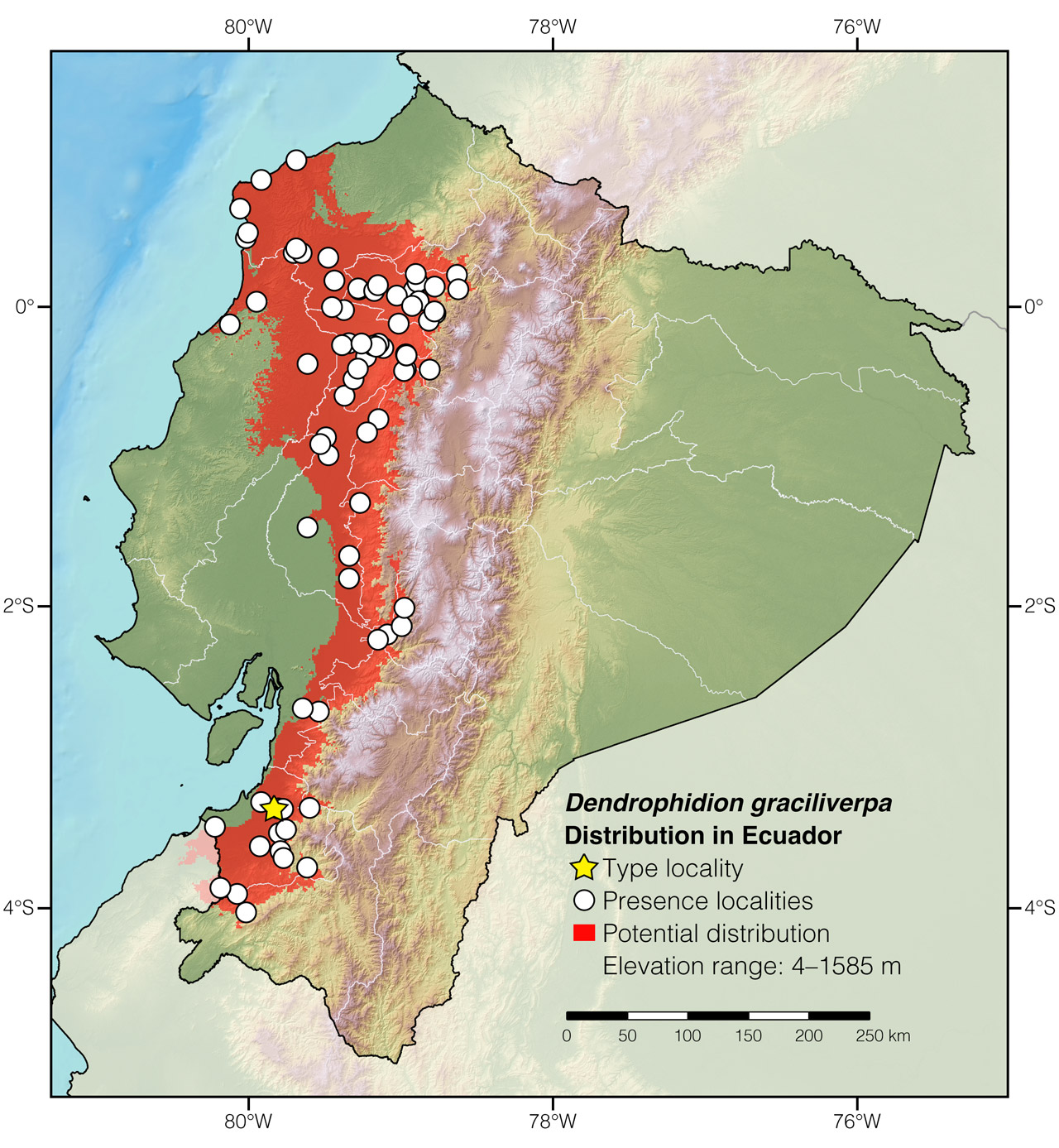 Figure 2: Distribution of Dendrophidion graciliverpa in Ecuador. The star corresponds to the type locality: 3 km E Pasaje, El Oro province. See Appendix 1 for a complete list of the presence localities included in the map.
Etymology: The generic name Dendrophidion comes from the Greek words Dendron (meaning "tree") and ophidion (meaning "small snake").8 The specific epithet graciliverpa is derived from the Latin words gracilis (meaning "slender") and verpa (meaning "penis").1 It refers to the long, slender hemipenes of this species.1
See it in the wild: Ecuadorian Forest-Racers are seen at a rate of about once every week in areas having adequate canopy cover. Snakes of this species are particularly common around the Mindo valley, Pichincha province, as well as in Bilsa Biological Reserve, Esmeraldas province. These snakes are most easily spotted sleeping on low vegetation at night, or moving on pastures with scattered trees during sunny days.
Author: Alejandro ArteagaaAffiliation: Khamai Foundation, Quito, Ecuador.
Photographer: Jose VieirabAffiliation: Tropical Herping (TH), Quito, Ecuador.,cAffiliation: ExSitu, Quito, Ecuador.
How to cite? Arteaga A (2023) Ecuadorian Forest-Racer (Dendrophidion graciliverpa). In: Arteaga A, Bustamante L, Vieira J, Guayasamin JM (Eds) Reptiles of Ecuador: Life in the middle of the world. Available from: www.reptilesofecuador.com. DOI: 10.47051/GZPJ7260
Literature cited:
Cadle JE (2012) Systematics of the Neotropical snake Dendrophidion percarinatum (Serpentes: Colubridae), with descriptions of two new species from western Colombia and Ecuador and supplementary data on Dendrophidion brunneum. Bulletin of the Museum of Comparative Zoology 160: 259–344. DOI: 10.3099/0027-4100-160.6.259
Arteaga A, Bustamante L, Guayasamin JM (2013) The amphibians and reptiles of Mindo. Universidad Tecnológica Indoamérica, Quito, 257 pp.
Cadle JE, Savage JM (2012) Systematics of the Dendrophidion nuchale complex (Serpentes: Colubridae) with the description of a new species from Central America. Zootaxa 3513: 1–50. DOI: 10.11646/zootaxa.3513.1.1
Cisneros-Heredia DF, Yánez-Muñoz M, Brito J, Valencia J, Arteaga A, Bustamante L (2016) Dendrophidion graciliverpa. The IUCN red list of threatened species. Available from: www.iucnredlist.org. DOI: 10.2305/IUCN.UK.2016-1.RLTS.T48329024A48329039.en
MAE (2012) Línea base de deforestación del Ecuador continental. Ministerio del Ambiente del Ecuador, Quito, 30 pp.
Appendix 1: Locality data used to create the distribution map of Dendrophidion graciliverpa in Ecuador (Fig. 2). Go to the section on symbols and abbreviations for a list of acronyms used. Asterisk (*) indicates type locality.
| | | | |
| --- | --- | --- | --- |
| Country | Province | Locality | Source |
| Ecuador | Azuay | Uzhcurumi | Arteaga et al. 2013 |
| Ecuador | Bolívar | Chaguancocho | JMG 745; this work |
| Ecuador | Bolívar | Guasaganda | iNaturalist |
| Ecuador | Bolívar | Las Naves | iNaturalist |
| Ecuador | Chimborazo | Chaguarapata | AMNH R-23032; Cadle 2012 |
| Ecuador | Chimborazo | Cumandá | Photo by Eduardo Zavala |
| Ecuador | Chimborazo | Pallatanga | Boulenger 1894 |
| Ecuador | Cotopaxi | El Jardín de los Sueños | Photo by Christophe Pellet |
| Ecuador | Cotopaxi | Recinto Galápagos | Arteaga et al. 2013 |
| Ecuador | Cotopaxi | San Francisco de Las Pampas | MCZ 163968–69; Cadle 2012 |
| Ecuador | El Oro | Birón Alto | DHMECN 16408; not examined |
| Ecuador | El Oro | El Remolino | Photo of QCAZ 12452 in Torres-Carvajal et al. 2019 |
| Ecuador | El Oro | Hualtaco | Cadle 2012 |
| Ecuador | El Oro | Lote Tituana | Unpublished photo; this work |
| Ecuador | El Oro | Pasaje | Arteaga et al. 2013 |
| Ecuador | El Oro | Pasaje, 3 km E of* | AMNH R-110584; Cadle 2012 |
| Ecuador | El Oro | Playas de Daucay | Unpublished photo; this work |
| Ecuador | El Oro | Portovelo | Arteaga et al. 2013 |
| Ecuador | El Oro | Reserva Biológica Buenaventura | Garzón-Santomaro et al. 2019 |
| Ecuador | El Oro | Rosa Delia plantation | USNM 60523; Cadle 2012 |
| Ecuador | Esmeraldas | Bilsa Biological Reserve | Ortega-Andrade et al. 2010 |
| Ecuador | Esmeraldas | Bolívar, 4 km E of | iNaturalist |
| Ecuador | Esmeraldas | Centro de Fauna Silvestre James Brown | Photo by Salvador Palacios |
| Ecuador | Esmeraldas | El Paisaje | Arteaga et al. 2013 |
| Ecuador | Esmeraldas | La Concordia | iNaturalist |
| Ecuador | Esmeraldas | La Pierina | iNaturalist |
| Ecuador | Esmeraldas | Lote Salvadores | Fig. 1; this work |
| Ecuador | Esmeraldas | Quinindé | USNM 237066; Cadle 2012 |
| Ecuador | Esmeraldas | Reserva Ecológica Mache Chindul | iNaturalist |
| Ecuador | Esmeraldas | Same | iNaturalist |
| Ecuador | Esmeraldas | San Francisco del Cabo | DHMECN 3501; not examined |
| Ecuador | Esmeraldas | Terminal Marítimo OCP | Valencia & Garzón 2011 |
| Ecuador | Guayas | Puerto Baquerizo–Naranjal | iNaturalist |
| Ecuador | Guayas | Río Pescado | AMNH R-23438; Cadle 2012 |
| Ecuador | Loja | Alamor | Cadle 2012 |
| Ecuador | Loja | Bosque Petrificado Puyango | Garzón-Santomaro et al. 2019 |
| Ecuador | Los Ríos | Buena Fé, 1 km N of | MCZ R-156327; Cadle 2012 |
| Ecuador | Los Ríos | Centro Científico Río Palenque | MCR R-156328–29; Cadle 2012 |
| Ecuador | Los Ríos | Finca Playa Grande | UIMNH 77347; Cadle 2012 |
| Ecuador | Los Ríos | Pacalori | MZUA.RE.0175; this work |
| Ecuador | Los Ríos | Playas de Montalvo | Cadle 2012 |
| Ecuador | Los Ríos | Reserva Forestal Cerro Samama | Photo of QCAZ 5835 in Torres-Carvajal et al. 2019 |
| Ecuador | Los Ríos | Río Baba | Cadle 2012 |
| Ecuador | Los Ríos | Río Congo | Cadle 2012 |
| Ecuador | Manabí | Bosque La Esperanza | QCAZ 18029, Torres-Carvajal et al. 2019; not examined |
| Ecuador | Manabí | Mariano–Pedernales | This work |
| Ecuador | Manabí | Reserva Jama Coaque | Photo by Ryan Lynch |
| Ecuador | Pichincha | Bosque Integral Otongachi | iNaturalist |
| Ecuador | Pichincha | Cabecera del río Sune Chico | MZUTI 687; Arteaga et al. 2013 |
| Ecuador | Pichincha | Cascadas El Naranjal | iNaturalist |
| Ecuador | Pichincha | Hostería Yellow House | James Christensen, pers. comm. |
| Ecuador | Pichincha | Los Bancos–Puerto Quito | Unpublished photo; this work |
| Ecuador | Pichincha | Mashpi Lodge | Unpublished photo; this work |
| Ecuador | Pichincha | Milpe Bird Sanctuary | Unpublished photo; this work |
| Ecuador | Pichincha | Pacto | Unpublished photo; this work |
| Ecuador | Pichincha | Puerto Quito | MCZ R-166539; Cadle 2012 |
| Ecuador | Pichincha | Puerto Quito, 1.6 km E of | iNaturalist |
| Ecuador | Pichincha | Rancho Suamox | iNaturalist |
| Ecuador | Pichincha | Reserva Río Guaycuyacu | iNaturalist |
| Ecuador | Pichincha | Río Cinto | Photo by Lisa Brunetti; Arteaga et al. 2013 |
| Ecuador | Pichincha | Río Silanche Bird Sanctuary | iNaturalist |
| Ecuador | Pichincha | Río Toachi | Cadle 2012 |
| Ecuador | Pichincha | Santa Lucía Cloud Forest Reserve | Unpublished photo; this work |
| Ecuador | Pichincha | Séptimo Paraíso | Unpublished photo; this work |
| Ecuador | Pichincha | Tandapi | Arteaga et al. 2013 |
| Ecuador | Pichincha | Vicinity of Los Bancos | Unpublished photo; this work |
| Ecuador | Santo Domingo de los Tsáchilas | Finca la Esperanza | USNM 237072; Cadle 2012 |
| Ecuador | Santo Domingo de los Tsáchilas | Joe Ramsey farm | USNM 237069; Cadle 2012 |
| Ecuador | Santo Domingo de los Tsáchilas | La Unión del Bolo | iNaturalist |
| Ecuador | Santo Domingo de los Tsáchilas | Meme | USNM 237074–75; Cadle 2012 |
| Ecuador | Santo Domingo de los Tsáchilas | Mulaute | USNM 237073; Cadle 2012 |
| Ecuador | Santo Domingo de los Tsáchilas | Rancho Santa Teresita | USNM 283531–32; Cadle 2012 |
| Ecuador | Santo Domingo de los Tsáchilas | Río Baba, 19 km S of Santo Domingo | UIMNH 92244; Cadle 2012 |
| Ecuador | Santo Domingo de los Tsáchilas | San Luis de Canoas | USNM 237067; Cadle 2012 |
| Ecuador | Santo Domingo de los Tsáchilas | Santo Domingo de los Colorados | KU 179500–01; Cadle 2012 |
| Ecuador | Santo Domingo de los Tsáchilas | Santo Domingo de los Colorados, 5 km W of | USNM 237071; Cadle 2012 |
| Peru | Tumbes | Reserva Nacional de Tumbes | iNaturalist |