| | |
| --- | --- |
| Published July 19, 2021. Open access. | Gallery ❯ |
Vanzolini's Andean Anole (Anolis vanzolinii)
Reptiles of Ecuador | Sauria | Anolidae | Anolis vanzolinii
English common name: Vanzolini's Andean Anole.
Spanish common name: Anolis andino de Vanzolini.
Recognition: ♂♂ 21.7 cmMaximum distance from the snout to the tip of the tail. Snout–vent length=10.4 cm. ♀♀ 23 cmMaximum distance from the snout to the tip of the tail. Snout–vent length=11 cm.. Anoles are easily distinguishable from other lizards by their diurnal habits, extensible dewlap in males, expanded digital pads, and granular scales on the dorsum and belly.1 The Vanzolini's Andean Anole (Anolis vanzolinii) can be distinguished from the other two species of Anolis with which it co-occurs (A. fitchi and A. orcesi) on the basis of its large size, massive head casque with swollen rugose parietal crests, and large round flat dorsal scales interspersed with small granules.2 The dorsal coloration consists of faint dark diagonal bands on various shades of light green to tan, but individuals change their dorsal coloration drastically after being captured, becoming uniformly dark reddish brown.2,3 A dewlap and a spiny dorsal crest is present in both sexes. The dewlap is light bluish centrally and orangish yellow peripherally, with a series of white granules arranged in rows. In both A. fitchi and A. orcesi, the dorsal scales are small and granular.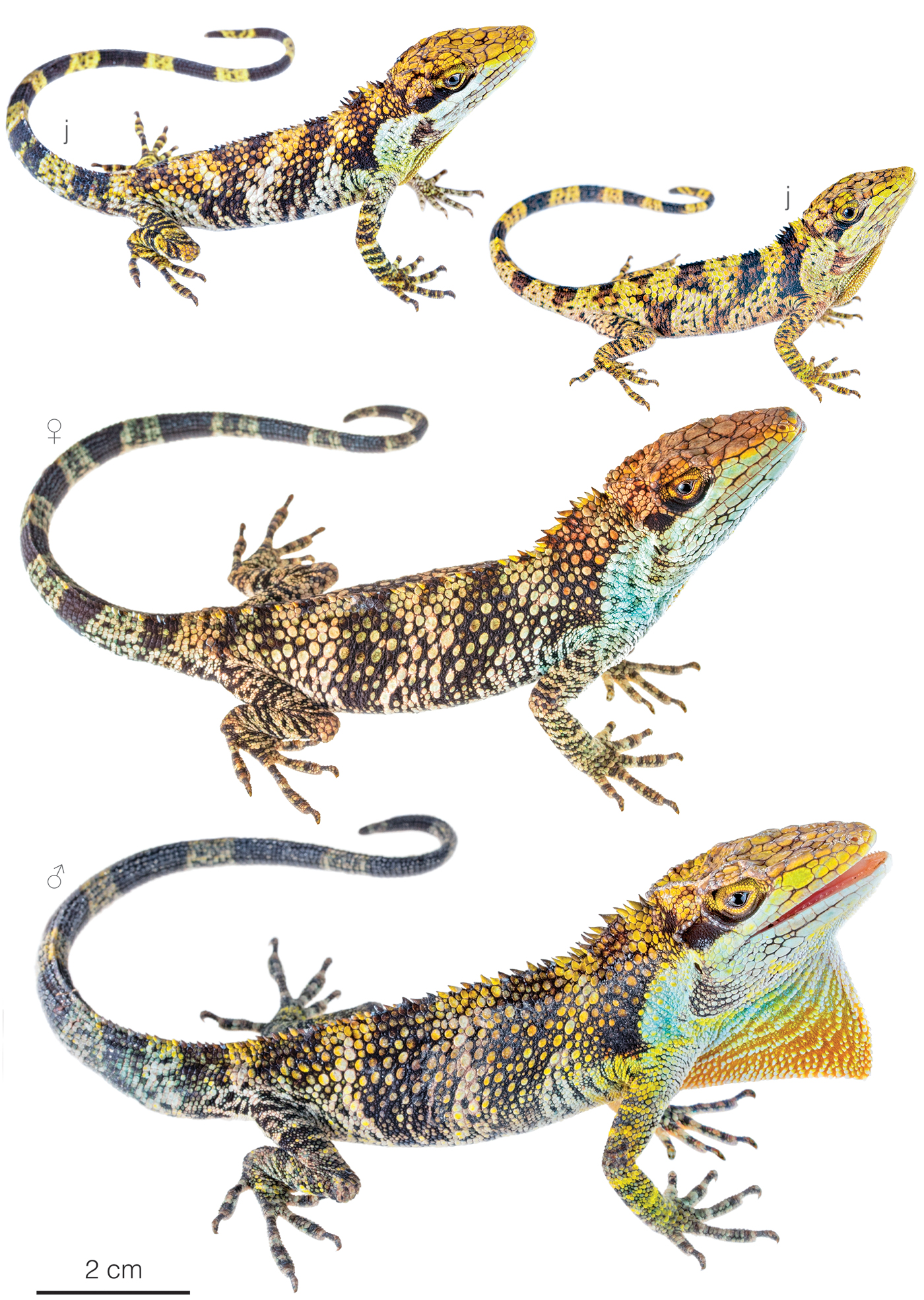 Figure 1: Individuals of Anolis vanzolinii from Santa Bárbara–La Bonita road, Sucumbíos province, Ecuador. j=juvenile.
Natural history: Locally frequentRecorded weekly in densities below five individuals per locality.. Anolis vanzolinii is a diurnal and semi-arboreal lizard that inhabits high elevation cloud forests, maize plantations, and secondary vegetation along road-cuts.2,3 During warm and sunny days, Vanzolini's Andean Anoles may be seen basking or moving with a characteristic chameleon-like motion.2,3 Individuals are active between 10:00 am and 2:30 pm and spend most of this time on thin branches, stems, and vines of shrubs and trees, but they also descend to the ground and walk across roads.2,3 At night, they have been found sleeping on twigs and branches 1.7–6 m above the ground.3 The diet of A. vanzolinii consists of beetles, bees, cicadas, and moth larvae.2
Conservation: Critically Endangered Considered to be facing imminent risk of extinction..4 Anolis vanzolinii is included in this category because, at the time of the assessment in 2019, the species was believed to be restricted to an area of less than 100 km2 where human activities have destroyed the majority of the natural forest.4 The species was known from less than five populations confined to fragments of hedgerow within a matrix of pastures, and these remnants were declining in extent, quality, and connectivity.4 Today, the species is still under threat from habitat loss, persecution by humans, and traffic mortality,2 but a new unpublished observation of A. vanzolinii in Vereda el Porotal, Putumayo, Colombia,5 suggests that the species is more widely distributed and occurs over areas holding pristine cloud forest vegetation.
Distribution: Anolis vanzolinii is native to the inter-Andean valleys and Amazonian slopes of the Andes of northeastern Ecuador, in Sucumbíos province. An unpublished photograph from Vereda el Porotal, Putumayo,5 represents the first record of the species for Colombia. Anolis vanzolinii has been recorded at elevations between 2105 and 2687 m (Fig. 2).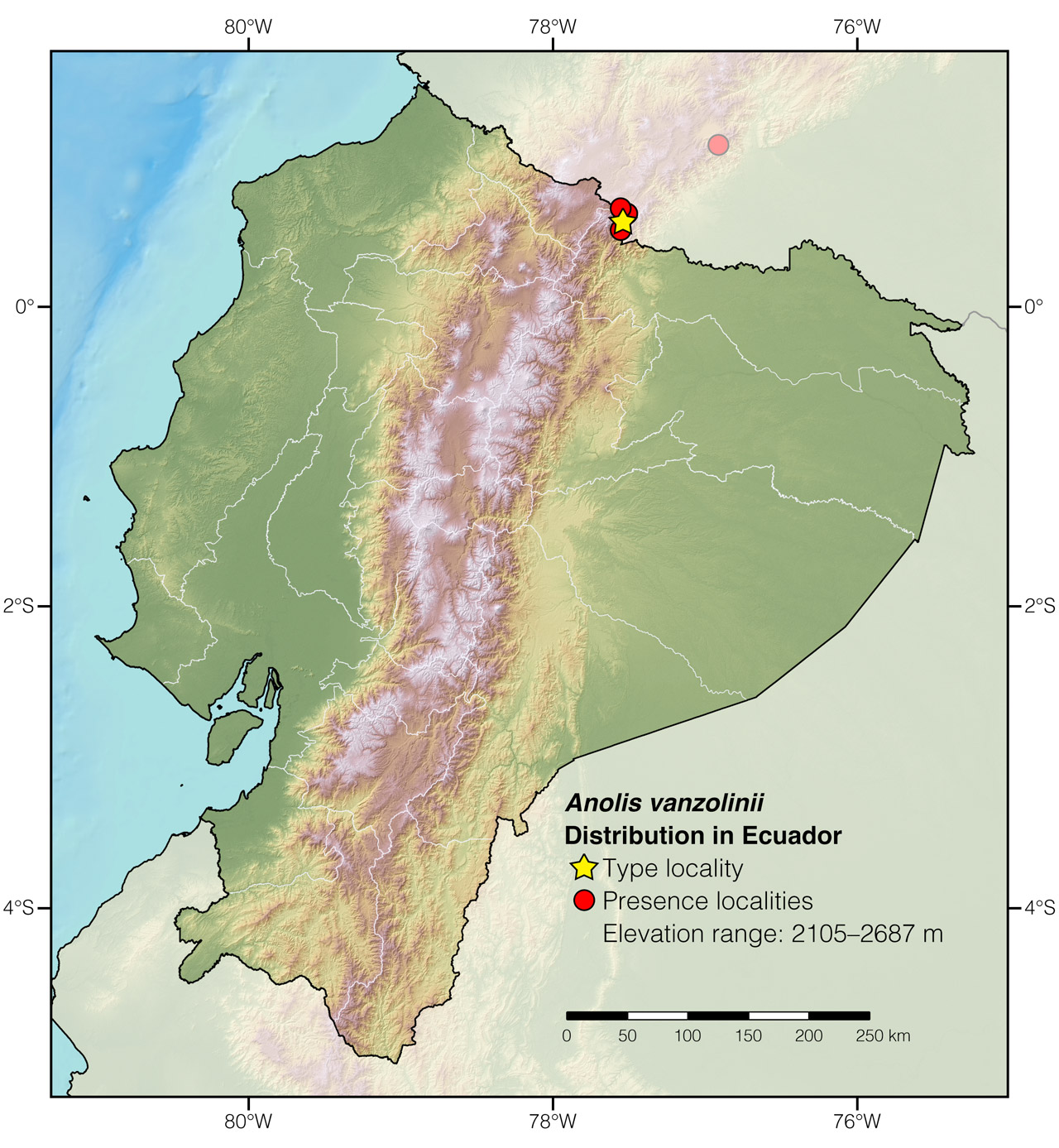 Figure 2: Distribution of Anolis vanzolinii in Ecuador. See Appendix 1 for a complete list of the presence localities included in the map.
Etymology: The generic name Anolis is thought to have originated from Cariban languages, specifically from the word anoli, which is the name Arawak peoples may have used to refer to this group of lizards.6 The specific epithet vanzolinii is a patronym honoring distinguished Brazilian zoologist Paulo Vanzolini (1924–2013), in recognition of his contributions towards advancing Neotropical herpetology.
See it in the wild: Vanzolini's Andean Anoles are most easily observed by scanning secondary vegetation along the road leading from Santa Bárbara to La Bonita, Sucumbíos province, Ecuador. Although active during warm, sunny days, individuals can be spotted more easily at night, as they are asleep, roosting on vegetation, and their bright white belly can be made to stand out against the black night by shining a light on them.
Acknowledgments: This account was published with the support of Secretaría Nacional de Educación Superior Ciencia y Tecnología (programa INEDITA; project: Respuestas a la crisis de biodiversidad: la descripción de especies como herramienta de conservación; No 00110378), Programa de las Naciones Unidas (PNUD), and Universidad San Francisco de Quito (USFQ).
Author: Alejandro ArteagaaAffiliation: Biodiversity Field Lab, Khamai Foundation, Quito, Ecuador.
Photographer: Jose VieiraaAffiliation: Tropical Herping (TH), Quito, Ecuador.,bAffiliation: ExSitu, Quito, Ecuador.
How to cite? Arteaga A (2021) Vanzolini's Andean Anole (Anolis vanzolinii). In: Arteaga A, Bustamante L, Vieira J, Guayasamin JM (Eds) Reptiles of Ecuador: Life in the middle of the world. Available from: www.reptilesofecuador.com. DOI: 10.47051/IEBH3635
Literature cited:
Appendix 1: Locality data used to create the distribution map of Anolis vanzolinii in Ecuador (Fig. 2). Go to the section on symbols and abbreviations for a list of acronyms used. Asterisk (*) indicates type locality.
| | | | |
| --- | --- | --- | --- |
| Country | Province | Locality | Source |
| Colombia | Putumayo | Vereda El Porotal | iNaturalist |
| Ecuador | Sucumbíos | La Alegría | This work |
| Ecuador | Sucumbíos | La Bonita, 14 km N of* | Williams et al. 1996 |
| Ecuador | Sucumbíos | La Playa, 1 km N of | This work |
| Ecuador | Sucumbíos | Santa Bárbara | Williams et al. 1996 |
| Ecuador | Sucumbíos | Santa Bárbara, 2 km E of | This work |
| Ecuador | Sucumbíos | Sibundoy | Williams et al. 1996 |
| Ecuador | Sucumbíos | Sitio Las Ollas | Williams et al. 1996 |