Mossy Anole (Anolis fitchi)
Reptiles of Ecuador | Sauria | Anolidae | Anolis fitchi
English common names: Mossy Anole, Fitch's Anole.
Spanish common names: Anolis del musgo, anolis de Fitch.
Recognition: ♂♂ 34.5 cmMaximum distance from the snout to the tip of the tail. Snout–vent length=9.6 cm. ♀♀ 31.2 cmMaximum distance from the snout to the tip of the tail. Snout–vent length=8.7 cm..1,2 Anoles are easily distinguishable from other lizards by their diurnal habits, extensible dewlap in males (can be present in females also), expanded digital pads, and granular scales on the dorsum and belly.3,4 The Mossy Anole (Anolis fitchi) can be identified from other co-occurring anoles based on its large body size, dorsal coloration, and dewlap pattern. The dorsum is olive green with dark brown bands, spots, and reticulations that resemble the pattern of moss; the iris is bluish-turquoise or maroon depending on the population.2,5 The dewlap in adult males is large, extending to the middle of belly, brown with yellowish scales at the base, becoming pale yellow laterally (Fig. 1).2,5 The female dewlap is smaller. In northern populations it is blotched black on saffron yellow; in southern populations, uniformly brown with yellow scales.2,5 Anolis fitchi is most similar to A. podocarpus, a species that occurs south of the known distribution of A. fitchi and has a dark pinkish brown dewlap.2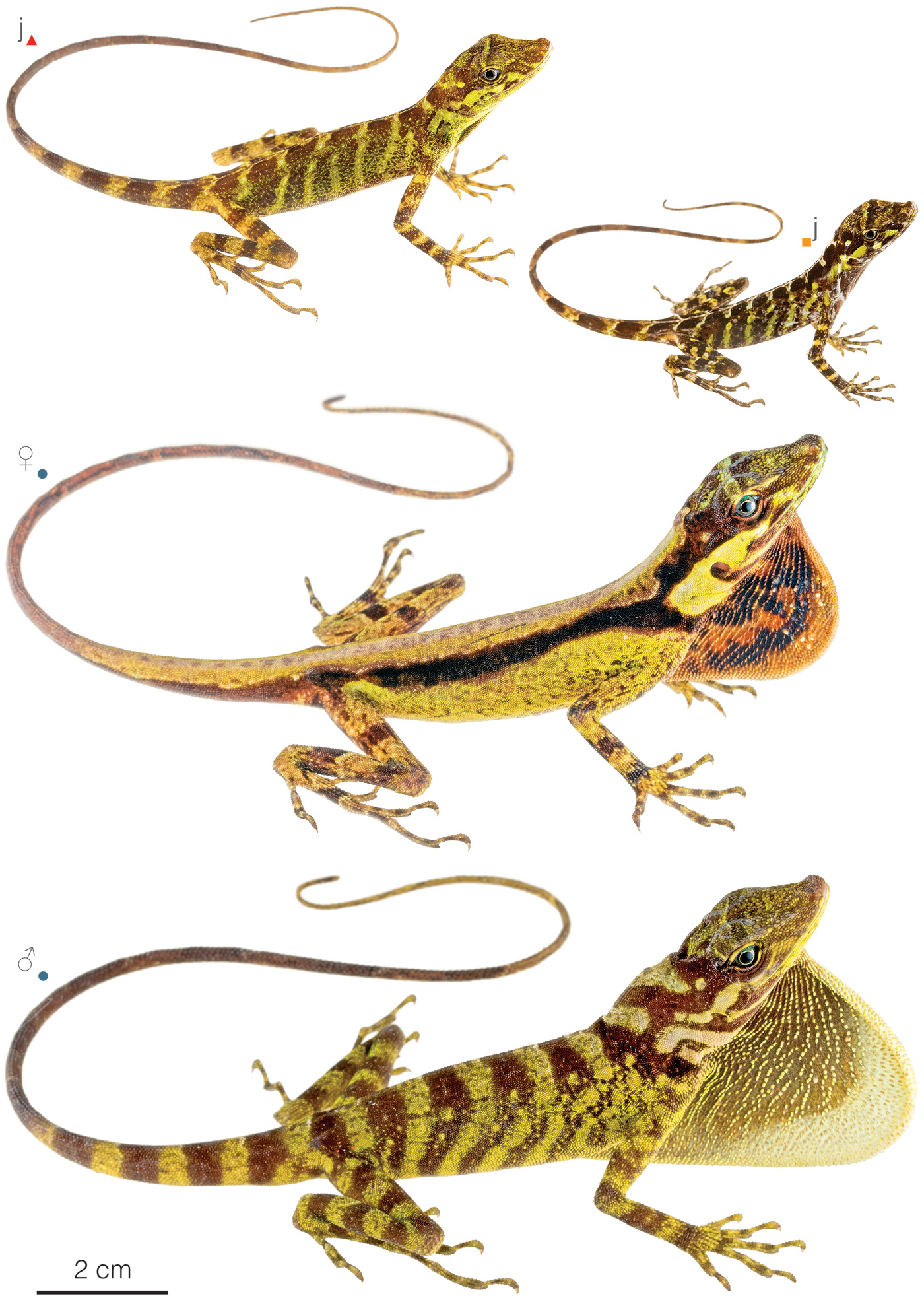 Figure 1: Individuals of Anolis fitchi from Ecuador: Río Topo, Tungurahua province (); Tzarentza, Pastaza province (); La Bonita, Sucumbíos province (). j=juvenile.
Natural history: Anolis fitchi is a locally frequent diurnal and arboreal lizard that inhabits the understory of old-growth to moderately disturbed cloud forests, evergreen montane forests, forest borders, and cane fields.1,5,6 Most individuals of this species have been found at night, roosting on branches, ferns, leaves, herbs, and bushes 0.3–4 m above the ground, especially along streams.1,5 Adults perch head-up, higher than juveniles; juveniles lower, heads down.7 During the day, individuals have been seen active on leaf-litter, tree trunks, rocks, and low vegetation.1 Mossy Anoles are ambush predators and their diet is primarily insectivorous, including beetles, flies, leafhoppers, ants, crickets, arachnids, and pillbugs.6 These lizards can change their dorsal coloration when disturbed or depending on the substrate, going from bright yellowish green to dark brown.1,6 Anolis fitchi is an oviparous species. Gravid females containing 1–2 eggs have been reported,6 but the real clutch size is probably one egg.
Conservation: Least Concern Believed to be safe from extinction given current circumstances..8 Anolis fitchi is listed in this category because the species is widely distributed, present in protected areas, has presumably large and stable populations, and occurs in areas having continuous unspoiled forest.8 The majority of the species' forest habitat in Ecuador (~86%) and Colombia (~90%) is still standing.9,10 The most important threat to the long-term survival of the species is habitat destruction mostly due to mining and the expansion of the agricultural frontier.8
Distribution: Anolis fitchi is native to the Amazonian slopes of the Andes of Ecuador and Colombia. The species has been recorded at elevations between 1282 and 2200 m (Fig. 2).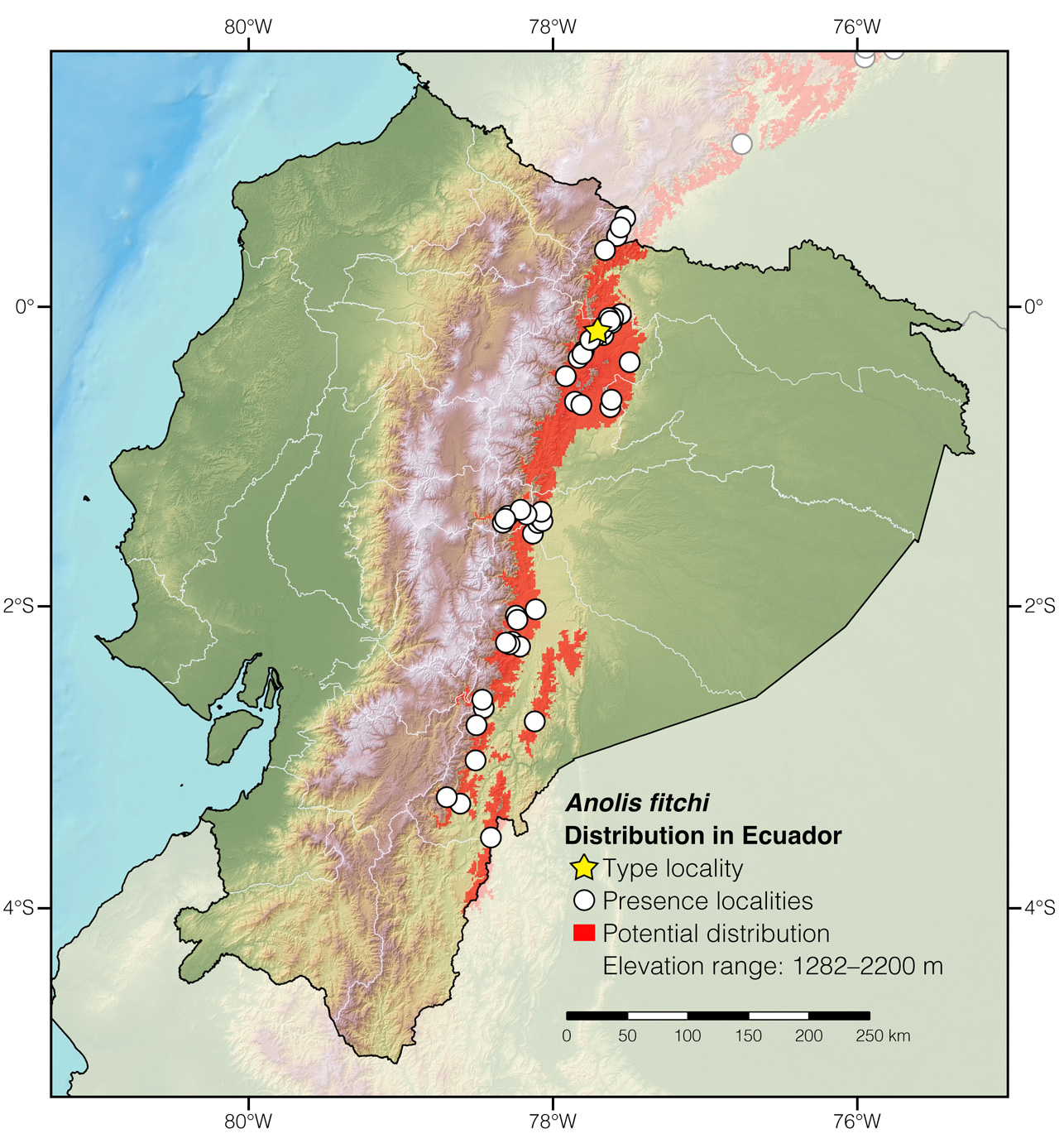 Figure 2: Distribution of Anolis fitchi in Ecuador. The star corresponds to the type locality: 16.5 km NNE of Santa Rosa, Napo province. See Appendix 1 for a complete list of the presence localities included in the map.
Etymology: The generic name Anolis is thought to have originated from Cariban languages, specifically from the word anoli, which is the name Arawak peoples may have used to refer to this group of lizards.11 The specific epithet fitchi honors American herpetologist Dr. Henry Fitch (1909–2009), in recognition of this work on the ecology of anoles.12,13
See it in the wild: Mossy Anoles can be located with almost complete certainty during a short night hike along forest trails in volcanoes Sangay, Sumaco, and Reventador. Although these lizards are active during the day, they can be spotted at night roosting on small twigs and leaves where their bright yellowish bellies stand out when lit with a flashlight.
This species has been symbolically adopted on behalf of Henry Fitch. Special thanks to Walter Jennings for supporting the creation of this account and helping bring the Reptiles of Ecuador book project to life.
Click here to adopt a species.
Author: Alejandro ArteagaaAffiliation: Khamai Foundation, Quito, Ecuador.
Photographer: Jose VieirabAffiliation: Tropical Herping (TH), Quito, Ecuador.,cAffiliation: ExSitu, Quito, Ecuador.
How to cite? Arteaga A (2023) Mossy Anole (Anolis fitchi). In: Arteaga A, Bustamante L, Vieira J, Guayasamin JM (Eds) Reptiles of Ecuador: Life in the middle of the world. Available from: www.reptilesofecuador.com. DOI: 10.47051/IJPE4015
Literature cited:
Appendix 1: Locality data used to create the distribution map of Anolis fitchi in Ecuador (Fig. 2). Go to the section on symbols and abbreviations for a list of acronyms used. Asterisk (*) indicates type locality.
| | | | |
| --- | --- | --- | --- |
| Country | Province | Locality | Source |
| Colombia | Caquetá | Cerro Aguacate | Gutiérrez-Lamus et al. 2020 |
| Colombia | Caquetá | Finca La Cabaña | SINCHI 956; Caicedo Portilla 2023 |
| Colombia | Caquetá | Vereda Tarqui | ICN 9694; Calderón et al. 2023 |
| Colombia | Putumayo | El Pepino, 10 km W of | Williams & Duellman 1984 |
| Ecuador | Morona Santiago | 9 de Octubre | Tipantiza-Tuguminago et al. 2021 |
| Ecuador | Morona Santiago | Área Protegida Río Negro Sopladora | Frenkel & Rodas 2017 |
| Ecuador | Morona Santiago | Bosque Protector Abanico | Cumba Endara 2008 |
| Ecuador | Morona Santiago | Chiguaza | Ayala-Varela & Torres-Carvajal 2010 |
| Ecuador | Morona Santiago | Cordillera de Cutucú | iNaturalist; photo examined |
| Ecuador | Morona Santiago | El Rosario | QCAZ 17183; Ayala-Varela & Carvajal-Campos 2022 |
| Ecuador | Morona Santiago | El Salado–Río Chico | Tipantiza-Tuguminago et al. 2019 |
| Ecuador | Morona Santiago | Laguna el Enmascarado | Photo by Darwin Núñez |
| Ecuador | Morona Santiago | Plan de Milagro | Reptiles of Ecuador book database |
| Ecuador | Morona Santiago | Quebrada 9 de Octubre | Reptiles of Ecuador book database |
| Ecuador | Morona Santiago | Reserva Ecológica El Paraíso | Photo by Sebastián Padrón |
| Ecuador | Morona Santiago | Sardinayacu | iNaturalist; photo examined |
| Ecuador | Morona Santiago | Sopladora | MZUA.RE.0226; examined |
| Ecuador | Morona Santiago | Valle Río Quimi | Betancourt et al. 2018a |
| Ecuador | Morona Santiago | Vía Sígsig–Gualaquiza | QCAZ 17236; Ayala-Varela & Carvajal-Campos 2022 |
| Ecuador | Napo | 30 km N of turnoff to Baeza | Ayala-Varela & Torres-Carvajal 2010 |
| Ecuador | Napo | Baeza | iNaturalist; photo examined |
| Ecuador | Napo | Cordillera de Guacamayos | Ayala-Varela & Torres-Carvajal 2010 |
| Ecuador | Napo | El Chaco | Photo by Diego Piñán |
| Ecuador | Napo | El Salado | iNaturalist; photo examined |
| Ecuador | Napo | Hidroeléctrica Coca Codo Sinclair | COCASINCLAIR 2013 |
| Ecuador | Napo | Napo Galeras | Ayala-Varela & Torres-Carvajal 2010 |
| Ecuador | Napo | Pacto Sumaco | Reptiles of Ecuador book database |
| Ecuador | Napo | Río Azuela | Williams & Duellman 1984 |
| Ecuador | Napo | Río Salado | Williams & Duellman 1984 |
| Ecuador | Napo | Santa Rosa de Quijos | Yánez-Muñoz et al. 2018 |
| Ecuador | Napo | Santa Rosa, 16.5 km NNE of* | Williams & Duellman 1984 |
| Ecuador | Napo | Sendero arriba Cocodrilos | Reptiles of Ecuador book database |
| Ecuador | Napo | Shell, 5 km W of | iNaturalist; photo examined |
| Ecuador | Napo | Sumaco Camp 1 | Reptiles of Ecuador book database |
| Ecuador | Pastaza | Mera | MCZ 124346; VertNet |
| Ecuador | Pastaza | Sumak Kawsay In Situ | Bentley et al. 2021 |
| Ecuador | Pastaza | Tinajas del Río Anzu | Reptiles of Ecuador book database |
| Ecuador | Pastaza | Tzarentza | Reptiles of Ecuador book database |
| Ecuador | Sucumbíos | El Reventador | Ayala-Varela & Torres-Carvajal 2010 |
| Ecuador | Sucumbíos | La Alegría | Williams & Duellman 1984 |
| Ecuador | Sucumbíos | La Bonita | Reptiles of Ecuador book database |
| Ecuador | Sucumbíos | La Sofía | Ayala-Varela & Torres-Carvajal 2010 |
| Ecuador | Sucumbíos | La Virgen | Ayala-Varela & Torres-Carvajal 2010 |
| Ecuador | Sucumbíos | Sibundoy | Ayala-Varela & Torres-Carvajal 2010 |
| Ecuador | Sucumbíos | Slopes of Volcán Reventador | iNaturalist; photo examined |
| Ecuador | Sucumbíos | Volcán Reventador | Reptiles of Ecuador book database |
| Ecuador | Tungurahua | El Topo | Ayala-Varela & Torres-Carvajal 2010 |
| Ecuador | Tungurahua | Reserva La Candelaria | Reptiles of Ecuador book database |
| Ecuador | Tungurahua | Reserva Río Zunac | Yánez-Muñoz et al. 2018 |
| Ecuador | Tungurahua | Rio Topo | Reptiles of Ecuador book database |
| Ecuador | Tungurahua | Río Verde | Ayala-Varela & Torres-Carvajal 2010 |