| | |
| --- | --- |
| Published August 27, 2023. Open access. | Gallery ❯ |
Amazon Green Anole (Anolis punctatus)
Reptiles of Ecuador | Sauria | Anolidae | Anolis punctatus
English common names: Amazon Green Anole, Spotted Anole.
Spanish common names: Anolis verde amazónico, anolis verde moteado.
Recognition: ♂♂ 31.2 cmMaximum distance from the snout to the tip of the tail. Snout–vent length=9.2 cm. ♀♀ 28.9 cmMaximum distance from the snout to the tip of the tail. Snout–vent length=8.1 cm..1–4 Anoles are easily distinguishable from other lizards by their diurnal habits, extensible dewlap in males, expanded digital pads, and granular scales on the dorsum and belly. The Amazon Green Anole (Anolis punctatus) is the largest anole in the Ecuadorian Amazon. It can be identified by its green dorsum and yellow scales encircling the eyes.1,2 Notably, its snout bears keeled scales, and its dewlap (Fig. 1), is large, orange-yellow, and adorned with rows of white scales.1 Anolis transversalis is another large amazonian anole having a greenish coloration, but its dewlap is spotted or streaked, and its dorsum is either dotted or banded.1,2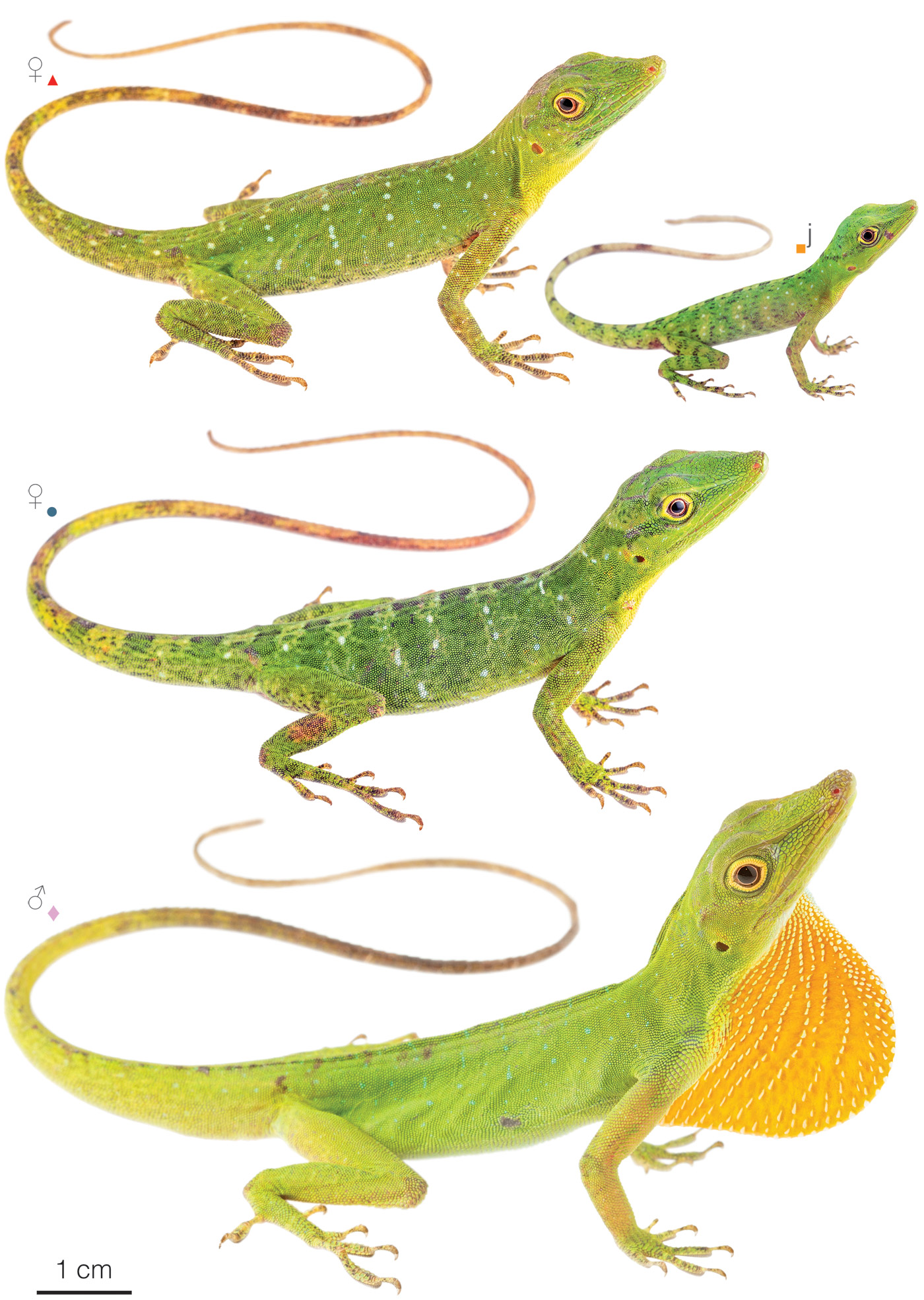 Figure 1: Individuals of Anolis punctatus from Ecuador: Yasuní Scientific Station, Orellana province (); Suchipakari Lodge, Napo province (); Pacto Sumaco, Napo province (); Yarina Lodge, Orellana province (). j=juvenile.
Natural history: Anolis punctatus, a seldom-seen anole in the Ecuadorian Amazon, owes its apparent scarcity primarily to its green coloration and arboreal tendencies.2,5 The species inhabits terra firme or seasonally flooded rainforests, as well as forest edges, and even certain arboreous areas in cities.2–7 Amazon Greens are most active at ambient temperatures ~28°C5 during the early morning and later afternoon, seeking shelter from the midday sun.2 They bask and forage on tree trunks, logs, and thick vines.1,3 Anolis punctatus is included in the "crown-giant" anole guild,4,5,8 because it uses the upper forest strata, ascending to emerging trees 50 m above the forest floor.9 Nonetheless, this lizard is not restricted to the crown of large trees; it can also be found on small trees and saplings.1–7 Occasionally, especially after heavy rainfall, individuals are knocked to the ground.3,10 At night, individuals sleep on branches, leaves, palm fronds, and trunks 1–6 m above the ground.3,5,11 This behavior is a strategic adaptation for detecting potential predators through branch vibrations, to which they react by leaping into the darkness. There are documented instances of predation on individuals of this species by the snake Imantodes cenchoa.7,12 The diet of A. punctatus is based primarily on grasshoppers, ants, beetles, and roaches, but also includes at least 16 additional prey item categories ranging from caterpillars to snails and even frogs.1–7,13 Amazon Greens can change their dorsal coloration when disturbed, going from bright green to to dark brown.3 This cryptic coloration serves as their primary defense strategy during the day, and when startled, they typically escape by racing up or down tree trunks.2,3 Gravid females contain one or two eggs,1,6 yet the typical clutch size is one egg.2 Reproduction seems to take place throughout the year.1 Males defend territories and court females using visual signals such as head bobs and dewlap display.14
Conservation: Least Concern Believed to be safe from extinction given current circumstances..15 Anolis punctatus is listed in this category given its wide distribution, presence in major protected areas, lack of widespread threats, and presumed large stable populations.15 The species also persists in "forest islands" in cities. However, it is unsure whether such pockets will sustain the species without the presence of a dense population nearby that may act as a source of individuals that can immigrate to the fragmented habitat.3
Distribution: Anolis punctatus is widely distributed throughout the Amazon basin in Bolivia, Brazil, Colombia, Ecuador, French Guiana, Guyana, Peru, Suriname, and Venezuela.16 The species also occurs in the Atlantic Forest of Brazil.16 (Fig. 2).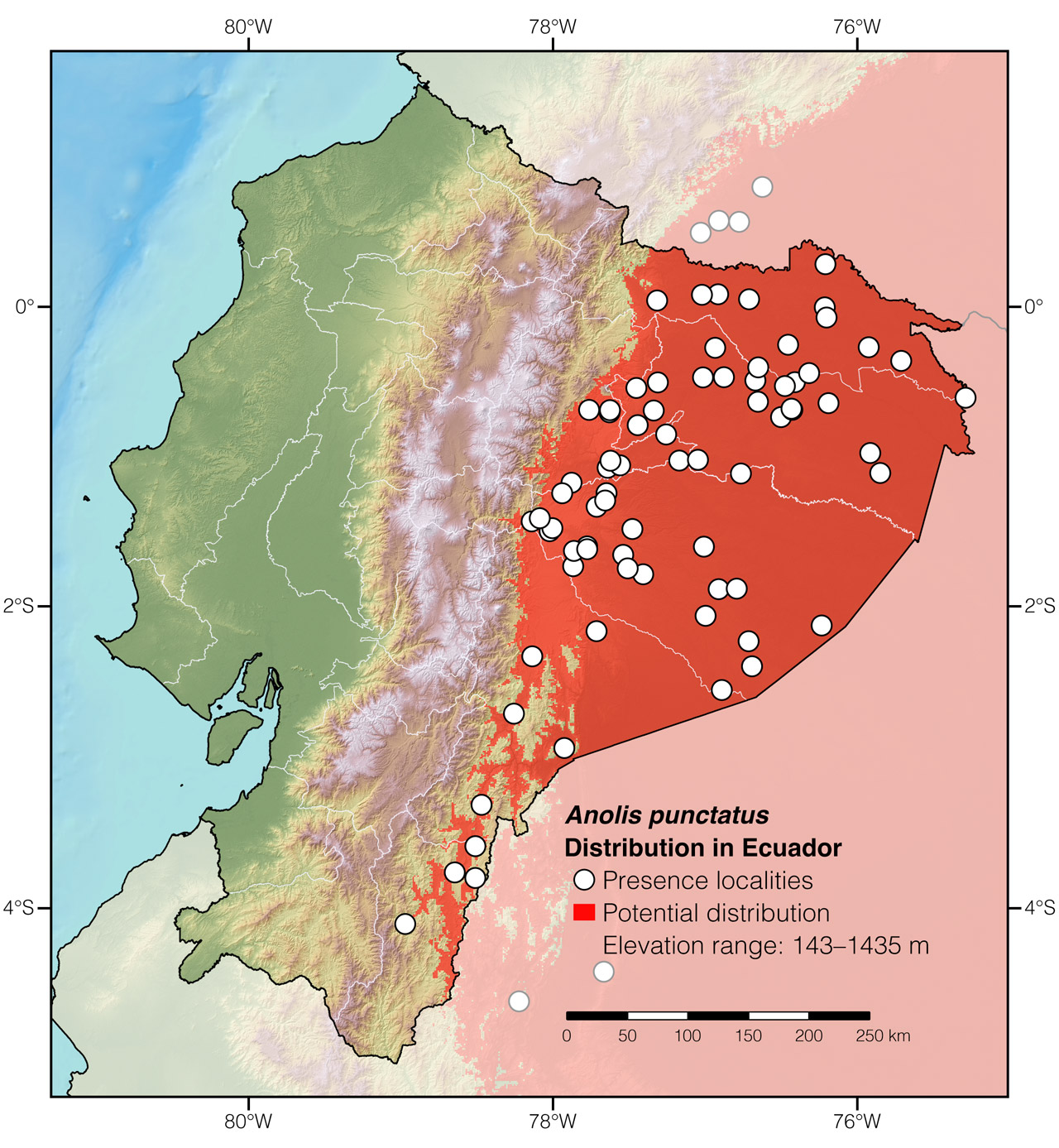 Figure 2: Distribution of Anolis punctatus in Ecuador. See Appendix 1 for a complete list of the presence localities included in the map.
Etymology: The generic name Anolis is thought to have originated from Cariban languages, specifically from the word anoli, which is the name Arawak peoples may have used to refer to this group of lizards.17 The specific epithet punctatus comes from the Latin punctum (=spot), and the suffix -atum (=provided with).18 This refers to the dorsal color pattern.
See it in the wild: Amazon Green Anoles are spotted at a rate of about once every few weeks in forested areas throughout their distribution in Ecuador, especially when individuals are knocked to the ground after heavy rainfall. Some of the best localities to find these lizards are Yasuní Scientific Station, Tiputini Biodiversity Station, Huella Verde Lodge, and Jatun Sacha Biological Reserve. Although individuals can be spotted active on tree trunks during the day, they are much more easily found and approached at night, when they are sleeping on branches and leaves close to the ground.
Author: Alejandro ArteagaaAffiliation: Khamai Foundation, Quito, Ecuador.
Photographer: Jose VieirabAffiliation: Tropical Herping (TH), Quito, Ecuador.,cAffiliation: ExSitu, Quito, Ecuador.
How to cite? Arteaga A (2023) Amazon Green Anole (Anolis punctatus). In: Arteaga A, Bustamante L, Vieira J, Guayasamin JM (Eds) Reptiles of Ecuador: Life in the middle of the world. Available from: www.reptilesofecuador.com. DOI: 10.47051/WFTH6086
Literature cited:
Appendix 1: Locality data used to create the distribution map of Anolis punctatus in Ecuador (Fig. 2). Go to the section on symbols and abbreviations for a list of acronyms used.
| | | | |
| --- | --- | --- | --- |
| Country | Province | Locality | Source |
| Colombia | Caquetá | Solano | IAvH-R-4970; Borja-Acosta & Galeano Muñoz 2023 |
| Colombia | Putumayo | El Escondite | iNaturalist; photo examined |
| Colombia | Putumayo | Las Américas | IAvH-R-09786; IAvH & Agencia Nacional de Hidrocarburos 2022 |
| Colombia | Putumayo | Río Guamués | Ayala-Varela 2004 |
| Colombia | Putumayo | Simón Bolívar | IAvH-R-9153; Borja-Acosta & Acosta-Galvis 2021 |
| Ecuador | Morona Santiago | Gualaquiza–Macas | Ribeiro-Júnior & Amaral 2016 |
| Ecuador | Morona Santiago | Kaanchico | Ayala-Varela & Carvajal-Campos 2022 |
| Ecuador | Morona Santiago | Macas | MHNG 2521.001; collection database |
| Ecuador | Morona Santiago | Macuma | UIMNH 82908; collection database |
| Ecuador | Morona Santiago | Suritiak | Reptiles of Ecuador book database |
| Ecuador | Napo | Guamaní, 3 km NE of | iNaturalist; photo examined |
| Ecuador | Napo | Huaorani Lodge | Reptiles of Ecuador book database |
| Ecuador | Napo | Jatun Sacha Biological Station | Reptiles of Ecuador book database |
| Ecuador | Napo | Narupa Reserve | Reptiles of Ecuador book database |
| Ecuador | Napo | Pacto Sumaco | Reptiles of Ecuador book database |
| Ecuador | Napo | Río Arajuno | iNaturalist; photo examined |
| Ecuador | Napo | Runa Huasi | Ayala-Varela 2004 |
| Ecuador | Napo | Suchipakari Lodge | Reptiles of Ecuador book database |
| Ecuador | Napo | Yachana Reserve | Beirne et al. 2013 |
| Ecuador | Napo | Zatzayacu | Photo by Ricardo Íñiguez |
| Ecuador | Orellana | El Coca | Ayala-Varela 2004 |
| Ecuador | Orellana | Hacienda Primavera | MHNG 2212.091; collection database |
| Ecuador | Orellana | Loreto | Ribeiro-Júnior & Amaral 2016 |
| Ecuador | Orellana | Mandaripanga Camp | iNaturalist; photo examined |
| Ecuador | Orellana | Nenkepare | Reptiles of Ecuador book database |
| Ecuador | Orellana | Papagayo | iNaturalist; photo examined |
| Ecuador | Orellana | Parroquia San Pedro | iNaturalist; photo examined |
| Ecuador | Orellana | Río Bigal | García et al. 2021 |
| Ecuador | Orellana | Río Pucuno | Ribeiro-Júnior & Amaral 2016 |
| Ecuador | Orellana | Río Yasuní | iNaturalist; photo examined |
| Ecuador | Orellana | San José de Payamino | Maynard et al. 2016 |
| Ecuador | Orellana | Shiripuno Lodge | Photo by Fernando Vaca |
| Ecuador | Orellana | Tiputini Biodiversity Station | Cisneros-Heredia 2003 |
| Ecuador | Orellana | Vía a Bogi | Ayala-Varela 2004 |
| Ecuador | Orellana | Vía NPF–Tivacuno | Ayala-Varela 2004 |
| Ecuador | Orellana | Yarina Lodge | Reptiles of Ecuador book database |
| Ecuador | Orellana | Yasuní Scientific Station | Ayala-Varela 2004 |
| Ecuador | Pastaza | Bolívar | iNaturalist; photo examined |
| Ecuador | Pastaza | Canelos | O'shaughnessyi 1881 |
| Ecuador | Pastaza | Chichirota | Ribeiro-Júnior & Amaral 2016 |
| Ecuador | Pastaza | Conambo | Ortega-Andrade 2010 |
| Ecuador | Pastaza | Estación Juri Juri | iNaturalist; photo examined |
| Ecuador | Pastaza | Finca Heimatlos | Photo by Ferhat Gundogdu |
| Ecuador | Pastaza | Huella Verde Lodge | Reptiles of Ecuador book database |
| Ecuador | Pastaza | Juyuintza | Ayala-Varela & Carvajal-Campos 2022 |
| Ecuador | Pastaza | Kapawi Lodge | Reptiles of Ecuador book database |
| Ecuador | Pastaza | Merazonia | Photo by Peter Archer |
| Ecuador | Pastaza | Montalvo | iNaturalist; photo examined |
| Ecuador | Pastaza | Mouth of Río Romarizo | Ayala-Varela 2004 |
| Ecuador | Pastaza | Palanda | Ribeiro-Júnior & Amaral 2016 |
| Ecuador | Pastaza | Pozo Petrolero Misión | Almendáriz 1987 |
| Ecuador | Pastaza | Puerto Santana, 3 km N of | iNaturalist; photo examined |
| Ecuador | Pastaza | Puyo, Hostería Turingia | Ayala-Varela 2004 |
| Ecuador | Pastaza | Río Oglán | Ribeiro-Júnior & Amaral 2016 |
| Ecuador | Pastaza | Río Pucayacu | Ayala-Varela 2004 |
| Ecuador | Pastaza | Río Shilcayacu | USNM 234776; VertNet |
| Ecuador | Pastaza | Santa Clara–Piatua road | Reptiles of Ecuador book database |
| Ecuador | Pastaza | Sarayacu | Ribeiro-Júnior & Amaral 2016 |
| Ecuador | Pastaza | Sumak Kawsay In Situ | Bentley et al. 2021 |
| Ecuador | Pastaza | Villano | Photo by Carla Rubio |
| Ecuador | Sucumbíos | Blanca | iNaturalist; photo examined |
| Ecuador | Sucumbíos | Comunidad Zábalo | Cevallos Bustos 2010 |
| Ecuador | Sucumbíos | Dureno | KU 105325; VertNet |
| Ecuador | Sucumbíos | Estación PUCE Cuyabeno | Ayala-Varela 2004 |
| Ecuador | Sucumbíos | La Selva Lodge | Ayala-Varela 2004 |
| Ecuador | Sucumbíos | Lago Agrio | Duellman 1978 |
| Ecuador | Sucumbíos | Limoncocha Biological Reserve | Ayala-Varela 2004 |
| Ecuador | Sucumbíos | Lumbaqui, 5 km E of | Dueñas and Báez 2021 |
| Ecuador | Sucumbíos | Napo Wildlife Center | Reptiles of Ecuador book database |
| Ecuador | Sucumbíos | Nicky Amazon Lodge | iNaturalist; photo examined |
| Ecuador | Sucumbíos | San Pablo de Kantesiya | Ayala-Varela 2004 |
| Ecuador | Sucumbíos | Sani Lodge | Thomas et al. 2020 |
| Ecuador | Sucumbíos | Santa Cecilia | Duellman 1978 |
| Ecuador | Sucumbíos | Secoya hunting camp | UIMNH 82777; collection database |
| Ecuador | Zamora Chinchipe | Campamento Fruta del Norte | Almendáriz et al. 2014 |
| Ecuador | Zamora Chinchipe | Copalinga Lodge | Reptiles of Ecuador book database |
| Ecuador | Zamora Chinchipe | El Padmi | iNaturalist; photo examined |
| Ecuador | Zamora Chinchipe | Tundayme | iNaturalist; photo examined |
| Peru | Amazonas | Boca del Río Santiago | Ribeiro-Júnior & Amaral 2016 |
| Peru | Amazonas | La Poza | Ribeiro-Júnior & Amaral 2016 |
| Peru | Amazonas | Puerto Galilea | Ribeiro-Júnior & Amaral 2016 |
| Peru | Amazonas | Quebrada Wee | Catenazzi & Venegas 2012 |
| Peru | Amazonas | Río Cenepa | Ribeiro-Júnior & Amaral 2016 |
| Peru | Loreto | Allpahuayo-Mishana National Reserve | Photo by Thibaud Aronson |
| Peru | Loreto | Estirón | Ribeiro-Júnior & Amaral 2016 |
| Peru | Loreto | Lagartococha | Knell 2012 |