| | |
| --- | --- |
| Published May 17, 2023. Open access. | Gallery ❯ |
Gem Anole (Anolis gemmosus)
Reptiles of Ecuador | Sauria | Anolidae | Anolis gemmosus
English common names: Gem Anole, Andes Anole.
Spanish common name: Anolis gema.
Recognition: ♂♂ 24.5 cmMaximum distance from the snout to the tip of the tail. Snout–vent length=6.6 cm. ♀♀ 23.5 cmMaximum distance from the snout to the tip of the tail. Snout–vent length=6.3 cm..1,2 Anoles are easily distinguishable from other lizards by their diurnal habits, extensible dewlap in males, expanded digital pads, and granular scales on the dorsum and belly. The Gem Anole (Anolis gemmosus) can be identified from other co-occurring anoles based on its small size, green dorsum, and its dewlap coloration consisting of white stripes on a background that transitions from blue to saffron (Fig. 1).2,3 In some individuals, the dewlap is uniformly pale yellowish green.4,5 Females can be set apart from other co-occurring anoles because they are solid green dorsally with the occasional pale mid-dorsal stripe,5 and have no dewlap.2,4 Females of A. proboscis are also small and uniformly greenish but they do have a dewlap.2 The morphologically similar A. poei occurs south of the known distribution of A. gemmosus.3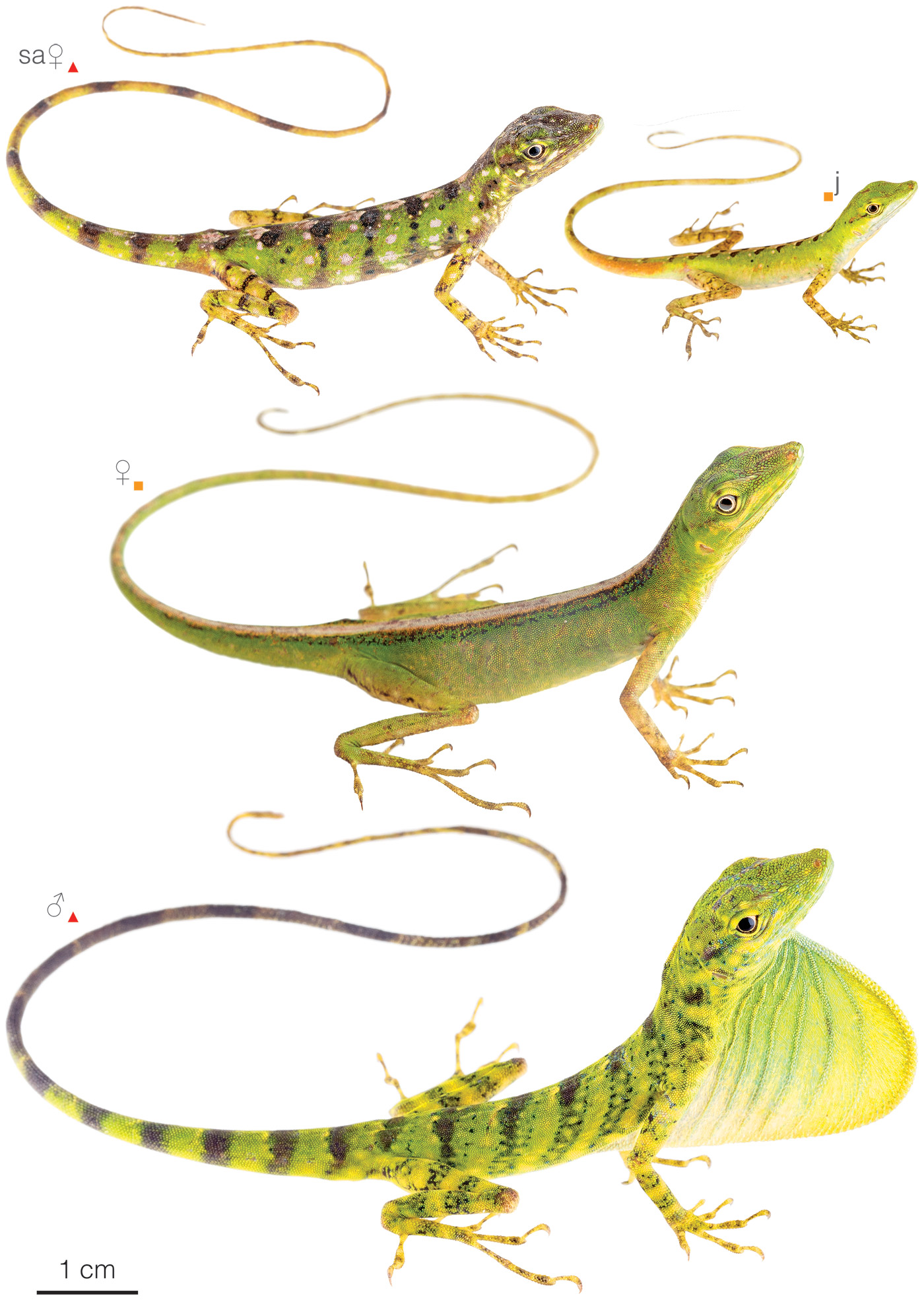 Figure 1: Individuals of Anolis gemmosus from Pichincha province, Ecuador: Santa Lucía Reserve (); Mindo (). sa=subadult, j=juvenile.
Natural history: Anolis gemmosus is an extremely common (995–1065 individuals/ha in some areas1; up to 50–60 times more abundant than other co-occurring anoles6,7) lizard that inhabits old-growth to moderately disturbed evergreen montane forests and cloud forests.2 The species prefers semi-open habitats such as forest clearings, roadsides, and rural gardens.1,8,9 Gem Anoles are included in the "grass-bush" anole ecomorph10 because they primarily use the undergrowth and herbaceous forest strata. During the day, when the ambient temperature is 19–20.4°C,2,9 these understory anoles are active on broad leaves, shrubs, palm fronds, stems, herbaceous vegetation, and tree trunks within one or two meters from the ground level.1,8 They are active even during chilly overcast days and are rarely seen directly basking in the sun.2 At night, they prefer to sleep on flimsy perches that will move if disturbed by a predator: ferns, twigs, stems, leaves, and grass blades 0.4–7.5 m above the forest floor.8,11 Gem Anoles are insectivorous, but so far only roaches have been reported as prey items.12 These reptiles change their dorsal coloration when disturbed, going from bright emerald green to dark brown.5 They will also sometimes bite when handled. Gravid females contain 1–2 eggs,5 but the real clutch size is probably one egg. Breeding seems to take place year-round.5 Males defend territories and court females using visual signals such as head bobs and dewlap displays.8
Conservation: Least Concern Believed to be safe from extinction given current circumstances..13 Anolis gemmosus is listed in this category given its presence in protected areas, lack of major widespread threats, presumed stable populations, and distribution over an area that retains the majority (~73%; Fig. 2) of its original forest cover.14,15 This species is usually the most abundant anole wherever it occurs and does not appear to be declining.13
Distribution: Anolis gemmosus is native to an estimated area of 8,846 km2 along the Pacific slopes of the Andes in Ecuador and southwestern Colombia. The species has been recorded at elevations between 1270 and 2487 m (Fig. 2).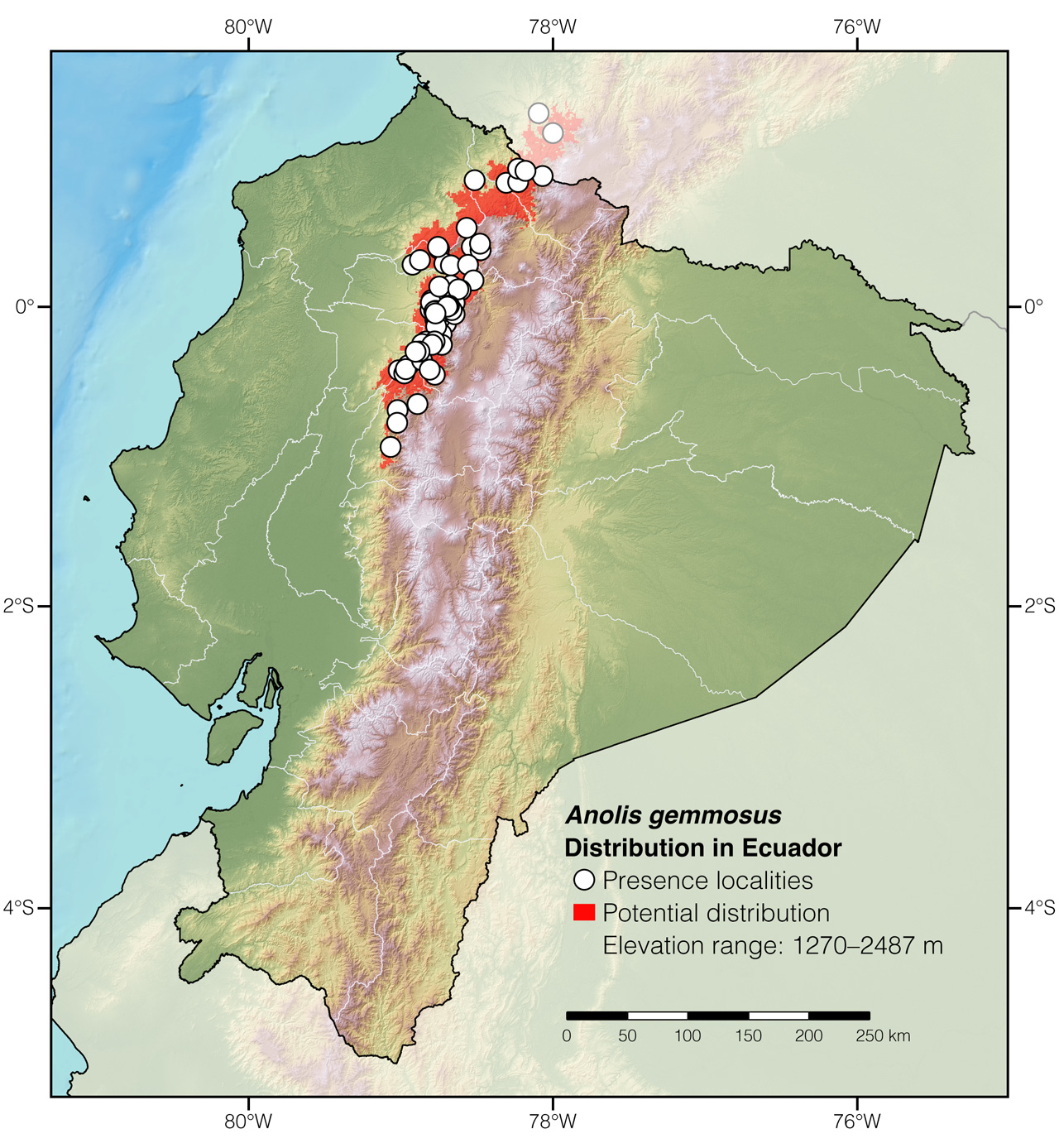 Figure 2: Distribution of Anolis gemmosus in Ecuador. See Appendix 1 for a complete list of the presence localities included in the map.
Etymology: The generic name Anolis is thought to have originated from Cariban languages, specifically from the word anoli, which is the name Arawak peoples may have used to refer to this group of lizards.16 The specific epithet gemmosus comes from the Latin gemma (=gem)17 and refers to the variegated dorsal pattern.2
See it in the wild: Probably the best locality to find Gem Anoles is the cloud forest area around the town Mindo, Pichincha province. Although these lizards are active during the day, they are more easily located at night, as they will be roosting on low vegetation where their bright green coloration stand out when lit with a flashlight.
Special thanks to Gregory Fischer for symbolically adopting the Gem Anole and helping bring the Reptiles of Ecuador book project to life.
Click here to adopt a species.
Author: Alejandro ArteagaaAffiliation: Khamai Foundation, Quito, Ecuador.
Photographer: Jose VieirabAffiliation: Tropical Herping (TH), Quito, Ecuador.,cAffiliation: ExSitu, Quito, Ecuador.
How to cite? Arteaga A (2023) Gem Anole (Anolis gemmosus). In: Arteaga A, Bustamante L, Vieira J, Guayasamin JM (Eds) Reptiles of Ecuador: Life in the middle of the world. Available from: www.reptilesofecuador.com. DOI: 10.47051/LPMD6836
Literature cited:
Appendix 1: Locality data used to create the distribution map of Anolis gemmosus in Ecuador (Fig. 2). Go to the section on symbols and abbreviations for a list of acronyms used.
| | | | |
| --- | --- | --- | --- |
| Country | Province | Locality | Source |
| Colombia | Nariño | Reserva La Planada | iNaturalist; photo examined |
| Colombia | Nariño | Reserva Río Ñambí | iNaturalist; photo examined |
| Ecuador | Carchi | Chilma Bajo | Arteaga et al. 2013 |
| Ecuador | Carchi | Finca El Encuentro | iNaturalist; photo examined |
| Ecuador | Carchi | Quebrada San José | Arteaga et al. 2013 |
| Ecuador | Carchi | Quebrada SN | Reptiles of Ecuador book database |
| Ecuador | Carchi | Reserva Drácula | Photo by EcoMinga |
| Ecuador | Carchi | Río San Pablo | Arteaga et al. 2013 |
| Ecuador | Cotopaxi | Bosque Integral Otonga | Ayala-Varela & Velasco 2010 |
| Ecuador | Cotopaxi | El Tingo | QCAZ 4072; Ayala-Varela & Carvajal-Campos 2022 |
| Ecuador | Cotopaxi | Las Damas | Ayala-Varela & Velasco 2010 |
| Ecuador | Cotopaxi | Las Pampas | Ayala-Varela & Velasco 2010 |
| Ecuador | Cotopaxi | Pucayacu–Sigchos road 1 | Ayala-Varela & Velasco 2010 |
| Ecuador | Cotopaxi | Pucayacu–Sigchos road 2 | QCAZ 14394; Ayala-Varela & Carvajal-Campos 2022 |
| Ecuador | Cotopaxi | Recinto Galápagos | Ayala-Varela & Velasco 2010 |
| Ecuador | Cotopaxi | Tangán | iNaturalist; photo examined |
| Ecuador | Esmeraldas | El Cristal | Crump & Lynch 1995 |
| Ecuador | Imbabura | Bosque Protector El Chontal | Arteaga et al. 2013 |
| Ecuador | Imbabura | Chontal Alto | Arteaga et al. 2013 |
| Ecuador | Imbabura | Comuna Brillasol | iNaturalist; photo examined |
| Ecuador | Imbabura | Comunidad Santa Rosa | Ayala-Varela & Velasco 2010 |
| Ecuador | Imbabura | Cuellaje, 9.6 km NW of | Arteaga et al. 2013 |
| Ecuador | Imbabura | Intag | O'Shaughnessy 1875 |
| Ecuador | Imbabura | Junín | Arteaga et al. 2013 |
| Ecuador | Imbabura | Llurimagua | iNaturalist; photo examined |
| Ecuador | Imbabura | Reserva Manduriacu | Lynch et al. 2014 |
| Ecuador | Imbabura | Santa Clara | Arteaga et al. 2013 |
| Ecuador | Imbabura | Toisán | Reptiles of Ecuador book database |
| Ecuador | Imbabura | Vía Otavalo–Selva Alegre | iNaturalist; photo examined |
| Ecuador | Pichincha | 6 km E Tandapi | O'Shaughnessy 1875 |
| Ecuador | Pichincha | Bellavista, Antpitta trail | Reptiles of Ecuador book database |
| Ecuador | Pichincha | Birdwatcher's House | Reptiles of Ecuador book database |
| Ecuador | Pichincha | Bosque Protector Cambugán | Yánez-Muñoz et al. 2009 |
| Ecuador | Pichincha | Bosque Protector El Cedral | Arteaga et al. 2013 |
| Ecuador | Pichincha | Bosque Protector Mindo-Nambillo | Arteaga et al. 2013 |
| Ecuador | Pichincha | Cascadas de Mindo | Reptiles of Ecuador book database |
| Ecuador | Pichincha | El Pahuma Orchid Reserve | Yánez-Muñoz et al. 2009 |
| Ecuador | Pichincha | Finca Elenita | Reptiles of Ecuador book database |
| Ecuador | Pichincha | Hacienda La Hesperia | Brouwer 2018 |
| Ecuador | Pichincha | La Unión–Río Cinto | Yánez-Muñoz et al. 2009 |
| Ecuador | Pichincha | Las Tolas | Yánez-Muñoz et al. 2009 |
| Ecuador | Pichincha | Mindo Biological Station | Morley Read, pers. comm. |
| Ecuador | Pichincha | Mindo Garden | Reptiles of Ecuador book database |
| Ecuador | Pichincha | Mindo Lindo Lodge | Photo by Heike Brieschke |
| Ecuador | Pichincha | Nanegal, 2 km E of | iNaturalist; photo examined |
| Ecuador | Pichincha | Nanegalito | Arteaga et al. 2013 |
| Ecuador | Pichincha | Nono–Mindo | Reptiles of Ecuador book database |
| Ecuador | Pichincha | Nono–Mindo road | Reptiles of Ecuador book database |
| Ecuador | Pichincha | Pacha Quindi | Photo by Tony Nunnery |
| Ecuador | Pichincha | Pachijal | Ayala-Varela & Velasco 2010 |
| Ecuador | Pichincha | Pacto | Arteaga et al. 2013 |
| Ecuador | Pichincha | Quebrada Zapadores | Reptiles of Ecuador book database |
| Ecuador | Pichincha | Road to Mindo | Reptiles of Ecuador book database |
| Ecuador | Pichincha | Sachatamia Lodge | Reptiles of Ecuador book database |
| Ecuador | Pichincha | Santa Lucía Cloud Forest Reserve | Savit 2006 |
| Ecuador | Pichincha | Saragoza–Río Cinto | Yánez-Muñoz et al. 2009 |
| Ecuador | Pichincha | Séptimo Paraíso Lodge | Reptiles of Ecuador book database |
| Ecuador | Pichincha | Tambo Tanda Lodge | Reptiles of Ecuador book database |
| Ecuador | Pichincha | Tamboquinde | Yánez-Muñoz et al. 2009 |
| Ecuador | Pichincha | Tandapi | Ayala-Varela & Velasco 2010 |
| Ecuador | Pichincha | Tandayapa | Ayala-Varela & Velasco 2010 |
| Ecuador | Pichincha | Tandayapa Bird Lodge | Reptiles of Ecuador book database |
| Ecuador | Pichincha | Yellow House Lodge | Reptiles of Ecuador book database |
| Ecuador | Santo Domingo de los Tsáchilas | Bosque Protector Río Guajalito | Reptiles of Ecuador book database |
| Ecuador | Santo Domingo de los Tsáchilas | Estación Experimental La Favorita | Ayala-Varela & Velasco 2010 |
| Ecuador | Santo Domingo de los Tsáchilas | Las Palmeras | Arteaga et al. 2013 |
| Ecuador | Santo Domingo de los Tsáchilas | Miligali | Arteaga et al. 2013 |
| Ecuador | Santo Domingo de los Tsáchilas | Río Faisanes | Arteaga et al. 2013 |
| Ecuador | Santo Domingo de los Tsáchilas | Santo Domingo, 30 km E of | Arteaga et al. 2013 |