| | |
| --- | --- |
| Published Sepember 27, 2021. Open access. | Gallery ❯ |
Reticulate Worm Snake (Amerotyphlops reticulatus)
Reptiles of Ecuador | Serpentes | Typhlopidae | Amerotyphlops reticulatus
English common name: Reticulate Worm Snake.
Spanish common name: Culebra termitera reticulada, serpiente ciega gigante (Ecuador), culebra ciega (Colombia).
Recognition: ♂♂ 35.2 cmMaximum distance from the snout to the tip of the tail. ♀♀ 52 cmMaximum distance from the snout to the tip of the tail..1 The Reticulate Worm Snake (Amerotyphlops reticulatus) may be identified from other snake species by having ventral and dorsal scales of the same size, and the dorsal head scales similar in shape to the body scales, but bigger.2,3 Also, characteristic of this snake is the sharply pointed tail, the round snout, and the small and vestigial eyes.4–6 The dorsal coloration is glossy black to dark grayish brown, the venter is yellowish cream, the snout is white, and there is a white or yellowish cream tail ring.2,7 In Ecuador, A. reticulatus can be distinguished from other snakes that have vestigial eyes, such as those in the genera Trilepida and Epictia, by being larger, having a light ring on snout and tail, an enlarged rostral scale, and scales between eyes similar in shape to the dorsal scales.2,3,8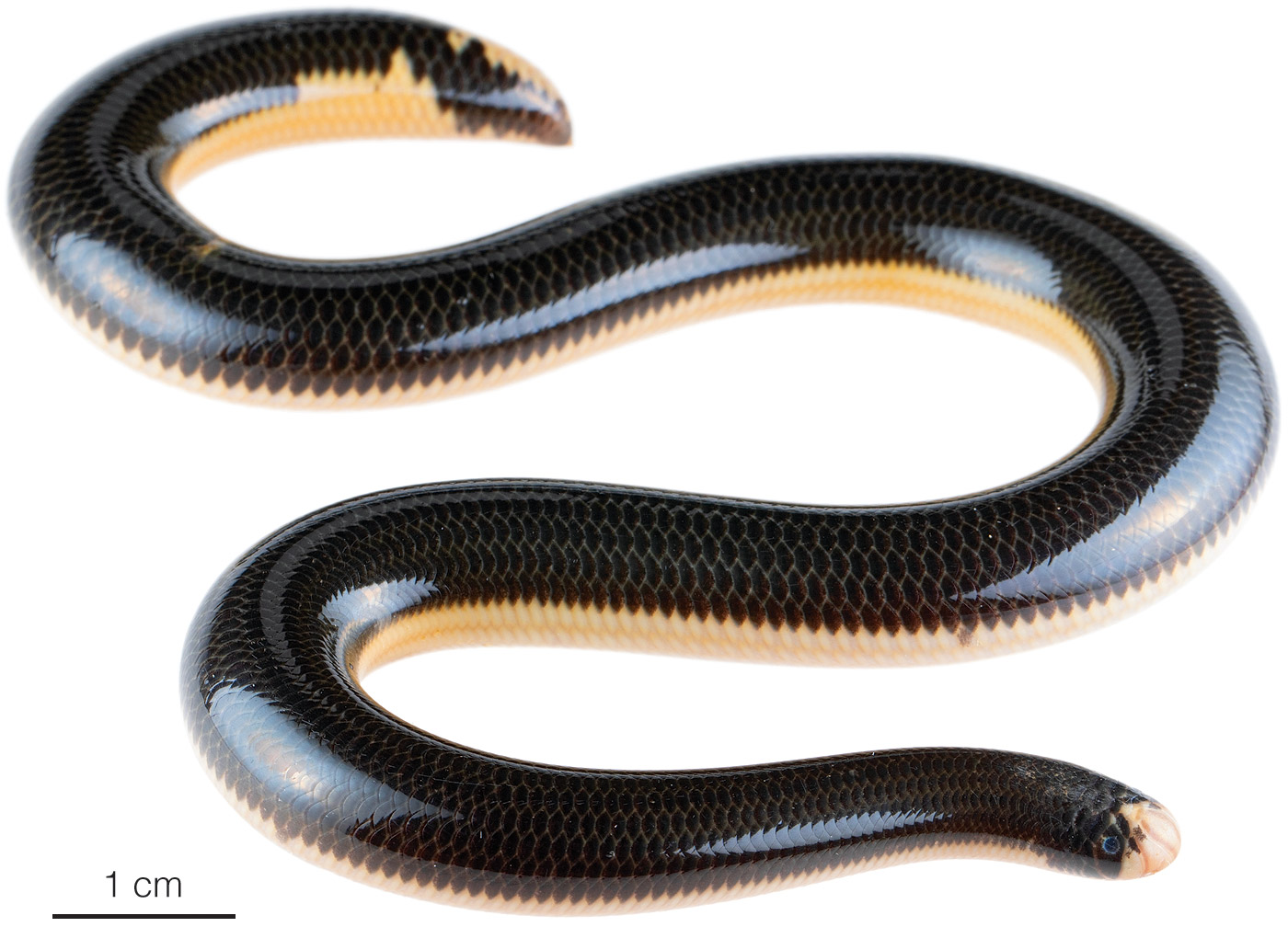 Figure 1: Adult individual of Amerotyphlops reticulatus from Hato La Aurora, Casanare department, Colombia.
Natural history: Extremely rareTotal average number of reported observations per locality less than three. in Ecuador. Amerotyphlops reticulatus occurs in a variety of habitats ranging from pristine rainforests and grasslands to cultivated fields (manioc, sugarcane, African oil palm), pastures, and rural gardens.7–12 Reticulate Worm Snakes are fossorial (living underground), being found mostly in ants and termite galleries,4,5 in leaf-litter, or buried under the soil.13 They also occasionally dwell on the surface level, on soil4,11 or on roads.9,11 This species is mostly active at night,9,11 but there are records of individuals active during the day, a behavior probably triggered by floods, since these snakes are extremely sensitive to light.4,9,11 Analyses of stomach contents indicate that this snake feeds primarily on ants (genus Atta) and their eggs, termites, and beetles (Staphylinidae).4,5,11 The Reticulate Worm Snake is not venomous. When threatened, individuals usually try to escape and hide; if handled, these snakes thrash the body, push the sharp tail tip against the threat, and secrete a fetid substance.4,7,11 There are records of coral snakes (Micrurus helleri, Micrurus obscurus, and M. langsdorfii)14,15 preying upon individuals of A. reticulatus. In Brazil, one female A. reticulatus laid 10 eggs in March, and three neonates were born after a 52 day incubation period.7
Conservation: Least Concern Believed to be safe from extinction given current circumstances..12,16 Globally and in Ecuador, Amerotyphlops reticulatus is considered to be not threatened, because the species is widely distributed, present in major protected areas, and is currently facing no major widespread extinction threats.12 Also, the Reticulate Worm Snake appears to tolerate moderate habitat transformations, although it is more abundant in forested areas.4,9,11 Some studies report individuals killed by vehicular traffic.9,17 Likewise, the species could suffer local population declines due to the habitat destruction and the excessive use of pesticides that decimate insect populations, such as leafcutter ants, which are crucial to the survival of A. reticulatus.9
Distribution: Amerotyphlops reticulatus is native to an estimated 1,112,540 km2 area throughout the Amazon basin and adjacent foothills of the Andes in Bolivia, Brazil, Colombia, Ecuador, French Guiana, Guyana, Peru, Suriname, and Venezuela.18 The species also occurs, albeit marginally, in the Caatinga xeric shrubland and El Chaco plains ecosystems in Brazil and Bolivia, respectively.18 There are records of A. reticulatus east of the Andes in the Chocó and Río Magdalena valley regions of Colombia.1 In Ecuador, the Reticulate Worm Snake occurs at elevations between 139 and 1312 m (Fig. 2).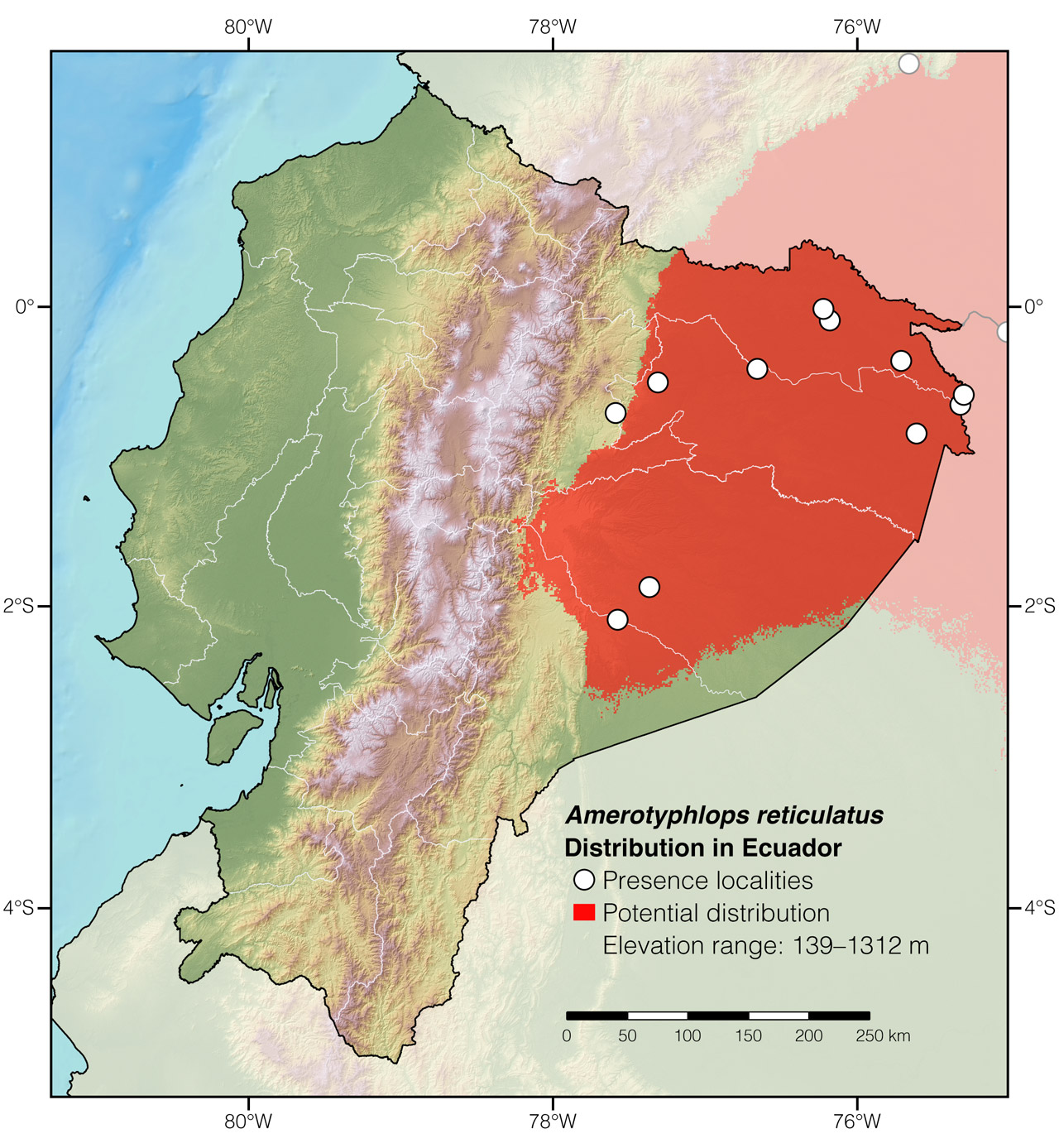 Figure 2: Distribution of Amerotyphlops reticulatus in Ecuador. See Appendix 1 for a complete list of the presence localities included in the map.
Etymology: The genus name Amerotyphlops is a masculine noun formed by the Latin word americanus (meaning "from America") and the Greek word typhlops (meaning "the blind").6 The name refers both to the geographic distribution of snakes in the genus as well as their small rudimentary eyes.6 The specific epithet reticulatus is a Latin word meaning "net pattern." It probably refers to the dorsal color pattern, in which the pale edges of each scale overlap and form a faint reticulation.
See it in the wild: In Ecuador, Reticulate Worm Snakes are unlikely to be seen more than once every few months at any given locality. In an oil field in Yasuní National Park, five individuals were dug up from the ground as bulldozers were clearing a patch of pristine rainforest. In central Brazil, one study reports that most individuals were captured in pitfall traps.7
Authors: Andrés F. Aponte-Gutiérrez,aAffiliation: Grupo de Biodiversidad y Recursos Genéticos, Instituto de Genética, Universidad Nacional de Colombia, Bogotá, Colombia.,bAffiliation: Fundación Biodiversa Colombia, Bogotá, Colombia. Juan Acosta-Ortiz,cAffiliation: Universidad de los Llanos. Villavicencio, Colombia. and Leonardo Niño-CárdenasdAffiliation: Laboratorio de Anfibios, Instituto de Ciencias Naturales, Universidad Nacional de Colombia, Bogotá, Colombia.
Editor: Alejandro ArteagaeAffiliation: Tropical Herping (TH), Quito, Ecuador.
Photographer: Jose VieiraeAffiliation: Tropical Herping (TH), Quito, Ecuador.,fAffiliation: ExSitu, Quito, Ecuador.
How to cite? Aponte-Gutiérrez A, Acosta-Ortiz J, Niño-Cárdenas L (2021) Reticulate Worm Snake (Amerotyphlops reticulatus). In: Arteaga A, Bustamante L, Vieira J, Guayasamin JM (Eds) Reptiles of Ecuador: Life in the middle of the world. Available from: www.reptilesofecuador.com. DOI: 10.47051/OPBO5126
Literature cited:
Appendix 1: Locality data used to create the distribution map of Amerotyphlops reticulatus in Ecuador (Fig. 2). Go to the section on symbols and abbreviations for a list of acronyms used.
| | | | |
| --- | --- | --- | --- |
| Country | Province | Locality | Source |
| Colombia | Caquetá | Florencia | Caicedo-Portilla 2011 |
| Colombia | Putumayo | Puerto Leguizamo | Nogueira et al. 2019 |
| Ecuador | Napo | Wild Sumaco Wildlife Sanctuary | Photo by Jeff Camper |
| Ecuador | Orellana | Bloque 43, Campo ITT | Photo by María José Quiroz |
| Ecuador | Orellana | Puesto Cavero, 1 km NW of | Nogueira et al. 2019 |
| Ecuador | Orellana | San José de Payamino | Maynard et al. 2016 |
| Ecuador | Pastaza | Río Pastaza | MCZ 36951 |
| Ecuador | Pastaza | Río Pingullo | Nogueira et al. 2019 |
| Ecuador | Sucumbíos | Adhán Payahüaje | Nogueira et al. 2019 |
| Ecuador | Sucumbíos | Comunidad Zábalo | Cevallos Bustos 2010 |
| Ecuador | Sucumbíos | Lagartococha | Dixon and Hendricks 1979 |
| Ecuador | Sucumbíos | Laguna Grande | iNaturalist |
| Ecuador | Sucumbíos | Limoncocha | Dixon and Hendricks 1979 |
| Peru | Loreto | Río Huallaga | Nogueira et al. 2019 |