| | |
| --- | --- |
| Published April 12, 2022. Open access. | Gallery ❯ |
Western Shade-Lizard (Alopoglossus harrisi)
Reptiles of Ecuador | Sauria | Alopoglossidae | Alopoglossus harrisi
English common name: Western Shade-Lizard.
Spanish common names: Lagartija sombría occidental, lagartija sombría de Harris.
Recognition: ♂♂ 16.9 cmMaximum distance from the snout to the tip of the tail. Snout–vent length=6.0 cm. ♀♀ 18.6 cmMaximum distance from the snout to the tip of the tail. Snout–vent length=6.4 cm..1,2 The Western Shade-Lizard (Alopoglossus harrisi) is a small, slender lizard with a brown dorsum and a light vertebral stripe.3,4 It can be distinguished from other lizards in western Ecuador by having strongly keeled and overlapping dorsal scales on the back4 and by lacking postparietal scales.5 Alopoglossus harrisi is most likely to be confused with A. viridiceps, a cloud forest species from which it differs by having 16–24 (instead of 29–32) dorsal scales in a transverse row in the middle of the body and by lacking the following features: green dorsal coloration on the head and a whitish line running from the corner of the mouth to the shoulder.2 However, these two species are not known to co-occur.6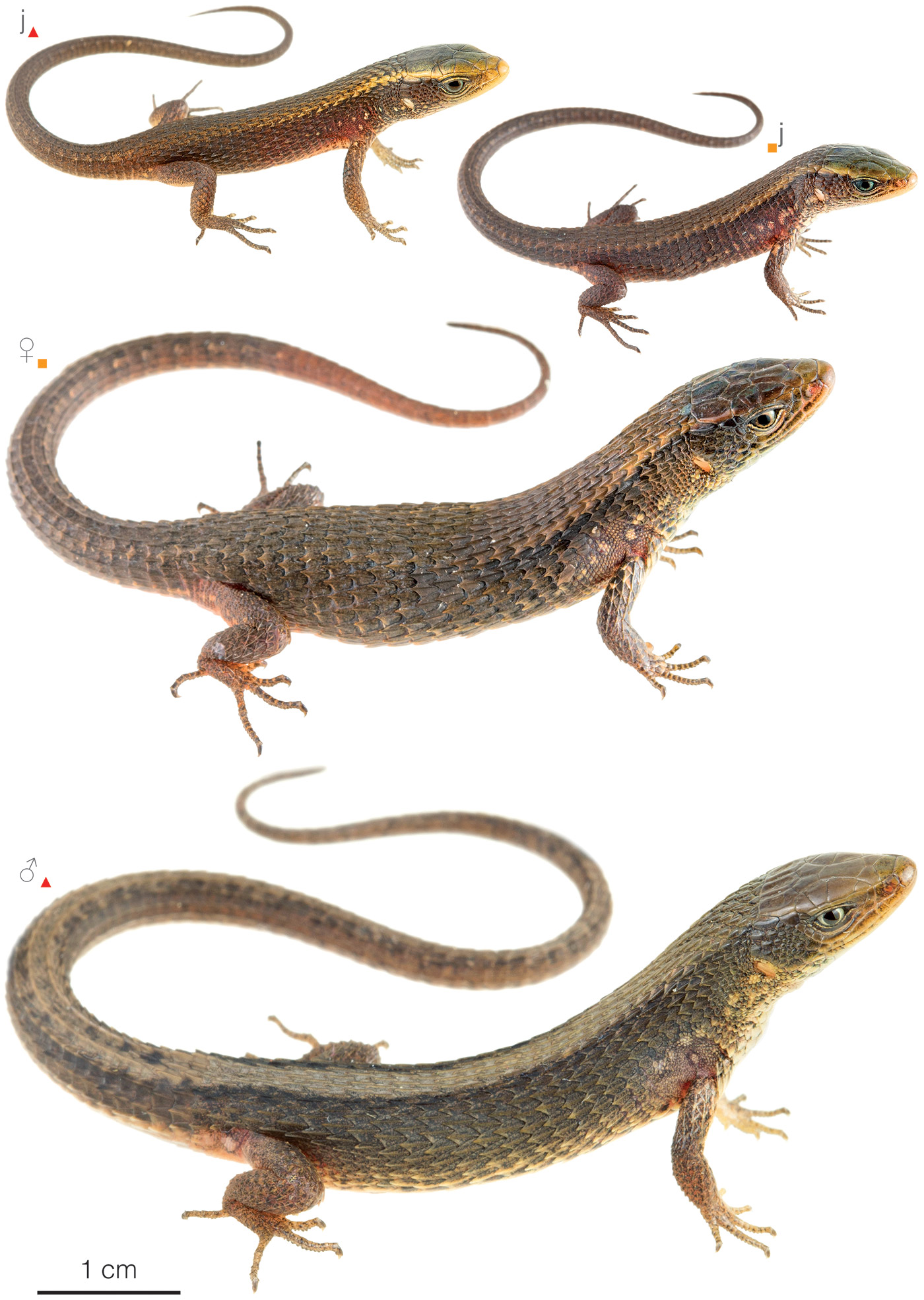 Figure 1: Individuals of Alopoglossus harrisi from Cerro de Hayas, Guayas province (); and Buenaventura Reserve, El Oro province (); Ecuador. j=juvenile.
Natural history: Alopoglossus harrisi is an extremely common lizard that inhabits old growth to heavily disturbed evergreen lowland/foohill forests and seasonally dry forests.6 The species also occurs in disturbed areas such as banana, cacao, and coffee plantations.1,7,8 During sunny days, Western Shade-Lizards forage actively on the leaf-litter in shaded areas instead of in open or very dry areas.1,8,9 During cold or cloudy days, these lizards hide under rocks and logs.1 At night, they are usually found sleeping among the leaf-litter.1 The diet of A. harrisi probably includes a wide range of terrestrial insectes, but so far only cockroaches have been confirmed as prey.1 In the presence of a disturbance, Western Shade-Lizards usually quickly retreat under leaf-litter; if captured, they may shed the tail or bite.1 Nothing is known about the reproductive habits of the species, although other Alopoglossus lay two eggs per clutch.10
Conservation: Least Concern Believed to be safe from extinction given current circumstances.. 8 Alopoglossus harrisi is included in this category mainly on the basis of the species' wide distribution, presence in protected areas, presumed large stable populations, and adaptability to human-modified environments.8 However, the fragmentation and loss of forest habitat are major threats to some populations of this species, particularly those occurring in the lowlands of western Ecuador, where ~64% of the species' potential distribution is deforested.11
Distribution: Alopoglossus harrisi is native to the Pacific lowlands and adjacent foothills of the Andes (Chocó and Tumbesian regions) in Colombia, Ecuador, and Peru. The species has been recorded at elevations between 3 m and 1593 m (Fig. 2).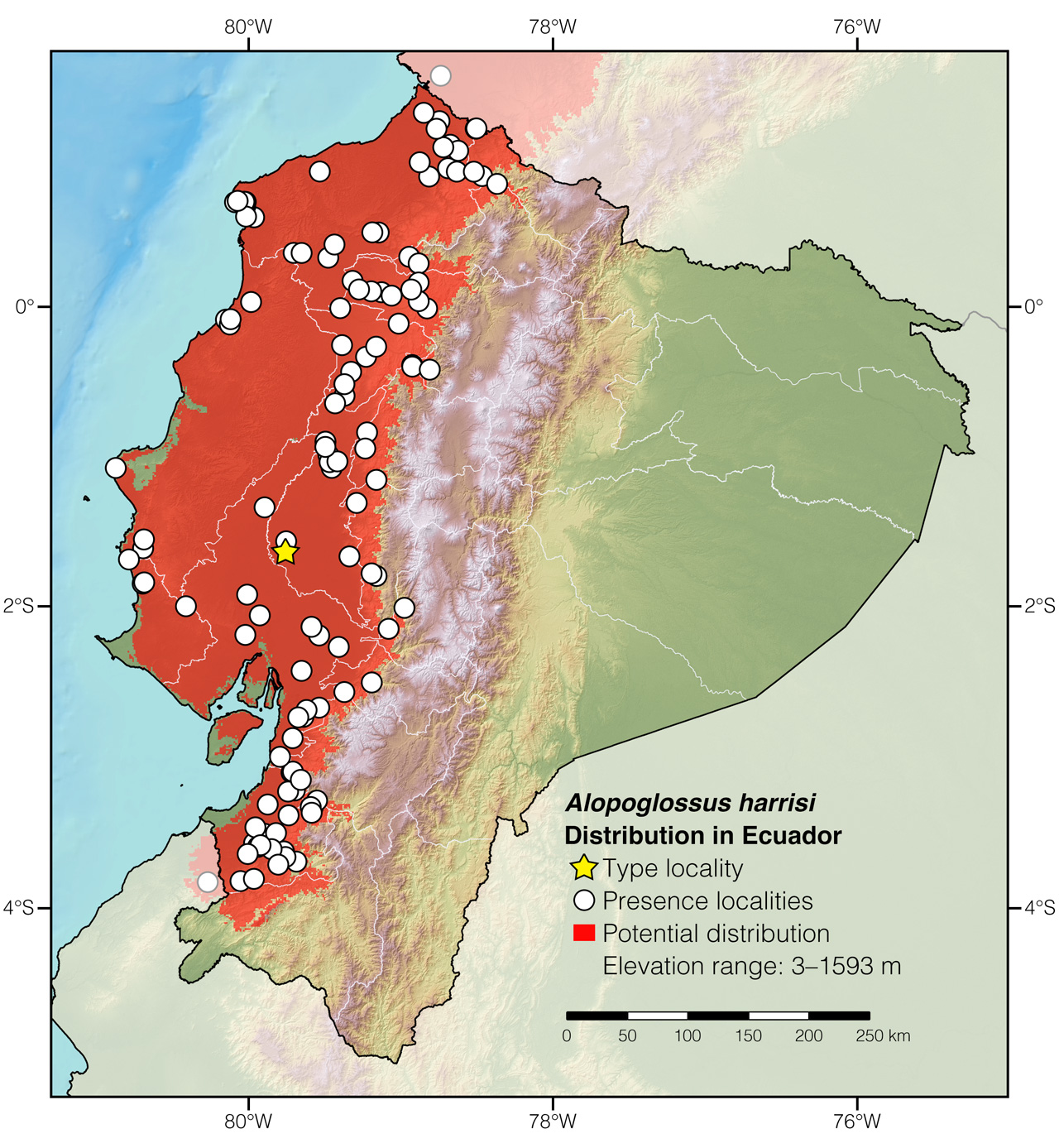 Figure 2: Distribution of Alopoglossus harrisi in Ecuador. The star corresponds to the type locality: Vinces. See Appendix 1 for a complete list of the presence localities included in the map.
Etymology: The generic name Alopoglossus, which is derived from the Greeks words alopekia (meaning "bare") and glossa (meaning "tongue"),12 refers to the tongue of lizards of this genus, which lacks scale-like papillae.13,14 The specific epithet harrisi honors Dennis Harris, in recognition of his outstanding contributions to the taxonomy of Alopoglossidae.15 Harris completed the only available review of the genus Ptychoglossus, and figures as an author in the descriptions of almost one third of the currently known alopoglossid species.15
See it in the wild: Western Shade-Lizards can be seen with relative ease in Buenaventura Reserve and Bilsa Biological Reserve. They can be found by searching the leaf-litter during sunny mornings along forest trails. They may also be found at night by removing leaf-litter or by searching under rocks and logs.
Acknowledgments: Special thanks to Lina Parra for helping compile some of the information used in this account.
Special thanks to Justin Rijnberg for symbolically adopting the Western Shade-Lizard and helping bring the Reptiles of Ecuador book project to life.
Click here to adopt a species.
Author: Jose VieiraaAffiliation: Tropical Herping (TH), Quito, Ecuador.,bAffiliation: ExSitu, Quito, Ecuador.
Editor: Alejandro ArteagacAffiliation: Khamai Foundation, Quito, Ecuador.
Photographer: Jose VieiraaAffiliation: Tropical Herping (TH), Quito, Ecuador.,bAffiliation: ExSitu, Quito, Ecuador.
How to cite? Vieira J (2022) Western Shade-Lizard (Alopoglossus harrisi). In: Arteaga A, Bustamante L, Vieira J, Guayasamin JM (Eds) Reptiles of Ecuador: Life in the middle of the world. Available from: www.reptilesofecuador.com. DOI: 10.47051/TFTG7478
Literature cited:
Torres-Carvajal O, Lobos SE (2014) A new species of Alopoglossus lizard (Squamata, Gymnophthalmidae) from the tropical Andes, with a molecular phylogeny of the genus. ZooKeys 410: 105–120. DOI: 10.3897/zookeys.410.7401
Ruibal R (1952) Revisionary studies of some South American Teiidae. Bulletin of the Museum of Comparative Zoology 106: 475–529.
Köhler G, Hans-Helmut D, Veselý M (2012) A contribution to the knowledge of the lizard genus Alopoglossus (Squamata: Gymnophthalmidae). Herpetological Monographs 26: 173–188. DOI: 10.1655/HERPMONOGRAPHS-D-10-00011.1
Arteaga A, Pyron RA, Peñafiel N, Romero-Barreto P, Culebras J, Bustamante L, Yánez-Muñoz MH, Guayasamin JM (2016) Comparative phylogeography reveals cryptic diversity and repeated patterns of cladogenesis for amphibians and reptiles in northwestern Ecuador. PLoS ONE 11: e0151746. DOI: 10.1371/journal.pone.0151746
Ortega-Andrade HM, Bermingham J, Aulestia C, Paucar C (2010) Herpetofauna of the Bilsa Biological Station, province of Esmeraldas, Ecuador. Check List 6: 119–154. DOI: 10.15560/6.1.119
Cisneros-Heredia DF, Velasco J, Bolívar W (2016) Alopoglossus festae. The IUCN red list of threatened species. Available from: www.iucnredlist.org. DOI: 10.2305/IUCN.UK.2016-1.RLTS.T44578111A44578114.en
Cruz García FK (2017) Diversidad y preferencia de microhábitats de la herpetofauna del Bosque Protector Pedro Franco Dávila (Jauneche) y del Área Provincial Natural de Recreación Cerro de Hayas (Naranjal). BSc thesis, Universidad de Guayaquil, 94 pp.
Vitt LJ, De la Torre S (1996) A research guide to the lizards of Cuyabeno. Pontificia Universidad Católica del Ecuador, Quito, 165 pp.
MAE (2012) Línea base de deforestación del Ecuador continental. Ministerio del Ambiente del Ecuador, Quito, 30 pp.
Harris DM (1994) Review of the teiid lizard genus Ptychoglossus. Herpetological Monographs 8: 226–275. DOI: 10.2307/1467082
Boulenger GA (1885) Catalogue of the lizards in the British Museum. Taylor & Francis, London, 497 pp.
Hernández Morales C, Sturaro MJ, Nunes PMS, Lotzkat S, Peloso PL (2020) A species‐level total evidence phylogeny of the microteiid lizard family Alopoglossidae (Squamata: Gymnophthalmoidea). Cladistics 36: 301–321. DOI: 10.1111/cla.12407
Appendix 1: Locality data used to create the distribution map of Alopoglossus harrisi in Ecuador (Fig. 2). Go to the section on symbols and abbreviations for a list of acronyms used.
| | | | |
| --- | --- | --- | --- |
| Country | Province | Locality | Source |
| Colombia | Nariño | Bosque a 10 km del río Mira | ICN-MHN-Rep 5486 |
| Colombia | Nariño | El Palmichal | Pinto-Erazo et al. 2020 |
| Ecuador | Azuay | Campo minero PRODUMIN | Torres-Carvajal & Lobos 2014 |
| Ecuador | Azuay | Chilcaplaya | Arteaga et al. 2016 |
| Ecuador | Azuay | Flor y Selva | Arteaga et al. 2016 |
| Ecuador | Azuay | Proyecto Minero Gaby | DHMECN 10357 |
| Ecuador | Azuay | San Rafael de Sharug | MZUA.RE.9238 |
| Ecuador | Azuay | Sarayunga | Torres-Carvajal & Lobos 2014 |
| Ecuador | Azuay | Sendero a las Cascadas Río Pindo | Online multimedia |
| Ecuador | Bolívar | Balzapamba | Köhler 2012 |
| Ecuador | Bolívar | Balzapamba, 4.15 km E of | This work |
| Ecuador | Bolívar | Las Naves, 3.3 km E of | iNaturalist |
| Ecuador | Bolívar | Recinto San Francisco | Torres-Carvajal & Lobos 2014 |
| Ecuador | Cañar | Huatacón | Arteaga et al. 2016 |
| Ecuador | Cañar | Manta Real | Almendáriz & Carr 2007 |
| Ecuador | Carchi | Destacamento Militar | Arteaga et al. 2016 |
| Ecuador | Carchi | Tobar Donoso | Samec & Samec 1988 |
| Ecuador | Chimborazo | Pallatanga | Köhler 2012 |
| Ecuador | Cotopaxi | Bosque Privado El Jardín de los Sueños | Photo by Christophe Pellet |
| Ecuador | Cotopaxi | Corazón–Moraspungo | Torres-Carvajal & Lobos 2014 |
| Ecuador | Cotopaxi | Finca de la familia Tapia | Torres-Carvajal & Lobos 2014 |
| Ecuador | Cotopaxi | La Maná | Torres-Carvajal & Lobos 2014 |
| Ecuador | Cotopaxi | Las Juntas | Köhler 2012 |
| Ecuador | El Oro | Bella María | Torres-Carvajal & Lobos 2014 |
| Ecuador | El Oro | California | Arteaga et al. 2016 |
| Ecuador | El Oro | Cascadas de Manuel | Garzón-Santomaro et al. 2019 |
| Ecuador | El Oro | Cerro Azul | Photo by Anton Sorokin |
| Ecuador | El Oro | La Avanzada | Darwin Núñez, pers. comm. |
| Ecuador | El Oro | La Enramada | Garzón-Santomaro et al. 2019 |
| Ecuador | El Oro | La Lajas | Garzón-Santomaro et al. 2019 |
| Ecuador | El Oro | Limón Playa | Garzón-Santomaro et al. 2019 |
| Ecuador | El Oro | Lote Guzmán | This work |
| Ecuador | El Oro | Machala, 7 km ESE of | Köhler 2012 |
| Ecuador | El Oro | Marcabelí | Garzón-Santomaro et al. 2019 |
| Ecuador | El Oro | Ñalacapac | Garzón-Santomaro et al. 2019 |
| Ecuador | El Oro | Piñas | Arteaga et al. 2016 |
| Ecuador | El Oro | Piñas, 13 km W of | Köhler 2012 |
| Ecuador | El Oro | Remolinos | Garzón-Santomaro et al. 2019 |
| Ecuador | El Oro | Represa Tahuin | Garzón-Santomaro et al. 2019 |
| Ecuador | El Oro | Reserva Biológica Buenaventura | Arteaga et al. 2016 |
| Ecuador | El Oro | Río Sabayán | DHMECN 14555 |
| Ecuador | El Oro | Santa Rosa | Arteaga et al. 2016 |
| Ecuador | El Oro | Sector El Colorado | DHMECN 11269 |
| Ecuador | Esmeraldas | Barro | Torres-Carvajal & Lobos 2014 |
| Ecuador | Esmeraldas | Bilsa Biological Reserve | Arteaga et al. 2016 |
| Ecuador | Esmeraldas | Bosque Protector La Chiquita | MHNG 2437.068 |
| Ecuador | Esmeraldas | Caimito | Torres-Carvajal & Lobos 2014 |
| Ecuador | Esmeraldas | Cerro Ceibo | Photo by Paul Hamilton |
| Ecuador | Esmeraldas | Cerro Zapallo | iNaturalist |
| Ecuador | Esmeraldas | Cresta San Francisco | Arteaga et al. 2016 |
| Ecuador | Esmeraldas | Durango, 7 km W of | Torres-Carvajal & Lobos 2014 |
| Ecuador | Esmeraldas | El Placer | Köhler 2012 |
| Ecuador | Esmeraldas | Hacienda Equinox | Köhler 2012 |
| Ecuador | Esmeraldas | La Lagartera, near mouth of Caoni | UIMNH54330–32 |
| Ecuador | Esmeraldas | Lote Escobar | Yanez-Muñoz 2005 |
| Ecuador | Esmeraldas | Lote Salvadores | This work |
| Ecuador | Esmeraldas | Lote Ventanas | Yánez-Muñoz 2005 |
| Ecuador | Esmeraldas | Monte Saíno | Arteaga et al. 2016 |
| Ecuador | Esmeraldas | Muisne | Arteaga et al. 2016 |
| Ecuador | Esmeraldas | Playa de Oro | USNM 20613 |
| Ecuador | Esmeraldas | Playón de San Francisco, 5 km E of | Torres-Carvajal & Lobos 2014 |
| Ecuador | Esmeraldas | Quinindé | Arteaga et al. 2016 |
| Ecuador | Esmeraldas | Reserva Tesoro Escondido | Citlalli Morelos, pers. comm. |
| Ecuador | Esmeraldas | Río Blanco | Arteaga et al. 2016 |
| Ecuador | Esmeraldas | Río Santiago | Arteaga et al. 2016 |
| Ecuador | Esmeraldas | Río Tongora headwaters | Torres-Carvajal & Lobos 2014 |
| Ecuador | Esmeraldas | San Lorenzo | Köhler 2012 |
| Ecuador | Esmeraldas | Tundaloma Lodge | Arteaga et al. 2016 |
| Ecuador | Esmeraldas | Vida Rosero Reserve | This work |
| Ecuador | Guayas | Bosque Protector Cerro Blanco | Torres-Carvajal & Lobos 2014 |
| Ecuador | Guayas | Capeira | Photo by Eduardo Zavala |
| Ecuador | Guayas | Cerro de Hayas | This work |
| Ecuador | Guayas | Cerro Pancho Diablo | This work |
| Ecuador | Guayas | Durán, 40 km E of | UF 90584 |
| Ecuador | Guayas | Guayaquil | Köhler 2012 |
| Ecuador | Guayas | Hacienda San Miguel | Köhler 2012 |
| Ecuador | Guayas | Milagro | Arteaga et al. 2016 |
| Ecuador | Guayas | Naranajal | MHNG 2516.023 |
| Ecuador | Guayas | Naranjal–Pasaje | Köhler 2012 |
| Ecuador | Guayas | Nueva Unión Campesina | Torres-Carvajal & Lobos 2014 |
| Ecuador | Guayas | Río Daule | This work |
| Ecuador | Guayas | Tenguel | Torres-Carvajal et al. 2019 |
| Ecuador | Imbabura | Lita | Arteaga et al. 2016 |
| Ecuador | Imbabura | Palma Real | Arteaga et al. 2016 |
| Ecuador | Imbabura | Paramba | Köhler 2012 |
| Ecuador | Imbabura | Río Mira | Arteaga et al. 2016 |
| Ecuador | Los Ríos | Buena Fé | Arteaga et al. 2016 |
| Ecuador | Los Ríos | Centro Científico Río Palenque | Miyata 1976 |
| Ecuador | Los Ríos | Cerro Sama Mumbes | iNaturalist |
| Ecuador | Los Ríos | Finca Playa Grande | Köhler 2012 |
| Ecuador | Los Ríos | Hacienda Cerro Chico | Arteaga et al. 2016 |
| Ecuador | Los Ríos | Pichilangae | Arteaga et al. 2016 |
| Ecuador | Los Ríos | Quevedo | Köhler 2012 |
| Ecuador | Los Ríos | Quevedo, 3 km E of | Arteaga et al. 2016 |
| Ecuador | Los Ríos | Quevedo, 4 km N of | Köhler 2012 |
| Ecuador | Los Ríos | Río Baba | Köhler 2012 |
| Ecuador | Los Ríos | Vinces* | Peracca 1904 |
| Ecuador | Manabí | Bosque Seco Lalo Loor | Arteaga et al. 2016 |
| Ecuador | Manabí | Cerro Pata de Pájaro | Almendariz & Carr 2007 |
| Ecuador | Manabí | Cerro San Sebastián | DHMECN 5958 |
| Ecuador | Manabí | Jama Coaque | Torres-Carvajal & Lobos 2014 |
| Ecuador | Manabí | Jama, 5 km E of | Photo by Ryan Lynch |
| Ecuador | Manabí | Pacoche Reserve | Torres-Carvajal & Lobos 2014 |
| Ecuador | Manabí | Parque Nacional Machalilla | Arteaga et al. 2016 |
| Ecuador | Manabí | Reserva Ayampe | MECN 2013 |
| Ecuador | Pichincha | El Abrazo del Árbol | This work |
| Ecuador | Pichincha | ENDESA | Torres-Carvajal & Lobos 2014 |
| Ecuador | Pichincha | Hostería Selva Virgen | Arteaga et al. 2016 |
| Ecuador | Pichincha | Manduriacu Reserve | Lynch et al. 2014 |
| Ecuador | Pichincha | Mashpi Reserve | Arteaga et al. 2016 |
| Ecuador | Pichincha | Milpe Bird Sanctuary | Arteaga et al. 2016 |
| Ecuador | Pichincha | Puerto Quito | Arteaga et al. 2016 |
| Ecuador | Pichincha | Río Caoni | Köhler 2012 |
| Ecuador | Pichincha | Río Chirapi headwaters | Torres-Carvajal & Lobos 2014 |
| Ecuador | Pichincha | Tandapi | MHNG 2360.042 |
| Ecuador | Santa Elena | Comuna Loma Alta | Arteaga et al. 2016 |
| Ecuador | Santa Elena | Dos Mangas | Torres-Carvajal et al. 2019 |
| Ecuador | Santa Elena | Reserva Las Balsas | This work |
| Ecuador | Santo Domingo de los Tsáchilas | Rancho Santa Teresita | Köhler 2013 |
| Ecuador | Santo Domingo de los Tsáchilas | Río Mulaule | Arteaga et al. 2016 |
| Ecuador | Santo Domingo de los Tsáchilas | Santo Domingo de los Colorados | Köhler 2012 |
| Ecuador | Santo Domingo de los Tsáchilas | Santo Domingo, 24 S of | Köhler 2012 |
| Ecuador | Santo Domingo de los Tsáchilas | Santo Domingo, 37 km S of | Arteaga et al. 2016 |
| Peru | Tumbes | El Caucho | Photo by Pablo Venegas |