| | |
| --- | --- |
| Published October 18, 2020. Open access. | Gallery ❯ |
Orcés' Lightbulb-Lizard (Riama orcesi)
Reptiles of Ecuador | Sauria | Gymnophthalmidae | Riama | Riama orcesi
English common names: Orcés' Lightbulb-Lizard.
Spanish common names: Lagartija minadora de Orcés.
Recognition: ♂♂ 15.7 cmMaximum distance from the snout to the tip of the tail. Snout–vent length=5.9 cm. ♀♀ 13.6 cmMaximum distance from the snout to the tip of the tail. Snout–vent length=5.9 cm.. Lightbulb-lizards are easily distinguishable from other lizards by their fossorial (living underground) habits and extremities so short that the front and hind limbs cannot reach each other.1,2 The Orcés' Lightbulb-Lizard (Riama orcesi) is one of three species of Riama known to occur in Napo province, Ecuador. Riama orcesi differs from the other two species (R. anatoloros and R. raneyi) by having light orangish dorsolateral stripes on the anterior portion of the tail. Individuals of R. orcesi further differ from those of R. raneyi by being smaller, more colorful, and having a complete series of superciliary scales.2 Adult males differ from females by having broader heads, darker colored venters,3 and, usually, a bright reddish tail.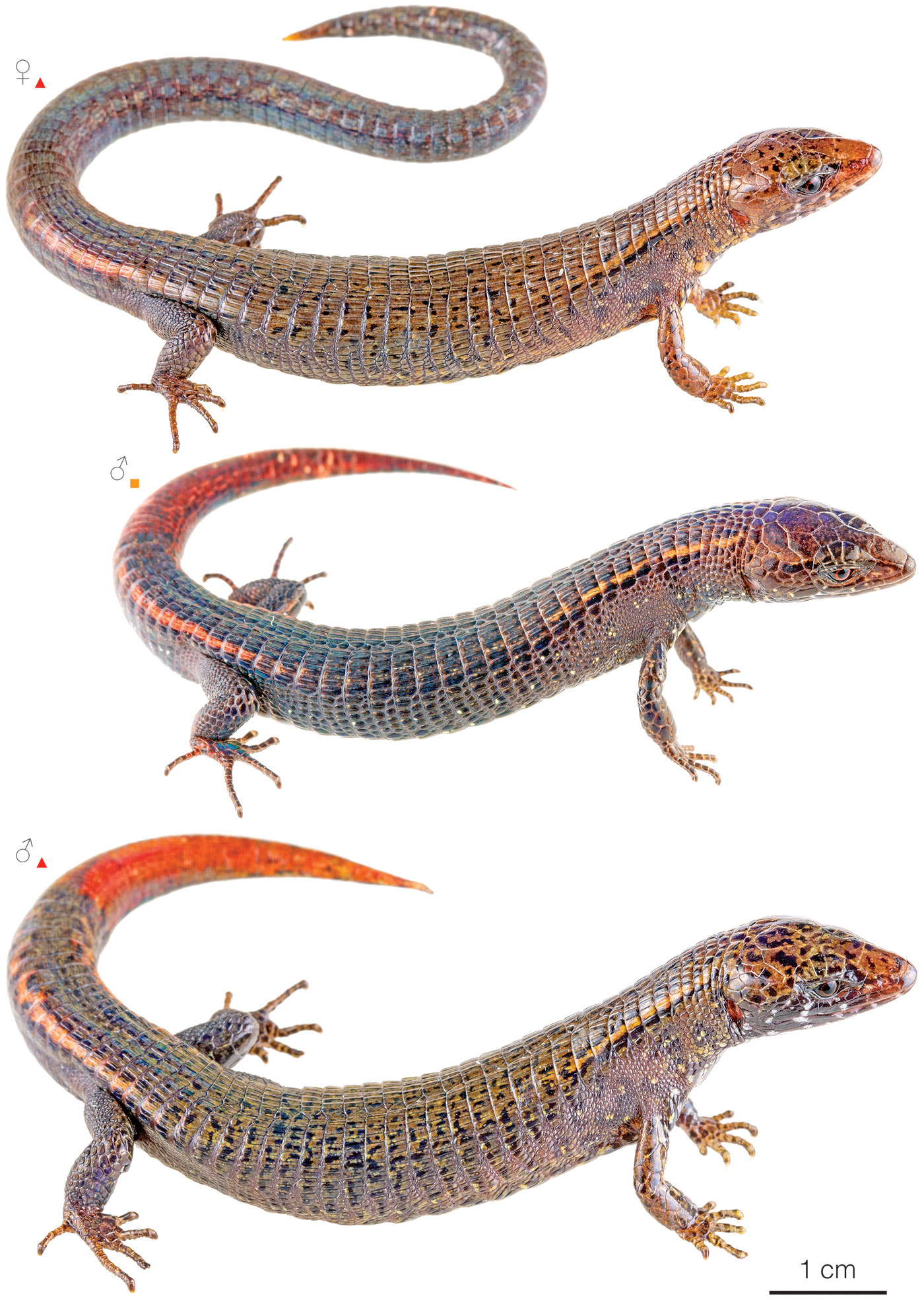 Figure 1: Orcés' Lightbulb-Lizards (Riama orcesi) from Río Quijos () and Virgen de Guacamayos (), Napo province, Ecuador.
Natural history: Locally commonRecorded weekly in densities above five individuals per locality.. Riama orcesi is a fossorial lizard that inhabits old-growth to heavily disturbed cloudforests and high evergreen montane forests. It also occurs in areas containing a mixture of pastures, crops, rural houses, and remnants of native vegetation.4 Lizards of this species spend most of their lives in tunnels they excavate in areas of soft soil or under rocks, logs, and debris.4 Females lay clutches of two eggs under rocks.3 When dug up or otherwise exposed, individuals of R. orcesi will quickly flee underground. If captured, they may bite or readily shed the tail. Orcés' Lightbulb-Lizards are susceptible to high temperatures, dying if exposed to the sun or even if handled for longer than just a few seconds. An antpitta was seen preying upon an individual of R. orcesi.5 Riama orcesi can be found living alongside R. raneyi in the valley of the Papallacta river.2 Differences like larger body size, but comparatively shorter limbs in R. raneyi could be allowing the coexistence between the two species by influencing the use of different microhabitats.2
Conservation: Least Concern Believed to be safe from extinction given current circumstances.. Riama orcesi is proposed to be assigned in this category, instead of Vulnerable,6 following IUCN criteria,7 because the species occurs in four major protected areas (Antisana Ecological Reserve, Cayambe Coca National Park, Colonso Chalupas Biological Reserve, and Sumaco National Park) and it is distributed over an area that retains most (~93.4%) of its original forest cover.8 Therefore, the species is considered to be facing no major immediate extinction threats.
Distribution: Riama orcesi is endemic to an estimated ~2,497 km2 area in the Amazonian slopes of the Andes of northern Ecuador. The species has been recorded only in Napo province and occurs at elevations between 2025 and 2734 m (Fig. 2).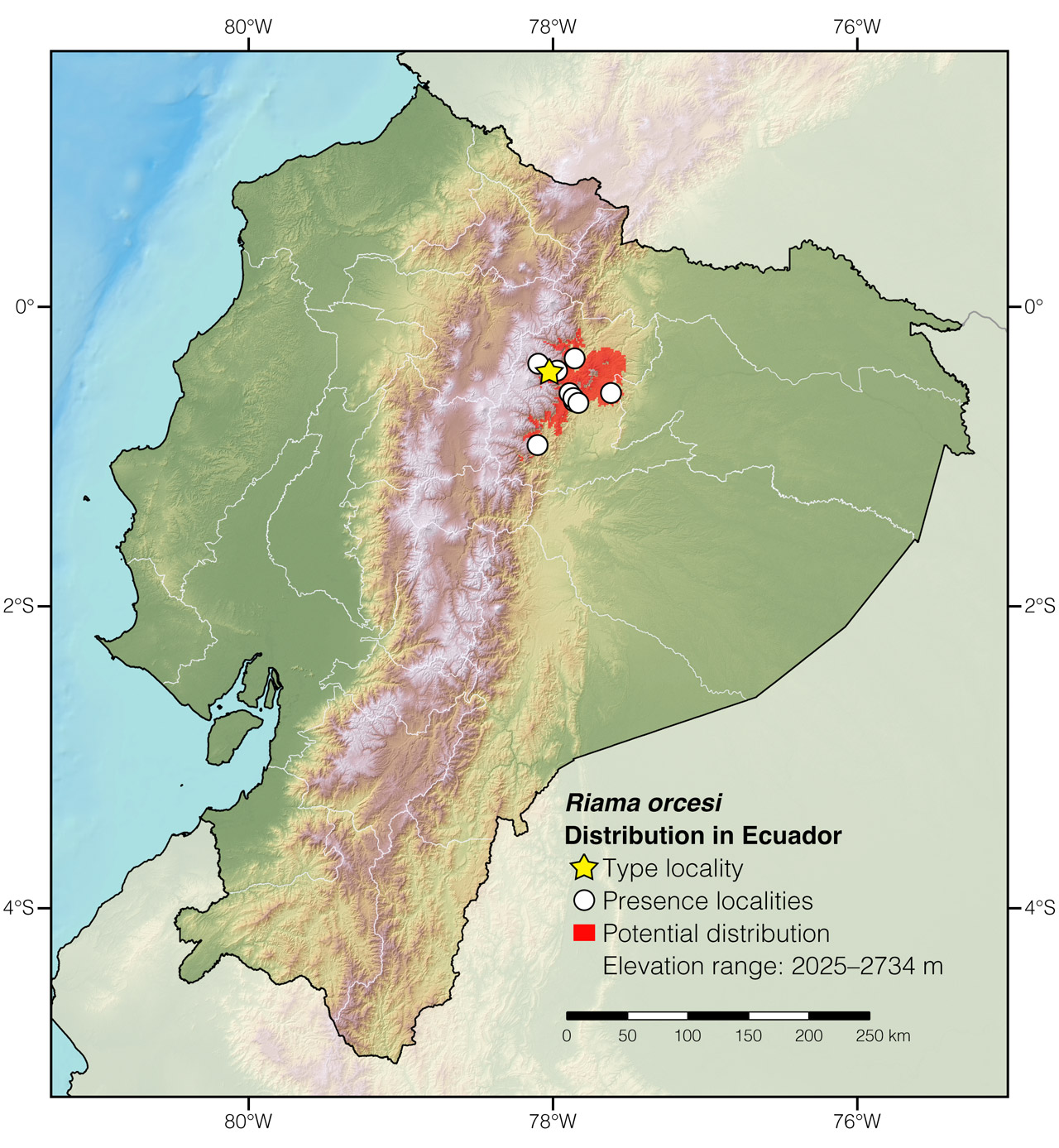 Figure 2: Distribution of Riama orcesi in Ecuador. See Appendix 1 for a complete list of the presence localities included in the map.
Etymology: The generic name Riama does not appear to be a reference to any feature of this group of lizards, but a matter of personal taste. John Edward Gray usually selected girl's names to use on reptiles.9–12 The specific epithet orcesi honors Gustavo Orcés, in recognition of his many contributions to the herpetology of Ecuador.3
See it in the wild: Orcés' Lightbulb-Lizard are recorded rarely unless they are actively searched for by digging in areas of soft soil or by turning over rocks and logs in suitable habitats. Around the town Cuyuja, lizards of this species can be found with ~20–40% certainty if the search is targeted and carried out for a period of at least four hours.
Acknowledgments: Special thanks to Amanda Quezada, Harry Turner, and Jorge Castillo for their help and companionship during the search of specimens of Riama orcesi in the field. Thanks to Frank Pichardo for providing natural history data of R. orcesi. Thanks to Amanda Quezada for the post-processing of images.
Authors: Alejandro ArteagaaAffiliation: Khamai Foundation, Quito, Ecuador. and Miguel Ángel Méndez-GaleanobAffiliation: Grupo de Biodiversidad y Sistemática Molecular, Instituto de Ciencias Naturales, Universidad Nacional de Colombia, Bogotá, Colombia.
Photographer: Jose VieiraaAffiliation: Tropical Herping (TH), Quito, Ecuador.,cAffiliation: ExSitu, Quito, Ecuador.
How to cite? Arteaga A, Méndez-Galeano MA (2020) Orcés' Lightbulb-Lizard (Riama orcesi). In: Arteaga A, Bustamante L, Vieira J, Guayasamin JM (Eds) Reptiles of Ecuador: Life in the middle of the world. Available from: www.reptilesofecuador.com. DOI: 10.47051/MNSV6360
Literature cited:
Doan TM, Castoe TA (2005) Phylogenetic taxonomy of the Cercosaurini (Squamata: Gymnophthalmidae), with new genera for species of Neusticurus and Proctoporus. Zoological Journal of the Linnean Society 143: 405–416. DOI: 10.1111/j.1096-3642.2005.00145.x
Kizirian DA (1996) A review of Ecuadorian Proctoporus (Squamata: Gymnophthalmidae) with descriptions of nine new species. Herpetological Monographs 10: 85–155. DOI: 10.2307/1466981
Kizirian DA (1995) A new species of Proctoporus (Squamata: Gymnophthalmidae) from the Andean Cordillera Oriental of northeastern Ecuador. Journal of Herpetology 29: 66–72. DOI: 10.2307/1565087
Cisneros-Heredia DF, Valencia J, Brito J, Almendáriz A, Muñoz G (2019) Riama orcesi. The IUCN red list of threatened species. Available from: www.iucnredlist.org. DOI: 10.2305/IUCN.UK.2019-3.RLTS.T50950530A50950537.en
IUCN (2001) IUCN Red List categories and criteria: Version 3.1. IUCN Species Survival Commission, Gland and Cambridge, 30 pp.
MAE (2012) Línea base de deforestación del Ecuador continental. Ministerio del Ambiente del Ecuador, Quito, 30 pp.
Gray JE (1831) Description of a new genus of ophisaurean animal, discovered by the late James Hunter in New Holland. Treuttel, Würtz & Co., London, 40 pp.
Gray JE (1831) A synopsis of the species of the class Reptilia. In: Griffith E, Pidgeon E (Eds) The animal kingdom arranged in conformity with its organization. Whittaker, Treacher, & Co., London, 1–110.
Gray JE (1838) Catalogue of the slender-tongued saurians, with descriptions of many new genera and species. Annals and Magazine of Natural History 1: 274–283.
Appendix 1: Locality data used to create the distribution map of Riama orcesi in Ecuador (Fig. 2). Go to the section on symbols and abbreviations for a list of acronyms used.
| | | | |
| --- | --- | --- | --- |
| Country | Province | Locality | Source |
| Ecuador | Napo | 3 km E Cuyuja | Kizirian 1996 |
| Ecuador | Napo | 7 km E Cuyuja | Kizirian 1996 |
| Ecuador | Napo | 9 km E Cuyuja | Kizirian 1996 |
| Ecuador | Napo | Above El Chaco | Kizirian 1996 |
| Ecuador | Napo | Between Papallacta and Baeza | This work |
| Ecuador | Napo | Colonso Chalupas | Field notes of Elicio Tapia |
| Ecuador | Napo | Cosanga, 1 km N of | This work |
| Ecuador | Napo | Cuyuja | This work |
| Ecuador | Napo | Estación repetidora | Jose Simbaña, pers. comm. |
| Ecuador | Napo | Guango Lodge | This work |
| Ecuador | Napo | Sendero Guacamayos | This work |
| Ecuador | Napo | Sumaco camp 2 | This work |
| Ecuador | Napo | Tena–Quito 1 | Kizirian 1996 |
| Ecuador | Napo | Tena–Quito 2 | Kizirian 1996 |