| | |
| --- | --- |
| Published September 7, 2023. Open access. | Gallery ❯ |
Tumbesian Bush-Anole (Polychrus femoralis)
Reptiles of Ecuador | Sauria | Polychrotidae | Polychrus femoralis
English common names: Tumbesian Bush-Anole, Werner's Monkey Lizard.
Spanish common name: Falso camaleón tumbesino.
Recognition: ♂♂ 45.1 cmMaximum distance from the snout to the tip of the tail. Snout–vent length=10.8 cm. ♀♀ 39.0 cmMaximum distance from the snout to the tip of the tail. Snout–vent length=13.5 cm..1,2 The Tumbesian Bush-Anole (Polychrus femoralis) is a medium-sized lizard characterized by its slender, laterally compressed body, leaf-green coloration, chameleon-like eyes, and exceptionally long, semi-prehensile tail.3 Its dorsal coloration typically ranges from green to pale grayish brown, occasionally featuring contrasting black and white blotches (Fig. 1). When stressed or depending on the substrate, the Tumbesian Bush-Anole can adopt a predominantly brown or light gray coloration, which explains why these lizards are commonly referred to as "chameleons." Polychrus femoralis can be distinguished from the Green Iguana (Iguana iguana) by having no vertebral crest and no large, flat, round scale below ear opening.4 From species in the genus Anolis, it differs by being larger, having a much longer tail, and lacking expanded digital pads.4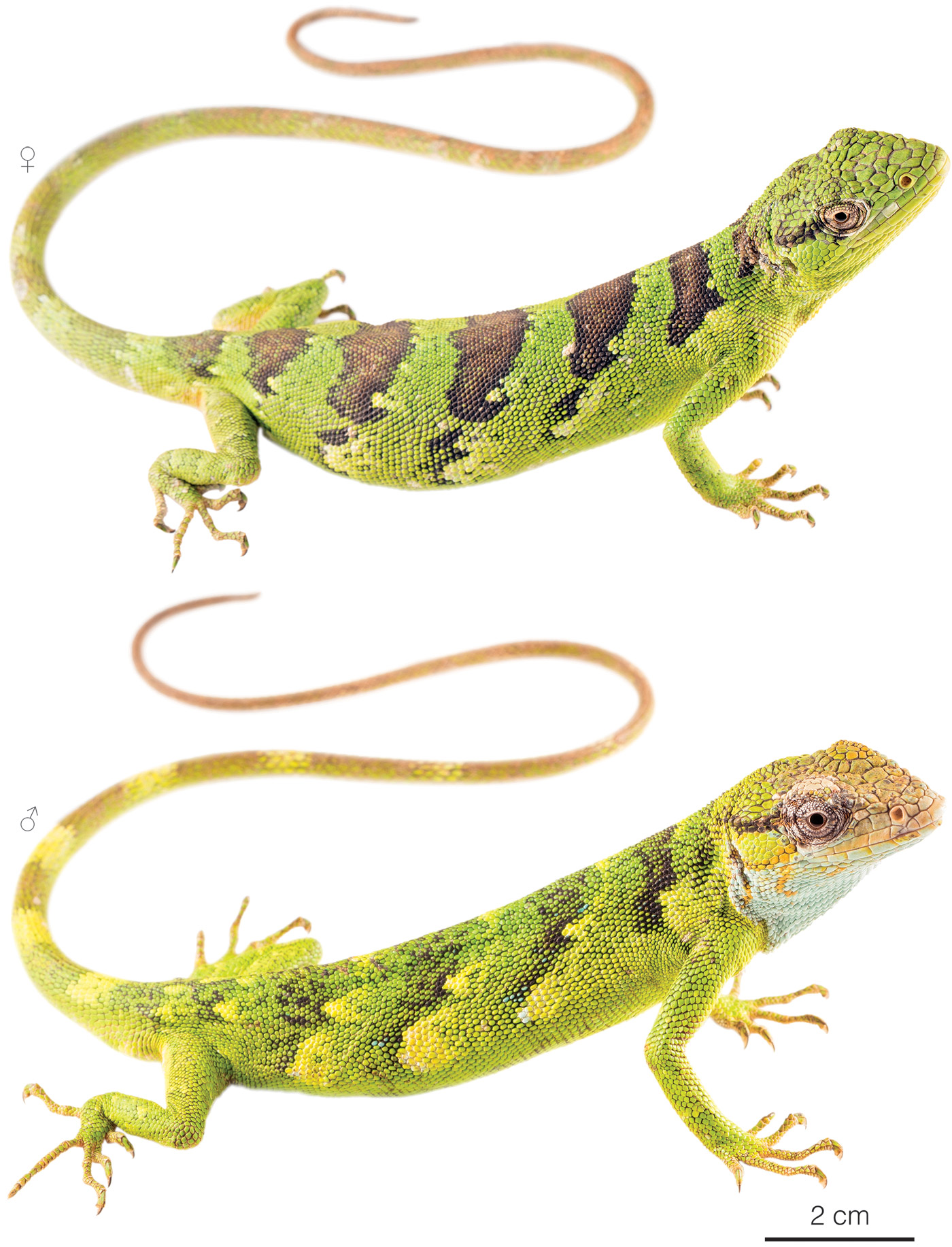 Figure 1: Individuals of Polychrus femoralis from Jorupe Reserve, Loja province, Ecuador.
Natural history: Polychrus femoralis is a rarely spotted lizard with chameleon-like characteristics, often overlooked due to its arboreal habits. This species inhabits seasonally dry forests, dry shrublands, rural gardens, and living fences in agricultural areas.2 Tumbesian Bush-Anoles are diurnal and arboreal creatures, typically foraging on trees and bushes at heights ranging from 3.4 to 12 meters above the ground on sunny or cloudy days.2 Occasionally, they may be observed moving on the forest floor or crossing roads in wooded areas.2 Their movement through foliage is slow and reminiscent of a twig swaying in the wind, similar to chameleons.2 During nighttime, Tumbesian Bush-Anoles roost on twigs, lianas, branches, and leaves at heights of 1.5 to 7 meters above the ground.2 Bush anoles, in general, are omnivorous lizards that employ a passive hunting strategy, although the specific prey items consumed by P. femoralis remain unknown. Their primary defense mechanisms, akin to chameleons, include cryptic coloration and twig-like motion. When threatened, individuals typically ascend towards the treetops or move to the opposite side of their perch.2 If cornered, they extend their dewlap and open their mouths in an aggressive display. This species is oviparous, with females laying clutches of 12 eggs, likely in nests dug into sandy substrates or within leaf-litter at the base of trees.1
Conservation: Least Concern Believed to be safe from extinction given current circumstances..5 Polychrus femoralis is listed in this category because the species persists in human-modified environments, is distributed over an area greater than 10,000 km2, and is currently facing no major immediate extinction threats.5 However, in Ecuador, this reptile qualifies for a Vulnerable conservation category.6 Based on maps of Ecuador's vegetation cover published in 2012,7 approximately 51% of the species' native dry forest habitat in the country has already been lost, largely due to cattle ranching. Fortunately, Peruvian populations seem to fare better, with a significant portion of their habitat located within the Cerros Amotape National Park and Tumbes Reserved Zone. The most important threat for the long-term survival of some populations is the loss of habitat due to large-scale deforestation. Finally, Tumbesian Bush-Anoles are frequently found dead on roads in southern Ecuador.
Distribution: Polychrus femoralis is native to the Tumbesian lowlands of western Ecuador and northwestern Peru (Fig. 2).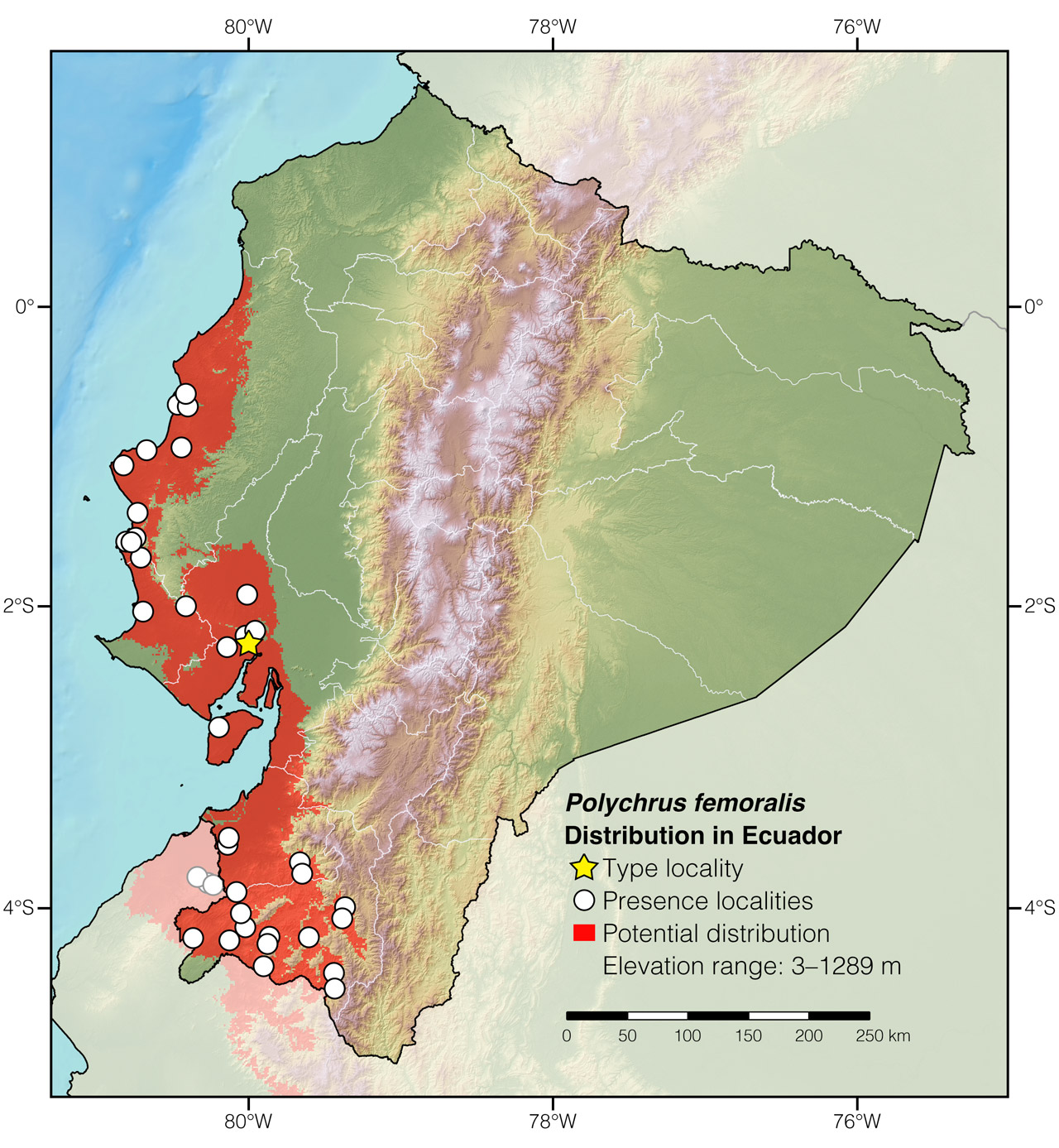 Figure 2: Distribution of Polychrus femoralis in Ecuador. The star corresponds to the general type locality: Guayaquil, Guayas province. See Appendix 1 for a complete list of the presence localities included in the map.
Etymology: The generic name Polychrus, which comes from the Greek words poly (meaning "many") and chroma (meaning "color"),8 refers to the variegated dorsal coloration.9 The specific epithet femoralis refers to the high (14–16) number of femoral pores in males of this species.10
See it in the wild: Tumbesian Bush-Anoles are located at a rate of about once every few days in forest areas throughout the species' area of distribution in Ecuador. Some prime locations for observing these lizards include the Jorupe Reserve and Cerro Seco Biological Reserve. While these lizards can be seen actively perched on tree trunks and high branches during the day, they are more readily located and approached at night when they rest on twigs and leaves closer to the ground.
Author: Alejandro ArteagaaAffiliation: Khamai Foundation, Quito, Ecuador.
Photographer: Jose VieirabAffiliation: Tropical Herping (TH), Quito, Ecuador.,cAffiliation: ExSitu, Quito, Ecuador.
How to cite? Arteaga A (2023) Tumbesian Bush-Anole (Polychrus femoralis). In: Arteaga A, Bustamante L, Vieira J, Guayasamin JM (Eds) Reptiles of Ecuador: Life in the middle of the world. Available from: www.reptilesofecuador.com. DOI: 10.47051/SUOP3729
Literature cited:
Appendix 1: Locality data used to create the distribution map of Polychrus femoralis in Ecuador (Fig. 2). Go to the section on symbols and abbreviations for a list of acronyms used. Asterisk (*) indicates type locality.
| | | | |
| --- | --- | --- | --- |
| Country | Province | Locality | Source |
| Ecuador | El Oro | Piñas, camino a las antenas | Reptiles of Ecuador book database |
| Ecuador | El Oro | Portovelo, 4.5 km S of | KU 142682; VertNet |
| Ecuador | El Oro | Reserva Militar Arenillas | iNaturalist; photo examined |
| Ecuador | El Oro | Reserva Militar Arenillas, intersección | iNaturalist; photo examined |
| Ecuador | Guayas | Bosque Protector Cerro Blanco | Torres-Carvajal et al. 2017 |
| Ecuador | Guayas | Capeira | Photo by Eduardo Zavala |
| Ecuador | Guayas | Guayaquil* | Werner 1910 |
| Ecuador | Guayas | Isla Puná | Navarrete 2011 |
| Ecuador | Guayas | Quinta Gerardy | iNaturalist; photo examined |
| Ecuador | Guayas | Tanque de agua ESPOL | iNaturalist; photo examined |
| Ecuador | Loja | Aroma Santo | Reptiles of Ecuador book database |
| Ecuador | Loja | Bella María | Torres-Carvajal et al. 2017 |
| Ecuador | Loja | Bolaspamba | iNaturalist; photo examined |
| Ecuador | Loja | Bosque Protector Puyango | Torres-Carvajal et al. 2017 |
| Ecuador | Loja | Canguraca | Reptiles of Ecuador book database |
| Ecuador | Loja | Catamayo | Reptiles of Ecuador book database |
| Ecuador | Loja | Catamayo-Gonzanamá, km 6 | MHNG 2437.03; collection database |
| Ecuador | Loja | El Ingenio | iNaturalist; photo examined |
| Ecuador | Loja | Jorupe Reserve | This work; Fig. 1 |
| Ecuador | Loja | Pozul | iNaturalist; photo examined |
| Ecuador | Loja | Sabanilla | MHNG 2240.017; collection database |
| Ecuador | Loja | Vía Cariamanga–Amaluza | iNaturalist; photo examined |
| Ecuador | Loja | Y de Balsones | iNaturalist; photo examined |
| Ecuador | Manabí | Aeropuerto Internacional Eloy Alfaro | iNaturalist; photo examined |
| Ecuador | Manabí | Agua Blanca | iNaturalist; photo examined |
| Ecuador | Manabí | Bosque Protector Cerro Seco | Torres-Carvajal et al. 2017 |
| Ecuador | Manabí | El Aromo | Torres-Carvajal et al. 2017 |
| Ecuador | Manabí | Parque Nacional Machalilla | Almendariz & Carr 2007 |
| Ecuador | Manabí | Puerto Cayo, 1.5 km S of | Torres-Carvajal et al. 2017 |
| Ecuador | Manabí | Puerto López | Reptiles of Ecuador book database |
| Ecuador | Manabí | Puerto López, 2 km E of | iNaturalist; photo examined |
| Ecuador | Manabí | Reserva Natural Punta Gorda | iNaturalist; photo examined |
| Ecuador | Manabí | Rocafuerte | iNaturalist; photo examined |
| Ecuador | Manabí | San Pedro | iNaturalist; photo examined |
| Ecuador | Manabí | San Vicente | iNaturalist; photo examined |
| Ecuador | Santa Elena | Ecuasal pools | Torres-Carvajal et al. 2017 |
| Ecuador | Santa Elena | Reserva Las Balsas | Reptiles of Ecuador book database |
| Peru | Cajamarca | Río Zaña | FMNH 232598; VertNet |
| Peru | Piura | Chigña Alta | Torres-Carvajal et al. 2017 |
| Peru | Piura | Hacienda San Martín | iNaturalist; photo examined |
| Peru | Tumbes | Quebrada Faical | Torres-Carvajal et al. 2017 |
| Peru | Tumbes | Quebrada Huarapal-Angostura | Torres-Carvajal et al. 2017 |
| Peru | Tumbes | Quebrada Los Naranjos | Tello 1998 |