| | |
| --- | --- |
| Tumbesian Leaf-toed Gecko | |
Reptiles of Ecuador | Sauria | Phyllodactylidae | Phyllodactylus kofordi
Spanish common name: Geco tumbesino.
Recognition: ♂♂ 9.3 cm ♀♀ 9.6 cm. Phyllodactylus kofordi is the only gecko in southwestern Ecuador having tubercles on both the dorsom and the tail. In this area, the most similar species is P. reissii, a larger gecko lacking tubercles on the tail.1
Picture: Adult. Reserva La Ceiba. Loja, Ecuador.
Picture: Adult. Reserva La Ceiba. Loja, Ecuador.
Picture: Adult. Reserva La Ceiba. Loja, Ecuador.
Picture: Adult female. Reserva La Ceiba. Loja, Ecuador.
Natural history: Extremely common. Phyllodactylus kofordi is a nocturnal and terrestrial to semiarboreal gecko inhabiting dry shrublands, deserts and deciduous to semideciduous forests.1–3 During dry clear nights, it forages at ground level or on rocks, boulders and shrubs up to 2.5 m above the ground.1,2,4 By daytime, Tumbesian Leaf-toed Geckos seek refuge in crevices, holes, leaf-litter, bark, debris, and trash.1 Females of P. kofordi breed throughout the year and lay one egg per clutch in communal nesting sites, usually under rotting cacti, together with eggs laid by P. reissii.1 The Tumbesian Leaf-toed Gecko feeds on insects smaller than 15 mm, including beetles, caterpillars, ants, flies, arachnids, pseudoscorpions, and hemipterans.4 As a defense mechanism, members of this species are capable of shedding their tails.
Conservation: Least Concern.5 Phyllodactylus kofordi is listed in this category because this species is widespread, thrives in human-modified environments and has not been shown conclusively to have undergone population declines.
Distribution: Tumbesian lowlands in southwestern Ecuador and northwestern Peru.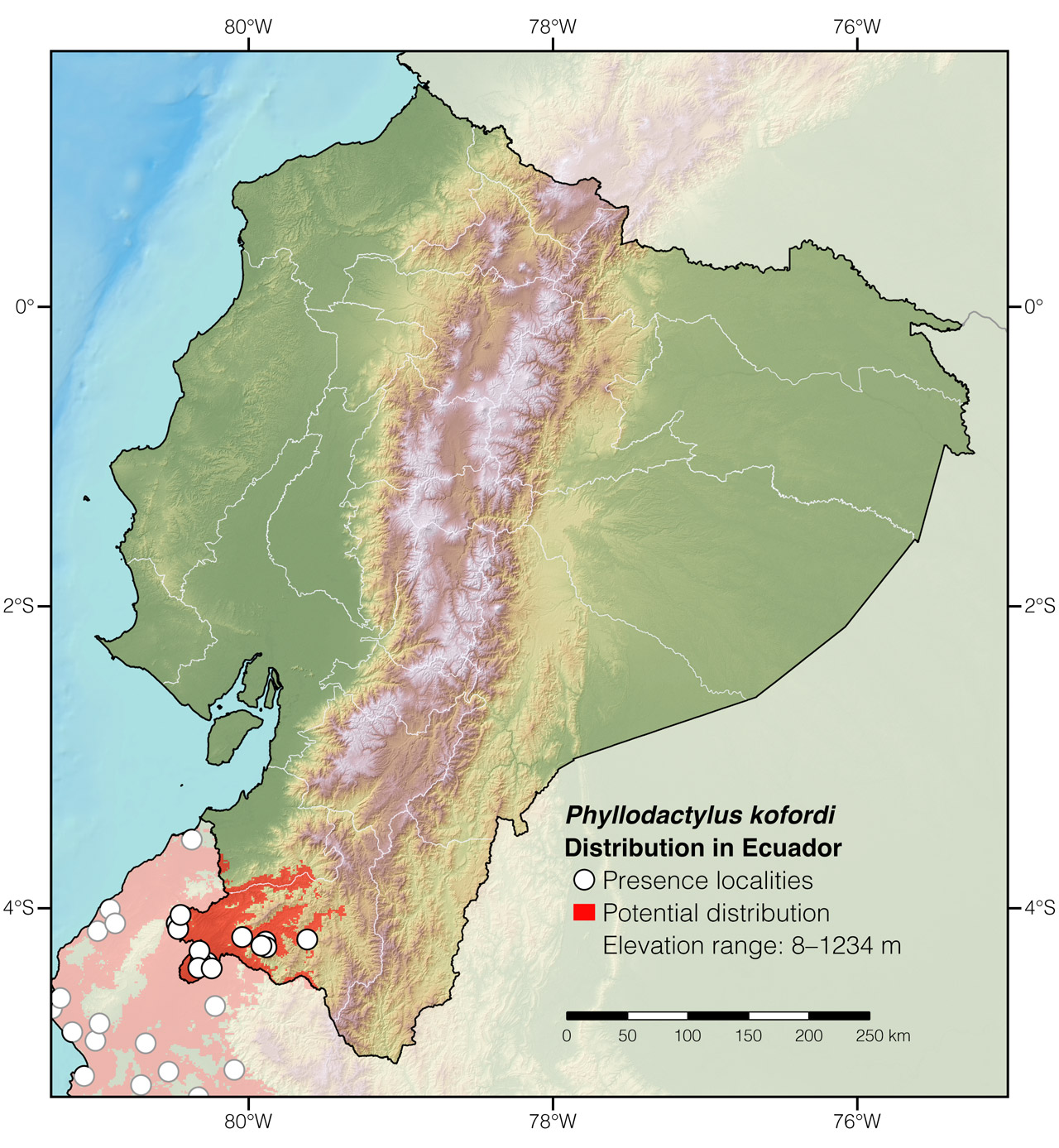 Etymology: The generic name Phyllodactylus, which comes from the Greek words phyllon (meaning "leaf") and daktylos (meaning "finger"),6 refers to the leaf-shaped fingers characteristic of this group of geckos. The specific epithet kofordi honors Carl Koford, an American biologist who has greatly contributed to the knowledge of the reptilian fauna of Peru.1
See it in the wild: In Ecuador, Phyllodacytlus kofordi can be seen with ~90–100% certainty wherever it occurs. An easy place to see this gecko is Reserva Natural La Ceiba, Loja province. The best time to look for this species is just after sunset.
Authors: Alejandro ArteagaaAffiliation: Khamai Foundation, Quito, Ecuador. and Gabriela Aguiar.
Photographers: Jose VieiraaAffiliation: Tropical Herping (TH), Quito, Ecuador.,bAffiliation: ExSitu, Quito, Ecuador.
How to cite? Arteaga A, Aguiar G (2020) Phyllodactylus kofordi. In: Arteaga A, Bustamante L, Vieira J, Guayasamin JM (Eds) Reptiles of Ecuador: Life in the middle of the world. Available from: www.reptilesofecuador.com
Literature cited: